---
THE GAMING BUILD BLUEPRINT
---
The Definitive Guide to Building a Gaming PC for Any Budget in 2017
Save Time, Money & Lots of Head-Scratching With Our New Game-Changing Thoroughly-Detailed, Image-Filled Step-by-Step PDF eBook on How to Build Your First Killer Gaming PC from Scratch!

If you're building your own computer the guides we provide on this site combined with other PC building resources around the web is enough for some first-time builders.
However, other gamers seek the confidence that comes with a more detailed, comprehensive and easy-to-follow printable guide that covers absolutely everything without skipping important details and without rushing the process.

The guides and videos you can find around the web are good ways to get some decent info, but overall are incomplete, hard-to-follow and often miss crucial details and topics (and are sometimes just straight-up outdated and therefore not very helpful in this day and age).
We're not hating on anyone here, as we'd say the same about our own free tutorial on How to Build a PC - it's a good place to start, but there's only so much detail and advice you can give in a bunch of website articles.
That's why after over 11 years of running this site and reaching hundreds of thousands of people worldwide and helping countless amounts of first-time builders overcome some of their problems, we've decided to release what we believe is a much-needed updated book on everything that we know about building a gaming PC in an easy-to-follow, all-in-one guide that doesn't cut corners.
The book will literally take you, the clueless first-time builder looking to build the very best PC for your needs, by the hand through the entire process from scratch starting with choosing a budget, planning your build, understanding the basics of hardware and how PCs work on the inside, to then choosing the best parts for your country either online or offline, and then carefully building your PC so you understand all of the steps and avoid any mistakes or issues along the way.
Then there is complete coverage of installing your OS (whether that be Windows, Linux, and others) as well as the best free and premium add-on applications to install on your fresh new machine, and an updated detailed troubleshooting guide that address every possible problem and issue you could imagine so you can easily get the help you need should you get stuck at any stage.
For those who want to go even deeper we're releasing special editions of the book that include exclusive bonus modules detailing the specifics of building a PC for VR gaming, game streaming, video editing, and 3D rendering/animation, as well as guides to maintaining, optimizing, cleaning and upgrading your new gaming computer.
For the more knowledge-hungry we also provide primer guides on overclocking your new rig, how to optimize performance for gaming and other applications, how to test and benchmark your new PC (and why), how to build a water cooling PC, and a complete guide to the fast-growing exciting world of PC eSports.
Simply put, the main guide along with the supplemental bonus modules make this the ultimate online educational resource for aspiring and intermediate PC gamers, hardware enthusiasts and power users.

As a thankyou to our regular readers who will see this special offer in time, we're offering a large early-bird discount of 50% off if you pre-order a copy for yourself today.
This once-off special is only valid if you pre-order BEFORE launch day on July 20th, 2017. 
To get started simply choose your desired edition of the eBook below (either Core, Enthusiast or Master edition) and click on the Buy Now button to be taken to the secure order page.
Enthusiast and Master editions contain special bonus modules for those who want to take their knowledge to the next level.
We accept most major credit cards and Paypal payments, and once we receive your order you'll be put on our pre-order list and we'll send you your digital package first thing on launch day (July 20th, 2017). 
Lastly - thanks for being a reader!
Without you guys continuing to read and come back to this site we would have never embarked into this exciting new territory of releasing a properly produced book, so we really appreciate all the support and feedback over the past few years :)
- Julien
Founder, Build-Gaming-Computers.com
Get a Huge 50% Off by Pre-Ordering Your Copy Today!

50% Off Special Ends On Launch Day In:
---
CORE EDITION
---
What You Get:
The Gaming Build Blueprint (main eBook)
Core Edition will suit those who just want the main course, our high-quality and high-detail eBook, the Gaming Build Blueprint: The Definitive Guide to Building a Gaming PC for Any Budget.
This is more than everything that most first-time builders will need to confidently go through every step of the process including planning, designing, building, troubleshooting and software installation.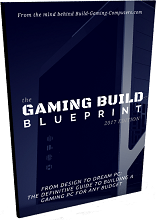 Retail Price on Launch Day: $29.99
Pre-Order Today: Just $14.99





Time Left Until Launch Day:

---
ENTHUSIAST EDITION
---
What You Get: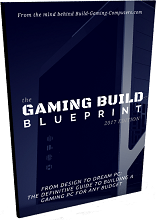 The Gaming Build Blueprint (main eBook)

+

5 Bonus "Enthusiast" Ultimate Guides:

As well as the main eBook, Enthusiast Edition includes not 1, not 2, but 5 bonus detailed guides that supplement the main eBook nicely and cover certain topics in a lot more depth. These aren't 100% necessary to build a great PC, but they'll suit those who wish to take their knowledge a little deeper.

Building a PC for VR Gaming: The Ultimate Guide

A full breakdown of VR hardware requirements, the best cost-effective components for handling VR, sample PC builds to maximize VR performance, buying guides for the best VR gear, and coverage of the current top VR games.
Building a PC for Game Streaming: The Ultimate Guide

If you want to build the absolute best possible rig for game streaming via services like Twitch, this is the guide for you. It includes a full hardware requirements breakdown, the best parts for streaming, sample streaming builds, how to set up Twitch and other types of streaming, optimization tips, building a separate streaming rig vs an all-in-one gaming and streaming machine, and pretty much everything else you could want to know about streaming with your gaming PC.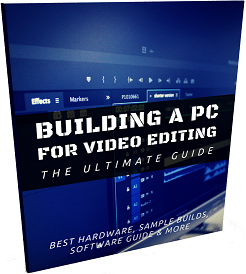 Building a PC for Video Editing: The Ultimate Guide

Covers everything you would ever want to know about choosing components and building a rig for maximum performance and reliability for video editing and other related applications.
Building a PC for 3D Rendering: The Ultimate Guide

Details the planning and building of a gaming rig capable of also running intensive 3D rendering and animation programs.
Maintaining & Upgrading Your Gaming PC

This eBook covers everything you would ever want to know about maintaining both your hardware and software, how to clean your gaming PC parts, as well as the full lowdown on exactly how (and when) to upgrade all hardware components. 
Retail Price on Launch Day: $49.99
Pre-Order Today: Just $24.99




Time Left Until Launch Day:

---
MASTER EDITION
---
What You Get: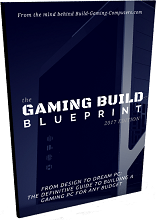 The Gaming Build Blueprint (main eBook)

+

5 Bonus Enthusiast Guides:
Building a PC for VR Gaming: The Ultimate Guide
Building a PC for Game Streaming: The Ultimate Guide
Building a PC for Video Editing: The Ultimate Guide
Building a PC for 3D Rendering: The Ultimate Guide
Maintaining & Upgrading Your Gaming PC

+
5 Bonus "Master" Guides:
As well as the main eBook, and the bonus enthusiast guides, Master edition includes 5 more awesome guides to take your PC hardware and building skills from novice to ninja in no time.
You get a full primer and tutorial on overclocking your CPU and GPU, a guide to optimizing performance for both gaming and general applications (including how to tweak in-game settings in 20+ of the most popular titles around), a guide to testing and benching your new beast, a full intro to custom water cooling your rig, and a full intro to the exciting and growing world of PC eSports including special tips and tricks.
Master edition is the ultimate online education for PC builders that'll serve you well for the rest of your gaming life, and will set you apart from the pack in your knowledge and skills. Your gaming buddies will be coming to you for advice from now on, and you'll know everything and anything you'd ever want to know about building the best gaming PCs for life.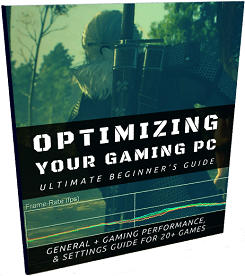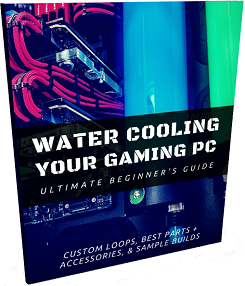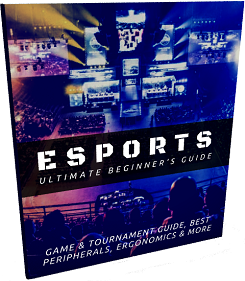 Retail Price on Launch Day: $79.99
Pre-Order Today: Just $39.99




Time Left Until Launch Day:

---
FAQ
---
"Is This For Me - Aren't Free Online Tutorials Enough For Me To Build My First PC?"

The short answer is yes and no; some will benefit greatly from our professional-produced guide, and others will do ok out on their own with piecing together information found online.
But if want to have the peace of mind of having the entire process covered in more detail than pretty much any free guide out there, to avoid any potential problems and to fully understand the whole process from planning to building and more - the Gaming Build Blueprint could be a game-changer for you.
Not only for your first PC build now, but into the future as you upgrade and build further systems down the line. You'll have the base of knowledge and understanding that'll take you from a complete beginner to an intermediate; knowledge that'll serve you for years to come. Plus you get free access to any future updates and/or additions to the guide.
We never set out to create a proper book on building PCs, but in recent years and based on the feedback we've been getting, we saw the need for something better than what's already out there. Something more comprehensive and complete that you can reference for years to come.
Most free PC building guides and videos online tend to either rush the process, miss important details, and are generally incomplete. Which is fine for some who are more tech-savvy to begin with, but it leaves many beginners feeling overwhelmed and confused, and stops many would-be-builders from ever having the great satisfaction and joy of designing and building their own dream machine. 
"Which Edition is Right for Me?"
Core Edition: If you're just after the main guide covering every step of building your first gaming PC in detail.
Enthusiast Edition: If you also want in-depth guidance and knowledge on exactly how to plan and optimize your component selections to cost-effectively perform well for specific applications such as VR, game streaming, video editing and/or 3D rendering/animation. Enthusiast Edition also includes our guide on how to maintain, clean and upgrade your PC which will serve you for a long time to come.
Master Edition: For those looking to take their PC building and hardware knowledge to the next level, and go from beginner to intermediate. This edition includes all 11 of our eBooks and serves as the ultimate online education for aspiring builders and hardware enthusiasts.
"What If I'm Not Satisfied With My Purchase"?
We've poured everything into this to ensure that we over-deliver on the price you pay, but in the rare case that you're not satisfied we do offer a full refund within 30 days of receiving your order.
---
Home | About Us | Contact Us
Budget Builds | High-End Builds | Hardware Help
Best Video Cards | Best Processors | Best Laptops
Disclaimer | All Articles | Our Book | FB Page
---