Cheap Computer Speakers:
Where to Buy Online
If you're looking to find the best cheap computer speakers, you're at the right place. We will show you where you can find the best deals on quality gaming speaker systems to save you some money and enable you to experience your games the way they were meant to.
First of all though, I would highly recommend buying some Logitech speakers. Logitech is a highly respected brand, especially for speakers and computer accessories. I have never had a problem with them, and their products are all of very high quality.
Different speaker systems range in price according to how many speakers come in the set, how powerful the speakers are, and any extras that may come with the system. You can read our guide to choosing the best computer speakers for more information on this.
Down below I have picked out two of the best systems. The following discount computer speakers are all of very high quality, you won't find better speaker products anywhere else.
Starting with the basic 2.0 speaker system, to the 5.1 surround sound speakers, which system you need pretty much comes down to how much you're willing to spend. Both are excellent choices for your gaming computer.
The Logitech Z2300 2.1 Speaker System

This is a great little 2.1 speaker system by Logitech for a very good price. The Logitech Z2300 comes with an 8 inch subwoofer, and is THX certified for performance and quality. With the two 40 watt RMS speakers and the deep bass of the 120 watt RMS subwoofer, these cheap computer speakers will provide awesome music and sound for your gaming experience.
The Logitech Z-5500 5.1 Speaker System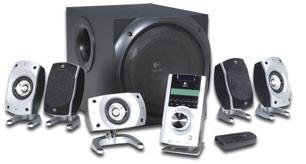 If you want the ultimate gaming speakers system, look no further than the Logitech Z-5500. This THX certified 505 watt 5.1 surround sound speaker system provides amazing quality sound for games.
They come with a range of awesome features such as digital surround sound effects and a high-quality and cool-looking digital LCD display to name a couple. With these great speakers blasting your favourite music or game, you will be in heaven.


Return to PC Gaming Hardware Reviews from Cheap Computer Speakers.