The ultimate guide to building a PC for eSports, including how to choose the best hardware and peripherals to get the best performance, control and comfort that will allow you to play at your best and give you every little edge possible over your opponents.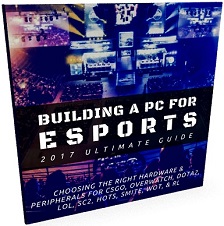 OR

(Price: $9)
What You'll Learn:
- Everything you need to know about choosing the best parts for the top eSports, with detailed 2017 guidelines and specific recommendations for getting both a consistent 60 FPS for 60 Hz monitors and a consistent 144 FPS for 144 Hz monitors.
- Hardware recommendations and tips are provided for League of Legends, DOTA 2, CS:GO, Overwatch, Heroes of the Storm, Smite, World of Tanks, Rocket League, and Starcraft 2.
- Everything you need to know about choosing the best mouse, keyboard, monitor and headset for eSports, including advice for specific games and a look at 60 Hz vs 120/144 Hz displays and whether you need high refresh rates for eSports.
- Specific recommendations of the current top peripherals used by pro gamers that won't let you down in battle.
- Other tips and things to keep in mind when building the best PC for eSports and competitive gaming to be at your best.