THE DREAM BUILD BLUEPRINT
---
From Design to Fully-Functional Gaming PC Built to Last - This is Your Comprehensive, Beginner-Friendly Step by Step Guide to Planning, Building & Maintaining the Ultimate Gaming PC for Any Budget
---
Last Updated: 31th October 2016

- Do you want to build an affordable, reliable and super-fast custom gaming computer that lasts and want an expert to hold your hand through the entire process from choosing a budget and planning your build, to a fully-functional and fully-kitted out PC (including the best free software) ?
- Are you afraid of making mistakes and potentially running into problems during the build phase, or choosing the wrong components or even over-spending (or under-spending) on your build and not being fully satisfied?
- Do you want a resource for life that will teach you everything you need to know to not only build your first killer gaming PC, but to have the confidence and wisdom to be able to easily build, maintain and upgrade PCs forever?
Here at Build-Gaming-Computers.com we've been teaching others how to build gaming computers for a long time (since 2006) and whilst we have received so much positive feedback that our free hardware and build guides have helped a lot - we have seen a need for a more thorough, all-encompassing A-Z guide that covers the entire journey of building your very first PC from scratch, all in the one easy to follow step-by-step wakthrough.
From actually choosing a budget to start with, to planning and designing YOUR dream build, to then effectively choosing components from the best places in your particular country, to then putting your parts together hassle-free.
After a long time in the works, we finally have the answer and are excited to share with you the culmination of our 10+ years of working in this industry. Introducing the Dream Build Blueprint, a complete, step by step walkthrough of everything you need to know as a beginner to building PCs so that you can simply follow along each step and take any doubt or confusion out of the picture completely.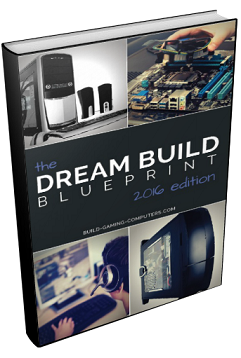 EARLY-BIRD PROMOTION ENDS NOVEMBER 8TH, 2016:
Get a huge 50% off by pre-ordering your copy of the Dream Build Blueprint (pay only $10 instead of the normal $20 which the price will be on Nov 8th)
---
Home | About Us | Contact Us
Budget PC Builds | High-End PC Builds | Best Laptops
Privacy/Disclaimer | All Articles
---