Best Gaming Laptop Computers -
How To Buy A Laptop For Gaming
This guide will help you if you're in the market for the best gaming laptop computers but aren't sure exactly what to look for.
It's a good idea to do at least a little research before spending your hard earned money, and laptops that are capable of high end gaming can be on the expensive side.
I will explain the important factors in choosing the right gaming laptop for your needs, and will also give my own recommendations on which laptops fit for bill to handle the latest games even at high settings.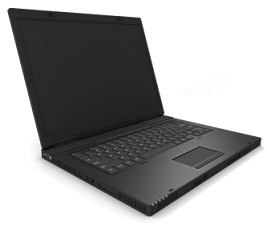 Screen Size
Choosing your gaming laptop screen size is obviously one of the main choices you need to make. Avid gamers and those who wish to view movies on their laptop will usually want to get a larger screen because it makes for a more immersive and atmospheric experience.
Like a lot of things, the bigger the more expensive, so you could save a bunch of money on your laptop if a big screen isn't something you need. Typical laptop screens range from 15" to 20" and above, and for gaming I would recommend at least 17" to enjoy your games. 18", 19" and larger are awesome for gaming and movies.
Video Card, CPU, RAM
For gamers the most important aspect of a laptop is actually what's inside. The video card, CPU (processor), and RAM (memory) are critical to the performance of the laptop for gaming.
To play the latest games these days you definitely need a decent CPU, a powerful video card, and also enough quality RAM. An ideal setup for high-end gaming right now would be an Intel Core i7 CPU, 8GB of RAM, and a capable GeForce or Radeon card.
Although laptops don't usually match the performance of desktops in general, there are some exceptions. Check out the article Best Gaming Laptops Reviewed for a few examples of powerful yet affordable laptops that could put some desktops to shame.
Size and Weight
The size and weight of gaming laptop computers is important to buyers. If you will be travelling with your laptop and carrying it around a lot, a smaller and lighter laptop will be more convenient for you. Although, if you've chosen to go with a large screen size, then you don't really have the choice of buying a small laptop.
Laptop Keyboard and Mouse
The input capabilities of your laptop is another thing to look out for. The keyboard on your gaming laptop computer should be large enough for you to use it comfortably. If the laptop keyboard area and keys are too small, you may experience stress on your fingers and wrists when typing.
The touchpad on the laptop, which is the alternative to using a mouse, should also feel comfortable to you. Many people dislike touchpads, as they are harder to control than a regular mouse. This may not be a problem for you as it's always possible to plug in your own external mouse for better control.
Battery Life
If you'll be on the move a lot, battery life may be an important consideration for you. Most laptops these days use lithium ion batteries. The performance of a lithium ion battery is judged by its capacity, which is measured in cells.
Hard Drive and Extra Ports
The size of the hard drive may be important to you, especially if you will be installing a lot of games/movies/pictures on your laptop. So make sure you get a laptop with a big enough hard drive, although it's not that much of an issue because you can always buy an external hard drive later if you need more room.
If you want to connect peripheral devices to your laptop, you will need to do so through USB ports. Devices such as printers, scanners, digital cameras, keyboards, and mice all need USB ports, so ensure that the laptop you choose has enough of these ports for your needs.
This article has looked at some of the important decisions you need to make when in the market for gaming laptop computers. Hopefully you now know a little more about what to look for in a laptop, and are better prepared to make a good purchase.
---
Related Articles

The Best Gaming Laptops: Top 3 High End Laptops For Gaming
External Video Card Guide
Extend Laptop Battery Life




Return to Best Gaming Computer from Gaming Laptop Computers.

---