How to Overclock a PC: Ultimate Step-by-Step Beginner's Guide (2017 Edition eBook)
If you need help with overclocking a computer and want a step-by-step tutorial, we've put together this easy-to-follow, comprehensive eBook (in PDF format) that will take you through the process of your first CPU and/or GPU overclock.
It includes a full primer to overclocking, how to choose parts for overclocking, a full CPU overclocking tutorial that includes 3 different methods (how to overclock with the BIOS, Intel XTU, and Ryzen Master), and a full GPU overclocking tutorial (using MSI's Afterburner program as the example).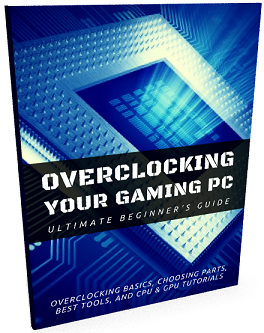 Overclocking Your Gaming PC: Ultimate Beginner's Guide (2017 Edition)
We know how intimidating and confusing overclocking a CPU or GPU can be for the first-timer, so we decided to carefully-compile this ultimate guide on how to overclock a PC to allow any beginner to get in the game with ease and reap all the benefits from pushing your components further.
As well as learning the important fundamentals and exactly how to overclock your processor and graphics card for the first time, this eBook contains tips and tricks throughout such as choosing the right hardware for overclocking, what you need to know about cooling your rig, how to pre-test whether your PC is actually safe to overclock in the first place, the difference between using the BIOS and other programs, and coverage of how to use some of the best free benchmarking and stress-testing software tools.
Here's a sneak peak at the table of contents of Overclocking Your Gaming PC:
If you're a seasoned overclocker, this eBook may not be for you unless you want to learn specifically how to overclock with a method you haven't used before (such as how to use Intel XTU, Ryzen Master, BIOS, Afterburner, etc).
But if you're new to overclocking and want to look further into it to weigh up whether it's worth it to you or not, or you're set on giving it a go because you know it'll increase your performance, then Overclocking Your Gaming PC could be the kick-start you need to do it safely and effectively without encountering problems.
If you're ready to start your journey into the world of overclocking, click the "Buy Now" button below and we'll email you your downloadable copy immediately. Enjoy, and may the force be with you and your parts.
Price: $17