The Best Gaming PC Barebone Kits -
Top 3 Value Barebones For 2011
PC barebone kits are a collection of components that make up the core of a system, and are sold together as one bundle which can save you quite a bit of money in some cases. What components you get with barebone computer kits depends on the particular bundle deal, and kits are usually incomplete and tend to require an extra component or two to become workable systems.
Barebone computer kits are a good option if you want to save money and to be sure that your group of components will work together well. Since you usually need to add certain parts to a barebones kit to make it a complete PC, there is a certain degree of customization on your part, to make for a build that is suited to your own gaming needs.
You need to be a little careful when choosing PC barebone kits though, as some bundle deals may contain cheaper, lower quality parts in some cases. In my recommendations on this page I make sure to avoid any barebones with dodgy or lower quality parts, and to only include the best quality kits at great value.
I have hand-picked three of the best PC barebone kits available right now for different price ranges. If you're looking for great value, quality parts, and high performance for games, the following PC barebone kits would make an excellent base for a new gaming PC. These kits will change accordingly to stay as updated as possible, as we are always on the lookout for better deals and bigger savings.
1. MSI H61M-P23 B3 Thermaltake Barebones Kit
If you're looking for a great base for a gaming system on a budget, I would suggest taking a look at the MSI H61M-P23 B3 Thermaltake Barebones Kit which only contains the best brand components in the world. It's a great value deal and contains the powerful Intel Core i5-2500K processor, a massive 8GB of quality Patriot DDR3 RAM, and a decent MSI motherboard to tie it all together.
The kit also includes a 500GB Seagate hard drive, a DVD burner/ and a Thermaltake case and power supply. To make a workable system you will need to add a video card, and operating system too. Your graphics card choice will depend on your budget, but if you were to add a powerful gaming card such as the GeForce 550 or 560 it would make for one hell of a gaming system for a very low overall cost.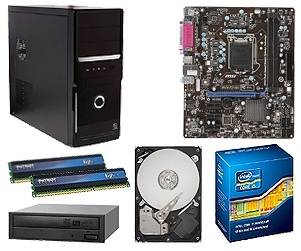 You can read more details about the MSI H61M-P23 B3 Thermaltake PC Barebones Kit here.
2. GIGABYTE GA-880GM-D2H Black Edition Barebones Kit
This is another great PC barebones kit for gamers on a budget. This quality Gigabyte kit contains the AMD Phenom II X4 955 Black Edition processor which tears through games, 8GB of DDR3 RAM, a massive 1TB Seagate hard disk, and a quality GIGABYTE motherboard.
You also get a DVD burner, Thermaltake mid-tower case, and a capable 585 watt PSU. All you need to add to this bundle is a decent graphics card to make it another great low-cost option for high performance gaming. Don't forget about operating system software such as Windows 7 too, as you can't build the system without it.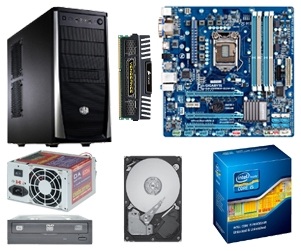 You can find the GIGABYTE GA-880GM-D2H Black Edition Barebones Kit here.
3. ASUS P8Z68-V LE Corsair Barebones Kit
My third choice of the best PC barebone kits to buy right now is the ASUS P8Z68-V LE Corsair Barebones Kit. This kit is great as a base for a high-end gaming PC and contains the high-end Intel Core i7-2600k with a seperate cooler, 4GB of quality Corsair DDR3 RAM, a great ASUS motherboard, and the highly recommended GeForce GTX 560 1GB video card.
These core quality components make for a very powerful gaming system, and the kit also includes a fast-loading Corsair 60GB solid state drive, Corsair full-tower case, and a 750 watt PSU. So all you need to add is operating system software. I would also recommend adding another 4GB of RAM for extra performance, and another hard drive for more storage. This kit is great value for gamers looking for an awesome high-end gaming PC.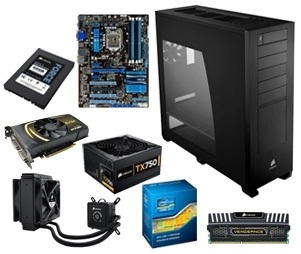 You can find the ASUS P8Z68-V LE Corsair Computer Barebones Kit at the best price online here.
---
Related Articles
Recommended Custom Gaming Desktop Builds for 2011
Best Gaming Laptops of 2011
How To Build A PC: Step By Step Installation
Building A Gaming PC - Tips and Tricks Articles




Gaming Computers / PC Gaming Hardware Reviews / Best PC Barebone Kits