Wireless PC Gaming Headset -
Best-Rated Wireless Headset For Gaming
Using a wireless gaming headset whilst playing your computer games will allow you to experience great sound quality and clarity in complete privacy. Plus, the added convenience of no wires is a great feature. Not all wireless pc gaming headsets are going to be great, some are better than others in terms of sound quality and reliability. You don't want to spend your hard earned money on a headset that breaks down in a few weeks.
If you're looking for quality and reliable wireless gaming headphones, you can't beat the Logitech Wireless Headset F540. These are superior quality gaming headphones that are designed to be comfortable, lightweight, and durable in the long-term. They provide you with the very best audio experience for games and multimedia but without the massive price tag.
The main features of the Logitech F540 wireless PC gaming headset are as follows:
Works with PS3 and Xbox 360 voice chatting
Detailed stereo game audio
Noise-cancelling boom mic for clear in-game voice chats
Powerful gaming-grade wireless
Rechargeable battery delivers up to 10 hours of play time on a single charge
Stereo audio works with audio sources with 3.5 mm or RCA audio out
Wireless base station connects up to three entertainment devices
Comfortable cushioned ear cups and adjustable headband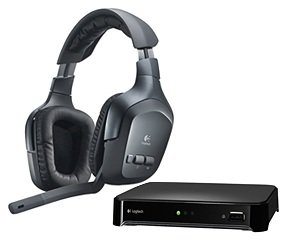 Logitech F540 Wireless PC Gaming Headset



Gaming Computers / Computer Gaming Accessories / Wireless PC Gaming Headset

---