Home > PC Builds > $2500 Gaming PC
Plan the Best 4K Gaming PC Build Under $2500
Q2 2019 Strategic Guide: Choosing the Best Hardware to Build the Fastest, Highest-Quality, Upgrade-Friendly Custom PC for 2500 Dollars for 4K Gaming or VR
Experience super-smooth 4K resolution gaming with a stylish white-themed gaming beast
Last Updated: Apr 6, 2019

QUICK NAVIGATION
Current Best $2500 Gaming PC Build: (Recommended Q2 2019 Parts)
CPU: Intel Core i7-9700K 3.6GHz 8-Core
CPU Cooler: 

Corsair Hydro H100i Pro RGB
GPU: EVGA RTX 2080 Ti 11GB Black Edition
Motherboard: 

ASUS Z390-E ROG Strix (WiFi)
RAM: Corsair Vengeance LPX 16GB 3000MHz 
HDD: Seagate 2TB (7200RPM)
SSD: Samsung 860 Evo 500GB
PSU: Corsair RM750x 80+ Gold (Modular)
Case: 

Corsair Graphite 780T Full Tower
The Best 4K Gaming PC Build: Overview
Building on the best extreme PC build for $2000, if your budget is more flexible and up around the $2500 mark, you're one lucky cat because in your hands (ok, wallet) you hold the keys to building a 4K gaming PC build that is capable of the magical 60FPS mark even on high/ultra/maxed game settings, and even in the most demanding AAA games on the market (in 4K). 
Plus, whilst you can build a VR-Ready gaming PC for WAY less than this (a GTX 1060 with a mid-range CPU will get you in the game), with a PC build budget around 2500 dollars (or well under 2500 pounds/euros for UK readers and a lot higher for Australia or Canada) you can guarantee optimal VR performance using the Oculus Rift or HTC Vive throughout 2019 and beyond into the unknown exciting ether that is VR gaming (PC VR is finally very decent and super fun in 2019, but we truly ain't seen nothing yet).
In this guide we explain exactly how we would strategically approach maximizing $2500 for maximum 4K gaming performance now and into the future by choosing the best bang for buck parts on the current DIY market, and simultaneously covering all the bases that makes a good custom PC build: overall build balance, flexibility (upgrade-friendliness), component quality, and of course choosing awesome-looking matching parts. When you build a $2500 gaming PC build there's little chance you'll be wanting to assemble a dud-looking eyesore of a machine, and our below recommended 4K custom battlestation of glory is an impressive sight to behold once fully operational.
Let's cut the small talk and get into our usual in-depth breakdown of why each carefully considered component was chosen for this build, including 4K and 1440p gaming performance benchmarks aggregated from multiple trusted sources, recommended software and accessories, and everything else we feel you might need to know when building a 4K gaming PC build around 2500 dollars. As always, use this well thought-out setup exactly as is or as a base for your own more customized 4K PC build. Enjoy, and we hope this guide helps you more fruitfully navigate the oftentimes confusing hardware market.
We provide direct products links for your local Amazon store whether you're in the US, Canada, UK, or Australia, and make substitutions when necessary (such as when a certain part isn't available in a certain country or overpriced etc). To support us continuing to create in-depth objective build guides like this, if after your ongoing research you do decide to purchase one of our recommendations please consider using the links we provide as we may earn a small commission.
Note: See the PC Builds FAQ to compare all our current recommended gaming desktop builds, and which answers common questions about these sample builds.
Full Parts-List (US, Canada, UK & Australia)

Best 4K Gaming PC Build Under $2500 (April 2019 Updated)


Check Price (USA)
Graphics Card
EVGA GeForce RTX 2080 Ti 11GB Black Edition
CPU
Intel Core i7-9700K (3.6GHz, 9th Gen, 8 Cores, 8 Threads, Unlocked)
CPU Cooler
Corsair Hydro H100i Pro RGB (All-in-One Liquid Cooler, 240mm Radiator, 2 x 120mm Fans)
Motherboard
ASUS ROG Strix Z390-E (Intel 9th Gen, ATX, 4 DDR4 Slots, SLI, WiFi)
RAM
Corsair Vengeance LPX 16GB (2x8GB, DDR4, 3000MHz)
SSD (system drive)
Samsung 860 EVO 500GB (SATA 3, 2.5 Inch)
HDD (secondary drive)
Seagate Barracuda 2TB (7200 RPM, 64MB Cache)
Power Supply
Corsair RMX White Series RM750x (80+ Gold, 750 Watts, Fully Modular)
Case
Corsair Graphite 780T Full Tower

Estimated Total:


$2440 - $2480 (US Dollars)





(Orders Parts on Amazon, Our #1 Recommended Store)



Notable Features Cheatsheet


Total Wattage
Up to 404W
RAM Slots
4 (2 slots free)
Max RAM Support
64GB
CPU Overclockable?
Yes
Built-in WiFi?
Yes
Hard Drives Supported
6 x SATA 6Gb/s Drives, 2 x m.2 SSD
VR-Ready?
Yes
Front Panel USB Ports
2 x USB 3.0 + 2 x USB 2.0 (+ tons more on rear of case)
Optical Drive Support?
Yes (2 x 5.25" drive bays)
Multi-Monitor Support
Up to 4 Displays
Case Fan Options
Front: 3 x 120mm or 2 x 140mm fan (2 x 140mm fan Included)
Rear: 1 x 120 / 140mm fan (1 x 140mm fan Included)
Top: 3 x 120mm or 2 x 140mm fan
Bottom: 2 x 120mm fan

Case Dimensions

11 x 25.6 x 25 (inches)
Max GPU/PCI-E Card Length
355mm
Max CPU Cooler Height
200mm
AMD CrossFire Support
Yes (up to 3-way)
NVidia SLI Support
Yes (up to 2-way)
Full Motherboard & Case Specs
ASUS ROG Strix Z390-E | Corsair 780T White

Recommended Parts for Canada, UK & Australia *



(2 stores included for Australia because Amazon AU isn't always best)



GPU:
&nbsp&nbsp&nbsp&nbsp&nbsp&nbsp
CPU:
&nbsp&nbsp&nbsp&nbsp&nbsp&nbsp
Liquid Cooler:
&nbsp&nbsp&nbsp&nbsp&nbsp&nbsp
Motherboard:
&nbsp&nbsp&nbsp&nbsp&nbsp&nbsp
RAM:
&nbsp&nbsp&nbsp&nbsp&nbsp&nbsp
SSD:
&nbsp&nbsp&nbsp&nbsp&nbsp&nbsp
HDD:
&nbsp&nbsp&nbsp&nbsp&nbsp&nbsp
PSU:
&nbsp&nbsp&nbsp&nbsp&nbsp&nbsp
Case:
&nbsp&nbsp&nbsp&nbsp&nbsp&nbsp
* For Builders Outside USA
Planning a 4K Gaming PC Build in Australia, UK or Canada?
The parts above is primarily based on the US market, but will usually also be the exact same parts we recommend for these countries too (hardware is an international game). However, if one of the main component recommendations above is either overpriced or unavailable in Canada, UK, or Australia, we'll substitute that particular part for another more suitable model for that country (that's still 100% compatible of course). 
We do our best with each monthly update to tailor our builds for each country individually to help you get the most bang for your buck in your particular corner of the world.
Gaming Performance by Resolution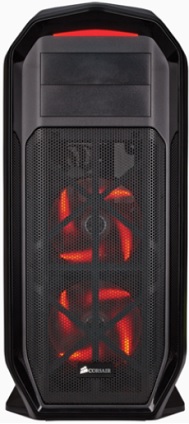 The black 780T is also slick with 2 included red LED fans
1080p 60Hz:

1080p 144Hz:

1440p 60Hz:

1440p 144Hz:

4K 60Hz:

4K 144Hz:


VR:

FLAWLESS

GREAT/FLAWLESS

FLAWLESS

GOOD/GREAT


GREAT


POOR

FLAWLESS
The above is the average expected performance of this build at different resolutions and refresh-rates when playing a typical, graphically-demanding modern PC game on high/ultra/maxed settings. If you're not sure what refresh-rate your gaming monitor is, chances are it's a standard 60Hz screen. See PC gaming refresh rates explained for more.
Benchmarks: Estimated FPS for 4K Ultra

Average Frame Rate for 4K ULTRA

(i7-9700K, RTX 2080 Ti, 16GB 3000MHz)


GAME
AVERAGE FPS
Fortnite
80 - 90 FPS

PUBG
65 - 75 FPS
Forza Horizon 4
75 - 85 FPS
Shadow of the Tomb Raider
50 - 65 FPS
Star Wars Battlefront 2
70 - 80 FPS
The Witcher 3
60 - 70 FPS
Rainbow Six Siege
110 - 120 FPS
Quake Champions
120 - 130 FPS
F1 2017
80 - 90 FPS
World of Tanks
110 - 120 FPS
A Note on the Estimated Frame Rates
The average frame rates are an aggregated estimation based on carefully studying multiple online benchmark sources. Note these are averages, meaning that in the most action-packed scenes the frame-rate will go lower. For example, if we list the Witcher 3 average as 50-60FPS, your FPS may drop to 30-40FPS in the most intense scenes, so take that into account in your build planning.

Whilst we do everything we can to make these as accurate as possible, please note there's no guarantee you'll get this exact average as there are different factors that could affect your frame rate such as other hardware differences, software differences (OS, drivers, game patches/versions, etc), cooling/airflow of your build, enabled game features/settings such as Anti-Aliasing, different RAM setups you might be using, and so on.
We always err on the side of being conservative with our numbers though, so we'll round things down if we need to instead of rounding up, so you can rest assured our averages are pretty safe bets in terms of what performance you can expect from a certain setup.
Learn More:
What's the Best Frame Rate for PC Gaming?
Parts Breakdown & Honorable Mentions
Recommended GPU for a $2500 Gaming PC Build
No surprises the NVidia RTX 2080 Ti surfaces as our top GPU for a 4K gaming PC build right now, and that's unlike to change for the foreseeable future. While the price is out of reach for most gamers, and it not being the best overall value for money either (in terms of frames per dollar the 2070 and 2080 are better value), if you're lucky enough to be assembling a powerful $2500 gaming PC build then a 2080 Ti is the only real choice. At least for now - here's hoping AMD can someday bring back healthy competition in the high-end GPU market once again.
The 2080 Ti is an absolute gangster of a card that pushes the boundaries of what single consumer GPUs are capable of, and the new real-time ray tracing feature is a nice bonus that makes modern blockbusters that support this early-days feature (such as Battlefield 5) look even more lifelike than they already do (if you don't mind the performance hit this feature brings). I've seen the new feature in action and it's genuinely impressive, and can't wait for what real-time ray traced AAA titles in a few years will look like once developers start (hopefully) putting more focus on it. I'm a sucker for realism, and the type that plays Crysis-style epics at a mouth-wide-open-Grandpa-like pace just to soak in all those perfect pixels.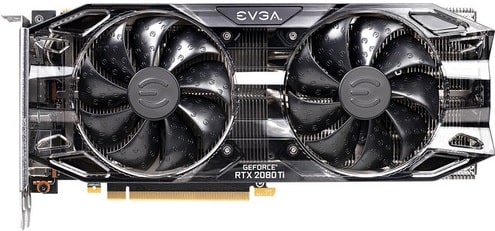 The 2080 Ti is the obvious choice when building a $2500 PC, and EVGA = reliable, quality, value
Anyway, as the above aggregated benchmarks compiled for this guide show, with a mighty RTX 2080 Ti you can expect 60FPS on ultra settings in practically any AAA title (in 4K), which is a first as the previous king of gaming GPUs (1080 Ti) fell a little short in that regard. As for the VR heads among us, you can expect to run any current or upcoming PC VR title as smooth as possible without any worry of performance getting in the way of your epic adventures down the alternate reality rabbit hole (VR really is that good).

As for which RTX 2080 Ti model to get for your 4K PC build, that's a solid question as there are lots of juicy models to choose from. You'll be hard pressed to find a bad 2080 Ti out in the wild, although some models are of course better buys than others. Though current price is the biggest factor for most in terms of what constitutes as the best RTX 2080 Ti to get at any given moment, for our current best 4K gaming build in Q2 2019 EVGA's Black Edition is sitting pretty as one of the most bang for buck yet quality options.
Recommended Motherboard, CPU, and Cooler for a $2500 Build
The motherboard and CPU stay the same from the $2000 gaming PC build. If you're planning the best gaming PC build under $2500-ish right now, the i7-9700K is a no-brainer for maximum gaming performance and will not hold back your RTX 2080 Ti from doing its thing. You could opt for the now-older 8700K instead of the latest 9700K if you really wanted to, which would save you some bucks and get you essentially the same performance (hardly noticeable difference in FPS between the two), but the logic here is that if you're forking out 2500 dollars for an epic new computer then you may as well get the latest and greatest processor. 
As for keeping your 9700K cool and quiet - even if overclocking - we've gone for the super-effective Corsair Hydro H100i Pro, which is a high-end all in one liquid cooling solution that's capable of keeping a high-end chip like the 9700K super cool even under load, and even under decent overclocks. It does it in style too, with RGB lighting that'll help add to the epic overall look to this build through the 780T's side window (assuming you're sticking with that case; if you change cases I'd recommend getting another one with a window to do this nicely-matched white-themed parts-list justice). Even though it is a liquid cooler, if you're a beginner building your first PC there's no need to wet your pants with the mention of water, as all-in-one coolers are straightforward to assemble just like your typical air CPU cooler.
Recommended PSUs for a $2500 Build
To power a high-performing PC build for 4K gaming like this one, it's imperative to pick a high-quality reliable power supply that won't let your expensive parts down now or in the future. Power supply selection is important for any type of custom PC, but the more you're spending the more important it becomes.
Risking a $300 set of PC parts by throwing in an average or straight-up low-quality no-name PSU is nothing compared to the potential calamity waiting to happen when you include a bad PSU in a powerful rig like this.  But this is just common sense, so it should go without saying, but just want to reiterate in case this is your very first custom PC build and you're new to the hardware game.
Corsair produce some top-notch power supplies, and their RMX series is up there yet still value for money. The white edition I've picked for this current setup looks real slick and fits nicely with white cases like the Corsair 780T. It's also full modular, meaning you can do away with any cables you don't use for your build meaning easier cable management and a tidier, clutter-free finished product.

For this 2080 Ti and 9700K build, and taking into account all components in the parts-list as well as common future upgrades, to comfortably power this parts-list as-is while simultaneously allowing yourself a nice amount of wiggle room, a 750 watt unit is really all you need believe it or not. Go for 850 watts if you're planning out of the ordinary add-ons beyond the typical gamer, but 750 watts of efficient power from a reliable unit goes a long way and is sufficient for our purposes here as you'll see from the total power draw this build commands in the specs cheatsheet above (103 watts up to only 404 watts; you might expect higher demands from a top-tier system like this but modern hardware is always getting more efficient).
Honorable Mention:
EVGA SuperNova G3 750 Gold (Modular)
If you don't care about having a white PSU to match the white 780T case (a nice touch but a grey or black PSU isn't going to hurt aesthetics), this EVGA will save you a little coin based on pricing at the time of writing this, and is equally as good a choice as the Corsair RM750x.
Recommended Cases for a $2500 Gaming Build
For a high performing 2500 dollar rig it goes without saying you'll want to invest in a roomy, reliable high-end case to safely house your expensive parts - and to do it in style. The Corsair Graphite 780T is a slightly older model these days, but it's an absolute classic that's still pretty much as relevant today when choosing a high-end enclosure for a high performance rig.
It comes in white or black, with either version looking super impressive (as least to me as it's definitely my taste; your subjective mileage may vary) and both having the exact same features besides the white case including 2 White LED behind the front grill compared to the black edition including 2 Red LED fans in that front position. Actually, word has it there's a yellow edition floating around in the wild somewhere (with front white LED fans just like the white model), but it's much less popular than the white or black.
For starters, the 780T is beginner-friendly and easy to work with, including clearer instructions than some other high-end cases making it a safe bet choice if you're assembling your first custom high-end computer. Corsair is one of the better case manufacturers out there (IMHO), and they make excellent user-friendly cases with this one being no exception. But that's just one reason for its repeat inclusion in our recommended $2500 build tier for this quarter (we've recommended this case for a fair while now), and its flexibility, impressive set of features including lots of expansion slots and great airflow potential, and ease of cable management makes it an excellent choice for both newbies and enthusiast builders alike.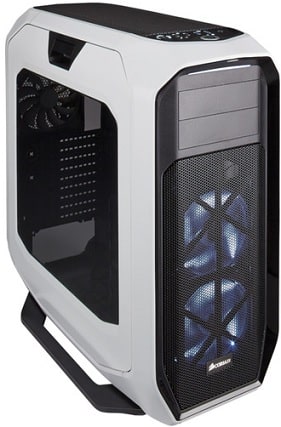 The Graphite 780T is a classic hit from ever-reliable Corsair and still worth considering in 2019

Just keep in mind it's a Full Tower, meaning you'll need a bit of space on/under/around your desk/office to fit this beast, though there definitely are larger Full Tower cases out there so it's not abnormally big for a high-end rig. Feel free to get a Mid Tower case for the $2500 build if you'd prefer something more compact, but lean towards one on the roomier mid towers on the market if you do decide on that so that you give yourself plenty of airflow and room to work with (and goes without saying you should be extra careful with compatibility if building in a mid tower).
Speaking of airflow, overall it's a great aspect of this case, and you get 3 included 140mm fans which run silent and which can be controlled by the included fan controller (has 3 speed settings). Two of these included fans are LED ones on the front, with the third being a rear exhaust fan. You get space for a fair few more add-on fans should you need or want them, but it's not necessary for this $2500 build as the 3 built-in fans will start you off nicely (but add more if you're doing heavy overclocking or you want more lighting from your fans).
For advanced builders there's also healthy water cooling support; for those bold enough to add a custom water cooling loop to this rig you get support for triple 120mm radiators in both the front and top (ie 360mm radiator), and room for perhaps dual 120mm radiators (240mm radiator) in the bottom of the case (see the 780T reviews linked in the references at the end of this guide for full details).
Recommended OS & Accessories
Operating System
Unless you have a good reason and know what you're getting into, 64 bit Windows 10 is what you'll want for a $2500 gaming computer, and there's a few ways to go about this:

A: Windows 10 Home 64-Bit (Flash Drive Edition) 
B: Windows 10 Home 64-Bit (DVD Disc Edition) (buy if you're getting an optical drive for your gaming build) 
C: Buy Windows from Microsoft directly and download it to an existing computer, then put it on a flash drive, then use that flash drive when booting up your PC. 
D: Reuse your copy of Windows if your edition is eligible for this.
Additional Case Fans
As explained in our detailed component breakdown above, you don't actually need more fans if you're going ahead with the Corsair 780T case and this parts-list exactly as-is, as that case comes with 3 included fans which is adequate for these parts. But that's assuming you're not doing significant overclocking, which means your cooling requirements will be a bit higher. Same thing if you're adding more parts to this system, or more powerful parts - you may want to consider a fan or two extra in that case (pun intended). Extra fans are also fun if you want to add more LED lighting as well.
If you want/need more case fans for this $2500 gaming PC, below are the fans we'd recommend (blue LEDs would look slick with the white Corsair 780T, as would white LEDs). Both these fans come in either 120mm or 140mm versions; take your pick based on where you're installing them in the case. 
Recommended Peripherals
As for accessories to go along with your epic new 4K gaming PC build, if you indeed plan to game in 4K resolution then don't forget to find a decent-looking 4K screen to do justice to your powerful parts. Audio is another important part of a high-end gaming experience so choose a solid gaming headset or good-quality gaming headphones if you don't need a mic. Input peripherals may also be important depending on your gaming aspirations; pros will want quality models for the best control and comfort. If you're getting into VR also don't miss our complete guide to building a PC for virtual reality for our recommended gear. Anyway, here are a few of our top picks for this particular build:

Tips on Building the $2500 Gaming PC
Our main tutorial on how to build a PC step by step still applies to building a high-end $2500 PC build like this, as the main principles are the same and most of the steps will still apply (even though our build example in that guide is a budget build), but these YouTube videos may come in handy for specific instructions with the 780T case:
Putting this $2500 parts-list together, it really is no more difficult than say, assembling an entry-level or cheap gaming PC build. Only difference is that it takes a little more time to complete installation as you'll typically have more parts to install such as a liquid cooler, SSD, fans, etc. Anyway, I hope this 4K build guide has helped you in your research and planning, and good luck with your killer new setup. If you have questions about tweaking these parts then feel free to get in touch with us below and we'll steer you in the right direction.
Comparing Similar Pre-Built Desktops
Whilst we're all about building your own system here at BGC, and wholeheartedly recommend it to all PC gamers even if you're a complete hardware beginner who's a little intimidated as it really is easy to do, some gamers will still want to get a pre-assembled PC for whichever reason. Maybe you simply don't have the time or patience to assemble it yourself and you don't mind spending a little more money.
Whatever the case, the following are the closest-specced pre-built gaming desktops for 4K gaming that we can recommend instead of the custom parts-list above. As you'll see, these pre-builts aren't as good overall as the custom build, but are worth considering if you just absolutely cannot go the DIY route for whatever reason (we won't judge :P). Even if you're still building your own, looking over and comparing these systems to the custom setup is interesting as you'll clearly see the advantages of choosing all the parts yourself.
ZOTAC Gaming MEK Ultra Gaming Desktop
(RTX 2080 Ti 11GB, Z370 Motherboard, Liquid-Cooled i7-8700K, 32GB DDR4, 500GB NVMe SSD, 2TB HDD, Windows 10)

CYBERPOWERPC Gamer Xtreme VR Gaming Desktop
(RTX 2080 Ti 11GB, Liquid Cooled i7-8700K 3.7GHz, 16GB DDR4, 480GB SSD, 3TB HDD, 802.11AC WiFi & Windows 10)
References
- Corsair H100i Pro Review vs. H100i V2, CLC 280, & More
- Corsair Hydro Series H100i PRO Review
- The Core i7 9700K tested
- Asus ROG Strix Z390-E Gaming Review
- ASUS Rog Strix Z390-E Gaming ATX Motherboard Specifications
- Intel Core i7-9700K Processor Specifications
- Corsair H100i Pro RGB Liquid CPU Cooler Specifications
- Graphite Series 780T White Full-Tower Specifications
- Corsair Graphite 780T Full-Tower Chassis Review
- Corsair Graphite Series 780T review
- EVGA GeForce RTX 2080 Ti XC BLACK EDITION GAMING 11GB GDDR6 Specifications
- Corsair Vengeance LPX 16GB (2x8GB) DDR4 DRAM 3000MHz C15 Memory Kit Black Specifications
- Saumsung 860 Evo 500GB 2.5" SSD Specifications
- Corsair RMX White Series RM750x 750 Watt Power Supply Specifications
Need help planning your PC? Leave a comment on the PC Builds hub.
Need help building your PC? Leave a comment on the PC Assembly hub.

Want to share your own 2 cents on this article? Let us know in the comments too as we love hearing your thoughts.
Found this article real helpful and want to help us spread the word about our in-depth, objective, noob-friendly guides? Share it with any gaming buddies who might also benefit. Thanks guys!
Anyway, good luck with your setup : )