Home > Saving Money > Barebone PCs
The Best Barebone Gaming PCs and Kits
2019 Buying Guide, What is a Barebones Computer, and Are They Worth It?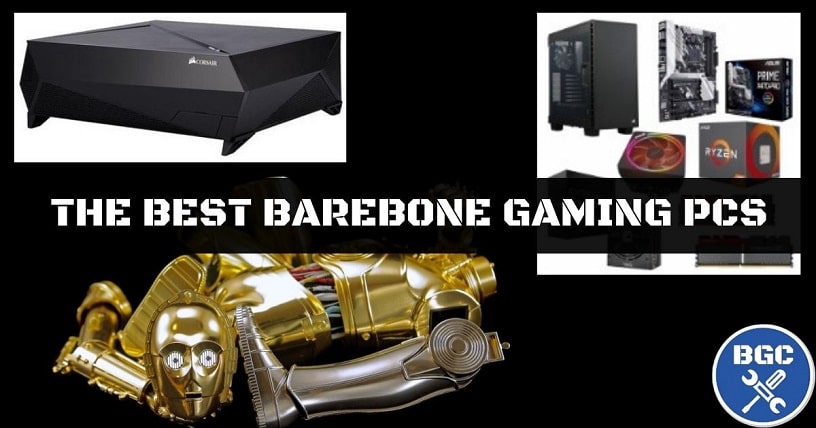 Published: June 23, 2019
Getting a new gaming PC and wondering about barebone desktops and kits? In this guide we'll cover everything you need to know including our top picks of the best barebone gaming PCs and component kits on the market right now for those looking for an affordable and convenient kick-start on a new gaming system.
What is a Barebone PC?
You may wonder what a barebone PC even means as these days they're less common and most new builders probably wouldn't have ever heard the term before. A barebones PC can refer to one of two things: it can mean either a partly-assembled computer that contains just the "bare" parts such as the case, motherboard, and power supply (and perhaps also a CPU, RAM, and hard drive - there's no rule to what a barebones PC includes), or it can refer to a combination of compatible PC parts that you must assemble yourself (usually called a barebones PC kit). In other words, a barebones PC is like a starter kit or skeleton for a new system that will typically require you to buy and install additional components for it to work. For the Jedi in training among us, picture poor-old naked, unfinished C3PO.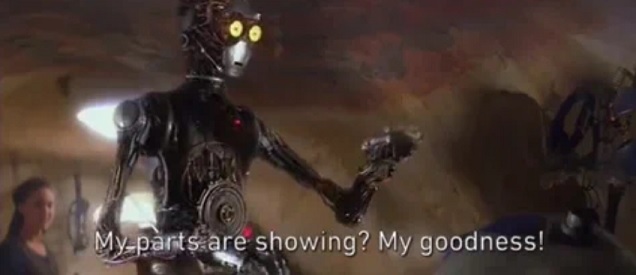 Most barebone computers will need additional parts to work such as a CPU, memory and storage
You can get a barebones PC for either desktops, servers, or laptops (called a bareboook), and manufacturer's offer them as a convenience for those wanting an easy to use, affordable base to work with when getting a new computer that's sort of like the middle ground between a full prebuilt PC and building your own from absolute scratch. A barebones computer can be more flexible and customizable than buying a fully assembled system (and may be quite cost-effective though not necessarily), and in regards to PC barebone kits (uninstalled combo of components), they may be cheaper than buying each of those individual parts separately.

Should You Buy a Barebones Gaming PC?
These days barebone computers are less common than in the past, but you can still find some decent barebone desktops or kits if you know where to look that might just be worth considering to conveniently kick-start your new system for less. Because there's quite a limited range of good barebone gaming PCs out there these days, most people wanting a great new gaming machine will be better off committing to either building an entire PC from scratch (see the current best custom PC builds for gaming) or buying a full prebuilt computer that still offers good flexibility for future upgrades (not all prebuilts do so be wary).
But if you like the idea of buying a barebones gaming PC (or a kit, ie a combo of compatible parts), we've hand picked the best barebone gaming PCs and kits we could find right now that may be worth a look.
The Best Barebones Gaming PCs (2019)
1. Corsair Bulldog 2.0
Check price on Amazon or OutletPC
The Corsair Bulldog 2.0 is an interesting little unit and perhaps the best barebones gaming PC you can get as it can save you some cash, has decent quality components pre-installed, performs well with quite good cooling for a mini rig, and has enough flexibility to build a range of different mid to high-end gaming machines. It also looks nice and stylish with its slick horizontal design, and would look great replacing a console sitting next to your TV for some lounge room PC gaming, though do keep in mind it is larger than a console (though a lot smaller than your average gaming desktop).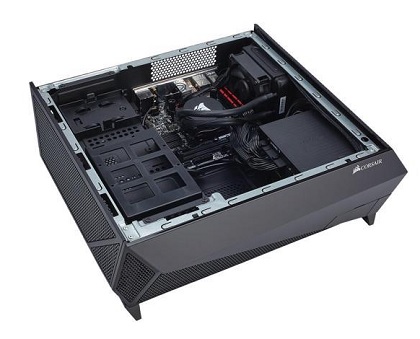 It comes already assembled with a mini-ITX Gigabyte Z170N motherboard that has built-in WiFi, a 600 watt Gold-rated power supply, and a Corsair Hydro liquid CPU cooler. To finish off the barebones system you'll need to add an older 7th generation Intel CPU such as the super-fast i7-7700K or very good i5-7600K, some DDR4 memory, a graphics card, some storage, and operating system software. Cooling is taken care of for you with the included liquid cooler and two 92mm case fans, and you could even overclock your CPU or GPU with this thing as you've got an overclocking-friendly motherboard and enough cooling to do so.
A big plus going for the Bulldog is its Corsair brand name, which is among the most reliable and trusted PC manufacturers going around, and it includes good quality internal components (unlike many prebuilt PCs) such as a Corsair branded gold-rated power supply (600 watts which is plenty of wiggle room for most setups) and a MSI motherboard (another good brand) which is essentially the Z270I Gaming Pro Carbon AC model if I am not mistaken (it doesn't say on the product listing pages but that is what I believe the board is).
Overall, if you don't building an older generation system (can still be blazing fast), this barebones gaming PC could save you real money and be an easy way to gently glide your way into DIY PC gaming if you don't want to build your own system from absolute scratch. You have everything you need to build a great gaming computer with this little puppy that packs some serious grunt, as you can include a high-end GPU without problem. Just make sure you pick a card that is under 300mm in length and 115mm in height so that it fits.
2. ASRock Barebone DESKMINI 310W
The ASRock Barebone DESKMINI 310W is a basic shell for a mini system that, based on its current price, is worth pondering as a quick, affordable way to get into the DIY game. However, you couldn't really call it a proper barebones gaming PC as it doesn't support a discrete graphics card (no spare PCIe slot to fit one), so you'd need to be okay using the Intel integrated graphics (called an iGPU) on a CPU like the i5-8400 or i5-8700 (common choices for this PC). That means you'd only be able to get entry-level gaming performance, which is okay for older, less-demanding games on low settings and/or low resolution, but for modern AAA gaming it won't be enough.
The system comes with a decent case with ample cooling for one of those mid to high-end processors though, and a H310M-STX motherboard with built-in WiFi. The support for Intel 8th gen processors such as an i5-8400 or i7-8700 means you can pack powerful processing in this unit, so while you can't build an incredible gaming PC due to being limited by integrated graphics, you can indeed build a fairly powerful work rig or HTPC and have the nice bonus of casual gaming on top of that.
For additional cooling of your CPU, which is recommended especially if you install an i7, you can fit a low-profile cooler such as the Noctua NH-L9i which is a popular option for this barebones PC. It also supports two SSDs and up to 32GB of DDR4 2666MHz SO-DIMM RAM. If you're building a cheap budget gaming rig and want to save as much as possible (and again, don't need a graphics card), and don't mind going for the previous generation of Intel processors, it's worth a look but don't expect anything fancy for the price.
Best Barebone PC Kits (unassembled combos)
At the time of writing, the below kits work out to be quite good value, so if they fit your needs then definitely keep them as an option when planning a new AMD gaming rig.
1. Ryzen 7 2700X Build Kit
2. Ryzen 3 1200 Build Kit
Sources
Barebone Computer (Wikipedia)
BULLDOG 2.0 High Performance PC Barebone Kit
---
Trusted Stores
The retailers I recommend most, for the regions that make up the majority of my readers.
USA: Amazon US / BestBuy / B&H

Canada: Amazon CA

UK: Amazon UK

Australia: Amazon AU / PLE / Scorptec
Disclosure: As an Amazon Associate we earn from qualifying purchases. We may also earn a commission on sales made through other store links (Best Buy, B&H, PLE).
Most Shared
Search the Site
Trusted VPN
VPNs are fast becoming must-have software these days to improve the security and privacy of a PC when online. There's lots of VPNs but NordVPN is objectively one of the best and the one I use (edit: it's currently over 60% off in October 2022). VPNs can also help for online gaming as explained here.
About Me
Indie game dev currently working on my first public release after years of hobby projects, a story-driven VR FPS adventure built using Unreal Engine (to be announced once I'm ready here and here for anyone into VR FPS's). Also likes writing and updating these tech articles, which helps fund development of the game. 
My favs of all time are OOT, Perfect Dark, MGS1, MGS2, GE007, DKC2, THPS3, HL1, and HL2, with the most recent addition to my list of immortals being the VR masterpiece Alyx. If you want help with a new build or upgrade feel free to ask on the main PC builds guide. If you found the site real helpful and want to help support the work I do here, sharing an article with anyone you think might also benefit from it does help and is appreciated in advance. - Julz