The Best 2018 Cyber Monday Week Deals for PC
Cyber Monday Aftermath Edition: We're Continuing to Hand-Pick the Top Leftover Deals We Find on High Quality Hardware Components, Desktops, Laptops, Peripherals, VR & More



Cyber Monday and Black Friday are over, and the biggest deals are likely behind us now, however as is usual with every year there are still tech deals that pop up in the few weeks following Cyber Monday leading up to Christmas.

Therefore, even though you may have missed out on Black Friday and Cyber Monday deals on gaming PC related stuff, and currently below there are WAY less deals compared to if you visited this page on Monday (this year's Cyber Mon was quite good overall), you can still save money building, buying or upgrading your setup if you stay on the hunt with a keen eye on the market.
It can take a chunk of time sifting through the vast sea of deals and pinpointing the best ones that are actually worth buying as a PC gamer, as great deal on a bad component doesn't magically turn it into a good component that's worth including in a PC build, so we'll only list deals below that get the BGC stamp of approval and that we can actually comfortably recommend including in a new PC build or upgrade.
FYI: Most prices you see listed below should be 100% accurate, but keep in mind there's a chance that it's not and you'll only see the actual properly discounted price if you head over to the product page.
FYI #2: If you have ad-blocking software installed on your browser it may interfere with the below product links displaying correctly, so disable it if you're having issues loading this page properly.
Last Updated: Dec 1, 2018
QUICK NAVIGATION
Biggest Deal of the Day: Dec 1st
If you're building a workstation PC and need threads, cores, threads, cores, and then some more threads and cores - this is your deal. An excellent blazing fast Threadripper 1950X for just $550 at the time of writing this is a great deal, and one of the better leftover component deals that has stayed from Cyber Monday.

Best Graphics Card Deals
There were some very attractive GPU deals on Cyber Monday such as a GTX 1070 for 300 bucks, but as mentioned above you'll likely still see the occasional deal pop up over Cyber Monday week and in December leading up to Christmas. As of today's update the below RX 580 8GB for $230 is the best value we've seen today. See our best video card deals page for all other second-tier GPU deals as we're dedicating an entire page to this throughout Q4 2018 and only listing the very top GPU deals on this page.

Best Prebuilt Gaming Desktop Deals
We encourage most gamers, even complete hardware noobs, to build your own PC as you'll save the most money, get the highest quality parts-list, and it's easier than ever to do in 2018. We are Build Gaming Computers dot com after all; not Buy Gaming Computers. But some of you just won't have the time, patience, or interest to plan and build your first gaming PC from scratch - and that's okay. Here are the best Cyber Monday week (as in, post Cyber Monday) deals on prebuilts we could find that we can comfortably recommend to gamers.
If you're wondering about CyberPowerPC which have quite a few discounted desktops below, yes we can recommend some of their rigs at the right price such as these ones. They usually use decent components and have good support and warranty included, and they actually made our top list of recommended custom made-to-order PC builders (after Xidax, which is our number #1 pick, and they're having a sale too so check 'em out if you'd prefer customizing the parts of your prebuilt instead of buying a system as-is).
Best Gaming Laptop Deals
You won't get anywhere near the level of gaming performance that you would from a desktop at the same price, but if you have a need for portable gaming power these are the best gaming laptop deals we could find right now following Cyber Monday. Although speaking of Cyber Mon, in terms of laptops you didn't miss out on anything as there weren't many good sales on laptops this year (unless we missed them).
Best Gaming Monitor Deals
1080p 60Hz/75Hz Gaming Monitors (for 60FPS)
A standout here at the moment is this Asus 23" 1080p screen with a super-fast 2ms response rate, which is perfect when choosing the best gaming monitor for your rig (always get a screen with less than 5ms), and is currently heavily discounted, but there are plenty of fair discounts on 1080p screens.
1080p 144Hz Gaming Monitors (for 144FPS)
If you have the powerful CPU and graphics card to get near 144FPS in your desired game settings (getting 144FPS on ultra settings will require a high-end gaming PC) then a 144Hz screen will give you an even smoother gaming experience than 60FPS.
1080p 240Hz Gaming Monitors (for 240FPS)
If you're wanting an extreme 240Hz screen, you're going to need a monster rig with not just a killer graphics card but a monstrous CPU to get anywhere near that frame rate level in AAA games on respectable settings. But if you pull it off, 240Hz allows for the most flawlessly smooth visual experience possible right now, and is what some of the top eSports pro players run.
1440p Gaming Monitors
4K Gaming Monitors
Best Gaming Keyboard & Mouse Deals
Best Gaming Headset & Speaker Deals
Best Gaming CPU & CPU Cooler Deals
Nothing like the pretty good range of stellar CPU and cooler deals we saw on Cyber Monday, but there's still a few discounts on right now including the biggie for today in the 1950X for just $550 - a killer workstation/gaming hybrid CPU.
Best HDD and SSD Deals
Substantial discount on this top-tier m.2 SSD from WD for a high-end workstation build with a need for speed.
Samsung SSDs, which are the fastest and most reliable around, are all still decently discounted following Cyber Monday (they were on sale on actual Cyber Monday too) making them no-brainer buys if you need an SSD upgrade.
Same thing with Samsung's higher-end m2 SSDs which also survived the Cyber Monday aftermath and are still in stock. These offer the fastest speeds possible from an SSD for workstation builds, or gaming builds if you want to splurge and you value super fast loading of your data, files and programs.
Best Case & Power Supply Deals
The Corsair Graphite 780T is on sale and it's actually the case we've recommended for our 4K gaming PC build for a while now. Highly recommended if you have the room for a full tower and want one of the best of the best cases around right now, that's also beginner-friendly. There are also a couple other little deals on good cases.
These are the highest quality Platinum-rated PSUs from ever-reliable EVGA. You don't need a Platinum rated PSU, even for a high-end gaming PC, as a good gold-rated one is enough, but if you want the absolute highest efficiency possible and willing to pay extra for it, then go wild with it. Also, if you're building an extreme SLI build (or extreme workstation) then it definitely becomes more practical to go Platinum:
Best Motherboard & RAM Deals
A few slightly discounted motherboards have survived Cyber Monday, but the best deals are long gone. RIP RAM deals as well - there were tons of discounted sticks on Cyber Mon this year but from what we can see none of them are still alive and kicking.
Best Gaming Router Deals
These 4 router deals have lived on post Cyber Monday, with the standout being the Asus AC5300 which is arguably one of the best high-end tri-band gaming routers on the market, with stellar ratings across the board. Recommended for large houses or setups with many devices, and for pro gamers wanting the absolute fastest, lag-free, drop-out-free wireless connection possible. 
Best VR Headset Deals
HTC Vive Pro full package and headset only are both still on sale a little. Any discount helps on expensive VR equipment, so if you've ever wanted to get into the game now is an attractive time.
Black Friday & Cyber Monday: Parting Thoughts

Black Friday and Cyber Monday, and the Saturday and Sunday in-between them which still have deals too, are excellent times to build, buy or upgrade a gaming computer. Decent deals also tend to continue throughout the week after Cyber Monday, and in early December too, but nothing as good as Cyber Monday.
Which day is best overall for PC building or upgrades? The biggest and best is typically reserved for Black Friday and Cyber Monday, with the second-tier deals on the Saturday and Sunday in-between and also in the week or two after Cyber Monday leading up to Christmas.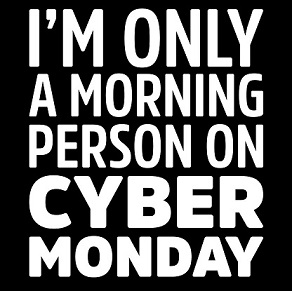 We hope that by hand picking our favorite deals here for you it can help you potentially avoid missing a certain deal, as it can be time consuming not only sifting through all the deals but actually locating the good ones worth buying as a PC gamer. Not all deals or components are created equal.
It also goes without saying but in your rush to seal a good deal don't forget to think about compatibility and whether a certain part will fit in with your other parts, or into your current PC if you're looking for upgrades.