---
How to Choose the Best Computer Gaming Desk

---
(Buying Guide + Some of the Coolest, Best Gaming Desks for 2018)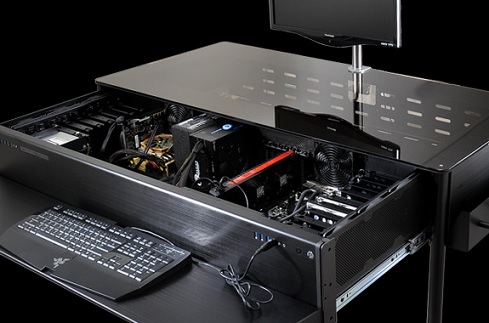 Getting a "Gaming" Desk May Be a Good Long-Term Investment
Last Updated: Mar 31, 2018
Choosing a good gaming desk for your PC setup is mainly about personal preference, but thinking about ergonomics (ie your health) is important too because many people don't realize just how bad sitting down all day can be for you. This is especially important for pro gamers or just those who love their marathon gaming sessions.

This guide covers tips on how to choose the best computer gaming desk for your needs, as well as a list of some of the best PC gaming desks on the market right now that are popular with other gamers and are worth considering if you're willing to invest in a decent quality desk that will last and allow you to game comfortably (and in style).
As always, don't just take our recommendations without doing your own research to ensure you pick the best gaming desk for your particular setup that will last you years and years of comfortable enjoyment. The gaming desks we've listed in this guide are simply what we think are the best choices for their respective price category at the time of writing, but that doesn't mean there aren't other good options out there.
See Also: How to Choose a Gaming Chair
---
Gaming Desk Sizes & Features
---
There are a range of different styles of computer desks available from cheap, basic desks, to L-shaped computer desks, desks suited for left-handed people, corner desks, and even feature-rich desks specifically designed for gamers with cool designs to match. Then there's the size of your desk. You should measure the space where you want to put your gaming desk, so you know what to look for when shopping online or at your local store. 
Also keep in mind the storage capabilities of your computer gaming desk. You want to be able to fit your PC tower somewhere that allows it room to breathe to not restrict cooling (and avoid putting it on the floor; especially if you have carpet). You also want ample space for all your additional components to sit such as your peripherals, receivers/base stations for any wireless devices, streaming mic, and think ahead if you have any extra-large accessories such as extended-sized mousepads.
Some computer gaming desks will have nice additional features such as DVD/CD racks, special cabinets, sliding keyboard trays, and monitor platforms. The keyboard/mouse tray can be handy to ensure your arms and hands are in a comfortable and safe position when gaming, and same thing with the monitor stand to allow you to view your screen at eye-level. Don't underestimate the important of ergonomics.
---
Standing Desks for Gaming
---
Speaking of ergonomics, something that is worth considering if you care about your health is using a standing desk for PC gaming. As mentioned, sitting all day is not good for your health and your posture, and this problem is magnified if you work a day job that has you sitting all day and then you come home to play games sitting down once again.
Standing desks are increasingly popular these days for working, and if you go down this path for your PC gaming setup too then keep it mind it will very likely take a while to get used to. But over the long term it's going to be much better on your body, and some people report having more energy and focus whilst standing which could give you an edge in competitive games where every little millisecond counts for something (ie Counter Strike).
---
Best Cheap Gaming Desks Under $100 for 2018
---
If you're on a fairly tight budget of under 100 dollars to spend on your computer gaming desk, you can't expect anything too fancy, but the following cheap gaming desks will serve you well if you only need a basic setup minus the frills: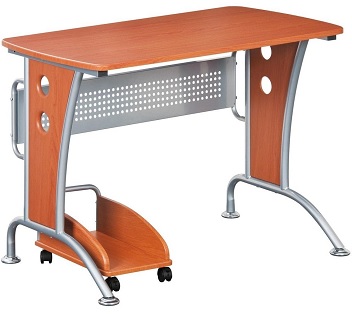 Techni Mobili Computer Desk
Origami RDE-01 Computer Desk
---
Best 2018 Gaming Desks Under $500
---
In the under 500 dollar category you have a much wider array of choices when it comes to choosing a good gaming desk, and you can get something higher-quality and possibly with handy features. The below two gaming desks are a couple that are well worth considering and are popular among gamers:
Z-Line Designs Cyrus Workstation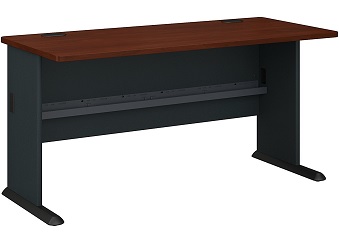 Series A 60W Desk
Arozzi Arena Gaming Desk
---
The Ultimate PC Gaming Desk for 2018
---
If you have zero budget restrictions and want something seriously special for your gaming setup, check out the Lian-Li DK-02X gaming desk which is not just a high-quality, sturdy desk, but is basically a computer case at the same time. Yes, you heard that right, a desk that doubles as a classy chassis.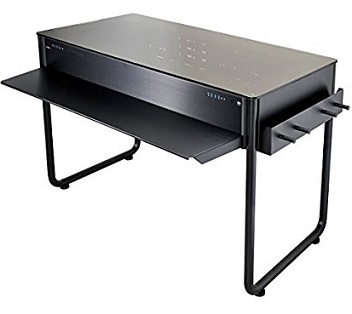 Lian-Li DK-02X
It has a retractable drawer that can house your parts without the need for a traditional PC case, with a see-through table so you can see your hardware in action as you game...how cool is that?! It can actually support two systems as well (ie two motherboards in each side of the desk). Learn more about this cool setup in Lian-Li's official video: