Best Custom Gaming Computer Builders of 2018
Our Current Top Recommended PC Builders for Reliable Made-to-Order Custom Gaming Desktop Computers in the USA & What to Look for in a PC Building Company
Last Updated: Nov 19, 2018
If you'd rather have a PC building company put together your new gaming or workstation desktop for you instead of installing everything yourself, and you're willing to pay a little more for the convenience, we've gathered some of the current most trusted, reliable and overall best made-to-order system builders that we can safely recommend in 2018 for North America.
We suggest to build your own custom gaming or workstation computer, as it really isn't hard to do and will save you money, but despite understanding this you may still want a professional to do it for you. Perhaps you don't have the time or patience to assemble everything yourself, or you'd rather just pay a pro to do it for you. Whatever the case, the following best custom PC builders as of 2018 (IMHO) are worth considering.
Xidax  (#1 Recommended for Budget & High-End Gaming Desktops)
Xidax have a great rep as custom PC builders for gamers, and for good reason as they have a solid range of made-to-order gaming desktops for any budget at fair prices compared to other custom builders, including cheaper options for those on a tighter budget, and a standout lifetime warranty on all their desktops (limited warranty). 
Overall they offer some of the better value made-to-order gaming PCs, and importantly there are many reports of gamers having had a great experience using them. Guys on good-old Reddit have also reported positive experiences with this company (see a detailed review example here) which is always a good sign too as there are tons of knowledgeable folk that congregate in the hardware-related Subreddits.
They have a user-friendly customization tool on their site, and your options to tinker a build are vast allowing you to easily customize the perfect dream setup. They also have financing options, and offer gaming laptops and workstations too, but their prime focus is killer gaming desktops with high performance, impressive design, solid cooling, and quality components.

Unlike some PC builders who unashamedly seem to try and rip off their customers as much as possible, and take advantage of newbies who wouldn't know any better, Xidax, at least from my perspective and what I know about them in my research, are a company that actually care and so I feel good recommending them too. If you don't want to build your own PC, and you live in America - these guys are my top pick in 2018 and 2019 for the best custom gaming computers.
See the Xidax Range of Gaming Desktops Here.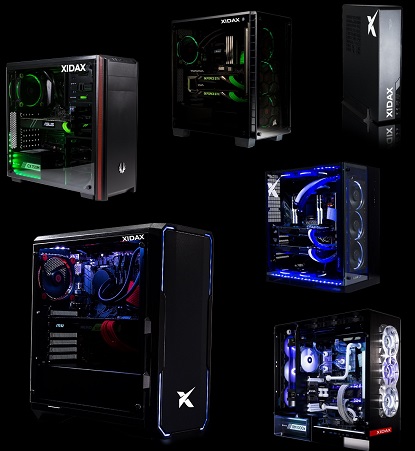 The current range of fully-customizable Xidax Gaming Desktops which start at around $700. One of the better PC builders around
Puget Systems  (#1 Recommended for High-End Workstations)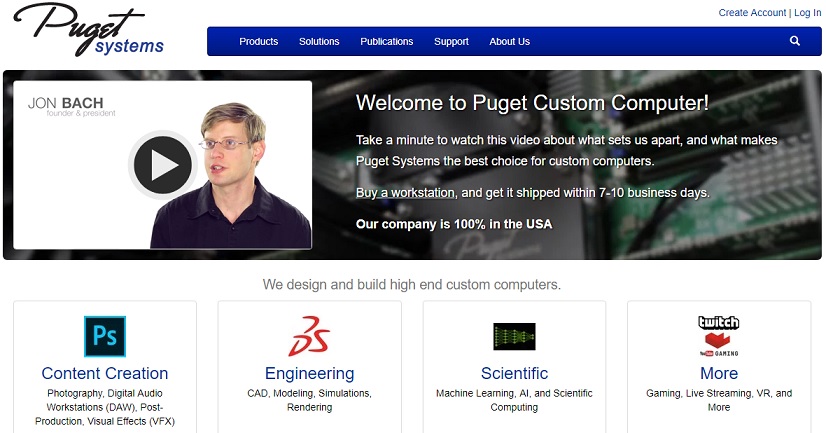 Based in Auburn, Washington, Puget Systems have a good reputation in the custom PC building industry for high-quality high-end systems and some of the best customer service in the industry. They do offer some custom gaming computers, but their primary focus is the professional workstation and production space, and is what we'd recommend them for. Think high-end CAD, rendering, AI/machine learning, scientific computing, etc.
They've also been around a long time, which is important when choosing a good, reliable custom computer builder for your next system, and like any reputable builder they have a vast array of component choices when you design your system on their site.
See the Puget range of workstation desktops here.
CyberPowerPC  (Recommended for Budget & High-End Gaming Desktops)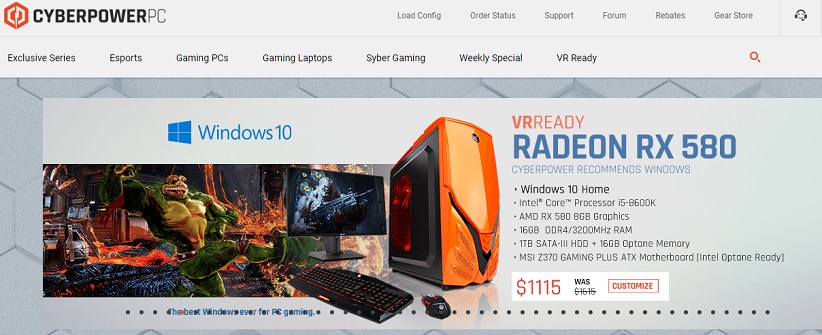 A company that's been one of the more popular custom gaming computer builders for a long time, and likely one you've heard of before in this space. CyberPowerPC made to order desktops may be a good option for you as their prices can be competitive at times, though it depends on the specific model. Although one downside to be wary of is that they don't use subpar components for your particular build - always carefully select your setup with them before ever ordering anything, and look closely into which components they'll be using. They do have deals every now and then as well, and they do have a fairly decent range of component choices as well when you're ordering a made-to-order rig.
Choosing the Best Custom PC Builder: What to Look For
The above recommended custom gaming computer builders are just a couple suggestions to look into, but there are many out there so have a search around and see which company you like the feel of, look out for deals and compare prices between them, and compare their terms and conditions/warranties etc. Here are some things to keep in mind when looking for the best custom gaming computers:
Pricing:
How much more it's going to cost you to order a gaming desktop from a PC builder compared to building your own custom gaming computer may be a factor for you if you're still considering building and installing a PC yourself, but if you're already set on having someone else build one for you then you'll want to be compare prices of gaming desktops from different PC building companies instead.
Some PC builders are way overpriced in general, whereas others aren't too much more expensive than building your own in some instances. But sometimes it does depend on the specific desktop model on offer, as some PC builders will have both significantly overpriced and well-priced desktops on their menu. Typically, the more you're spending on your new PC, the more chance there is to get totally ripped off, so do your homework on the parts you plan on buying and tally up their individual values as if you were building your own, so that you can rest assured you're not forking out an arm and a leg.
Companies lure you in with an attractive price tag, but once all is said and done you could be paying way, way more if you actually want good components and add-on features included. Lastly, don't forget to factor in shipping and any other costs and fees.
Quality of Components:
Do they offer the latest and greatest parts, or are you stuck with older selections for your build? Do you have the options of high-quality, reliable supporting components like the power supply and case, or will they skimp out on these parts to cut costs just like many pre-built desktops do?
Always investigate the specific brands and models you'll get in a made-to-order gaming desktop, as sometimes a builder won't make it too clear on exactly what you're getting and you'll have to do a little digging (perhaps 'cause they'll be using a low-quality option...).
Reputation & Customer Service:
You'll want to suss out any PC building company beforehand and what experiences others have had with their custom PCs before throwing any more their way. Try to read as many reviews as you can to get a general sense of what they're about, but obviously don't base your decision off 1 or 2 bad reviews as there's always going to be unfairly negative reviews from people who are looking to blame anyone and any company for their issues.
Warranty/Return Policies:
Read the fine lines carefully to know what you're getting into, and what you'll be covered for and for how long, as well as whether or not you can return the PC if you're not satisfied with performance or something else. Also look into the shipping policies and whether you're covered for any damages from shipping and handling. Ideally you'll want a limited lifetime guarantee just like Xidax - one of the current best gaming PC builders right now - offer on all their custom gaming desktops.
Time to Build:
Some custom PC builders will take longer than others to build and ship out your custom PC, so this may be a factor for you if you're in a hurry to get up and running and gaming ASAP. Perhaps you've got a LAN tournament coming up, or perhaps you're just one impatient son of a bee.