---
What is an External Video Card (and the Pros and Cons)
---
Last Updated: Jan 6, 2018
One of the most recent inventions in video card technology is that of the external video card. These external Graphics Processing Units (GPUs) plug directly into one of your computer's USB ports and can potentially increase your 3D graphics performance.
External graphics cards are mainly targeted at those looking for high-end performance and those who want to run dual monitors.
But they are especially aimed at laptop users who want to upgrade their graphics performance. Most built-in laptop video cards don't provide ample performance to run the latest games at good frame rates, and on top of that they tend to share the laptop's physical memory which slows down performance.
So if you're looking to upgrade your gaming laptop's graphics card then an external graphics card could be the answer.
Installing an external card is simple as most of them just plug directly into a free USB 2.0 port. Some external graphics cards install differently though, such as the Asus XGstation.
This external card connects to what's called an ExpressCard slot, which is built into most newer laptops. As well as providing extra performance for your laptop, plugging your external video card in this way give you the option of overclocking the card for even more speed and power.
The Asus XGstation also comes with dual DVI connections to power multiple monitors.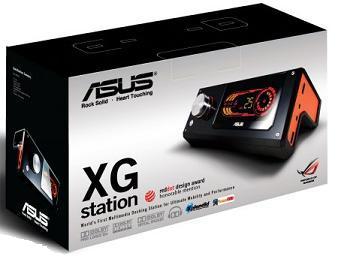 The other great thing about external cards is that it can provide great high-performance 3D graphics without heating up your entire computer.
The more powerful the card the more heat it will produce, but you don't have to worry about this with external GPUs since they usually have their own external cooling system too.
The advantages of using an external GPU are obvious, but there are a couple of minor disadvantages that you might want to be aware of. The first being that you need to carry around the external card along with your laptop, and some of the more powerful units are quite bulky.
The second being that most external graphics cards require their own separate power connection. In truth these drawbacks are very minor in relation to the benefits of external GPUs.
So that being said, if your laptop's graphics performance is sluggish then you might want to consider buying an external video card to get your system running smoothly again. It's definitely cheaper than buying a new laptop.
---
Hope this guide helped in your research, and good luck with your new setup. Need further help?
For Simple Questions
If you need further help choosing the optimal bang-for-buck parts-list for your specific requirements, feel free to post a question in our main comments section (on our Latest Gaming PC Builds page). We'll respond to you ASAP and do our best to help steer you in the right direction.
For Detailed Help (Premium Email Support)
To have ongoing access to our exclusive support email (reserved for customers only), check out the "Master" or "VIP" editions of our book (The Gaming Build Blueprint Manual). These editions come with included long-term support which may just come in real handy if you're building your first PC but are still a bit worried or intimidated.
You'll have the peace of mind to be able to ask us directly for help at any stage of your build. Our book is also the best way to directly support our work here at BGC, with profits often re-invested back into creating more and better content, including being able to buy more hardware and equipment for testing and so on.