Top 3 Budget Cases
For Your Custom Gaming PC
Here are our top 3 recommended gaming PC cases for those on a fairly tight budget. Just because these cases are very affordable, doesn't mean they lack in quality or features. These cases have also been chosen because they are very straightforward to work with, so they are perfect for a novice or first-time builder. Note that all of the following cases are ATX cases which is the most common form factor.
---
1. Cooler Master HAF 912 Mid Tower Case

This is our current number 1 pick for a great PC case on a budget, and for good reason. The Cooler Master HAF 912 is excellent value for money and comes with all the features you would need for a new gaming computer build.
Even for a very affordable case the HAF 912 is quite sturdy and quality throughout, with a pleasing design. The case boasts a large amount of room for a mid-tower case, so you won't have any problems there even if you plan on adding extra components to your build.
Cable management is easy with this case, cooling is great with 2 fans included and extra fan ports for those that need them, and installation is a breeze with a tool-less design. Cooler Master products are usually of very good quality and value, and this case is no exception. Highly recommended.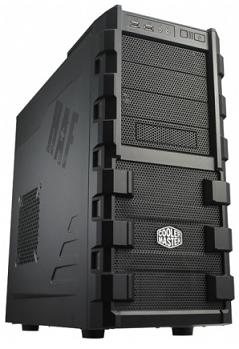 ---


2. Cooler Master Elite 430 Mid Tower Case
Another great option for a budget build, the Cooler Master Elite 430 is one of the best value gaming PC cases on the market right now. It includes everything you need for a custom budget build, and does not sacrifice quality even at such a great price. It is lightweight, yet sturdy, and has a tool-less design which is handy for first time builders who want an easy to use case for their new build.
Cooling with this case is excellent, and one large fan is included but there are ports for more fans if you ever need to add more in future. Cable management is decent too with space to tuck away your cables neatly, and zip ties are included if you need them.
The case also has a very visually pleasing design, with a clear side panel which looks awesome when your rig is up and running. For this price, you can't go wrong. Highly recommended for any new budget or mid-range gaming build.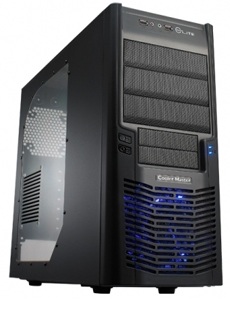 ---


3. Thermaltake V3 Black Edition Mid Tower Case
Another great value case, the Thermaltake V3 is a little cheaper than the other recommended cases and is a good option if you're looking to spend as little as possible on your case for a new build. To be honest I would not go any cheaper than this for a new case.
Thermaltake are also a respected name for PC cases, and the V3 comes with the features you come to expect from a good case. It has 1 built in fan with an LED light, with extra fan ports if you need more. The case has ample space for the average build, and the PSU is installed at the bottom of the case for a change.