Home > PC Cases > Rosewill Cullinan MX Reviews
The Slick Rosewill Cullinan MX Mid-Tower Case Is Currently $40 Off (High-Quality Hardware Deal Alert)
Specs Cheatsheet, Expert Review Roundup, & Main Pros and Cons
Date Published: November 8, 2019
Whenever a good PC component goes on sale - one that we can comfortably recommend including in a new PC build, we'll try to let you guys know. Right now at the time of writing this, the blue LED and red LED versions of the very good Rosewill Cullinan MX Mid Tower case are currently discounted at $30 to $35 off: (the RGB is currently discounted too, but not as dramatically)
We actually recently featured the Cullinan MX Mid-Tower as one of our top case recommendations within our gaming PC builds tier list, and that was at its normal retail price of around $100 to $120. So at its current $60 to $65 price, it's an absolute bargain in our eyes as it's one of the best Rosewill cases on the market right now in terms of overall value, features, and aestheics, and well worth considering for a new mid to high-end gaming PC build.
For those wondering, we recommended the case as our top pick for our last $1200 gaming PC build, and it now sits as a secondary pick for that particular build; still high praise as we are very careful about which components we recommend in any of our sample builds. But at this fairly heavily discounted price, we can't see this case lasting too long though, and by the time you read this it's perhaps too late.
Learn More: Best Gaming PC Cases for the Money (& Features 101)
Rosewill Cullinan MX Mid Tower Specs
Standout features of the Cullinan MX cases include 4 included LED fans for great airflow (RGB for the RGB version), which are of fairly good quality, too (not always the case with stock case fans), as well as a very slick, fairly universally attractive design that features 3 glass panels on the front and both sides of the case to show off a finished system in style. Here's the full rundown:

Rosewill Cullinan MX Specs Cheatsheet


Form Factor / Size
ATX / Mid Tower
Dimensions (H x W x D)
18.98" x 8.85" x 17.13"
Weight
20.28 lbs / 9.2 kg
Color
Black
Materials
Steel, Plastic, Tempered Glass
Side Panel Window?
Yes (both sides)
Supported Motherboards
Micro ATX / ATX / Mini-ITX
Front Panel Ports
2 x USB 3.0. 2 x USB 2.0, Audio, Mic, Fan Speed (3 Settings)
Optical Drive Support?
No
Hard Drive Support
Up to 6 SSDs, Up to 4 HDDs
PSU Installation Location
Bottom Mounted
PSU Shroud?
Yes
Dust Filters?
3 (Front, Top Removeable, Bottom Removeable)
Case Fan Options
Front: 3 x 120 / 140mm Fan (3 x 120mm LED included)

Top: 3 x 120mm Fan / 2 x 140mm Fan

Rear: 1 x 120 / 140mm Fan (1 x 120mm LED included)
Max GPU Length
360mm
Max CPU Cooler Height
170mm
Water Cooling Radiator Support
1 x 360mm (Front), 1 x 280mm (Top)
Full Specs
Rosewill Official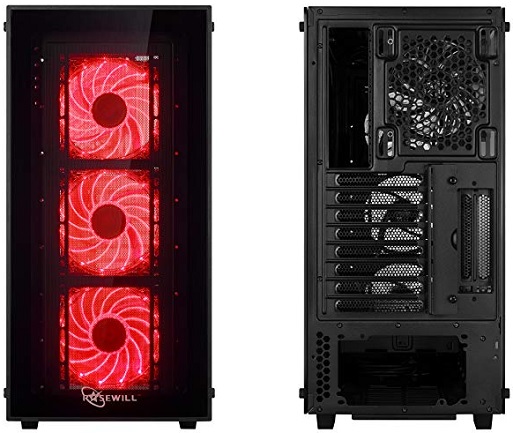 Best Rosewill Cullinan MX Reviews (Expert Sources)
Written Reviews:
Rosewill Cullinan MX Mid-Tower Chassis Review (TweakTown)

Specific Model Reviewed: Cullinan MX Mid-Tower RGB

Paraphrased Synopsis:

"The Cullinan MX mid-tower computer case is one of the best we've seen from Rosewill in some time. It competes well with many other mid-tower case's included features, modularity, compatibility, and doesn't break the bank to give you all you need and some!"



Rosewill Cullinan MX Review (Tech PowerUp)

Specific Model Reviewed: Cullinan MX Mid-Tower RGB

Paraphrased Synopsis:

"The Cullinan MX builds on what the original Cullinan offered and expands on that feature set. It essentially does everything right, which in turn more than justifies the price tag. There is very little to critique on the Rosewill Cullinan MX. It is a sleek, high-quality chassis with some awesome features."
Video Reviews:
TL;DR (Pros and Cons Summary)
---
Trusted Stores
The retailers I recommend most, for the regions that make up the majority of my readers.
USA: Amazon US / BestBuy / B&H

Canada: Amazon CA

UK: Amazon UK

Australia: Amazon AU / PLE / Scorptec
Disclosure: As an Amazon Associate we earn from qualifying purchases. We may also earn a commission on sales made through other store links (Best Buy, B&H, PLE).
Most Shared
Search the Site
Trusted VPN
VPNs are fast becoming must-have software these days to improve the security and privacy of a PC when online. There's lots of VPNs but NordVPN is objectively one of the best and the one I use (edit: it's currently over 60% off in October 2022). VPNs can also help for online gaming as explained here.
About Me
Indie game dev currently working on my first public release after years of hobby projects, a story-driven VR FPS adventure built using Unreal Engine (to be announced once I'm ready here and here for anyone into VR FPS's). Also likes writing and updating these tech articles, which helps fund development of the game. 
My favs of all time are OOT, Perfect Dark, MGS1, MGS2, GE007, DKC2, THPS3, HL1, and HL2, with the most recent addition to my list of immortals being the VR masterpiece Alyx. If you want help with a new build or upgrade feel free to ask on the main PC builds guide. If you found the site real helpful and want to help support the work I do here, sharing an article with anyone you think might also benefit from it does help and is appreciated in advance. - Julz