Silent Video Card -
Buying Guide And Cooling Advice

If you want a totally silent video card then you usually have to compromise on performance at least a bit. Video cards these days are getting more powerful all the time and are requiring more cooling than ever before.
So you will have to choose one of the two options, an ultra quiet pc video card with moderate performance, or a slightly louder high-end card. Although keep in mind that if you choose to get a high end card there are aftermarket components you can buy to reduce noise.
One of the quietest video cards around is the ATI Radeon HD 4850 from Gigabyte. Instead of the usual heatsink and fan, it contains a fanless cooler which runs silently. It uses a specially designed heatpipe cooler which does not require a fan.
Despite creating no noise, it still is quite a powerful card capable of running the latest games, so you aren't compromising too much on performance for the fact that it is silent.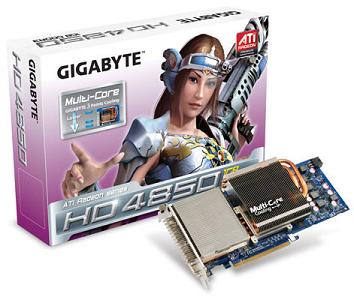 Fanless ATI Radeon HD 4850 from Gigabyte
Keep in mind that this card is fairly big though, so make sure it will fit in your case before getting one. If you want a great silent video card then definitely consider the ATI Radeon HD 4850 from Gigabyte, you won't be disappointed.
Cooling Your Own Video Card
If you've already got yourself a decent video card and want to reduce its noise, then consider replacing your card's cooler with a better one such as the Zalman Z-Machine GV1000 VGA Cooler. Zalman produce top quality cooling products, and this video card cooler is no exception.

The Zalman Z-Machine GV1000 VGA Cooler
It contains four quality heatpipes and patented variable fin profile technologies. It will work with most high end video cards, such as the GeForce 9800GTX or the Radeon 4000 line of cards. The cooler is made entirely from copper and contains one effective cooling fan. A fan controller is included which allows you to change the speed of the fan easily.
The Zalman GV1000 would have to rate as the best video card cooler around at the moment. You can find the Zalman Z-Machine GV1000 at the lowest price here at TigerDirect.



Return to Build A Quiet Computer from Silent Video Card Guide.