---
The Ultimate PC Water Cooling Guide for Beginners (2017)
---
(water cooling fundamentals + step by step tutorial on how to plan, buy and build your first custom loop)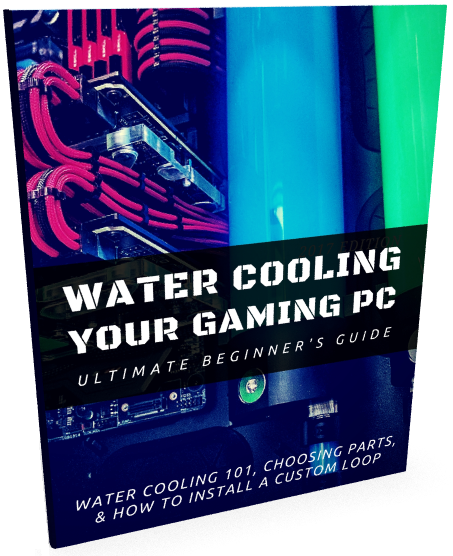 If you need help with building your water cooling gaming rig, we're here to help, and we've carefully-constructed this complete, easy-to-follow, ultimate water cooling guide that covers everything you need to know as a first-timer.
It includes the important basics and fundamentals of water cooling PCs, a close look at the advantages and disadvantages of water cooling vs typical air-cooling setups, how to choose all of your parts for a custom water cooling loop, and how to install that loop safely and effectively.
There are handy tips and tricks throughout the guide that are rarely talked about and would only be something you'd be aware of if you had a water cooling expert by your side as you plan and build your setup.
Here's a look at what's covered in Water Cooling Your Gaming PC: Ultimate Beginner's Guide: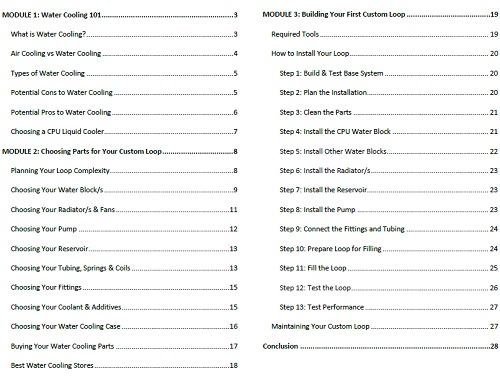 Table of Contents
Simply put, this is the ultimate water cooling guide that I wish I had when I first started learning about this, and we've aimed to make this as comprehensive and detailed as possible whilst at the same time making it simple and easy to follow for hardware and PC building beginners.
To download your copy of this PDF eBook, click the Buy Now button below and we'll email your copy immediately so you can get started learning everything you need to know about planning, building and maintaining an awesome custom water cooling loop that will have your gamer buddies green with envy. Enjoy and have fun!
Price: $17