How to Choose the
Best Computer Speakers
Everyone knows sound plays a very important part in any decent gaming system. With the best computer speakers, you can enjoy amazing sound for a totally immersive gaming experience. But not all computer speakers are created equally. This article takes a look at the important things to consider when choosing your gaming speakers.
5.1 Surround Sound
Having a 5.1 surround sound speaker system is a must these days for absolute best gaming sound experience. 5.1 surround sound is currently the way to go. With 5 speakers and 1 subwoofer placed in different locations around you, it doesn't get much more immersive than that.
Although you can find some very decent 2.1 speakers that most people would be happy with for gaming.

Amplifier
Sound cards aren't capable of driving speakers, so an amplifier is needed. So choose computer speakers that are self-amplified. The power of the amplifier is measured in Watts per Channel RMS (root mean square). RMS describes the amplitude of a given signal and is a good measure of the amplifier's output.
Another Consideration: THD
Another important specification you should consider when choosing the best speakers is the THD (total harmonic distortion). The lower the THD of the amplifier, the better. Try to stay clear of speakers with a THD of greater than 1-2%.
The Best Speakers For Gaming?
With a great gaming sound system you can improve your gaming experience tenfold. If you want the very best computer speakers then I would highly recommend the Corsair SP2500 High-Power 2.1 Gaming PC Speakers. The quality of sound is amazing and you will feel and hear everything and play your games with the best audio experience possible. Alternatively, I would personally go for a set of Logitech speakers as you can't go wrong with them.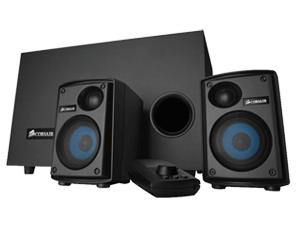 Keep in mind that having a decent set of gaming speakers usually requires you to also have a decent sound card for the best quality. Check out the How To Choose The Best Sound Card article for more information on sound cards.



Gaming Computers / Computer Gaming Accessories / Best Computer Speakers.

---