---
How to Build Gaming Computers
---
Always-Updated Gaming PC Builds & Guides to Help You Build a Faster PC for Less
Building your own gaming computer is the smarter, usually cheaper, and most fun way to get into the exciting world of PC gaming, eSports, streaming, virtual reality, and/or for other demanding non-gaming tasks like video editing.
There are many good reasons to build gaming computers instead of buying pre-built gaming desktops: see our list of compelling reasons why building a PC beats buying. The best thing? Assembling a computer from scratch is actually super-easy to do these days even if you're a complete newbie with zero hardware knowledge or experience.
The saying that computer building is basically like Lego for adults (or teens) holds very true, and it's really hard to go wrong with a well-explained step by step guide by your side such as our full 2018 walkthrough on how to build a PC from scratch.
Here at Build-Gaming-Computers.com you'll find always-updated hardware and accessory buying guides, monthly-updated example gaming PC builds for every type of budget to help you easily pick the right parts, beginner-friendly tutorials, and more. Simply put, you'll learn everything you'd ever need to know about how to build gaming computers without getting overwhelmed as a first-timer and to avoid common beginner mistakes.
With this site we've made it a mission for many years to always strive to simplify the oftentimes confusing, fast-paced PC hardware market as much as possible, to help you more easily and cleverly build the best gaming computers for the best price to maximize performance and reliability for your hard-earned money (or your parents if you're lucky enough :P) so you can play your favorite games nice and smoothly for as long as possible without having to upgrade.

We also minimize any technical language or hardware enthusiast lingo as much as possible so that no noob gets left behind and that every gamer can easily get into this super-fun and beneficial hobby that will serve as a very useful skill to have for the rest of your gaming days.
Intermediate and experienced builders will also find nuggets across the site too as we create and fine-tune guides on more advanced topics as well including CPU and GPU overclocking, how to build a water cooling PC, building video editing PCs, assembling rendering/animation workstations, and more. 
Welcome, and have a blast designing and building the ultimate battle station that'll have you beaming with pride every time you boot up. Good luck, gamer.
---
The Best Gaming PC Builds For Your Money:
April 2018 Edition
---
April Builds From Left to Right: $400, $600, $800, $1200, $1600, $2500
Our monthly-updated custom gaming PC builds are here to make choosing the current best bang for your buck components that little bit easier when building the best computer for your budget. We thoroughly check over and improve our 6 starting-point build examples at the start of each month, and sometimes more than once a month if there are any noticeable market changes, to ensure they always remain excellent examples of how to stretch your particular spending budget as far as possible.
Supported Countries:
The Best Budget Gaming PC Builds
(Recommended $400 and $600 Custom Desktops for 1080p or 720p)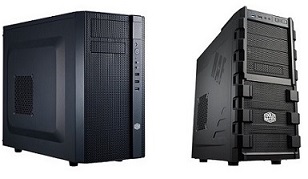 The Best High-End Gaming PC Builds
(Recommended $800 and $1200 Custom Desktops for 1080p, 1440p or VR)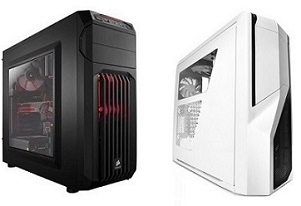 The Best Extreme Gaming PC Builds
(Recommended $1600 and $2500 Custom Desktops for 1080p, 1440p, VR or 4K)
---
How to Choose the Best PC Parts
---
How to Choose a Gaming Video Card for Your PC
When you build gaming computers there's no hardware component more crucial than your graphics card and this guide covers what you need to know including the best value GPUs for 1080p, 1440p and 4K.
How to Choose the Best CPU for Gaming

The latest information on buying a processor including Intel vs AMD, which CPU features matter most, and the top bang for your buck gaming CPUs right now.
How to Choose the Best Motherboard for Gaming
Your motherboard is a vital piece of the PC puzzle and in this buying guide you'll learn about the most important features as well as handy tips on selecting the best Intel or AMD motherboard for your needs.
How to Choose the Best Computer Memory/RAM
The RAM in your custom computer plays a role in gaming and general performance and we cover RAM types, speeds, and how much you really need for gaming or other demanding applications.
How to Choose a Hard Drive for Your Build
Traditional storage hard drives are still the go-to when building a gaming computer to stretch your dollar as far as possible (SSDs are faster but more expensive). Learn what you need to look for in a HDD for your desktop PC.
Whilst totally optional, Solid State Drives are all the rage these days and for good reason as they provide super fast loading of your games and other programs should you have the budget to afford them.
The enclosure that houses and protects all of your expensive hardware is an important decision and here we cover everything you need to know to pick the best one for your budget and size preference.
How to Choose the Best Power Supply
Last but definitely not least is the often overlooked PSU which is an important component in the grand scheme of things and should be chosen wisely. Get expert advice on shopping for one here.
---
How to Choose the Best Accessories
---
How to Choose the Best Gaming Monitor
No point building a killer rig without hooking it up to a decent screen. In this guide you'll learn about the important features that make a good monitor for gaming and the current top rated models.
How to Choose the Best Gaming Mouse

Having a comfortable, decent-quality and accurate mouse is important to many gamer's especially for competitive multiplayer games or eSports where every millisecond counts.
How to Choose the Best Gaming Keyboard
Keyboards come in all shapes and sizes with many different cool features too. We give you the lowdown on how to buy a good one for your budget and feature-needs.
How to Choose the Best Gaming Headset
Headsets can be a confusing bunch and we do our best to help you make sense of it all as well as advice on picking the best bang for your buck models on the market today for different budgets.
How to Choose the Best Gaming Speakers
Headsets are all the rage these days thanks to the rise of multiplayer/online gaming and the frequent use of chat mics, but sometimes you'll want to crank out a nice set of speakers instead.
How to Choose the Best Gaming Sound Card
Not a necessary component when building a gaming PC but a must-have for high-end audio geeks and enthusiasts who won't settle for anything less than the highest quality audio possible.
---
Latest Guides, News & Reviews
---
GPU Prices Going Down: 4 Reasons to be Optimistic About 2018 Pricing
Apr 7, 2018
There's finally some light at the end tunnel for PC builders it seems. In March, GPU stock and pricing were better than usual for once, and there are reasons to be hopeful that pricing may normalize in 2018.
GPU Pricing Inflation: When Will Graphics Card Prices Drop?
Mar 16, 2018
Thanks to the boom of cryptocurrency/Bitcoin mining (which requires graphics cards) current GPU stock and pricing is in a bit of a crisis where cards are well over their RRP. Learn what you need to know when building a PC.
Building or Upgrading a PC for Virtual Reality

Mar 8, 2018
VR is well and truly here with some decent titles out now and many more promising titles on the horizon. This explains what you need to know about VR requirements, picking the right parts, and choosing a headset.

How to Build a Custom Water Cooling PC

Mar 5, 2018
Water cooling comes in two forms: closed-loop all-in-one CPU liquid coolers, and then there's custom water loops. If you're up to the challenge of the latter, this guide is your blueprint.
Building a Computer for CSGO: Hardware Guide

Mar 3, 2018
As a counter strike player you need smooth performance to perform at your best and avoid frame-rate stutters. CS:GO's requirements aren't high, but if you want 144FPS for a 144Hz screen you'll need a decent rig.
Building a Computer for DOTA 2: Hardware Guide

Mar 1, 2018
How to choose the best hardware components for Defence of the Ancients 2 including what minimum setups you need to get either 60FPS or 144FPS if you're using an elite 144Hz screen.