Build the Best PC for PUBG (2023)
Recommended CPUs / GPUs for 60Hz, 144Hz, or 240Hz (1080p or 1440p Resolution)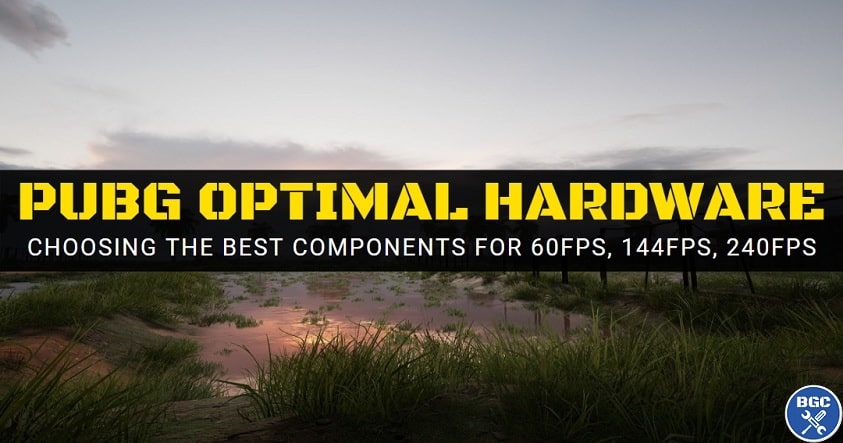 Last Updated: September 11, 2023
PUBG, short for PlayerUnknown's Battlegrounds, was the original Battle Royale that initially sparked the genre into the mainstream a few years ago. Today it's still popular, despite the many other Battle Royale options you have out there these days, and it's also just become free to play. Compared to other competitive shooters, PUBG can be quite demanding on PC hardware, especially if you're trying to get consistently high frame rates of 144FPS or, if you want to play smoothly at high resolution and/or high settings. In this guide we'll break down what to know in order to choose the best bang for buck parts to get the performance level you seek for your particular budget, based on having studied multiple independent performance benchmarks from around the web.

PUBG Official System Requirements
While not that helpful when trying to build the best PC for PUBG, let's first cover the official system requirements as listed on Steam for anyone just wanting to know what specs you need to run the game. If you want good performance, you'll need better hardware as the officially recommended GTX 1060 / RX 580 or modern equivalent is the bare minimum and won't get you far in terms of frame rate.
Minimum PC Requirements
CPU/Processor: Intel Core i5-4430 or AMD FX-6300
GPU: NVIDIA GeForce GTX 960 2GB or AMD Radeon R7 370 2GB
RAM/Memory: 8GB
Disk Space: 40GB
Operating System: 64-bit Windows 7 or higher
Recommended PC Requirements
CPU/Processor: Intel Core i5-6600K or AMD Ryzen 5 1600
GPU: NVIDIA GeForce GTX 1060 3GB or AMD Radeon RX 580 4GB
RAM/Memory: 16GB
Disk Space: 40GB
Operating System: 64-bit Windows 7 or higher
With its fairly expansive maps and relatively decent graphics, PUBG can be quite a demanding game on PC
Best PC Builds for PUBG (60FPS, 144FPS, 240FPS)
If you're playing PUBG competitively, you don't want performance issues getting in the way of your aim, so it's simply a matter of buying the best gear you can afford to get the highest, most consistent frame rate that you can (plus tweak your graphics settings to further increase your FPS).
But if you're on a budget, or just want to avoid overspending on power you might not even need, below are tailored recommendations based on different resolutions and refresh rates. Most pro PUBG players use either a 1080p 240Hz or 1080p 144Hz monitor, but if you're more of a casual player then a 60Hz screen is totally fine (whether that's at 1080p or 1440p resolution) and will require much cheaper hardware for smooth performance (60FPS isn't hard to reach).
New to PC? Gaming Resolutions Explained
Cheap Specs for Casual PUBG (1080p 60FPS, Ultra Settings)
CPU: Intel Core i3 13100 / 12100 or AMD Ryzen 3 4100 / 3300X
GPU (1080p): NVidia GeForce GTX 1650 Super 6GB / GTX 1650 / 1050 Ti 4GB or AMD Radeon RX 5500 XT 4GB / RX 580 8GB
GPU (1440p): NVidia GeForce RTX 3050 8GB / 2060 / GTX 1660 Super / 1660 Ti 6GB or AMD Radeon RX 6500 XT / 5600 XT 4GB
RAM: 16GB 3200MHz DDR4 (2x8GB)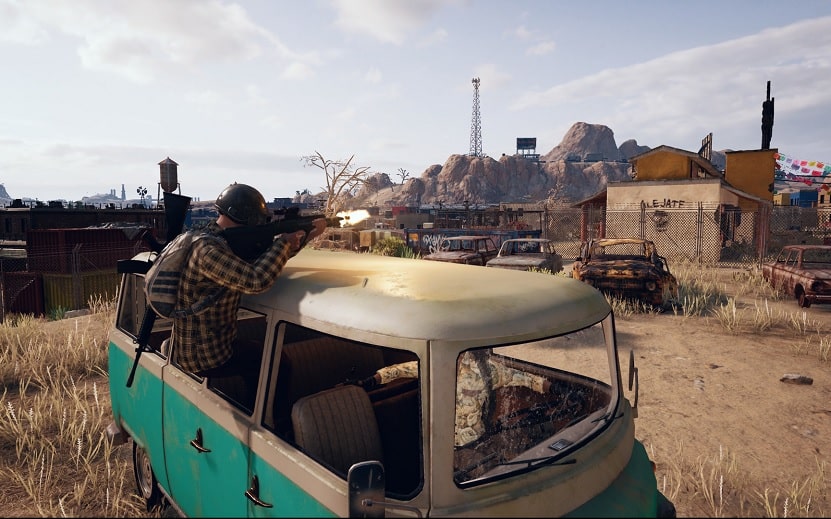 Aiming for 144FPS is ideal for a fast-paced shooter like PUBG, but since the game can be quite demanding you're going to have to turn those visual settings right down in order to be able to reach such high frame rates consistently - even if you have a pretty decent setup.
Related: Best CPU GPU Combos for Most Games

Best Specs for 144FPS (Low/Competitive Settings)
CPU: Intel Core i5 13400 / 12400 or AMD Ryzen 5 5600X / 3600 / 3600X

GPU (1080p): NVidia GeForce RTX 4060 / 3060 / 3060 Ti or AMD Radeon RX 6600 XT 8GB

GPU (1440p): NVidia GeForce RTX 4060 Ti / 3070 or AMD Radeon RX 6700 XT 16GB
RAM: 16GB 3200MHz DDR4 (2x8GB)

Now onto 1080p 240Hz monitors, which requires a bit more grunt from the CPU since reaching such high frames puts a lot of strain on the processor. But you'll also want the best graphics card you can get your hands on as well. Believe it or not, 360Hz monitors are indeed a thing these days, but very rarely used and so I'll leave them out. Besides, getting 360FPS in a graphically demanding game like PUBG is just not practical with today's hardware.
Related: Build the Best PC for Warzone

Best Specs for 1080p 240FPS (Low/Competitive Settings)
CPU: Intel Core i7 13700K / 12700K or AMD Ryzen 5 7600X / Ryzen 7 5800X / Ryzen 9 5900X

GPU: NVidia GeForce RTX 4070 / 3080 Ti or AMD Radeon RX 6900 XT 16GB

RAM: 32GB DDR4 or DDR5 (2x16GB or 4x8GB, 3200MHz or faster)

---
Trusted VPNs
VPN software is quite important in this day and age and will improve the security and privacy of your PC when online. There are also benefits to using VPNs for gaming.

There's lots of VPNs out there but the ones I recommend most to gamers is ExpressVPN (special link that gets you 3 months off. they also offer a free trial here) and NordVPN which are both highly rated gaming VPNs because they're the fastest and most secure.
Search the Site
About the Author
Indie game dev currently working on my first public release after years of hobby projects, a story-driven VR FPS built with Unreal Engine (to be announced soon here for anyone into VR FPS's). Also likes writing about tech, which also helps fund development of the game.
My favs of all time are OOT, Perfect Dark, MGS1, MGS2, GE007, DKC2, THPS3, HL1, and HL2, with the most recent addition to my list of immortals being the VR masterpiece Alyx. If you want help with a new build feel free to ask on the main PC builds guide. If you found the site extra helpful and wish to support the work I do here, sharing an article with a friend helps a lot and is much appreciated. - Julz