Build the Best PC for God of War
System Requirements & Best Value CPUs / GPUs for 60FPS (1080p, 1440p, or 4K)
After many years and many awards for its PS4 release, God of War has made its way to PC and looks even more stunning
Published: January 29, 2022
Set in an alternate version of ancient Greece where Olympian gods roam the world, the third-person action adventure epic God of War has released on PC in 2022 after having been out now for a few years exclusively on the PS4 (and is playable on the PS5 due to its backwards compatibility). And boy has it gone well for developer Santa Monica Studio and publisher Playstation PC (Sony's dedicated PC port team). God of War on PC has received stellar reviews across the board, and it's the first time a Playstation port has reached and stayed at #1 on Steam for two weeks. God of War has some very good graphics, and can push a PC hard at high settings and/or high resolution, so if you want to know what hardware you'll need to reach smooth 60FPS performance this guide will cover everything you need to know.
Based on the sentiment out there, this PC version is the ultimate way to experience God of War, with the higher possible frame rates being a clear reason why. On PS4, God of War runs at 30FPS (though on PS5 you can run it at 60FPS with lower visual quality thanks to a PS5 update allowing this). But besides the lack of a ceiling on frame rate that allows for the smoothest experience, on PC you're also getting other improvements over the console version such as higher quality textures, improved shadows, better reflections (screen space reflections if you want to get technical), as well as handy performance-enhancing features (DLSS and FSR).
God of War on PC doesn't support ray tracing, but that does not matter in the slightest as game's can still look phenomenal and next-gen by sticking to traditional lighting processes (rasterization). Oh, and for what it's worth (not much in a more casual title like this), God of War on PC also supports NVidia Reflex, the NVidia-GPU-only feature that reduces input latency. 
Related: Build the Best PC for Witcher 3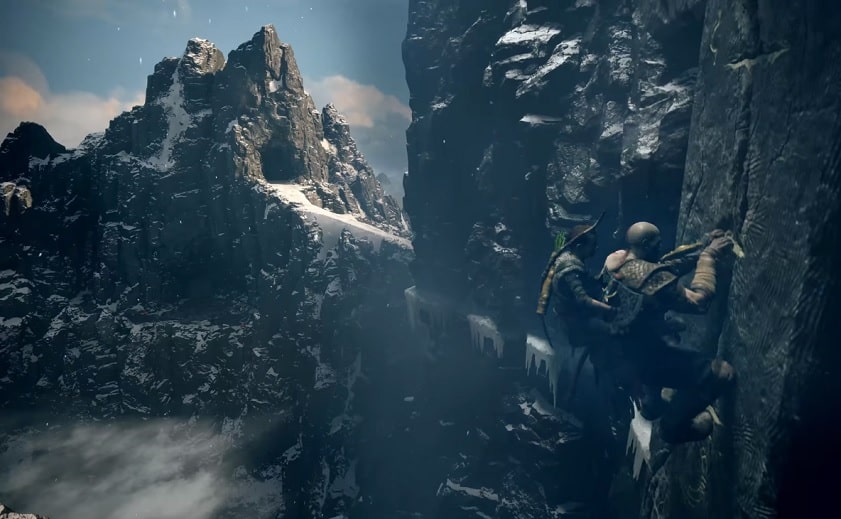 The whole game looks great, but the mountain areas with realistic snow deformation and effects are next level
PCGamer said the game is "evidence that the PC is the ultimate videogame unifier, and a great reminder of how the platform can bring out the best in games. I've killed my way across Midgard at 30 fps on a PS4 and 4K on PS5, but I don't think I can go back to either after 24 hours of buttery smooth monster chopping at 90+ fps. This is a damn good port, at least on my higher-end PC."

Speaking of frame rates, if you want to experience the potential PC game of the year at a silky smooth 60FPS or thereabouts, let's get into the hardware that'll get the job done based on performance benchmarks I've analyzed around the web. But first, let's get those official minimum requirements out of the way, including anything worth mentioning relating to them.
System Requirements for God of War on PC
For a graphically demanding new AAA release like God of War, the official PC requirements are quite tame which is good news for most gamers who have (or are building) a more moderately powerful system. As listed on Steam, the official minimum and recommended specs for the game are as follows:
God of War PC Requirements
CPU (Minimum): Intel i5-2500k (4 core) or AMD Ryzen 3 1200 (4 core)
CPU (Recommended): Intel i5-6600k (4 core) or AMD Ryzen 5 2400G (4 core)
GPU (Minimum): NVIDIA GTX 960 (4GB) or AMD R9 290X (4GB)

GPU (Recommended): NVIDIA GTX 1060 (6GB) or AMD RX 570 (4GB)

RAM (Minimum & Recommended): 8GB
Storage Space: 70GB

Operating System: 64-bit Windows 10
As always, the question is, what kind of performance can you expect from the 'recommended' specs which only lists a GTX 1060 6GB or RX 570 4GB, two cards that are showing their age these days in modern demanding titles (though to be fair are also still more than enough for 1080p 60FPS gaming on lower settings). A quick look around at God of War benchmarks using a GTX 1060 (such as here and here as just two examples of many out there) and you'll see that with GPUs of this caliber you're looking at around a 35FPS - 45FPS experience on high settings (give or take a few frames depending on other factors like your CPU and RAM). 
On low settings, with a 1060 or 570 it seems you should be able get up around 50FPS - 55FPS on average, which is more than playable and quite smooth. Frame rate would be a bit lower for medium settings (called "Original" in God of War). But if you want to consistently reach 60FPS or thereabouts to experience the game to the fullest on the PC, and especially if you want to play at high or maxed settings, you'll need something better than a 1060 or 570. Let's get into PC build recommendations to get the most out of this game, but also without overspending on gear you don't need.
Someone gave big boy a lopsided face piercing and now he mad
Best PC Builds for God of War (60FPS High/Ultra)
Let's get into the requirements for 60FPS at three of the most common PC gaming resolutions - 1080p, 1440p, and 4K. Higher than 60FPS, such as 144FPS for 144Hz monitors, is unnecessary for the best God of War experience, though to be fair combat is fast enough to theoretically benefit from 144Hz displays. God of War is mostly GPU bound, so if you want to maximize performance in this title you want a decent entry-level or mid-range CPU. God of War is not generally that demanding on the CPU (especially not for reaching a consistent 60FPS), and the focus should be to allocate a good portion of your PC budget on getting the best gaming graphics card you can. 
However, that doesn't mean you need a monster GPU for God of War. At higher resolutions, since God of War supports both NVidia DLSS and AMD FSR (for NVidia and AMD cards respectively), you can get much better performance than you otherwise would without these features, and DLSS has been fine tuned these days to create only a minimal loss in image quality (to the point that most people wouldn't notice it, at least on the higher quality, milder DLSS settings). You can turn these two settings on or off within the graphics settings (just above the Render Scale setting), and it's strongly recommended at 1440p or 4K (though less so at 1080p since DLSS and FSR don't look quite as good at lower resolutions). 
So, here are my hardware recommendations for God of War based on carefully curating multiple performance benchmarks from around the web, for anyone wanting the best bang for buck setup for different resolutions and settings.
Best Value GoW Specs for 60FPS
CPU (Value): Intel Core i3 12100 / i5 11400 / i5 10400 or AMD Ryzen 3 3300X / Ryzen 5 3600
CPU (Best): Intel Core i5 12400 or AMD Ryzen 5 5600X
GPU (1080p HIGH): NVidia GeForce RTX 3050 8GB / GTX 1660 Super / 1660 Ti 6GB or AMD Radeon RX 580 / 590 / 5600 XT 8GB

GPU (1080p ULTRA): NVidia GeForce RTX 3060 12GB / 2060 Super 8GB or AMD Radeon RX 6600 / 5700 8GB
GPU (1440p ULTRA): NVidia GeForce RTX 3060 Ti / 2070 Super 8GB or AMD Radeon RX 6600 XT / 5700 XT 8GB
GPU (4K ULTRA + DLSS/FSR): NVidia GeForce RTX 3070 / 2080 Super 8GB or AMD Radeon RX 6700 XT 16GB
RAM: 16GB DDR4 (2x8GB, 3200MHz)

If you want to know the best settings for God of War to get the best performance, as well as more detail on the PC vs PS4 versions, see the in-depth God of War PC performance guide from Digital Foundry who do a great job and really know their stuff. Anyway, hope this guide helped and enjoy the adventure.
---
Trusted VPNs
VPN software is quite important in this day and age and will improve the security and privacy of your PC when online. There are also benefits to using VPNs for gaming.

There's lots of VPNs out there but the ones I recommend most to gamers is ExpressVPN (special link that gets you 3 months off. they also offer a free trial here) and NordVPN which are both highly rated gaming VPNs because they're the fastest and most secure.
Search the Site
About the Author
Indie game dev currently working on my first public release after years of hobby projects, a story-driven VR FPS built with Unreal Engine (to be announced soon here for anyone into VR FPS's). Also likes writing about tech, which also helps fund development of the game.
My favs of all time are OOT, Perfect Dark, MGS1, MGS2, GE007, DKC2, THPS3, HL1, and HL2, with the most recent addition to my list of immortals being the VR masterpiece Alyx. If you want help with a new build feel free to ask on the main PC builds guide. If you found the site extra helpful and wish to support the work I do here, sharing an article with a friend helps a lot and is much appreciated. - Julz