Home > PC Builds > Monster Hunter Rise
Monster Hunter Rise PC Build Guide
System Requirements & Best Value CPUs / GPUs for 60FPS (1080p, 1440p, or 4K)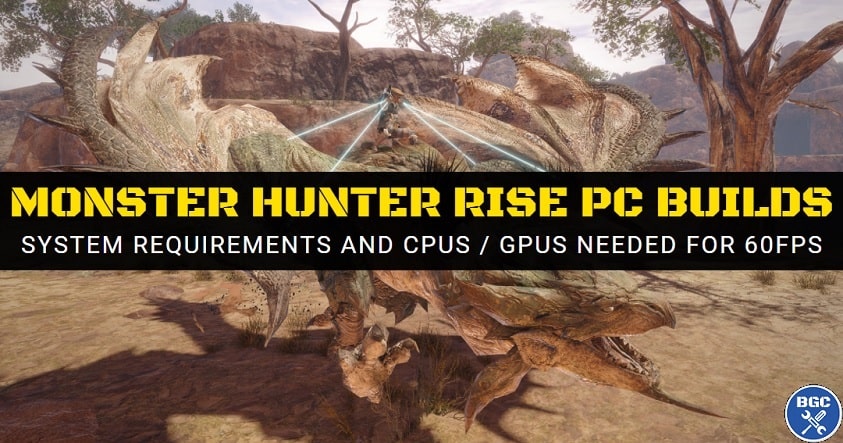 Published: January 21, 2022
The latest entry in the increasingly popular Monster Hunter franchise has just been ported over to PC, meaning at its core it's a mobile game that was initially (AFAIK) only planned for the Nintendo Switch. As you can imagine, that means the graphics in Rise aren't as technically impressive as Monster Hunter World. But Rise still looks great on PC, so while not as large in scope and as high fidelity as World (in Rise the maps are smaller and everything is lower poly), playing Monster Hunter Rise on a high resolution display at 60FPS is still a great visual experience and the superior platform to play the game if you're the graphics and immersion type.
Related: Build the Best PC for Witcher 3
Besides the higher resolution textures and other visual enhancements that were not technically feasible on the Switch, the most notable benefit of the PC version is its uncapped frame rate; on the Switch you're stuck at a measly 30FPS. Oh and on PC you will have faster load times if you include an SSD in your PC build, as the Switch's internal flash storage cannot keep up with the speed of a good desktop SSD. So, if you want the 60FPS experience on PC, let's look at which modern CPUs and GPUs will hit that mark based on the Monster Hunter Rise performance benchmarks and reports that are available online so far.

System Requirements for Monster Hunter Rise
First let's start at ground zero for anyone just wanting to know the specs needed to run the game. Below are the bare minimum official requirements as listed on Steam, which as expected are quite low by 2022 standards seeing as the game is first and foremost a mobile game designed for the Switch.
Monster Hunter Rise Requirements
CPU (Minimum): Intel Core i3-4130 or Core i5-3470 or AMD FX-6100
CPU (Recommended): Intel Core i5-4460 or AMD FX-8300
GPU (Minimum): NVIDIA GeForce GT 1030 (DDR4) or AMD Radeon RX 550

GPU (Recommended): NVIDIA GeForce GTX 1060 (VRAM 3GB) or AMD Radeon RX 570 (VRAM 4GB)

RAM (Minimum): 8GB

RAM (Recommended): 8GB

Storage Space: 23GB

Operating System: 64-bit Windows 10
In the official requirements the developer have also mentioned that the minimum specs are intended for 1080p 30FPS on 'Low' graphics settings, and the recommended specs are for 1080p 30FPS on 'Average' graphics settings. For PC gaming, 60FPS is what you want to aim for, as 30FPS is notably less smooth. So let's look at what specs you need for that based on your screen resolution, what that's 1080p, 1440p, or 4K.
See Also: Recommended Specs for Dota 2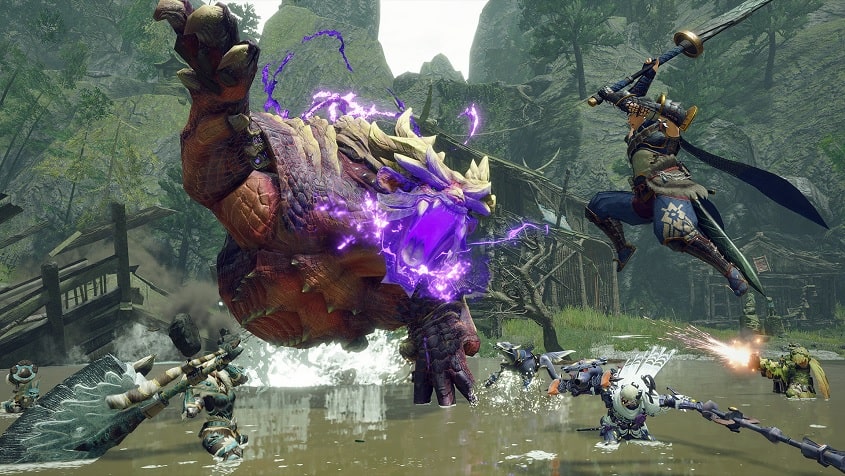 Best PC Builds for Monster Hunter Rise (60FPS)
Again, being a mobile-first title, Rise is easy to run and reaching 60FPS for the best PC experience is also easy. In terms of modern hardware, at the highest graphical settings ("High" in this title) all you need at 1080p to get 60FPS and stay above that mark for the majority of the game is any cheap entry-level GPU from recent years. Paired with any cheap modern CPU - or even an older entry-level CPU if you're buying used - and you'll have the full Rise experience on PC.
Recommended Monster Hunter Rise Specs for 60FPS (HIGH SETTINGS)
CPU (Value): Intel Core i3 12100 or AMD Ryzen 3 3100 / 3300X
CPU (Best): Intel Core i5 12400 / 11400 / 10400 or AMD Ryzen 5 3600
GPU (1080p): NVidia GeForce GTX 1650 / 1050 or AMD Radeon RX 560 4GB

GPU (1440p): NVidia GeForce GTX 1650 Super / 1660 or AMD Radeon RX 570 / 5500XT 4GB
GPU (4K): NVidia GeForce GTX 1660 Ti / RTX 2060 6GB / 2060 Super 8GB or AMD Radeon RX 5600 XT 6GB
RAM (Cheapest): 8GB DDR4 (2x4GB, 2666MHz)
RAM (Value): 16GB DDR4 (2x8GB, 3200MHz)

For higher resolutions like 1440p, you also don't need to step things up that much in the GPU department to reach that flawless 60FPS. It's hard to remember the last game I wrote a guide for that only needed an entry-level 1650 Super to reach beyond 60FPS at 1440p, which puts into perspective just how easy this title is to run.
On 4K displays - which are typically very demanding on GPUs because of the metric-ton of pixels needed to be rendered on-screen each frame - for 60FPS all you need is a RTX 2060 or RX 5600 XT as shown by OC3D's Monster Hunter Rise 4K benchmarks, two cards that are out of the picture for 4K gaming in most modern titles.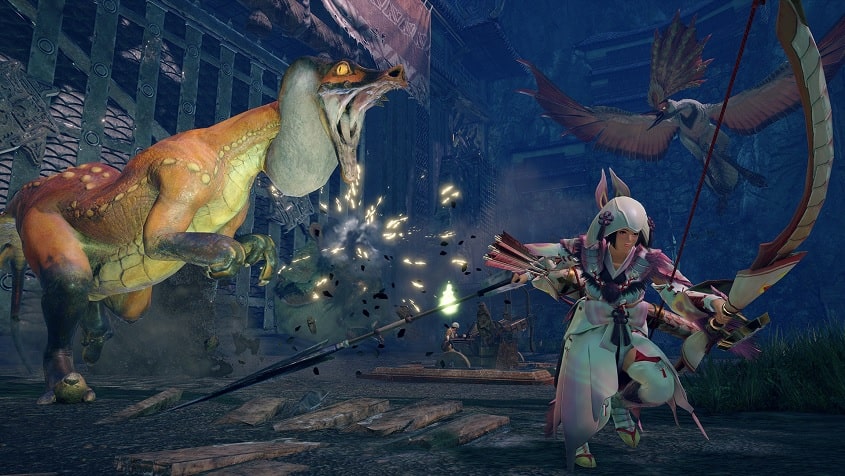 One of the easiest new PC games to run at a flawless 60FPS, even at high resolutions
For RAM, as with the far majority of RAM recommendations made on the site over the past few years, 16GB is the automatic go-to since its the sweet spot for value these days, even despite the fact that you could get away with 8GB in Rise and not see any difference in performance or the experience in general. 16GB is just the better buy for most people, unless you're trying to cut costs on your PC build as much as you possibly can.
With 16GB, you are more "future proofed", have faster general system performance for non-gaming tasks and multitasking. Plus, 16GB doesn't cost too much more than 8GB, and is a feature that almost any new custom PC build can afford to include. Put another way, I never recommend 8GB for new system builds these days, and haven't done for a while now. 16GB is the new standard, even for most budget gaming PCs.
And that's about all you need to know to build the best PC for Monster Hunter Rise. Not that this is a title that many people will be focusing their new PC build around, but hey, if this guide helps that one person out there who is a diehard Monster Hunter fan building a new setup specifically for Rise, then I guess this article has done it's job. As always, good luck and GG, friend.
New to PC? PC Resolutions Compared
---
Trusted VPNs
VPN software is quite important in this day and age and will improve the security and privacy of your PC when online. There are also benefits to using VPNs for gaming.

There's lots of VPNs out there but the ones I recommend most to gamers is ExpressVPN (special link that gets you 3 months off. they also offer a free trial here) and NordVPN which are both highly rated gaming VPNs because they're the fastest and most secure.
Search the Site
About the Author
Indie game dev currently working on my first public release after years of hobby projects, a story-driven VR FPS built with Unreal Engine (to be announced soon here for anyone into VR FPS's). Also likes writing about tech, which also helps fund development of the game.
My favs of all time are OOT, Perfect Dark, MGS1, MGS2, GE007, DKC2, THPS3, HL1, and HL2, with the most recent addition to my list of immortals being the VR masterpiece Alyx. If you want help with a new build feel free to ask on the main PC builds guide. If you found the site extra helpful and wish to support the work I do here, sharing an article with a friend helps a lot and is much appreciated. - Julz