---
OVERWATCH PC BUILD GUIDE
---
How to Build or Upgrade a PC for Overwatch to Get 60FPS or 144FPS
Including the Best Value CPUs & GPUs for 2018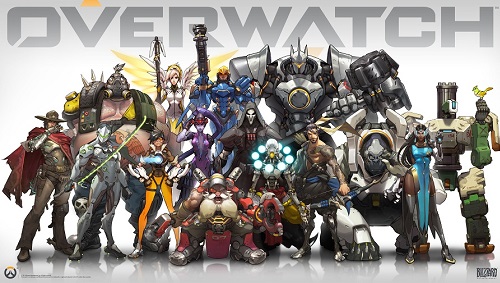 Last Updated: Mar 8, 2018
Planning the best Overwatch PC build to ensure great, smooth 60FPS or 144FPS performance to play at your best? Here we break down what you need to know about choosing the best hardware for this popular First-Person Shooter including the optimal processor, graphics card and RAM setups you need to maximize performance (and avoid overspending if you're on a budget).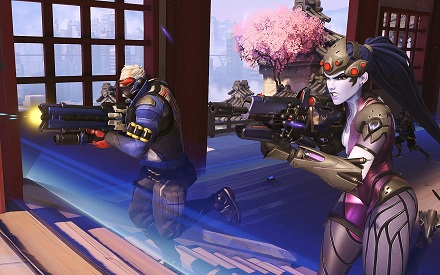 Modern-Day Unreal Tournament. With Badass Cyborg Chicks
Blizzard's Overwatch has quickly risen in the competitive gaming world since its release last year to become the second most popular first-person shooter, with many tournaments and attractive cash prizes becoming the norm. It doesn't look like going away anytime soon and it's expected to only grow as an eSport, so it deserves our full coverage in this guide to the top PC eSports.
Like all our eSport game guides, we'll be breaking up our hardware recommendations into 60Hz and 144Hz sections as Overwatch is also a fast-paced shooter which benefits from the faster refresh rates of 120-144Hz monitors (which requires better hardware though).
Pro or aspiring pro gamers will want to get a 144Hz screen if at all possible to increase the "smoothness" of the game which could lead to better in-game results too, but if you're on a tighter budget then a 60Hz screen will have to do (and still offers a smooth ride if you stay above 60FPS).
Like CS:GO, Overwatch isn't that demanding on your hardware, and lower-end rigs will perform well. However, Overwatch is most definitely more demanding than CS:GO and if you're trying to maximize performance for your exact budget you'll want to pick your parts a little more carefully; especially if you want to play competitively and you're aiming for a certain minimum frame-rate to avoid lame lag at all costs.
Minimum Overwatch Hardware for 60 FPS+

First things first, unlike CS:GO that slightly favors AMD cards, NVidia GPUs will give you slightly better performance for your money when it comes to Overwatch. Therefore all our GPU recommendations here will be from NVidia, but feel free to get an AMD equivalent if you'll be playing other games too or if you're a big fan.
However, we most definitely recommend NVidia if you'll only be playing Overwatch as you could see up to 5-10% better frame-rates. So, for those playing on a standard 60Hz monitor, you'll want to get a system that doesn't dip below 60 FPS to avoid any lag to play Overwatch at you best. To achieve this, the minimum type of PC build you'll need is the following:
CPU: Intel Pentium G4560 (with stock cooler)
GPU: NVidia GeForce GTX 1050 Ti 4GB
RAM: 4GB DDR4 (any speed)
This PC will have your average FPS well over 60FPS even on maximum in-game settings. Feel free to opt for 8GB instead as RAM isn't that expensive, however 4GB is the minimum recommended for a game like this and will get you by.
The G4560 processor is very affordable yet packs a very nice punch, and when paired with the great value yet great-performing GTX 1050 Ti 4GB you have a very solid budget-friendly gaming rig capable of playing Overwatch flawlessly (over 60FPS) in full HD (1080p).
We don't mention the other parts required for a working PC (motherboard, power supply, case, storage, operating system) as we'll only be talking about the components that affect gaming performance, but aim to get decent-quality, well-priced models of these parts that are compatible with your CPU, GPU and RAM.
Minimum Overwatch Hardware for 144 FPS+
If you'll be using a 144Hz monitor, which is highly recommended for fast-paced shooter games like Overwatch to allow for the smoothest visuals (especially if you're playing competitively), then you'll need a much better setup to comfortably hit that 144FPS mark to take full advantage of your faster display.
This is the cheapest PC to get that job done; in other words to never dip below 144FPS on max ("ultra)" settings in 1080p:
CPU: Intel i5-8400 (with stock cooler) or AMD Ryzen 5 1600X
GPU: NVidia GeForce GTX 1070 8GB
RAM: 8GB DDR4 (any speed)
If the mighty GTX 1070 is stretching your budget too far, as it is for many gamers especially those looking to be as cost-effective as possible, you could opt for the cheaper GTX 1060 (either the 3GB or the 6GB model is fine) and accept that you won't have a consistent minimum over 144FPS unless you lower the graphics settings.
For the Overwatch pro or aspiring pro, where every little edge can help you succeed and any lag can slow you down, you'll want to aim for that magical 144FPS mark if at all possible to take full advantage of your expensive 144Hz display. To achieve that with high-ultra settings there's no way around getting a 1070 (or again, turning down the settings on a weaker card).
It all depends on how seriously you'll be taking the game; using a cheaper 60Hz monitor, and therefore getting a cheaper PC, can still allow you to play very smoothly and thoroughly enjoy the game. 
But you're at an ever-so-slight disadvantage to those gaming on a faster 144Hz screen (every single pro Overwatch player uses a 144Hz monitor), so it all comes down to how invested you are in your Overwatch success and gaining every little edge possible. Plus, 144Hz is a tad more enjoyable as everything feels that little bit smoother, and once you start using it you won't want to ever go back to 60Hz.
We won't be covering PC builds for higher resolutions than 1080p such as 1440p or 4K as the vast majority of pro Overwatch players stick to 1080p as it produces more consistent frame rates and doesn't require a monster machine. However, the above build for 144FPS+ in 144Hz will perform quite well in 1440p if you do wish to use that resolution, but for 4K you would need to get an expensive 1080 or 1080 Ti.
That's about all you need to know about choosing the best hardware for an Overwatch PC build or upgrade. Happy fragging.
If you have a question, or want a quick second opinion of your potential parts-list before buying to get ideas on cutting costs or picking better parts, comment on the main Gaming PC Builds page and we'll help a gamer out.
General feedback on any aspect of the site is also always welcome too (and much appreciated in advance).
For more comprehensive, ongoing help/advice with planning, building, troubleshooting and/or tweaking your first custom PC, all owners of the "Master" or "VIP" edition of our full DIY book (The Gaming Build Blueprint) get direct access to our dedicated 1 on 1 support email (reserved for our customers only).
Anyway, hope this guide helped and good luck with your build or upgrade!

GG,