Home > Gaming PC Builds > CSGO
The Best PC Builds for CS:GO (2020 Edition)
Building or Buying the Best Computer for Counter-Strike: Global Offensive (Recommended Hardware Specs for 60FPS, 144FPS, 240FPS, or 300FPS+)
Building a CSGO computer? We pinpoint the current best value parts for optimal performance (get higher FPS for less).
Last Updated: June 9, 2020
The global phenomenon that is CS:GO keeps on keepin' on in 2020. The most successful FPS of all time is as popular as it's ever been, constantly found among the most-streamed games in the world on a daily basis, with a continually thriving competitive scene featuring regular big-money tournaments. In this guide we'll break down what to know before buying or building a PC for CS:GO in 2020, so you can better tailor your component choices to get the best performance for your budget in this specific title.
See Also: The Best General Gaming PC Builds

Want the fastest PC for CS:GO? Since Counter-Strike: Global Offensive is a fast moving game requiring pinpoint precision, cunning strategy, and  sharp reflexes to excel. If you're a competitive player (or even a casual) the last thing you want is a low or inconsistent frame rate getting in the way of you playing at your 100% focused best.
You can be the greatest player on the planet, but with a slow PC you could be losing close encounters you would have perhaps otherwise won. To leave nothing to chance and let your skills do the talking in-field, you want to make sure your PC is fast enough for the type of performance you want (read: for the type of monitor you're buying).
In this guide to choosing optimal CS:GO gear, we'll cover our latest recommended gaming PC builds for CS:GO based on the current market, including recommended prebuilt PCs if you don't have time to build, and we'll break down why we chose the specific CPUs and GPUs that we did.
Never Built a PC? How to Assemble Your First PC

The Best CS:GO PC Builds (& Prebuilt Alternatives)
Please keep in mind that our below recommended parts for CS:GO assume you're using 1080p / Full HD resolution (1920 x 1080) or lower, and on low/competitive settings. Competitive players never use high/ultra settings for CS:GO (nor do they use high resolutions like 1440p or 4K), as a fast-paced game like this is all about getting the highest, most consistent frame rate possible to avoid both on-screen and input lag (we'll explain those in a bit more detail later in this guide).
Swipe to Scroll the Builds:

Component
Cheapest CSGO PC Build (144Hz)
Best Budget CSGO PC Build (Never Dips Under 144FPS)
Best Competitive CSGO PC Build (Never Dips Under 240FPS)
Tier
Casual


Amateur


Pro


Monitor
120Hz / 144Hz
144Hz / 165Hz
240Hz
CPU
AMD Ryzen 3 3300X

or

AMD Ryzen 3 3100
AMD Ryzen 7 3700X

or

Intel Core i5-10600K
(if overclocking)
Intel Core i9-10900K
CPU Cooler
Stock (included with CPU)
Stock (if 3700X)

or

Cryorig H7
(if 10600K)
Noctua NH-D15
Motherboard
MSI B450M Pro-VDH Max (Micro ATX)
MSI B450 Tomahawk Max (ATX)
(if 3700X)

or

Asus Z490-Plus TUF Gaming (ATX, WiFi 6)
(if 10600K)
Asus Z490-E ROG Strix (ATX, WiFi 6)
RAM
Corsair Vengeance LPX 16GB 3200MHz (2x8GB)
Corsair Vengeance LPX 16GB 3600MHz (2x8GB)
Graphics Card
AMD Radeon RX 570 4GB
AMD Radeon RX 580 8GB (or 4GB)
NVidia GeForce RTX 2060 Super 8GB
Storage
Kingston A400 240GB (M.2)

or

Inland Professional 240GB
Crucial MX500 (M.2)

or

WD Blue 500GB (M.2)

or

Crucial MX500 (2.5")
Power Supply
EVGA 500 BQ (Bronze)

or

EVGA 500 BT (Bronze)

or

Corsair CX550M (Bronze)
Corsair CX650M (Bronze)

or

EVGA Supernova 650 G3 (Gold)

or

Corsair RM650x (Gold)
Case
Thermaltake Core V21 SPCC Cube

or

Deepcool Matrexx 30 (Mini)
Corsair Carbide 200R (Mid)

or

Corsair Carbide 275R (Mid)
Fractal Design Meshify C (Mid)

or

Corsair Air 540 (Mid)
Prebuilt PC Alternatives

HP Pavilion (i5-7400, 8GB RAM, GTX 1060 3GB)

or


Acer Nitro 50 (i5-8400, 8GB RAM, RX 580 4GB)

iBuyPower Element 9260 (i7-9700F, 16GB RAM, GTX 1660 Ti)

or


Dell G5 (i7-9700, 8GB RAM, GTX 1660)

CyberpowerPC Gamer Xtreme (i9-9900K, 16GB RAM, RTX 2070 Super)

or


HP Omen Obelisk (i9-9900K, 32GB RAM, RTX 2080 Super)
Swipe to Scroll the Builds

How Demanding is CS:GO? Bare Minimum Requirements
If you're looking to build or buy the cheapest PC to simply be able to play the game, let's take a quick look at the minimum spec requirements to run CS:GO. In the grand scheme of things, CS:GO is not demanding on PC hardware, and the minimum official specs are quite low overall (but to be expected for a long established title that first released ages ago).
However, to run CS:GO really smoothly on faster than average refresh-rate monitors, like 144Hz or 240Hz displays that all professional players take advantage of - that will require much beefier specs than the minimum specs that Valve put out. If you're a competitive player, high frame rates are important to avoid lag or frame rate dips which can potentially get in the way of playing at your best.
Minimum Required CPU:
Intel Core 2 Duo E6600 or AMD Phenom X3 8750
Minimum Required GPU:
Video card must be 256 MB or more and should be a DirectX 9-compatible with support for Pixel Shader 3.0
Minimum Required RAM: 2GB
Source: Steam
How Big is CS:GO? (File Download Size)

As of 2020, CS:GO is 15GB in download size for Windows and Mac. If you're buying or building a PC just for CS:GO and you don't plan to install any other games, and you're not going to install many other applications at all either, then you can save money opting for a smaller storage drive for your computer such as a 120GB/240GB Solid State Drive (SSD).
Related: The Best Routers for Online Gaming
It's one thing to run CS:GO on a standard 60Hz monitor at 60FPS (dead easy), but another thing entirely to remain far above 240FPS at all times (for 240Hz monitors which all pros use) without your frame rate ever dipping under 240.
But the good news is, in a fiercely fast-paced game like CS:GO, graphics quality is very much of second importance to having super-smooth gameplay (ie high frame rates), meaning that you can (and should) lower visual settings in order to maximize your frame rate. Which again, is what practically every competitive player does.
That means staying well above 144FPS or 240FPS (depending on your monitor) is very much doable without needing a crazy expensive system. Though you will need a strong CPU either way, as getting these high frame rates is taxing on your processor even on low settings.
Is CS:GO More CPU or GPU Intensive?
Overall, compared to most modern games which are a lot more focused on graphics, CS:GO isn't very demanding on either your CPU or GPU (graphics card). But in terms of whether the CPU is GPU is more intensive, generally speaking CS:GO relies a bit more on your CPU than on your GPU. A big reason for that is because most CS:GO players are gaming on 144Hz or faster monitors in 1080p, which is a realm where the CPU matters a whole lot more compared to with 60Hz gaming.
Fact is, any game could be considered CPU intensive if you want really high frame-rates like 144FPS, 240FPS, or higher. So when you hear people saying CS:GO is really CPU intensive, that's more like a half-truth. Compared to other games out there, CS:GO is not necessarily that much more taxing on the CPU (if at all; ever played RDR2 on a potato chip? system = dead). But yes, when it comes to reaching high frames for competitive play, it does suddenly become a whole lot more CPU intensive (but as does any game at those performance levels).
Related: Refresh Rates Explained (60Hz vs 144Hz vs 240Hz)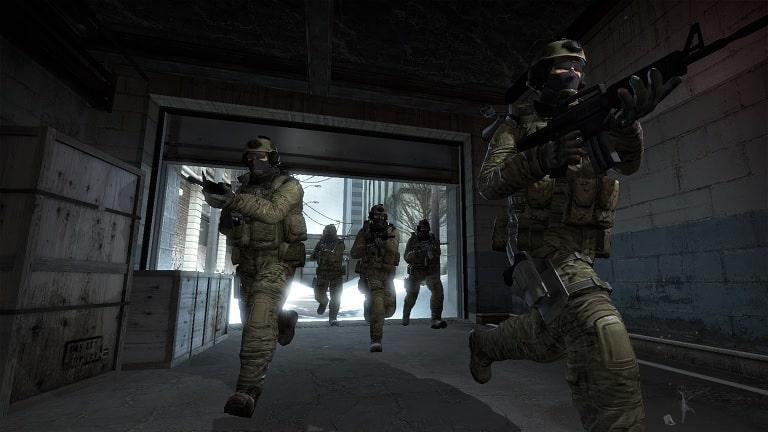 Millions Made in the Milliseconds: CS is not exactly a game that you want to lag - ever
Choosing the Best CPU for CS:GO (Intel vs AMD)
These days, as of 3rd-gen Ryzen, AMD is almost as fast as Intel when it comes to pure gaming performance for high refresh-rate gaming, but Intel still takes the lead in most titles. But for CS:GO, things get interesting, and AMD really does well in this specific title, going absolute neck and neck with Intel in benchmarks.
For example, the 3700X comfortably beats the 10600K in CS:GO according to this benchmark (1080p low settings), whereas the 10600K wins in almost every other game. Yes, the Ryzen 7 3700X is technically a tier up from the Core i5 10600K based on MSRP (and has 2 extra cores and more threads, too), but recently the 3700X underwent a nice price drop, placing it around the same cost as the 10600K when you factor in that you have to buy a cooler for the 10600K (3700X comes with its own stock cooler which performs decently at stock settings).
That means that right now at the time of writing this, the 10600K vs 3700X debate is a relevant one, with the 3700X being the better value pick overall for a CSGO PC build (assuming the 3700X is near the same price as the 10600K). For tech enthusiasts who will be overclocking, the 10600K is better though, as it's easy to overclock (even for beginners) and you can get very significant boosts in frame rate when doing so.
But if you're not overclocking and just want to install and play, at the right price the 3700X is tough to beat as it performs very well in CS:GO, and with an okay graphics card in your system you will stay above 144FPS at all times (and you'll average way higher). We'll explain more about our recommended CPUs for CSGO further below, but first a quick note for streamers.
Picking a CPU for Streaming CS:GO
If you're streaming CS:GO to Twitch while gaming, we highly recommend AMD as they generally perform best for game streaming (but it does depend exactly how you're streaming though).
AMD CPUs are proven to be faster for x264 encoding, which is encoding using the CPU, but if you're doing hardware encoding using your graphics card (NVidia RTX cards are best for this) then your CPU isn't taxed as much and so Intel or AMD is just fine.
Though I'd stick with AMD either way as they are not only are faster for x264 encoding, but for general multitasking as well (which streamers do a lot of).
Related: Best Streaming PC Builds

Choosing the Best GPU for CS:GO (NVidia vs AMD)
Counter-Strike: Global Offensive isn't very demanding in terms of actual graphics, meaning you can get away with a very basic gaming GPU and still get high frame rates if you have a good CPU.
A good real-world example is the fact that you only need something like an RTX 2060 (standard or Super edition) in order to stay well above 240FPS at all times (low settings though) - this is unheard of for more visually demanding games, where achieving such high frame rates is impossible without a high-end/extreme card like the RTX 2080 Ti.  
In terms of choosing a NVidia or AMD video card for CS:GO, based on performance benchmarks, in recent times AMD cards have the slight upper hand over NVidia and will generally give higher FPS in this particular title. It's a win win for AMD in this game, with both their CPUs and GPUs performing supremely well, but that's not to say that Intel or NVidia is bad for this game.
The performance difference isn't huge, so remember this guide is for those who want to crank out as much performance for their money as possible. As a casual player, you'll do fine no matter which CPU/GPU brand you go with.
You don't need a beefy GPU for great CS:GO performance
Related: How to Choose a GPU (Specs 101)
Recommended Parts (60FPS, 144FPS, 240FPS+)
CS:GO Requirements for 60FPS (1080p 60Hz, Low Settings)

CPU Needed for 60FPS: AMD Ryzen 3 3200G (integrated graphics)
Best CPU for Over 100FPS: AMD Ryzen 5 3400G (integrated graphics)
For casual gamers who are only aiming for a consistent 60 frames per second for use on a standard 60Hz/75z monitor (1080p), you won't be needing much firepower at all. Based on what performance benchmarks around the web prove, a simple Ryzen 5 3400G is more than enough. 
How Much FPS Will a 3400G Get in CS:GO?
The Ryzen 5 3400G is a CPU and GPU all-in-one (you don't need a graphics card), but the integrated graphics on this CPU is very capable for less-demanding games like CS:GO. With a Ryzen 5 3400G/2400G setup, you can expect upwards of 100FPS and beyond.
The 3400G will do well even on good visual settings, but graphics quality doesn't matter much for CS:GO though (hence why competitive players tend to game on lower settings to get higher FPS). Here's just one of many examples showing a Ryzen 5 3400G getting well over 60FPS in CS:GO at all times using this CPU's integrated graphics (on low-ish settings). 
If you buy a 3400G (or any other APU like the 3200G or 2200G) just make sure to use dual-channel RAM. That means always get 2 sticks and not just 1) and get RAM with a speed of 3000Mhz or faster if at all possible - Ryzen APUs like the 3400G rely quite heavily on the RAM that you have, and dual-channel/faster-MHz RAM shows noticeable FPS increases in gaming compared to single-channel or slower MHz.
Is a 3400G Good Enough for 144Hz/144FPS? 
Yes and no, but we don't recommend it and suggest a better CPU and graphics card. Why? While you can get over 144FPS with a 3400G in CS:GO (on low settings, and if you have 3000Mhz dual-channel RAM or better), you're not guaranteed to stay over 144FPS at all times. Your framer rate will dip under 144FPS, which isn't the end of the world and still looks faster than say 60FPS on a 60Hz display, but for a every-millisecond-counts game like CS you ideally want to stay above your target frame rate at all times. Ask a pro player and they'll tell you the exact same thing.
What's the Best Cheap CPU for CS:GO? (3200G vs 3400G)
The cheaper option to the 3400G is its little brother the 3200G, which is another good value AMD CPU with decent integrated graphics for gaming. The 3200G is still suitable for a cheap CS:GO build if you're a casual player and won't be too far behind the 3400G in FPS numbers (assuming you have decent dual-channel RAM). But the 3400G gives you more flexibility for the future, as you're getting a stronger CPU that will last you longer (in case you wanted to upgrade to a discrete graphics later on). The 3400G has 4 cores and 8 threads, while the 3200G only has 4/4.
CS:GO Requirements for 144FPS (1080p 144Hz, Low Settings)

Cheapest CPU for 144FPS: AMD Ryzen 3 3100
Cheapest GPU for 144FPS: AMD Radeon RX 560 2GB
Best CPU for 144FPS+ (Never Dip Below): AMD Ryzen 7 3700X (or Intel Core i5-10600K)
Best GPU for 144FPS+ (Never Dip Below):  AMD RX 580 4GB/8GB (or NVidia GeForce GTX 1650 Super)
To reach 144FPS for 144Hz monitors, you'll need a basic budget CPU like the R3 3100 or R3 3300X (two of the best value budget gaming CPUs right now) and also a basic graphics card like a RX 560. Those ballpark specs will serve you well if you're casually playing on a 144Hz display, as with a nice 16GB of fast 3200MHz RAM (Ryzen loves fast RAM) then you'll easily get 144FPS. For anyone wondering, yes 8GB of RAM would still be more than enough.
But with a 144Hz monitor, the ideal is to get a significantly higher FPS so that you can stay above 144FPS at ALL times, without your frame rate dipping under (which could create minor yet potentially important input lag; more on that in a bit). You see, in fast-paced shooters like CS:GO, the 1% lows of your frame rate is more important overall than the average frame rate (at least for competitive players; casual gamers should just ignore all this technicality).
So for the optimal CS:GO experience on a 144Hz monitor (if you can't afford a 240Hz screen + the specs required for 240FPS+), based on today's market you'll want either the 3700X or 10600K for your processor (I'd get the former if not overclocking, and the latter if you will be, as explained earlier in this guide) and pair it with a mid-range gaming GPU like the RX 580 or thereabouts (AMD GPUs shine in this title too).
See Also: Current Best Gaming Monitors for the Money (144Hz+)
CS:GO Requirements for 240FPS (1080p 240Hz, Low Settings)

Best CPU for 240FPS+ (Never Dip Below): Intel Core i9 10900K (or AMD Ryzen 9 3900X)

Best GPU for 240FPS+ (Never Dip Below):  NVidia RTX 2060 Super or better (or AMD Radeon RX 5600 XT or better)
For the absolute fastest PC to run CS:GO at well over 240FPS (using a 240Hz screen), and importantly to never dip under that mark during chaotic scenes, I would look squarely at the 10900K (or the 10900KF to save a few bucks if you don't think you'd ever need to use the integrated graphics as the 10900KF lacks that option).
The 10700K or the 3900X is likely enough, but if you're a pro player leaving nothing to chance then you might as well get the best of the best, which right now is the 10900K. Overclocking it will see even higher FPS, though that isn't necessary at all. Throw in a RTX 2060 Super and you're golden to reach insane FPS levels well-clear of 240FPS (in 1080p and on low/competitive settings remember).

Why Do CSGO Pros Aim for Over 300FPS? 
Or in other words, how on earth is 300FPS going to change anything? Refresh rates don't even go that high? All fair questions that everyone has had at some point. But if you look into it, what you find is surprising. Here's the deal; while most games don't benefit at all from obnoxiously-high frame rates like 300FPS or beyond (let alone 240FPS, which is only really all that beneficial for shooters or MOBAs), CSGO is unique in that regard and there are legitimate reasons behind the borderline-obsession with frame rates shared by the majority of competitive CSGO players (and it's not bragging rights).
Many CSGO players mention that higher FPS gives lower input latency - even if your monitor can't even output those extra frames. Sounds like straight-up lunacy at first, because how could 300FPS (or more) improve input latency on say a 240Hz monitor, when the screen can only display up to 240FPS? Rational thinking points to the display and input being completely unrelated.
But after a ton of research into this, out of both necessity to make this guide as accurate as possible, and out of pure curiosity on my part, as a wise space captain once said, it's true - all of it. Crazy-high frame rates are indeed worth shooting for in CS, and it all comes down to the fact that higher frame rates will show a more "current" frame on screen, no matter what your monitor's refresh rate is. So the higher your FPS, the lower your supposed input latency will be (for aiming/shooting etc).
Moral of the story? For CSGO, lower those settings (but keep shadows on...think about it), lower that resolution (resolutions less than 1080p is not uncommon in this game), and get a bazillion FPS. Because science and headshots. See this video for just one CS player's take on this: (but research around and you'll see a ton of people preaching this)
Choosing the Best Monitor for CS:GO
CS:GO is a blast - quite literally. Technically, it's one of the fastest-paced games out there. Therefore, since it moves at break-neck speed and every millisecond can count for something in the heat of battle, PC performance is critical in a game like CS:GO. But the ideal way to experience CS:GO for competitive play isn't just about getting good performance from your hardware; it's about choosing the right type of gear, too. Specifically, the mouse and the monitor.
See Also: The Best Gaming Mice (All Genres)
The game is best experienced on a fast refresh-rate display of 144Hz or higher. Every single CS:GO pro player uses a high refresh-rate monitor of at least 120/144Hz (technically, most pros use a 240Hz screen, but 144Hz is just fine if on a budget). So, get a monitor with a 144Hz refresh rate or higher if you want to take your CS:GO experience to an optimal level (so that you're essentially competing on a level playing field with others around the world). As a competitive player you want there to be very little (hopefully 0) chance that your system lags, stutters/slows down during your sessions. If that happens to you, during the high-action scenes that count most in CS:GO, you're handing your opponents a very slight but potentially crucial edge over you (assuming similar skill levels).
For the best CS:GO gaming monitor, you not only want the highest refresh-rate you can afford, but you really need a monitor with a fast (low) response time of under 5ms (refresh rate and response time are different things). Ideally 1-2ms, which many of the best gaming monitors have (also see that guide for more about choosing between different monitors). In my humble opinion here are the some of best value gaming monitors from top manufacturers like Asus, Acer, BenQ, LG and more, which include our top picks for good value 144Hz and 240Hz gaming monitors that would be ideal as a CS pro.
If you're a CS player and have some input to share on how to make this guide more accurate and helpful for the community, we'd love to hear your 2 cents below. Or, if you need a helping hand choosing parts for your PC build (or purchase), we'll do our best to help steer you in the right direction.