Home > Gaming PC Builds > HOTS
Build the Best PC for Heroes of the Storm
Required CPUs / GPUs for 60FPS or 144FPS at Various Settings (1080p, 1440p, 4K)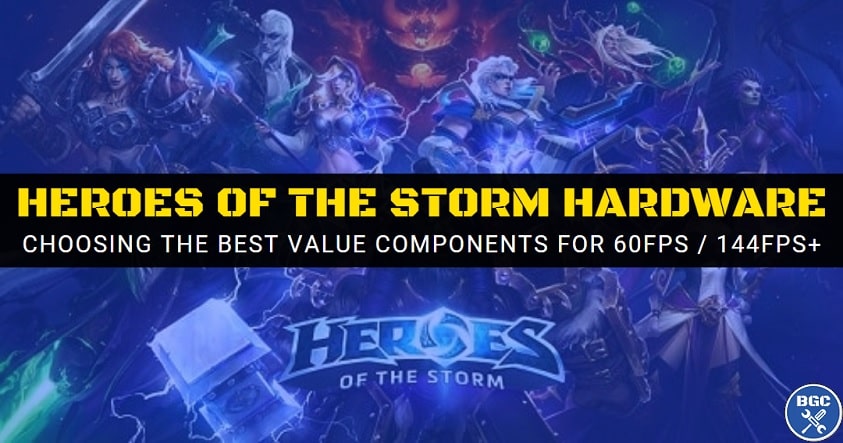 Last Updated: January 14, 2022

Heroes of the Storm is a MOBA created by Blizzard where you battle it out with heroes from various Blizzard franchises including Warcraft, Diablo, StarCraft, Overwatch and The Lost Vikings. First released back in 2015, it grew to very popular heights with a nice tournament scene for while. Official tournaments were forfeited at the end of 2018, but the game is still loved and played regularly by many, often with a few thousand streamers live on Twitch at any given moment in time. So you could say the competitive HOTS scene is dead, but the casual aspect of the game certainly isn't.
If you're planning a new gaming computer build or upgrade and want to play Heroes of the Storm with good frame rates that won't slow you down in the heat of battle or get in the way of enjoying the game to the fullest, in this hardware buyer's guide I'll break down the minimum modern CPUs and GPUs on the market today required to get that magical and magnificently smooth 60FPS or 144FPS performance level (for 60Hz or 144Hz monitors respectively). If you want full PC build examples, see the recommended PC builds section as well (or the best prebuilt PCs if you don't have the patience to build your own rig).
How Demanding is Heroes of the Storm on Hardware?
HOTS is built on a version of the StarCraft 2 engine, and overall isn't very demanding on your system - something to be expected from a game that released a fair few years ago now. 
That said, if you want flawless performance in Heroes of the Storm on high/ultra settings, you'll still need decent specs, and especially if using a 144Hz monitor, as reaching that level of performance in this game requires a strong CPU due to the fact that the engine is quite CPU-intensive at high frame rates.
Related: DOTA 2 PC Build Guide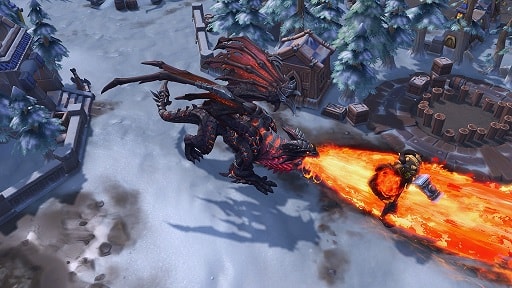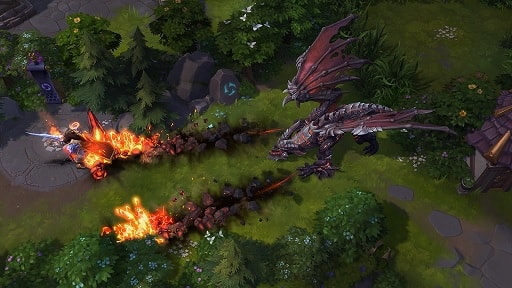 So if you're wondering which parts to buy for the game, let's get straight into our recommended PC parts for Heroes of the Storm to get the best performance for the money (without overpaying on specs you don't need if you're on a tight budget).
For full desktop computer build examples using the below components, read our latest gaming PC builds in conjunction with this HOTS guide (or our latest recommended prebuilt PCs if you don't want to build your own) and you'll have everything you need to setup the best new computer for this particular game.
Heroes of the Storm Requirements for 60FPS (1080p 60Hz) 
Based on our benchmark research from multiple sources (we've listed some at the end), to get a super smooth 60FPS, and to do it consistently without dropping under that mark much (if at all), you don't need much in terms of hardware. A very cheap Athlon 3000G, with its integrated Vega 3 graphics chip, is all the processing and graphics grunt you need to get a consistent 60FPS on low settings (and medium settings will be great too). You could even use higher settings with the 3000G and get nicely smooth performance, especially if you get fast 3000MHz RAM modules as integrated graphics chips like the 3000G get a noticeable performance gain from faster RAM. 
Cheapest Hardware for 1080p 60FPS (LOW)
CPU: AMD Athlon 3000G
GPU: Radeon Vega 3 (integrated in CPU)
RAM: 8GB DDR4 (2x4GB, 2666MHz or faster)
Value Hardware for 1080p 60FPS (EXTREME)
CPU: AMD Ryzen 5 3400G / Ryzen 5 5600G
GPU: Radeon Vega Integrated (Comes With CPU)
RAM: 8GB DDR4 (2x4GB, 2666MHz or faster)
If you want to guarantee a silky smooth 60FPS on maxed/ultra settings (technically listed as "extreme" settings in this particular title), you'll want to consider the Ryzen 5 3400G, which is a more powerful CPU with a better integrated graphics chip. The older Ryzen 5 2400G would also be suitable, as it's not much slower than the 3400G. As for the 3200G (and slightly older, slightly slower 2200G), they would be absolutely fine choices too, and would give you performance roughly in-between the 3000G and the 3400G, meaning you'd get flawless 60FPS performance on medium-ish settings (and still decently smooth, completely playable performance on high/ultra settings).
Heroes of the Storm Requirements for 144FPS (1080p 144Hz)
HOTS isn't as intensely fast-paced as FPS games like say CSGO or Overwatch (where 144Hz monitors are highly recommended and almost crucial if you want to remove any edge your opponents might have over you). But being a MOBA, a genre full of action and quick decisions, HOTS is still a relatively fast-moving title, and so using a 144Hz monitor (that allows for up to 144FPS) does come in handy if you have the money for both the monitor and the specs needed to get 144FPS. Reaching 144FPS (or thereabouts) consistently to take full advantage of a 144Hz monitor is not easy though, as the game is based on the CPU-intensive Starcraft 2 engine (meaning you need a strong CPU to get such high performance levels). You also need a fairly decent graphics card to achieve 144FPS, but nothing too crazy.
Best Cheap Specs for 1080p 144FPS (LOW)
CPU: Intel Core i3 12100 or AMD Ryzen 5 3600
GPU: NVidia RTX 3050 / GTX 1660 Super
RAM: 8GB DDR4 (2x4GB, any speed)
Best Specs for 1080p 144FPS (ANY SETTINGS)
CPU: Intel Core i5 12400 or AMD Ryzen 5 5600X
GPU: NVidia RTX 3060 / 2060 Super or RX 6600
RAM: 16GB DDR4 (2x8GB, 3200MHz)
Just keep in mind HOTS is notoriously unreliable when it comes to performance due to the way the game engine is designed, meaning there's no guarantees in this game of getting a certain performance level from certain specs. Plus, it's hard to avoid random performance drops in the game based on many user reports. So let me just make it clear that whilst the above setups should theoretically get 144FPS and above, unfortunately there's always the chance that you'll stumble across performance issues with this game and you either won't reach that mark, or you won't reach it consistently. If you search around online there are tons of little tips and hacks to help your frame rate with this game, so if you encounter issues a little research can go a long way.
Heroes of the Storm Requirements for 1440p or 4K
If you're wondering about hardware requirements for 1440p or 4K resolution with Heroes of the Storm, to get 60FPS on good settings (high/ultra, potentially extreme) you'll do fine with a Ryzen 5 3600 CPU (or Intel equivalent like the new i3 12100 which is just as fast) for either resolution, as that CPU is great for higher resolutions (60FPS doesn't require a crazy CPU, even in high resolutions and even in CPU-intensive games like HOTS).
And for graphics you'll do well with either a GTX 1650 Super or newer RTX 3050 (for 1440p 60FPS extreme settings) or a GTX 1660 Super (for 4K 60FPS extreme settings). As for 1440p 144Hz monitors, you'll need some serious firepower for 144FPS on ultra/extreme settings, and we recommend a RTX 3060 Ti or older RTX 2070 Super and a fairly strong CPU just like the CPU recommendations for 1080p 144FPS from earlier in this guide (i5-12400 or Ryzen 5 5600X ideally).
Heroes of the Storm Benchmark Compilation
We've estimated the various requirements above based on analyzing as many different performance benchmarks as possible. While we do our best to bring you the most accurate recommendations we can based on what performance data is available out there in Internet land, keep in mind these are just estimations and we recommend you do your own research if you're seeking a specific performance level and want to be absolutely sure you reach your aims. For a start, here are some of the best HOTS benchmarks for different CPUs and GPUs that we found and used to write this guide.
---
Trusted VPNs
VPN software is quite important in this day and age and will improve the security and privacy of your PC when online. There are also benefits to using VPNs for gaming.

There's lots of VPNs out there but the ones I recommend most to gamers is ExpressVPN (special link that gets you 3 months off. they also offer a free trial here) and NordVPN which are both highly rated gaming VPNs because they're the fastest and most secure.
Search the Site
About the Author
Indie game dev currently working on my first public release after years of hobby projects, a story-driven VR FPS built with Unreal Engine (to be announced soon here for anyone into VR FPS's). Also likes writing about tech, which also helps fund development of the game.
My favs of all time are OOT, Perfect Dark, MGS1, MGS2, GE007, DKC2, THPS3, HL1, and HL2, with the most recent addition to my list of immortals being the VR masterpiece Alyx. If you want help with a new build feel free to ask on the main PC builds guide. If you found the site extra helpful and wish to support the work I do here, sharing an article with a friend helps a lot and is much appreciated. - Julz