Home > PC Builds > Dying Light 2
Build the Best PC for Dying Light 2
System Requirements & Best Value CPUs / GPUs for 60FPS (1080p, 1440p, or 4K)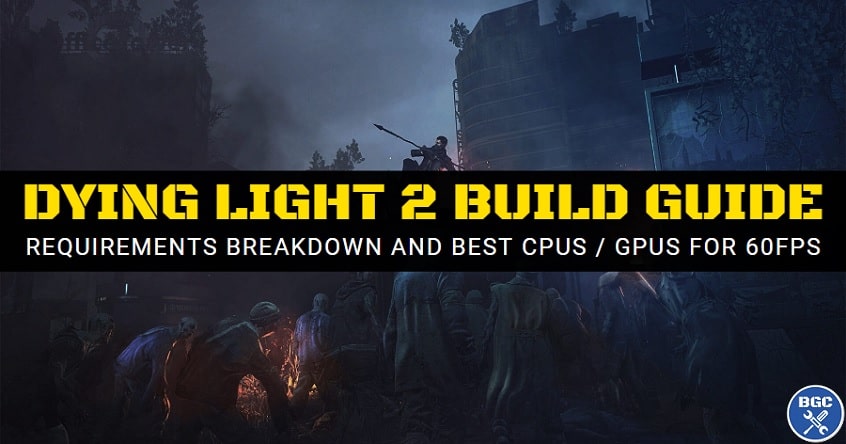 Published: February 7, 2022
The original Dying Light has a cult-like following for being one of the best zombie games of all time, and the sequel is finally here. In this PC build guide we'll look at the system requirements for Dying Light 2, and based on analyzing performance benchmarks from around the web I'll list my CPU and GPU recommendations to get the most out of the game for your particular display resolution (whether 1080p, 1440p, or 4K). Dying Light 2 can be a very demanding PC game, especially if you enable its vast and impressive ray tracing effects which hits your performance hard. Without ray tracing, and if you use moderate graphics settings, the game isn't overly demanding though - reaching 60FPS on low/medium settings at 1080p for instance doesn't require a very powerful PC.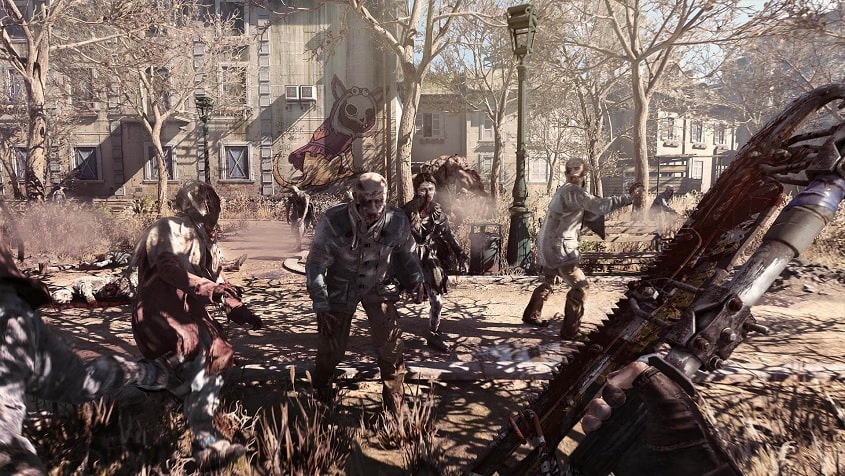 Ray tracing looks phenomenally good in Dying Light 2 (screenshots from Techland's official Dying Light 2 website)
System Requirements for Dying Light 2
Like with the requirements for Cyberpunk 2077, where developer CD Projekt Red handily provided a variety of spec requirements for various resolutions and for ray tracing, the developer of Dying Light 2 (Techland) have done something similar. A picture is worth a thousand words, so no need to say much about them apart from the fact that they are fairly beefy if you want ray tracing at 60FPS - they've listed a RTX 3080 as recommended for 1080p with maximum ray tracing settings, which illustrates just how demanding the game can be if you want to run it in its full graphical glory.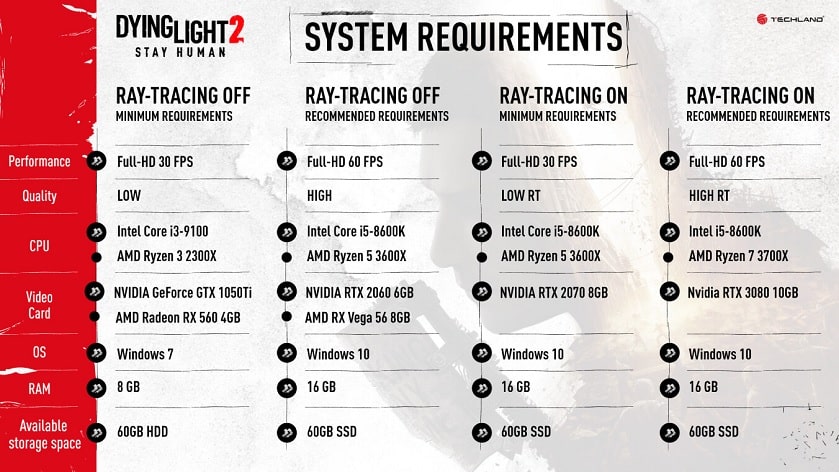 The official Dying Light 2 requirements from the official game website are nicely detailed
Best PC Builds for Dying Light 2 (1080p 60FPS)
If you want 60FPS at various settings (with or without ray tracing), I've analyzed a bunch of the Dying Light 2 benchmarks out there and will give my suggestions below for the main PC gaming resolutions - 1080p, 1440p, and 4K. I don't know about you, but ain't nobody got time for a console-like 30FPS when gaming on the superior platform that is of course the PC, so my hardware recommendations will all focus around hitting that 50-60FPS mark. I've also tailored the suggestions for various settings for each resolution.
Before getting into the specs, let's first understand the main graphical options we have to work with. Besides tinkering with individual graphics settings, Dying Light 2 has 5 main graphical presets:
Low

Medium

High

Raytracing

High Quality Raytracing
Based on comparison screenshots and videos, the lowest preset still looks fine and won't ruin the game whatsoever, hence why I've included 1080p Low in the recommendations below. There is no typical "Ultra" setting in Dying Light 2, so maxing-out the graphics would be either using the High preset, or moving onto the two ray tracing settings 'Raytracing' or 'High Quality Raytracing'.
Having ray tracing enabled does noticeably improve the quality of the visuals in this particular game. Ray tracing effects in certain titles can be a little underwhelming and sometimes difficult to even discern unless you really stop and look at the scene, but not in Dying Light 2. Like in Control or Metro Exodus as two good examples, Dying Light 2 has a thorough ray tracing implementation for not just lighting (global illumination) but for shadows, reflections, sun shadows, ambient occlusion, etc.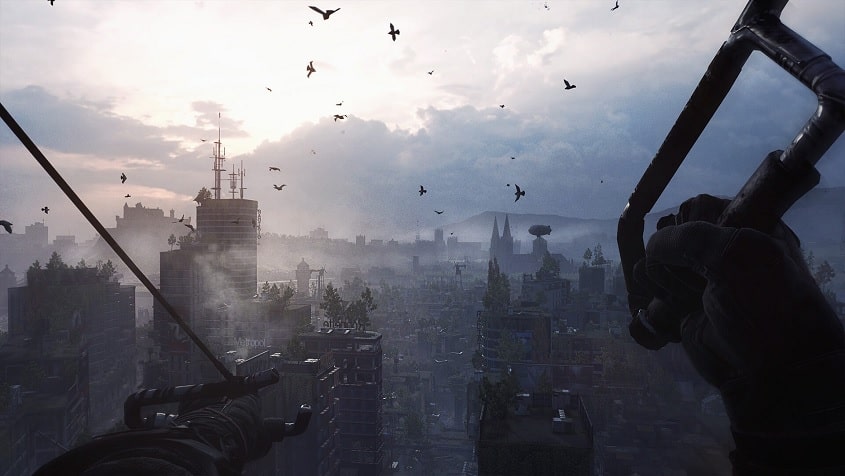 The Dying Light games feature fairly vast open worlds full of genuinely scary zombie encounters
But that means enabling ray tracing hits performance hard, and if you look at Dying Light 2 benchmarks you'll see significantly lower frame rates with ray tracing on vs off (even at the standard resolution of 1080p). DLSS and FSR, both of which were included on day one of release, definitely help things though and can significantly boost FPS. In fact, they are basically necessary if you want playable performance with ray tracing, especially at 1440p or 4K. Just remember that DLSS is only available on NVidia "RTX" cards, whereas AMD's FSR works on any graphics card, and you can find both options in the graphics settings.
Related: Build the Best PC for Witcher 3

Anyway, after analyzing and curating multiple benchmarks of Dying Light 2 from around the web (so you don't have to), here are my recommendations for a 60FPS experience on average throughout most of the game at various resolutions and settings. I've also included ray tracing recommendations for each resolution, assuming DLSS is turned on to the "Quality" setting which is a nice balance of performance boost vs retaining the highest image quality. You'll also note I've only included NVidia cards for ray tracing, as they are objectively the better option if you want the best ray tracing experience in this title - DLSS is slightly more effective than FSR, with the latter looking slightly blurrier.
Best Specs for Dying Light (60FPS)
CPU (Value): Intel Core i3 12100 / i5 11400 / i5 10400 or AMD Ryzen 3 3300X / Ryzen 5 3600
CPU (Best): Intel Core i5 12400 or AMD Ryzen 5 5600X
RAM: 16GB DDR4 (2x8GB, 3200MHz)

GPU (1080p LOW): NVidia GeForce RTX 3050 8GB / GTX 1660 Super / 1660 Ti 6GB or AMD Radeon RX 580 / 590 / 5500 XT 8GB

GPU (1080p MEDIUM): NVidia GeForce RTX 2060 6GB or AMD Radeon RX 5600 XT 8GB

GPU (1080p HIGH): NVidia GeForce RTX 3060 12GB / 2060 Super 8GB or AMD Radeon RX 6600 / 5700 8GB

GPU (1080p HIGH QUALITY RT + DLSS QUALITY): NVidia GeForce RTX 3070 / 2080 Super 8GB
GPU (1440p HIGH): NVidia GeForce RTX 3060 Ti / 2070 Super 8GB or AMD Radeon RX 6600 XT 8GB

GPU (1440p HIGH QUALITY RT + DLSS QUALITY): NVidia GeForce RTX 3080 10GB
GPU (4K HIGH): NVidia GeForce RTX 3070 / 2080 Super 8GB or AMD Radeon RX 6800 16GB

GPU (4K HIGH QUALITY RT + DLSS QUALITY): NVidia GeForce RTX 3090 24GB
That's all I gotta say about building a PC with a great Dying Light 2 experience in mind. If you want to know the best settings for Dying Light 2 to optimize performance, along with some nicely done comparison of different settings and how they look, check out the ever-reliable Digital Foundry and their Dying Light 2 settings guide.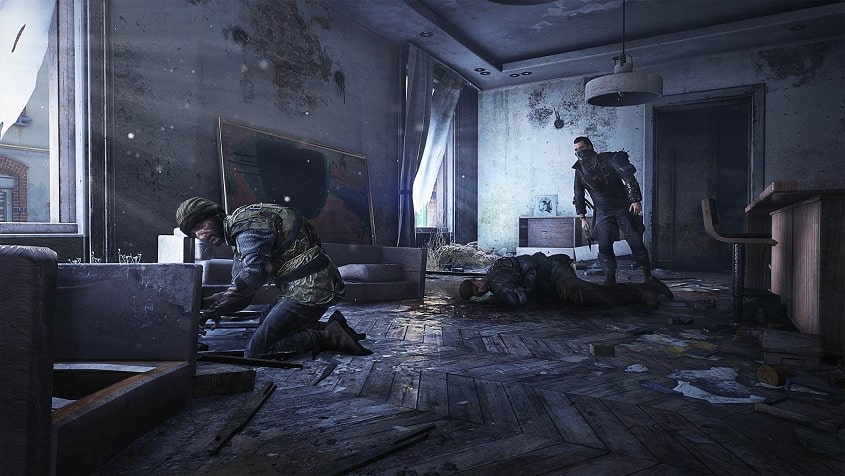 Dying Light 2 features a day/night cycle; humans rule the city during daylight, but at night it's zombie central and more dangerous
---
Trusted VPNs
VPN software is quite important in this day and age and will improve the security and privacy of your PC when online. There are also benefits to using VPNs for gaming.

There's lots of VPNs out there but the ones I recommend most to gamers is ExpressVPN (special link that gets you 3 months off. they also offer a free trial here) and NordVPN which are both highly rated gaming VPNs because they're the fastest and most secure.
Search the Site
About the Author
Indie game dev currently working on my first public release after years of hobby projects, a story-driven VR FPS built with Unreal Engine (to be announced soon here for anyone into VR FPS's). Also likes writing about tech, which also helps fund development of the game.
My favs of all time are OOT, Perfect Dark, MGS1, MGS2, GE007, DKC2, THPS3, HL1, and HL2, with the most recent addition to my list of immortals being the VR masterpiece Alyx. If you want help with a new build feel free to ask on the main PC builds guide. If you found the site extra helpful and wish to support the work I do here, sharing an article with a friend helps a lot and is much appreciated. - Julz