Home > Best Prebuilt PCs
The Best Prebuilt Gaming PCs for the Money
No Time to Build Your Own PC? We Pinpoint Some of the Better Value Prebuilt Desktops on the Current Market That Make Decent Alternatives to Building a PC
Last Updated: June 5, 2020
If when hearing about building PCs there's a voice in the back of your head screaming "ain't nobody got time for dat", prebuilt PCs might just be the more fun option for you as a gamer or artist/creator. Here at BGC we've been covering and teaching how to build gaming computers for years, and it's something we can recommend to anybody as it's not too difficult (especially if you keep your build simple and avoid complex parts). But we're not blind to the fact that building your own PC isn't for everybody, and that many more "mainstream" gamers/tech lovers do indeed buy prebuilt PCs quite often. 
The convenience of already having a fully pre-assembled and 100% ready-to-go rig is alluring to some, and a convenience they're often willing to pay more for (compared to building your own, which gives you plenty of opportunities to save money). Perhaps you have no interest in learning about building a PC, or you are just really strapped for time and just want a computer ASAP without having to spend the extra time required to plan and build one yourself. Whatever your reason for deciding to buy a gaming PC instead of build one, there's nothing wrong with that. While building your own PC has advantages, not everyone needs to (nor should) build their own system.
Prebuilt PCs get a bad wrap across the board within the tech/hardware industry, but sometimes it's for good reason as there are plenty of "bad buys" out there when it comes to prebuilt desktops. 
If you gain basic understanding of PCs, it's easy to look beyond the marketing of many prebuilts to see a fairly significant majority of prebuilt PCs commonly including lower-cost, lower-tier parts, such as cheap, unreliable, timebomb-ticking PSUs.

Or bad airflow and overheating/noise issues due to insufficient cooling. Or a whole heap of other potential sacrifices that manufacturers make to keep their costs as low as possible when mass-producing prebuilts.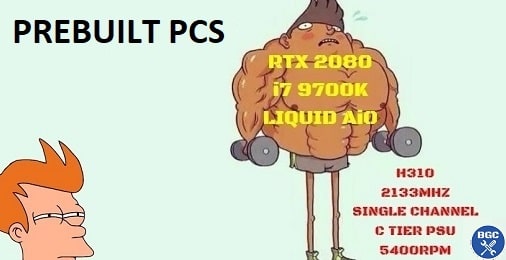 Be skeptical and keep your wits about you when shopping for a prebuilt PC as they're not always as they seem (look past flashy exteriors or clever marketing)
But it's not just sacrificing the quality or reliability of certain components of a build - prebuilts are also quite overpriced overall. There's always the occasional exception, but in most situations, building your own PC does give you more for your money overall.
But the good news is, even though building your own PC will almost-always still be the best way to get the fastest gaming performance and overall component quality for your money, there are indeed plenty of prebuilts out there that are pretty respectable overall in terms of price vs performance and other things like quality/reliability.

If you know what to look for, that is, because shopping for a good, reliable, trusthworthy prebuilt PC can get real confusing real fast, with one reason being the often lack of clearly-stated, full exact specs of ALL the parts used in the system (which can eventually be found by doing some digging, but is often not even listed on official product listings (which has partly to do with marketing as some companies don't seem to really want you to always know exactly what's in their builds; not cool IMO but whatever). 
Read on and we'll break down our current recommendations of the best prebuilt PCs for the money for gamers, based on carefully analyzing the current market as of 2020 and comparing as many different models and makes as possible, as well as taking into account curring pricing.
Prebuilt PCs are convenient for gamers wanting to get up and running as quickly as possible
Best Prebuilt Gaming PCs As of 2020 (Main Chart)
After days of endless research, prebuilt comparisons, benchmark analysis, reading of both professional and customer reviews (there's a huge difference), investigation of newcomer brands to the scene, and so on - the below PCs get our recommendation as best overall value for their respective category.
If you're looking for a good value prebuilt PC for gaming in the US, but are worried about buying a lemon that could trouble over the long-run or or are perhaps confused as to which brands are the most reputable right now based on objectively studying and comparing the experiences of owners of different PC brands, the following prebuilt PCs that we recommend below are safe bets (IMHO) based on extensive research.
Each system was chosen over other competing machines for specific reasons, some of which we'll explain later in this guide. Lastly before we get into the recommended prebuilts - don't just take our word for it and always remember to do your own research into which gaming PC is right for you. Which gaming PC you should buy depends on various different factors, as every PC user has slightly unique needs based on their gaming habits and/or workflow when using the PC for other things than gaming.
We've broken up our prebuilt gaming PC recommendations into 3 different categories:
Budget (Under $1000): If you're looking for the cheapest prebuilt PC that's still good for gaming, these are our top bang for buck picks right now for decent 1080p gaming performance.


High-End ($1000+): If you're a more serious gamer wanting to play the latest games in either higher resolutions (like 1440p or 4K) or higher refresh rates (144Hz), this is the tier you want to look at. Same for VR; you'll want a powerful desktop in that category to take full advantage.


Mini Towers (Small Form Factor): Smaller computers are convenient if you don't have much available space, but it means less flexibility in terms of future upgrades as there's less room inside your PC to add more components. You'll also typically have to pay a bit more for a mini PC compared to a regular-sized tower, but for some people it's worth it if you're not planning many future upgrades. Mini PCs can also be hotter and/or louder, as cramped spaces means that heat becomes a more pressing issue.


See Also: 
The Best Refurbished Gaming PCs (pre-owned but professionally tested)
The Best Custom Gaming PC Builds (build your own)
Type
Budget
Our Pick
Graphics
CPU
RAM
Motherboard
Storage
Power Supply
Extra Features
B

U

D

G

E

T


Under $600 (Old Games / Low Res)

Lenovo 510A
AMD Vega 8 (CPU Integrated)
Ryzen 3 3200G (3rd Gen)
8GB DDR4 2666MHz (2x4GB)
Unspecified
256GB SSD (M.2 PCIe)
Unspecified
Windows 10 Pro, WiFi, DVD Drive, Keyboard, Mouse, Mousemat
Under $800 (Good 1080p)

Lenovo Legion T530-28APR
AMD Radeon RX 570 4GB
AMD Ryzen 5 2600X (2nd Gen)
8GB DDR4 2666MHz (1x8GB - Add a 2nd 8GB Stick in Future)
AMD B450 (Unspecified)
256GB SSD (M.2 PCIe) + 1TB HDD (7200 RPM)
500 Watt Energy Star
Windows 10 Home, WiFi, DVD Drive
Under $1000 (1080p 60FPS Ultra)

Skytech Shadow

or


Skytech Blaze II
NVidia GeForce GTX 1660 6GB

or

NVidia GeForce GTX 1660 Ti 6GB
Intel Core i5 9400F (9th Gen)

or

AMD Ryzen 5 2600 (2nd Gen)
8GB DDR4 3000MHz (1x8GB)
Intel B365M (Micro ATX)

or

AMD A320M (Micro ATX)
500GB SSD
500 Watt 80 Plus (Unspecified)
Windows 10 Home, WiFi, Keyboard, Mouse
Under $1000 (Good 1080p 144Hz)

iBuyPower Element 9260
NVidia GeForce GTX 1660 Ti 6GB
Intel Core i7 9700F (9th Gen)
16GB DDR4 2666MHz (2x8GB)
Intel B365M (Micro ATX)
240GB SSD + 1TB HDD
500 Watt 80 Plus (Unspecified)
Windows 10 Home, WiFi, Keyboard, Mouse (RGB)
H

I

G

H



E

N

D
Under $1200 (1440p 60FPS)

SkyTech Archangel
NVidia GeForce GTX 1660 Super 6GB
AMD Ryzen 5 3600 (3rd Gen)
16GB DDR4 3000MHz
AMD B450
500GB SSD
500 Watt 80 Plus
Windows 10 Home, WiFi, Keyboard, Mouse
Under $1500 (Best 1440p or Budget 4K)

Skytech Archangel

or


Skytech Chronos
(better for streaming / multitasking)
NVidia RTX 2070 8GB

or

NVidia RTX 2070 Super 8GB
AMD Ryzen 5 3600 (3rd Gen, 6 Core)

or

AMD Ryzen 7 2700X (2nd Gen, 8 Core)
16GB DDR4 3000MHz

or

16GB DDR4 3000MHz (2x8GB)
AMD B450 (Micro ATX)
500GB SSD

or

1TB SSD
500 Watt (80 Plus Certified)

or

650 Watt (Gold Certified)
Windows 10 Home, WiFi, Keyboard, Mouse
Under $2000 (Extreme)

HP OMEN Obelisk 875-1010

or


Thermaltake LCGS L20 AVT-02 (Best Quality)
NVidia GeForce RTX 2080 8GB

or

Gigabyte GeForce RTX 2060 Super 8GB WindForce OC
i7 9700K (9th Gen) + Liquid Cooler

or

AMD Ryzen 5 3600X (3rd Gen) + Liquid Cooler
16GB DDR4 2666MHz (1x16GB)

or

G.Skill TridentZ 16GB DDR4 3200MHz (2x8GB)
Intel Z390 (Micro ATX, 4x RAM Slots, 3x M.2 Slots, See All Specs)

or

AsRock X570 Pro 4 (Micro ATX)
512GB SSD (NVMe PCIe M.2)

or

1TB SSD (NVMe PCIe M.2)
750 Watt (80 Plus Platinum)

or

Thermaltake Toughpower DPS G 650 Watt Digital (80+ Gold)
Windows 10 Home, WiFi, Keyboard, Mouse

or

Windows 10 Pro, WiFi
Under $3000 (Savage)

CUK Sentinel
NVidia RTX 2080 Ti 11GB
i9 9900KF + 240mm Liquid Cooler
G.Skill TridendZ 16GB DDR4 3200MHz RGB
Gigabyte Z390 Aorus Master (ATX)
Samsung 970 EVO Plus 1TB SSD (M.2 PCIe NVMe)
750 Watt Unspecified (80+ Gold)
Windows 10 Home, WiFi, Keyboard, Mouse
M

I

N

I



T

O

W

E

R

S
Mini Under $1000

CUK Continuum (No OS Included, Must Buy Win 10)
AMD Radeon Vega 8 (integrated)
AMD Ryzen 3 3200G (3rd Gen)
16GB DDR4 3000MHz (2x 8GB)
B360 Micro ATX
512GB NVMe SSD
500 Watt (Unspecified)
Windows 10 Home, WiFi, Keyboard, Mouse
Mini Under $2000

CUK Continuum
NVidia RTX 2070 8GB
Intel Core i7 9700KF + Liquid Cooler
32GB DDR4 2666Mhz (2x 8GB)
Intel B365 (Unspecified)
512 NVMe M.2 SSD + 1TB HDD
650 Watt (Gold Certified)
Windows 10 Home, WiFi, Keyboard, Mouse
Mini Under $2500

CUK MSI Trident X Plus
NVidia GeForce RTX 2080 Super 8GB
Intel Core i7 9900KF (9th Gen)
32GB DDR4 2666MHz (2x16GB)
Intel Z390 (Unspecified. See All Specs Here)
1TB SSD (M.2 PCIe NVMe) + 2TB HDD (5400 RPM)
Unspecified
Windows 10 Home, WiFi, Keyboard, Mouse
Mini Under $3000

Asus ROG Huracan G21
NVidia GeForce RTX 2080 8GB
Intel Core i9 9900K (9th Gen)
32GB DDR4 2666Mhz (2x 16GB)
Intel Z390 (Unspecified. See All Specs Here))
1TB SSD (M.2 PCIe NVMe)
700 Watt (Unspecified)
Windows 10 Pro, WiFi, DVD Drive, ROG Strix Flare Keyboard, ROG Gladius II Mouse
Savage Mini

CUK Stratos
NVidia RTX 2080 Ti 11GB (Liquid Cooled)
Intel Core i9 9900K (9th Gen) + Liquid Cooler
32GB DDR4 3200MHz
Z390I (Mini ITX)
2TB SSD (NVMe)+ 2TB 5400 RPM HDD
650 Watt (80 Plus Gold)
Windows 10 Home, WiFi, Keyboard, Mouse
Please Note

The far majority of our top picks are based on overall value for money (which is largely, but not solely, determined by the desktop's price vs gaming performance). However, within our recommendations we will occasionally include certain options that were picked equally for the system's aesthetics and/or overall build quality/design (and therefore not just on its pure price vs performance). These "special" picks (if you will) will be specified in our chart above with 'best aesthetics' or 'best quality'.
Prices and our perception of a particular system's current overall value for money was judged at the time of the last update to this guide (listed at the top of the article), but since manufacturers/sellers may change prices at any time, if one of our desktop recommendations has its price raised so that it no longer fits the intended category above then it may no longer still be worth buying. If you have doubts about your purchase and want someone to give a quick look over the PC you're thinking of buying, feel free to comment down below at the end of this article and we'll do our best to help as quickly as possible to help steer you in the right direction.
While we do our best to provide the highest-quality, best bang for buck recommendations possible with our in-depth research process, don't just take our (or anyone's) word for it and always do your own research to ensure you buy the best gaming desktop for your specific needs.
How to Choose a Good Prebuilt Gaming PC (What to Look For)
There are various specs to consider when on the hunt for the best prebuilt gaming PCs, but here's a quick overview of what to look for in a nutshell: (and see the FAQ below for more tips)

Look at Graphics Card First: For gaming, the most important component of all by far is the graphics card as it has the biggest say on how well your new system will perform in your favorite games (in other words, how high of a 

frame rate

 you'll get). Therefore, when choosing a good prebuilt PC for gaming look at the graphics card included first and foremost to quickly weed out desktops that aren't worth your time. Even computers marketed as "gaming PCs" may not have a good GPU inside, and if you're on a budget, may not even have a graphics card at all in the first place and instead rely on the integrated graphics capability of the CPU, which can sometimes be okay but oftentimes isn't enough if you want the best gaming performance. See the FAQ below for more on choosing a graphics card when choosing a prebuilt PC.



CPU Matters Too: While the video card is the most important component as gamers, and will largely dictate the gaming performance (read: frame rates) that your new system will achieve, the CPU is a close second so you need to look closely at what CPU you're getting as well. Make sure it's a suitable model for the price you pay by understanding a little about the current gaming CPU market. In general, you can't go wrong with either Intel or AMD, as both are good for gaming.
Get a Minimum 8GB of RAM: For modern gaming, 8GB of RAM is the minimum to shoot for so don't buy a prebuilt PC that doesn't have at least this amount. 16GB of RAM is ideal, and can help in certain demanding games, but if you're on a budget 8GB will have to do and its enough to play any modern game. But for prebuilt PCs over say $1000, look for 16GB of RAM if you can.
Big or Small Can Work Well: Gaming desktops come in all shapes and sizes these days, and there's nothing wrong buying a small form-factor (mini) gaming PC if that's what you prefer (perhaps you'll be sitting it in the lounge) so long as you investigate that it's not a model that overheats easily or runs too loud (which are two potential downsides to choosing a small gaming PC). Not everyone needs a large tower, but those do offer the most flexibility for future upgrades should you be considering doing some tinkering to your PC later on (such as upgrading the graphics card) as well as the best cooling performance for higher-end rigs.
Always Get An SSD: Going into 2020, there's now no excuse to not get a SSD for your main storage drive (where your operating system is stored on) as they're much more affordable these days. So when choosing a prebuilt PC for gaming, make sure it has at least a small SSD (Solid State Drive) unless it's a real cheap budget model, in which case you may have to settle for a traditional HDD (Hard Disk Drive) which isn't the end of the world.


Check the Warranty Period: Most prebuilts should have a 1 year warranty minimum, but you might as well check this is the case to be sure, especially if you're buying from a lesser known brand.
Prebuilt computers aren't all horrible piles of steaming scrap metal that increase the odds of setting your house on fire tenfold, though such atrocities do exist so you must do your research if you want to choose a good prebuilt PC (and especially so as a gamer as you'll be taxing your system more than the average PC user). So while we do recommend building a computer yourself if you can muster up a little patience, courage, and set aside a day (or two) to assemble your first PC nice and slowly, maybe you have no interest in learning to do so, or perhaps you're strapped for time and don't mind paying the extra money for a convenient pre-assembled PC you can simply unbox, turn on, and start gaming with immediately.
Whatever your reasoning, if you understand that buying a prebuilt gaming PC will typically cost more money for the same (or worse) specs and gaming performance compared to choosing individual parts yourself, with a little careful shopping to avoid a straight-up dud droid of a desktop you can find a good one that will have you gaming in style and that won't let you down (well, hopefully not).
As with most tech purchases, you gotta stay on your toes when choosing a gaming computer to buy as it's easy to get sucked into hype and marketing and fall prey to fancy-looking machines that may say all the rights things in product listings, but that on more close inspection with a trained eye may reveal themselves as being made up of a bunch of low-quality, unreliable components bought from the back of a Jawa Sandcrawler for dirt cheap.
But living with less than the very best (in terms of component quality, performance and reliability) is a sacrifice you often must make with many prebuilt gaming PCs, especially when on a budget (though high-end prebuilt PCs can often also have average parts).
See Also: The Best Gaming Monitors
FAQ
Are Prebuilt PCs Really That Bad Compared to Building Your Own PC?

Well, let's put it this way. The far majority of prebuilt computers on the market can be built for either less or the same price with better-quality and/or faster components if you do it yourself - especially as gamers looking for maximum frame rates for the money.
However, that's not to say that there are no good prebuilt PCs out there, as if you know what to look for and shop carefully you can find decent prebuilt PCs for gaming that won't break the bank. Besides, not everyone has the patience or interest to assemble a computer from scratch, no matter how straightforward it is to do these days if you just take your time with it, and some people are willing to pay extra for the convenience and time saved by buying a pre-assembled PC.
So to answer the question, prebuilt PCs aren't always that bad, and not every single one out there is a horrible buy as a gamer - to think in that black and white way is to adopt the mindset of the dark side (only a Sith deals in absolutes). Building your own PC is better than buying a prebuilt 9 times out of 10 if you want the most for your money, but a good prebuilt computer such as the ones we carefully hand-picked and recommend above is the next best thing (and again, is more convenient for those who are perhaps super-busy).
What Graphics Card is Good in a Prebuilt Gaming PC?

Some prebuilt gaming PCs, even if they are indeed marketed to gamers, will be lacking in the graphics card department for its going price. For example, if you buy a $1000 prebuilt gaming PC (USD), and it only has a budget entry-level gaming graphics card like a GTX 1650 or RX 570 (which are cards you can easily find in much cheaper prebuilt PCs), then you're overpaying as a gamer. Same thing happens in the high-end gaming desktop market too, where you could find a tower that has a great high-end CPU like an i7 or i9 but is severely unbalanced when it comes to the graphics card as it might have a GTX 1660 Ti or RTX 2060 that would bottleneck your gaming performance.

To know which sort of graphics card you should look for when buying a prebuilt desktop, a good way is to compare the graphics card you could get for that same budget if you were to assemble your own custom gaming PC build yourself (in that guide you can get an idea of what makes a good graphics card for any given price). But of course you must also take into account the fact that buying a prebuilt gaming PC will typically cost more than building your own system, so you'll usually have to settle for a less powerful graphics card that's a tier under what you could get with your own custom PC build. 
What are the Best Prebuilt PC Brands?

Choosing the best prebuilt gaming PC for your needs is more about comparing specific models themselves, and not solely about comparing brand names. Though it must be said, there definitely are certain brands out there to avoid in general (and that we would never recommend on this site as we try to provide the best quality recommendations). Some computer companies have continually provided consistently good-quality, reliable prebuilt gaming PCs, with the good customer service to back it up and bring about returning customers, and have generated enough goodwill and enough of a track record over recent history with their systems that they option a safe choice.
Some of the best, leading prebuilt PC brands as of 2020 in my opinion are HP, Asus, Acer, MSI, and Alienware (Dell). These gaming computer brands are generally safe bets for high-quality gaming PCs, however be aware that's NOT to say that ALL their models are worth buying. That's far from the truth, as many prebuilt PCs from the top brands will be overpriced (and some very overpriced). You still have to have your research hat on and research the specific model/s you're considering, as we do with our recommendations in this guide.
Also, it's not just these companies that offer good prebuilts. There are plenty of companies out there, so if they bring a worthy build to the table vs the current competition from the bigger names, then so be it, we may sniff it out for our next update and be included in our recommendations. I'm talking slightly lesser-known yet still super popular names in the PC space like CyberPowerPC and Skytech just to name a couple, the latter of which has made a fair few of our current top prebuilt PC picks.
I have to say, SkyTech currently have what seems to be (from my perspective) some of the current top bang for buck prebuilt gaming PCs out there right now, and importantly without too many of the sacrifices you might have to make when buying a prebuilt. Oon the quality aspect of things, most of their parts are actually pretty good. Though they still do use some lower-quality components in certain builds they do, so always do your research.
From my research into their systems they seem a decent option compared to the current competition, though I can't comment on how good or bad their support system and customer service is. But digging into the specs used in their builds, their build process, comparing vs the competition, etc, I can comfortably recommend them if you want the fastest-performing prebuilt PC that also looks cool (all SkyTech computers come with ready-to-go RGB lighting - and in some builds a ton of it).
When Are These Recommendations Updated?

Like some other guides on the site we'll update our recommendations of the current best prebuilt PCs for the money every few months or whenever we feel it needed a fresh look over and update. If you find a better buy for any particular category that you think we missed, feel free to let us know in the comments below and we'll look into it as it'll help us keep this guide as helpful as possible for others trying to wade through the confusing gaming desktop market.

Though just remember that the best prebuilt gaming PCs we select are chosen on a variety of different factors, and not just solely on which computer has the fastest gaming performance for its price (though that is indeed a primary factor). Other things are important such as the specific specs and brands of all internal components, the overall reliability and trustworthiness/track-record of the manufacturer, the warranty, other features included for the price, and so on.