Build the Best PC for Battlefield 2042
Requirements & Recommended CPUs/GPUs for 60PFS or 144FPS (1080p, 1440p, 4K)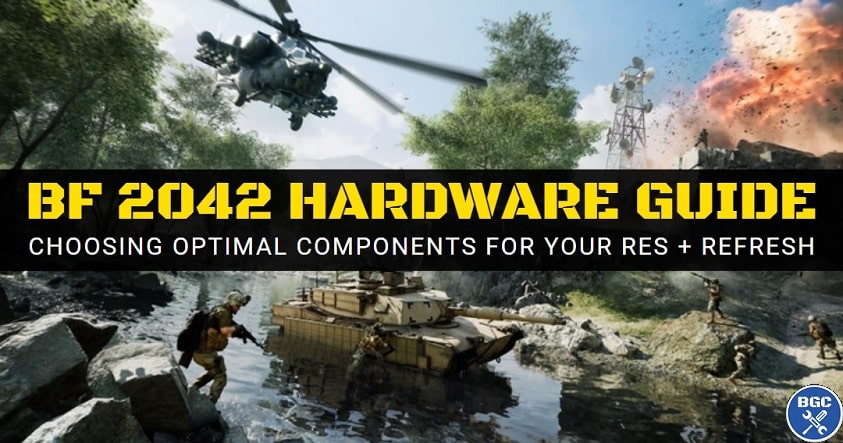 Last Updated: January 14, 2022
Upgrading or building a PC for Battlefield 2042, or want to know roughly how well it'll run on your current system? I've done the researching of multiple performance benchmarks from around the web and put together this condensed buyer's guide to help you choose optimal parts for your particular gaming monitor. Battlefield 2042 was developed by DICE with the Frostbite engine, and continues in the same fashion as BFV and BF1 in terms of being somewhat GPU demanding but very CPU intensive. Especially for 144Hz gamers, as processors will struggle clearing 100FPS, making it a new contender among the most CPU demanding games. It also supports ray tracing, which requires a strong GPU, though NVidia RTX card owners can enable DLSS to boost performance.
Battlefield 2042 Official System Requirements
Let's first get the the official requirements out of the way (sourced from Steam) and my quick thoughts on anything pertaining to them that's worth pointing out.
Minimum Requirements (To Run)
CPU/Processor: AMD Ryzen 5 1600 or Intel Core i5 6600K
GPU: AMD Radeon RX 560 or NVidia GeForce GTX 1050 Ti
RAM/Memory: 8GB
Disk Space: 100GB Available Space
Operating System: Windows 10 64-bit
DirectX: 12
These bare minimum specs will give a playable experience, assuming you're sticking to a 1080p monitor. Just don't expect anywhere near 60FPS.
Moving onto the official recommended specs, which includes a RX 6600 XT or RTX 3060, and you can actually get an excellent 1080p experience - you'll be totally fine to easily hit 60FPS, even on ultra settings.

Recommended Specs (1080p)
CPU/Processor: AMD Ryzen 7 2700X, Intel Core i7 4790
GPU: AMD Radeon RX 6600 XT or NVidia GeForce RTX 3060
RAM/Memory: 16GB
Disk Space: 100GB Available Space
Operating System: Windows 10 64-bit
DirectX: 12
The only reason you would need to go beyond the above specs is to either enable ray tracing, use higher resolutions like 1440p or 4K, or to aim for high frame rates with 144Hz monitors by getting a faster CPU (though for 1080p 144Hz, benchmarks show the RX 6600 XT and RTX 3060 being fine if you use low settings, and you just need to focus on more CPU power).
One last thing worth noting about these official requirements is the storage size needed. While 100GB is not the largest of games out there (RDR2 looking at you), it's still a hefty amount and can easily be a problem for anyone with a smaller SSD (and you really, really want to install BF 2042 on a SSD if at all possible for those faster load times). I wouldn't want my worst enemy installing a modern multiplayer title like this on a HDD in 2021.
See Also: Choosing a SSD for Gaming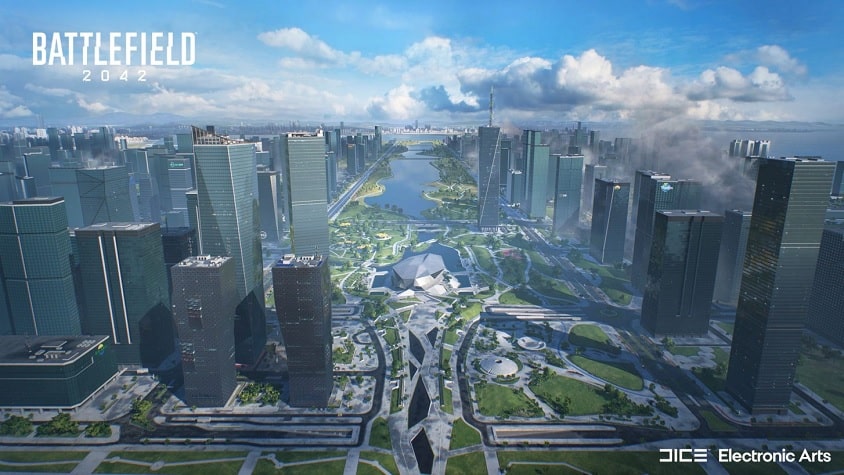 The maps in BF 2042 are massive, allowing up to 128 players (Image Source: EA)
Best Battlefield 2042 PC Build for 1080p 144Hz
As mentioned, Battlefield 2042 is not too demanding of a game if all you want is 60FPS at 1080p (full HD). The official recommended specs will hit that target (on maxed settings). But for 144Hz monitors - an increasingly popular choice of display for lovers of the FPS/shooter genre - your CPU requirements raise considerably. At least if you want to make the most of said monitor; Battlefield 2042 can be very CPU demanding if your aim is anywhere over 100FPS.
For reach the flawless 144FPS mark - the holy grail for 144Hz displays - you would need one of the best gaming CPUs on the market. Since the game features genuinely massive maps with up to a whopping 128 players, even with the absolute fastest gaming CPUs out there right now such as the 12700K and 12900K, you're not guaranteed a constant 144FPS or higher at all times. But remember there's no need for 144FPS at all times when using a 144Hz monitor, especially if using a Freesync monitor (for AMD cards) or a G-Sync monitor (for NVidia cards). Getting between 100FPS to 144FPS is still a great experience, and much better than 60FPS anyway.
Best Value Specs for 1080p 144Hz
CPU: Intel Core i5-12600K / i5-12400 or AMD Ryzen 5 5600X
GPU (LOW/MEDIUM): NVidia GeForce RTX 3060 Ti 8GB
GPU (HIGH/ULTRA): AMD Radeon RX 6800 16GB
RAM: 16GB 3200MHz DDR4 (2x8GB)
A 12600K and RTX 3060 Ti is the best CPU and GPU combo I recommend for Battlefield 2042 at 1080p 144Hz, assuming low or medium settings and no ray tracing (higher settings or ray tracing means you should get a better GPU). Older processors get wrecked in this game, and will create a CPU bottleneck without a doubt. But the latest Intel 12th gen CPUs really shine (as they do in most games right now). The 12600K is also much better value than the 12700K and 12900K, as the 12600K gets so very close to these two higher-end chips. If you want to go with AMD, the 5600X is plenty, with the 5800X being ideal, but neither of these two get close to the 12600K from the benchmarks I've seen.

Best Battlefield 2042 PC Builds for 1440p/4K
Moving onto higher resolutions which increases the demand on the graphics card (but not your CPU), and below are the parts I can recommend to get the best bang for buck. Note these recommendations are NOT for ray tracing: enabling ray tracing makes the game look slightly better, but you get a 20% reduction in performance, and for most PC build guides on this site I like to primarily focus on getting the best value for money. So, in my eyes the best value is to have ray tracing turned off to squeeze out higher FPS and make for a smoother, more enjoyable experience with less stuttering.
Related: The Battlefield V PC Build Guide
That said, you can get a nice performance boost if using NVidia RTX cards by turning on DLSS in the settings, which does make ray tracing a lot more practical. Hopefully AMD adds support for their equivalent technology (FSR) in the near future. Oh and also note that the same RAM recommendation from earlier applies to all of these sample builds as well (16GB of DDR4 3200MHz, which is the best bang for buck these days).
Best Value Specs for 1440p 60FPS (ULTRA)
CPU: Intel Core i3-12100 / i5-11400 / i5-10400 or AMD Ryzen 5 3600 / Ryzen 3 3300X
GPU: NVidia GeForce RTX 3060 12GB or AMD Radeon RX 6600 XT 8GB
Best Value Specs for 1440p 144FPS (HIGH)
CPU: Intel Core i5-12600K / i5-12400 or AMD Ryzen 5 5600X
GPU: AMD Radeon RX 6800 XT 16GB
Best Value Specs for 4K 60FPS (ULTRA)
CPU: Intel Core i3-12100 / i5-11400 / i5-10400 or AMD Ryzen 5 3600 / Ryzen 3 3300X
GPU: NVidia GeForce RTX 3070 8GB
I've left out recommendations for 4K 144Hz monitors, as not even a RTX 3090 can reach 144FPS at 4K on high settings (not even on medium settings). For 4K 144Hz gaming, making recommendations would be a bit silly as it should go without saying that you need to simply buy the best CPU and GPU you can afford. Anyway, that wraps up my perspective on choosing optimal hardware for Battlefield 2042 and hope it helped a little in your research.
See Also: Most CPU Demanding Games of All Time

Image Source: EA
---
Trusted VPNs
VPN software is quite important in this day and age and will improve the security and privacy of your PC when online. There are also benefits to using VPNs for gaming.

There's lots of VPNs out there but the ones I recommend most to gamers is ExpressVPN (special link that gets you 3 months off. they also offer a free trial here) and NordVPN which are both highly rated gaming VPNs because they're the fastest and most secure.
Search the Site
About the Author
Indie game dev currently working on my first public release after years of hobby projects, a story-driven VR FPS built with Unreal Engine (to be announced soon here for anyone into VR FPS's). Also likes writing about tech, which also helps fund development of the game.
My favs of all time are OOT, Perfect Dark, MGS1, MGS2, GE007, DKC2, THPS3, HL1, and HL2, with the most recent addition to my list of immortals being the VR masterpiece Alyx. If you want help with a new build feel free to ask on the main PC builds guide. If you found the site extra helpful and wish to support the work I do here, sharing an article with a friend helps a lot and is much appreciated. - Julz