Home > Gaming PC Builds > BFV

Plan the Best Battlefield 5 PC Build: Choosing Optimal Hardware for 1080p/1440p/4K
Guide to Building the Best Computer for Battlefield V, Official Minimum & Recommended System Requirements, & Best 2018 Parts to Get 60FPS, 144FPS or 240FPS
We'll cover what you need to know to get the performance you want in this demanding title
Published: Oct 20, 2018

EA's iconic FPS series is due for its next instalment come November 2018, which promises to be one of, if not THE greatest WW2 shooter of all time if EA and Dice pull it off. We'll have to wait and see if it turns out great as some predict, but so far the Open Beta gameplay and graphics has really impressed many gamers and chances are high it'll be the best and most popular Battlefield yet.
Battlefield V is also one of the first games to include support for NVidia's exciting new real-time ray tracing rendering feature, which you'll be able to witness for the first time in an AAA title if you're fortunate enough to have or be getting your hands on one of their new RTX range of GPUs (ie the RTX 2070, 2080, and 2080 Ti). Although it does remain to be seen how much of a performance decrease this feature will have.
In this guide we'll explain what you need to know to upgrade or build the best PC build for Battlefield 5, including a breakdown of the official minimum and recommended spec requirements, how demanding the game is overall, and our thoughts on the best 2018 hardware components to choose to get the performance you're after in the resolution/refresh-rate you want to run.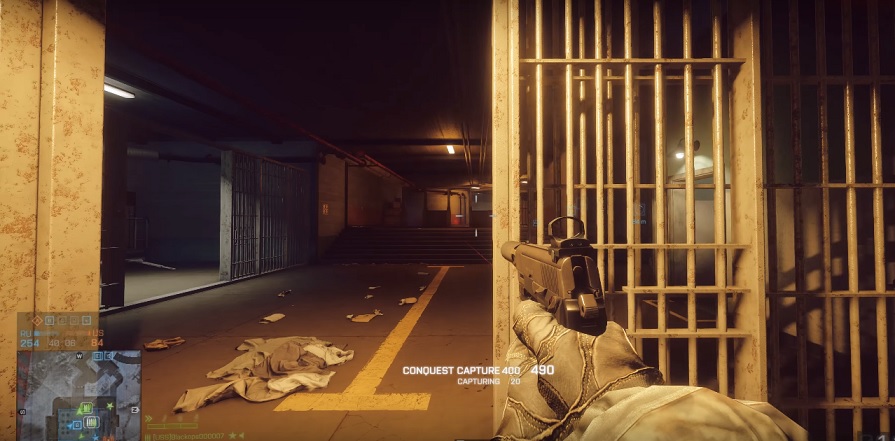 Battlefield 5 gameplay screenshot from the Open Beta version
Best Battlefield 5 PC Builds for 60Hz, 144Hz or 240Hz
If you don't care about the nitty gritty hardware details that the rest of this Battlefield 5 hardware guide gets into, let's first cover which custom gaming PC builds we currently suggest, based on everything we know so far about the game, to run it at your desired performance level in the resolution refresh rate you ideally want to play in. If you want to compare all our current recommended builds side by side, see our main Best Gaming Builds section.
Recommended Battlefield 5 PC Builds for 1080p (1920 x 1080)
1080p 60FPS Med/High Settings:
$600 Gaming PC Build
1080p 60FPS Ultra Settings:
$800 Gaming PC Build
1080p 144FPS Med/High Settings:
$1000 Gaming PC Build
1080p 144FPS Ultra Settings:
$1500 Gaming PC Build + Swap i5 for i7
1080p 240FPS Med/High Settings:
1080p 240FPS Ultra Settings:
Recommended Battlefield 5 PC Builds for 1440p (2560 x 1440)
1440p 60FPS Med/High Settings:
$1000 Gaming PC Build

1440p 60FPS Ultra Settings:
1440p 144FPS Med/High Settings:
1440p 144FPS Ultra Settings:
1440p 240FPS Med/High Settings:
1440p 240FPS Ultra Settings:
Recommended Battlefield 5 PC Builds for 4K/2160p (3840 x 2160)
4K 60FPS Med/High Settings:
4K 60FPS Ultra Settings:
4K 144FPS Med/High Settings:
4K 144FPS Ultra Settings:
4K 240FPS Med/High Settings:

4K 240FPS Ultra Settings:
Good luck with that, though SLI 2080/Ti with an i9-9900K may do
Note for Pro Players: 
Ignore this if you're a standard gamer building a typical 1080p/1440p 60Hz build. The above suggested parts are general guidelines only, and you should always do your own research on benchmarks for your desired performance aims to ensure you'll get the frame-rate that you're after - especially if you have high performance demands such as aiming for a consistent 144FPS/240FPS. We do our best to be as accurate in our recommendations as possible though, so the above Battlefield 5 example builds are a good place to start your research. 
Battlefield 5 gameplay screenshot from the Open Beta version
Official Battlefield 5 System Requirements (Beta Version)
The official hardware requirements for the final retail version of the game has yet to be announced, so all we have at the time of writing this guide to planning a BF5 PC build is the requirements of the Open Beta version of the game. Though chances are the final specs will be very close, if not the same. We'll update this section as soon as the full game's specs are revealed. Also keep in mind that these specs are just the bare minimum to run the game at a playable level, and the required hardware to play at higher levels (such as high frame rates in high resolutions and/or at high refresh rates) will differ greatly.
BF5 Minimum Hardware Requirements
Minimum OS: 64-bit Windows 7/8.1/10
Minimum CPU: AMD FX-6350, Core i5 6600K
Minimum Graphics Card: AMD Radeon™ HD 7850 2GB, nVidia GeForce® GTX 660 2GB
DirectX: 11.0 Compatible video card or equivalent


Online Connection Requirements: 512 KBPS or faster Internet connection
BF5 Recommended Hardware Requirements
Recommended OS: 64-bit Windows 10 or later
Recommended CPU: AMD FX 8350, Core i7 4790
Recommended Memory: 16GB RAM
Recommended Graphics Card: AMD Radeon™ RX 480 4GB, NVIDIA GeForce® GTX 1060 3GB
DirectX: 11.0 Compatible video card or equivalent
Online Connection Requirements: 512 KBPS or faster Internet connection
Battlefield 5 gameplay screenshot from the Open Beta version
PC Requirements Breakdown: How Demanding is BF5?
If the previous title in the series (Battlefield 1, released a couple years ago) is anything to go by, then Battlefield 5 will indeed be quite demanding on hardware compared to most titles on the market. The above minimum and recommended PC spec requirements, which are the same as BF1, confirm that as they're quite beefy when compared to most games. But even though the recommended specs are the same as BF1, don't be surprised if 5 is even more demanding as chances are the graphics, effects and physics will be improved upon.
So don't expect the exact same performance that you might have got from playing BF1, unless the developers really manage to pull off something special in terms of simultaneously increasing the graphics/mechanics AND improving performance optimization (no mean feat, and unlikely).
Therefore, you're absolutely going to need a decent rig to play it nice and smoothly, especially if you're running higher resolutions than 1080p such as 1440p or 4K, and obviously even more so if you're using a high refresh-rate 144Hz monitor and aiming for that 144FPS mark (which would require a real monster system, especially for 1440p 144FPS - don't get me started on 240Hz which is an entirely different level altogether).
BF5 Demand-O-Meter: 4/5 (quite demanding)
One of Battlefield 5's maps being crafted in EA's FrostBite game engine
How CPU Intensive is Battlefield 5?
A mid-range processor will be enough, but for the best performance you'll want a high-end CPU such as a Core i7 or Ryzen 7
Will you need a really good CPU for BF5? Built on the FrostBite 3 engine, the Battlefield series has always been CPU intensive, and BF5 will be absolutely no different as you can see from the fairly beefy CPU minimum and recommended requirements. How well optimized the game will be though remains to be seen until the full version is released, but the faster your CPU the better, and unlike the majority of modern games where you see diminishing returns from using a high-end processor like an i7 over a mid-tier CPU like an i5, Battlefield 5 is a game that does indeed take advantage of the extra processing power that higher-end processors provide. 
In other words, an i7 CPU does make sense for this game if you want maximum performance, but don't worry as an i5 will still allow you to play it well as they're still strong CPUs. If you're an AMD guy, replace what I said above about i7's and i5's with Ryzen 7's and Ryzen 5's respectively. But if you've got an older or entry-level budget machine that has a budget gaming CPU like an i3, Pentium, or Ryzen 3, chances are you're going to get bad performance in a CPU intensive game like this (assuming your system can even run the game at all depending on your complete PC specs).
What about cores and threads, does Battlefield 5 need a high core/thread count to run well? Yes, the FrostBite 3 engine which BF5 is based on does indeed tap into additional cores and threads more so than other AAA game engines. That doesn't mean you need a crazy octa-core CPU to run it well, but a good quad or six core processor is ideal to get the best performance. A dual-core is not going to cut it for this one.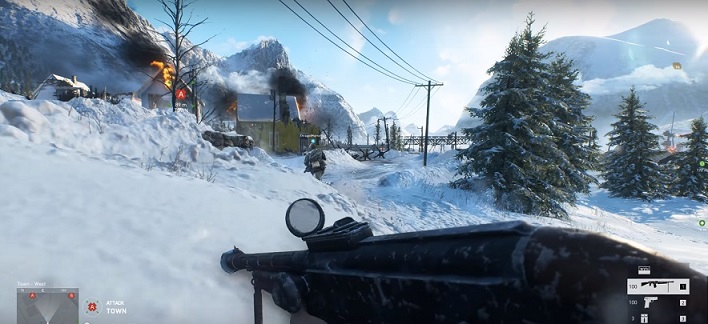 Battlefield 5 gameplay screenshot from the Open Beta version
How Much RAM Should You Get for Battlefield 5?
Same thing goes when choosing memory for your PC build - most games don't really use more than 8GB of memory, even in 2018, whereas the previous title in the series (Battlefield 1) and now Battlefield 5 will take advantage of more than 8GB as is confirmed by the recommended specs above that lists 16GB memory. You don't see that everyday in game requirements.
So, how much RAM should you get for your Battlefield 5 gaming PC build? Get 16GB if at all possible. This amount isn't necessary to get the most out of the majority of AAA modern games, as you'll see from our recommended PC builds for gaming as we only suggest spending the extra cash on 16GB of RAM if you're building a system $1500 or above. But with a demanding game like Battlefield, it's a different story and you should aim to fit 16GB of RAM into your build even if your PC build budget is on the middle-tier range of $1000 or so.
Don't worry if you only have 8GB of memory though, as you'll still be able to run the game (8GB is the minimum RAM listed for the game). All I'm saying is that in an ideal world you should aim for 16GB.
AMD vs NVidia Graphics Cards for Battlefield 5
You may be wondering, is NVidia or AMD better for Battlefield 5? Good question, as we won't know until the full version has been tested upon release, even though early signs from the Open Beta version of the game show that AMD performed super well (one report had the RX 580 absolutely destroying the GTX 1060). However, this was the Beta version of the game, and results will indeed change come the retail version as Beta and Alpha releases of games haven't been completely hardware optimized just yet.
But despite which GPU manufacturer performs better in Battlefield 5 upon release, there's the whole RTX thing for high-end gamers, where AMD simply cannot compete just yet as they haven't released a graphics card with real-time ray tracing capabilities that Battlefield 5 will take advantage of. But in the mid-range GPU tier it's likely going to be a close call as always with the whole NVidia vs AMD debate, and using either (such as an RX 580 or a GTX 1060 in the mid-range) won't likely make a huge difference come launch, give or take a few frames here or there.
But yeah, for the very best Battlefield 5 PC build for those with cash to splash, the RTX cards is what you'll want to take advantage of the new NVidia-exclusive features that this game will utilize. It's a NVidia partnered game after all, too.
What is Real-Time Ray Tracing in BF5?
If you've not been living under a rock or you just have better things to do than closely monitor the latest happenings in computer and gaming graphics, you would have heard that Battlefield 5 is one of the first AAA games to support NVidia's new real-time ray tracing rendering feature. This allows for more realistic graphics - specifically more accurate lighting, shadows, reflections and explosions that much more closely mimics how the real world would actually look. It's only the beginning for this new rendering feature, but it is indeed exciting as over time it'll make the top titles look even more lifelike. See some early footage of real-time ray tracing in BF5 here:
Of course, the extra graphics fidelity comes at a cost and you'll need to be rocking a high-end rig with one of the latest RTX 2080, RTX 2080 Ti, or RTX 2070 graphics cards. How costly will real-time ray tracing be to performance in Battlefield 5 (or any game developed with this feature for that matter)? As of right now, we don't know as the game ain't out yet folks, so we'll have to wait and see. But predictions in the industry mostly concur that it's going to be a serious performance hit, and might not even be worth enabling, especially with a lower-tier RTX card like the 2070. We'll have to wait and see.
Sources
Battlefield V Alpha: Our First Gameplay Benchmark Results
Everything We Know So Far About Battlefield 5
Battlefield 5 minimum requirements were incorrect, have been removed
Official Battlefield 5 System Requirements (Origin)
Minimum and Recommended PC Specs for the Battlefield 5 Open Beta Revealed
---
Hope this guide helped in your research, and good luck with your new setup. Need further help?
For Simple Questions
If you need further help choosing the optimal bang-for-buck parts-list for your specific requirements, feel free to post a question in our main comments section (on our Latest Gaming PC Builds page). We'll respond to you ASAP and do our best to help steer you in the right direction.
For Detailed Help (Premium Email Support)
To have ongoing access to our exclusive support email (reserved for customers only), check out the "Master" or "VIP" editions of our book (The Gaming Build Blueprint Manual). These editions come with included long-term support which may just come in real handy if you're building your first PC but are still a bit worried or intimidated.
You'll have the peace of mind to be able to ask us directly for help at any stage of your build. Our book is also the best way to directly support our work here at BGC, with profits often re-invested back into creating more and better content, including being able to buy more hardware and equipment for testing and so on.