The Best Gaming PC Builds for the Money
February 2019 Recommended Hardware Components to Strategically Maximize Performance, Reliability, and Longevity for Any Budget & Build a Killer Custom PC

From $300 to $5000: Gaming Computer Build Recommendations for USA, Canada, UK & Australia to Max Performance
* March Edit * The Feb builds below also apply for March. The next builds update will come early April as we've decided it's best to update the builds every quarter (as in, every 3 months) instead of monthly, as there's often little change month to month. PC hardware is a fairly fast moving industry, but not that fast.
Last Updated: Feb 13, 2019
Building your own 2019 gaming desktop computer in the USA, Canada, UK or Australia and need a little guidance choosing the absolute best, fastest, most reliable parts-list for your particular budget and performance aims?
Our continually-updated, meticulously-researched recommended gaming PC builds below are here to help and represent what we believe to be the current best bang for your buck based on our borderline-obsessive monthly monitoring of the ever-evolving hardware market from the perspective of a gamer looking for maximum value for money.
These monthly gaming PC build examples are here to be either used exactly as they are - as each particular build is individually well thought-out and fine-tuned to be the very best "safe bet" build examples possible based on countless hours of research - or as a base of reference for your ongoing hardware research should you be planning a more customized parts-list for your specific wants and needs.
This page is the main hub where we list and compare all of this month's best gaming PC builds side by side, but each build has its own accompanying in-depth guide that covers all the details you need to know on exactly WHY each carefully-considered component made the cut for a given price tier. All our custom gaming builds also have individual recommendations for the US, Canadian, UK and Australian market.
Unlike some other sites out there who may just haphazardly and quickly recommended you certain parts and be done with it, we don't cut corners here at BGC and put in whatever time is necessary (usually way too much) to think of every little detail and nuance that we can when designing any given build and to provide you with objective, unbiased, detailed guidance to help you make the right choice for your particular situation, and to perfect our below best gaming PC builds each month as much as we humanly can to ensure they stay as the best well-balanced, reliable, and high-quality build examples that they can be that make for excellent buys as a gamer.

We sincerely hope these gaming computer build recommendations and accompanying guides help you make more sense of the sometimes confusing PC gaming market, and good luck with building that perfect new machine that'll have you gaming in full graphical glory for years to come. Although consoles are great fun too, long live the master race; when done right, the PC really is the premier platform and the pinnacle of gaming with its vast sea of endless possibilities. Anything a console can do, a PC can do and do better.

See Also: 
5 Compelling Reasons to Build Your Own PC
Your First Gaming PC Build: The Comprehensive 2019 Guide
The Best Gaming PC Builds: February 2019
Swipe to Scroll the Builds:


Optimal Gaming Performance, Component Quality & Build Balance for the Money


RESOLUTION

FULL REVIEW
BUDGET
GRAPHICS
CARD
CPU
CPU COOLER
MOTHERBOARD
RAM
HDD
SSD
PSU
CASE





1





0





8





0





P

ENTRY LEVEL
< $300
Vega RX8 (integrated)
Ryzen 3 2200G
Stock
Asus Prime B450M-A/CSM
Ballistix Tactical 4GB DDR4 2666MHz
WD 1TB Blue 7200RPM

-
EVGA 450 BT
Rosewill FBM 05

CHEAP
< $400
Vega RX11 (integrated)
Ryzen 5 2400G
Stock
MSI B450M Bazooka
Patriot Signature 8GB DDR4 2666MHz
As Above
-
As Above
Thermaltake Versa H15 SPCC
BUDGET
< $500
GTX 1050 Ti 4GB or RX 570 4GB
Pentium G5400 or G5500
Stock
Gigabyte B360M DS3H
Patriot Signature 8GB DDR4 2400MHz
As Above
-
As Above
Cooler Master N200
MID RANGE
< $600
GTX 1060 3GB or RX 580 4GB
i3-8100
Stock
As Above
Corsair Vengeance LPX 8GB DDR4 2400MHz
As Above
-
As Above
Corsair Carbide 100R
60FPS ULTRA
< $800
RX 580 8GB or GTX 1060 6GB
Ryzen 5 2600
Stock
Asus Prime B450-Plus
HyperX Fury 8GB DDR4 2666MHz
As Above
Kingston A400 240GB
EVGA 500 BQ
Cooler Master MasterBox Pro 5



1





4





4





0





P




GOOD 1440P
< $1000
RTX 2060 6GB

i5-8400
Stock or 212 Evo
Gigabyte B360 HD3
As Above
As Above
As Above
EVGA 550 SuperNOVA G3
Phanteks Eclipse P400
GREAT 1440P
< $1250
RTX 2060 6GB OC
i5-9600K
Cryorig H7 or 212 Evo
Asus Prime Z390-A
Vengeance 16GB DDR4 3000MHz
As Above
As Above
EVGA 650 SuperNOVA G3
NZXT H500 or H500i
60FPS ULTRA
< $1500
RTX 2070 8GB
Ryzen 7 2700X
Stock
Asus Prime X470 Pro
As Above
Seagate 2TB 7200RPM
Samsung 860 EVO 250GB
As Above
Phanteks Enthoo Pro




4

K

/

V

R


GOOD 4K
< $2000
RTX 2080 8GB

i7-9700K
Corsair Hydro H100i v2 AIO
Asus Rog Strix Z390-E
As Above
As Above
As Above
EVGA SuperNOVA 750 G3
Corsair 570X
60FPS ULTRA
< $2500
RTX 2080 Ti 11GB
As Above
As Above
As Above
As Above
As Above
As Above
EVGA G3 850 or Seasonic Focus 850
Corsair Graphite 780T
144FPS
< $3000
RTX 2080 Ti OC or SLI 2080
i9-9900K
NZXT Kraken X62
Asus Maximus XI Hero Z390
G.Skill Trident 4x8GB 3200MHz
4TB
Samsung 970 EVO m.2 500GB
Seasonic Prime SSR-1000TR
Corsair 900D
144FPS ULTRA
< $5000
Titan RTX or 2x RTX 2080 Ti (SLI)
As Above
As Above
MSI Meg Z390 Godlike (Haha, Meg)
As Above
As Above
Samsung 970 EVO m.2 1TB
EVGA SuperNOVA 1200W Platinum
As Above
February 2019 Updates:
On top of our usual PC builds for the USA, this month we've introduced all-new individual recommendations for gamers in Canada, UK and Australia as well. You'll find these country-specific recommendations within each build guide below (you'll find they're typically the same parts we recommend for the US as hardware is an international game: a good buy in America is quite often a good buy overseas, but not always)
This month we just started on Twitter for the first time (we setup the account last year but didn't post anything until now) so follow us there for some updates and/or want to show some love for BGC
As for the actual component changes that we made this month to each build - we share that exclusively with our email subscribers in our free monthly newsletter. Subscribe for free at the bottom of the page to get these exclusive updates to your inbox as well, which also includes not only a breakdown of the changes to the builds, but any noteworthy news in PC building land and/or other updates on special PC building events (Black Friday, Cyber Monday, Amazon Prime Day, etc)
Best PC Builds for 4K & VR: Breakdowns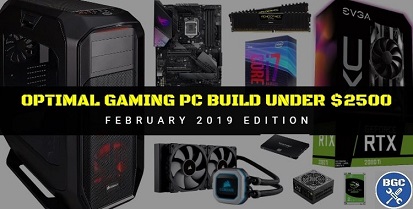 Current Best Gaming PC Build Under $2500
Build Tier: Ultra 4K
Gaming Performance: 10/10
Recommended Resolutions/Refresh Rates:
4K 60Hz or 1440p/1080p 144Hz (& flawless VR)
Current Best Gaming PC Build Under $2000
Build Tier: Good 4K
Gaming Performance: 9.5/10
Recommended Resolutions/Refresh Rates:
4K 60Hz or 1440p 60Hz/144Hz or 1080p 144Hz (& great VR)
Best PC Builds for 1440p: Breakdowns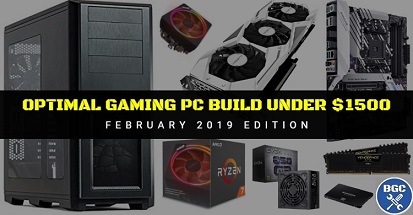 Current Best Gaming PC Build Under $1500
Build Tier: Ultra 1440p
Gaming Performance: 9/10
Recommended Resolutions/Refresh Rates:
1440p 60Hz or 1080p 144Hz (& good VR)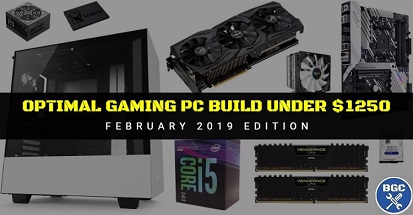 Current Best Gaming PC Build Under $1250
Build Tier: Great 1440p
Gaming Performance: 8.5/10
Recommended Resolutions/Refresh Rates:
1440p 60Hz or 1080p 144Hz (& good VR)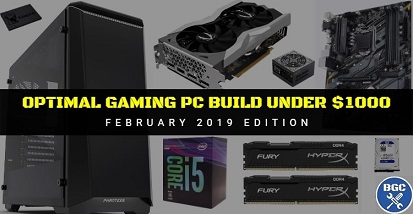 Current Best Gaming PC Build Under $1000
Build Tier: Good 1440p
Gaming Performance: 8/10

Recommended Resolutions/Refresh Rates:
1440p 60Hz or 1080p 60Hz (& entry-level VR)
Best PC Builds for 1080p: Breakdowns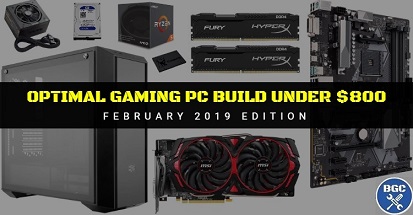 Current Best Gaming PC Build Under $800
Build Tier: Ultra 1080p
Gaming Performance: 7.5/10

Recommended Resolutions/Refresh Rates:
1080p 60Hz or 1440p 60Hz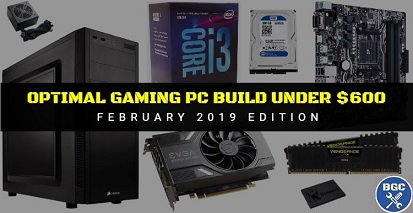 Current Best Gaming PC Build Under $600
Build Tier: Mid-Range 1080p
Gaming Performance: 7/10
Recommended Resolutions/Refresh Rates:
1080p 60Hz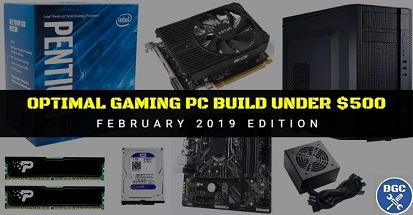 Current Best Gaming PC Build Under $500
Build Tier: Budget 1080p
Gaming Performance: 6.5/10

Recommended Resolutions/Refresh Rates:
1080p 60Hz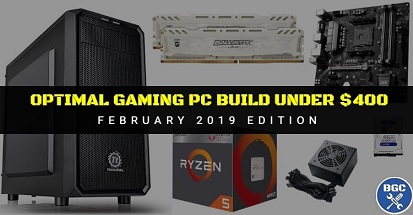 Current Best Gaming PC Build Under $400
Build Tier: Cheap 1080p
Gaming Performance: 5.5/10

Recommended Resolutions/Refresh Rates:
1080p, 900p, 720p (60Hz)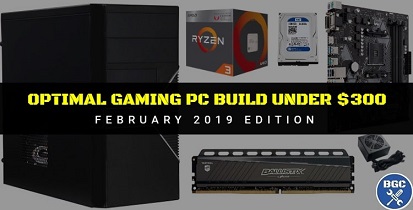 Current Best Gaming PC Build Under $300
Build Tier: Entry-Level 1080p
Gaming Performance: 5/10 (entry level 1080p)

Recommended Resolutions/Refresh Rates: 1080p, 900p, 720p (60Hz)
Confused About Resolutions, Refresh Rates, or Frame Rates?

PC Builds FAQ
Which of the builds is right for me?

Of all the best gaming PC builds we recommend right now, if you're perhaps getting into the PC master race for the first time, you may be a little lost as to just how much you should spend on your new setup. It's a question that only you can answer...how long is a piece of string? Only you will know the answer, so don't let anyone tell you "you need to spend X amount". Even a cheap computer can go a long way when done right.
How much you spend on a new gaming computer comes down to many factors, with perhaps the biggest ones (besides how much you actually have to spend) being what resolution you want to play in (1080p, 1440p or 4K), what types of games you want to play (demanding AAA titles, older games, or a mix etc), and what type of performance you'd be happy with in those games (flawlessly smooth at all times, or can you stand a little laggy-ness or toning down the graphic settings to get better performance?).
See Also: 1080p vs 1440p vs 4K: Gaming Resolutions Explained and Compared
As a general rule of thumb, for standard 1080p resolution (full HD), which is what most gamers still use in 2018 and will continue to do so in 2019, $500 - $800 will serve you well depending on the performance level you seek. Less if you're only playing lesser-demanding games, older titles, 720p resolution, or you don't mind 1080p on the lowest graphical settings.
Next step up in quality is 1440p resolution which is also quite popular these days; you're looking at spending $800 to $1500 for a build of that nature. For virtual reality and 4K resolution, the pinnacle of PC gaming if you can afford it, you're looking at throwing down $1500 and above, with $2000-$2500 allowing for the very best performance in this resolution. Anything more than this, such as our above suggested SLI builds (read: multi GPU setups) is pure luxury and overkill for 99.953632% of gamers.
Can I mix and match parts around from different builds?

Of course - the above best gaming PC builds are our recommended "safe bets" for any particular budget based on years of hardware experience and obsessing over the ever-changing market, but go ahead and tweak these builds 'till the ends of the earth until you're 100% satisfied.
Planning the perfect custom setup is a big part of the fun, but just don't forget to always consider compatibility between all of your components. Basics changes like using a different graphics card  instead of the one we included will almost always be totally fine, although there are always exceptions to the rule so always do your homework (for example, perhaps the card you opt for is bigger and would not fit in your case, etc etc).

Do the builds have WiFi capability?

All modern motherboards come with built-in wired LAN networking capability, however most DO NOT have built-in wireless. If you want your PC to access the internet wirelessly (for gaming or non-gaming) you have three options:

Option 3 typically requires you to invest in a more expensive motherboard, so it may not be within your budget to do this. The first 2 options are most common for a cost-effective desktop build, and whether you get an internal adapter card or a USB dongle is personal preference as either can work just as well. See our guide to internal vs external wireless adapters for more on this. If you get an internal network card, which is typically better than a USB adapter, you'll want to ensure your motherboard has a spare PCI-E slot, especially if you're getting a mATX (Micro ATX) motherboard which sometimes are a little cramped.
Is wired internet better than wireless for gaming?

Generally speaking, yes. If you're gaming online, a wired LAN connection is always the most ideal as you don't have to worry about dropouts and/or potential slowdowns in your connection. This becomes more important if you're gaming competitively. However, these days wireless connections can be just as good if you have a good internet connection, a good router, and good network card/dongle.
Should I wait for component X or Y to be released before building?

This is an age-old question that will never die. Truth is, there's always new parts coming out, either really soon or in the not too distant future, so if you wait for all new releases before building your computer you'll be waiting forever. However, not all new releases are created equal, so it does depend on your particular build and the particular part you may be waiting for. Also keep in mind that even if you wait for a new part, it may not even be the best overall value for money at the price at which its released, and over its initial first few months or so, and sometimes older parts represent better bang for your buck (case in point right now is the GTX cards being better value overall than the new RTX cards).
When are the builds updated?

We thoroughly look over, re-consider and tweak (where necessary) all our recommended gaming PC builds each and every month, but we also occasionally update a build mid-month if there's any noteworthy changes to the hardware market such as a big release that deserves to be included in any given build tier, or before big sales events like Black Friday/Cyber Monday to ensure the builds are freshly-updated for those days.
In other words, these gaming PC build examples are essentially always updated and ready to go; they're the flagship feature of the site and what keeps the majority of our readers coming back to the site, therefore we always keep a close eye on them so that they are practically never outdated. Also note that sometimes a particular build will stay the exact same month to month if it still remains as the best value for money parts-list for that price in our opinion.
Why isn't Windows included in the price of the builds?

We don't include the operating system, which for most builders will be Windows 10, because A) there are other choices other than Windows such as Linux, and B) some builders will already have a (legal) copy of Windows that they can reuse for their new build (such as a multi-machine edition they previously bought).
Why aren't peripherals included in the price of the builds?

Choosing peripherals such as your monitor, keyboard, mouse and headset comes down to personal preference a lot more than the actual hardware parts, so it wouldn't make sense to include specific peripherals for each recommended build. Plus, like with the operating system, a lot of readers will already have peripherals they can use from a previous desktop build. See our peripheral buying guides in the main top menu for our top picks on these parts if you want some guidance, which also includes which features to look for in each accessory and info on what current pro gamers use as of 2019.
Are you sponsored by X or Y manufacturer because you recommend them so much?

No - we're not affiliated with any specific manufacturer. BGC prides itself on being as objective unbiased as possible, and we're independently operated, and do not accept any outside incentives to suggest a particular brand over another. All our recommendations are solely our opinion on what we genuinely believe is the best choice for most readers, and are what we would buy ourselves if building a particular tier right now. If we include a certain brand or component over and over again, it's simply because we think it's a great buy. Nor are we fanboys of any company, however in saying that we do love to see the underdog do well, because that's exactly who we are in the hardware/gaming publishing space.
Which countries are these gaming PC builds for?

Hardware is an international product, and if a certain component is a good buy in the USA it's usually also a good buy in other countries, and all our Amazon links will automatically direct you to your local countries store where possible. However pricing may differ from country to country which may be something that affects your buying decisions. For example, a certain component may be a great value buy in one country, but overpriced in another. But overall, we tweak our best gaming PC build guides for the USA and Canadian market (they're both very similar).

Which online stores have the best prices on PC components?

The following are our top recommended hardware stores to buy parts (and accessories) in 2019:
#1 Recommended Store: Amazon (tough to beat on price and shipping)

#2 Recommended Stores (3-Way Tie): BHPhotoVideo (reliable, respected company) and Newegg and OutletPC
Our top recommended hardware store in terms of the most competitive pricing, biggest range, reliability of shipping, and customer service for computer hardware in the USA (or Canada for that matter) is good-old Amazon, who are hard to beat when it comes to PC components and accessories. They're a well-oiled machine and it's rare to encounter problems with them, and their handy Prime membership (you can get a 30-day free trial here) allows you to get unlimited 2-day free shipping (without needing a minimum order size). Two alternatives we can comfortably recommend to buy hardware online for the best price and that also have good, reliable shipping and service would be BHPhotoVideo and OutletPC, who are also trusted, well-respected names for all-things computers.
Why trust your build recommendations? Are you hardware Jesus?

Yes. On a serious note, first of all this must be said: don't trust what we - or anyone - says on the internet blindly without doing your own research, especially when it comes to forking out what's likely to be a fair chunk of change on a new computer. But we have made it a mission for many years to practically obsess over the ever-changing DIY PC sphere to better serve you - the first-time (or second/third time) newbie PC builder - as best as we possibly can, and as objectively as we can (meaning we try to clarify every recommendation and take into account why it may or may not be suitable for your particular situation). 
We avoid recommending something without carefully weighing up the options and doing comprehensive analysis, and we re-evaluate our selections over and over again during our continual updates of these builds as hardware is a constantly evolving beast. Point is, we've learned a thing or two over many years regarding what makes a solid build for any given budget, and a lot of effort has gone into and continues to go into this site to make it as helpful a resource as possible for the PC building community. Your feedback over the years as readers has also helped us understand what your needs are, what we need to improve, and what the average beginner builder struggles with. So, take what you can from our guides and we genuinely hope they help you along the way, but remember they're here to supplement your own research, especially if you have more specific wants and needs than the average gamer.
PS: Speaking of heavenly hardware gods, I think we can all concur Steve from Gamer's Nexus takes the cake as hardware Jesus; even his hair agrees. Check out his solid YT channel if you want to take your DIY knowledge to the next level. A good credible guy from what I've seen. 

Your Comments/Feedback
Got a question or want to share your thoughts on this guide? We're listening and you can reach us on the platforms below (or feel free to email us). Also, constructive criticism is always appreciated as it helps us continue making BGC the best noob-friendly DIY resource it can be.
Get a Tailored Build

Have more specific wants and needs for your build and want to tap into our build design experience to thoroughly plan the perfect parts-list for your exact situation?
We'll be glad to help: send in your budget, performance aims and any other requirements here in as much detail as possible, then leave a small tip in our tip jar to cover the time necessary to properly do this for you (we'd love to research builds all day for free but BGC would suffer for this as the site requires a 110% workload as-is and that math doesn't add up ;p)
We'll then get to work on your build ASAP and email it within 1-4 business days (depends on our current schedule) including any relevant info on your parts that we think you may need. If instead you simply want us to look-over your parts-list feel free to email us here and we'll gladly give you a few pointers (100% free of course) assuming we're not too crazy-busy.
About the Author
Former hobbyist game programmer turned tech enthusiast, Julz is the founder of BGC and has kept a keen eye on the latest in DIY gaming since starting the site in his spare time over a decade ago as an almost-laughably basic, unimpressive little site with a simple aim to try and make building a PC more accessible to the average gamer since most resources were far from noob friendly.
Over countless reinventions and reiterations to the quality and depth of content over the years, the site has steadily grown into the fairly expansive, comprehensive and constantly-updated PC building resource that it is today, now reaching and helping thousands of gamers and power users each and every month to more effectively plan optimal setups for their exact needs. His fav PC games of all time are HL1, WC3, C&C TS and SWKOTOR (OOT, Perfect Dark, DKC2 & MGS2 for consoles) and he promises never to speak in third-person again. You can learn more about the BGC mission here & how to support it.