Home > PC Builds

The Best PC Builds for Gaming / VR
November 2021 Recommended Parts to Maximize Bang for Buck When Building a PC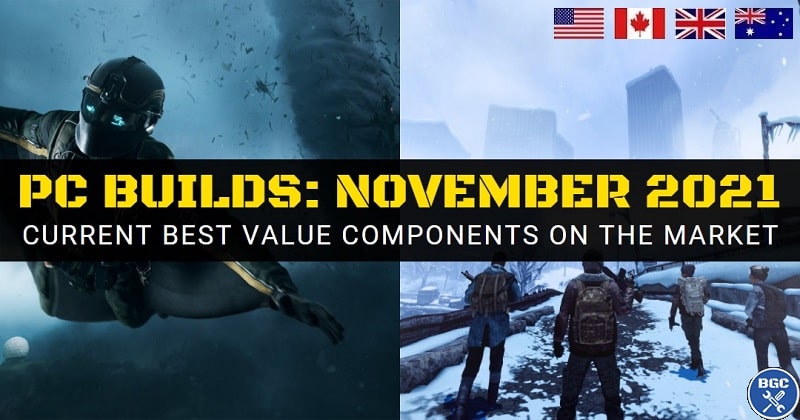 Background: 2 Big Releases in November and December, Battlefield 2042 and After the Fall
Last Updated: November 16, 2021
Welcome to the latest instalment of the long-running best gaming PC builds for the money series, where Intel has struck back hard at AMD with their impressive new Alder Lake 12th-gen CPUs. This comprehensive guide is here to help you more easily pinpoint the current best value PC component combinations in the US, Canada, UK, and Australia at the time of writing. Whether you're planning the best budget PC build for gaming at 1080p, or the ultimate dream gaming computer for VR or 4K, these builds are carefully thought-out and thoroughly researched to help you stretch your money further.
See Also: Best Value Gaming Monitors

Everyone knows building your own gaming PC has many benefits, and is what I have always recommended and continue to recommend to gamers no matter what your skill level is with hardware (PC assembly is not hard). But keep in mind as I write this, GPU prices are still inflated as they have been for a long time now, and the truth is nobody knows when (or if) prices of graphics cards will come down.
Therefore, while building your own gaming PC is still superior overall for various reasons, there's nothing wrong with buying a premade gaming PC these days as it could be an easier way to immediately get your hands on a new graphics card if you don't want to play the patient waiting game before your desired card comes back in stock (depending on your region). 
If you do end up looking at prebuilt PCs, just make sure to still do plenty of research as there's a lot of overpriced and/or average prebuilt desktops out there. If you want my 2 cents check out my best prebuilt gaming PCs guide.

But if you're willing to be patient to find a GPU at a reasonable price, building a gaming PC still remains the best path overall to end up with the most reliable, flexible, long-lasting system made up of only high-quality parts that you carefully selected. Besides, prebuilt PC prices have risen in recent times too, so it's not just individual graphics cards that have become more expensive.
Choosing parts for a custom build can be confusing though. PC hardware is a vast sea of endless choice and near limitless configuration possibilities, with new component models releasing seemingly every 5 seconds. Plus, not all parts are equal in terms of value, with certain parts - and more specifically certain combinations of parts - making for much smarter purchases than other combinations.
Finding these sweet spots in the market takes experience, so if you want the opinion of someone who has many years under my belt carefully choosing parts for others, and now having personally built dozens and dozens of custom PCs locally for others over the years as a side hustle, this detailed gaming PC build guide will give you a nice solid foundation of understanding of the current PC parts market.

Each and every component recommended has been carefully vetted and selected based on many factors including price to performance ratio, reliability, upgrade flexibility, brand quality, and last but not least, matching color themes and aesthetics to make for a slick setup (but nothing too over the top as I value function over form).
If after reading you get stuck, feel free to ask for help in the comments and I'll do my best to personally respond when I can. Any general feedback on the builds is also always welcome and appreciated. Let's cut straight to the component chase, and when you're ready to build see the PC assembly guide if you want everything explained in layman's terms (plus don't miss the intro to building PCs if you're brand new to hardware).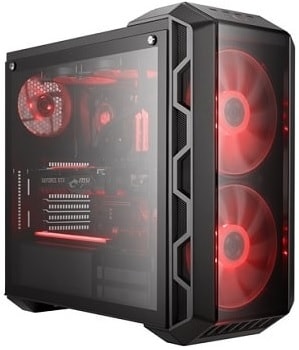 Each build is carefully researched for value

---
November 2021 Builds (Overview)
Before getting into the best gaming PC builds for different budgets, please keep the following in mind:
Recommendations are my personal opinion, so I encourage you to do your own research to make sure you choose the right parts for your specific needs. But I do strive to be as objective as possible and spend a lot of time researching and considering as many different models and brands as possible in order to make these builds a great starting point.

Best PC Builds for Gaming Performance, Airflow, Reliability, and Longevity


BUDGET
CPU
COOLER
MOTHERBOARD
RAM
GPU
SSD
POWER
CASE
< $600 Gaming PC Build




Entry

AMD Ryzen 5 5600G

Other Stores:

US / US / UK / UK / AU / AU



- 6 Cores

- APU (Has Integrated Graphics)

AMD Stock Cooler



- Comes With 5600G

Gigabyte B550M DS3H

US / UK / AU

OR

MSI B550M PRO-VDH WiFi

US / UK / AU


TeamGroup T-FORCE Vulcan Z 16GB

UK / AU

OR

Corsair Vengeance LPX 16GB

US / UK / AU

OR

G.Skill Ripjaws V 16GB



- 2x8GB, 3200MHz CL16

- Get Cheapest in Your Region

Radeon Integrated Graphics



- Ok for Non Demanding Games at Low Settings

Western Digital Blue 1TB

UK / AU



- Best Budget M.2 SSD (SATA)

- Get 2.5 Inch Version if Wanting Portability

Corsair CX550M

US / UK / AU

OR

EVGA 500 BQ

US / UK

OR

Cooler Master MasterWatt 550

US / UK / AU



- Best Value Semi-Modular Bronze PSUs

- 500-550w Enough for Future Mid-Tier GPU

- Ignore Reviews for Old CX550M "Green" Model

Thermaltake Versa H18

US / UK / AU


- Mini Tower

- 1x 120mm Fan (Rear)

- Max GPU Length: 350mm (All Specs)

- H15 Also Good


+

SickleFlow 120mm LED

US / UK / AU


- Install in Front

- 1 Enough if No Plan to Upgrade GPU

- Get 2 for Maximum Airflow

- NF-P12 Better (But No LED)

< $800 Gaming PC Build




Cheap

Intel Core i3 10100F

Other Stores:

UK / AU / AU



- 4 Cores

Intel Stock Cooler



- Comes With 10100F

Gigabyte B560M DS3H

US / UK / AU

OR

Gigabyte B560M DS3H AC (WiFi 5)

US / AU



- Micro ATX

- Socket LGA 1200

- All Specs: Gigabyte, Gigabyte

As Above
NVIDIA GeForce GTX 1660 Super

US / US / UK / UK / AU



- 6GB GDDR6

As Above
As Above
Cooler Master NR400

US / UK / AU



- Mini Tower

- 2 120mm Fans

- Max GPU Length: 410mm (All Specs)

< $1000 Gaming PC Build




Mid Range

Intel Core i5 10400F

Other Stores:

US / UK / UK / AU / AU



- 6 Cores

- R5 3600 Too Costly Right Now (Worth it < $200)

Intel Stock Cooler



- Comes With 10400F

ASRock B560 PRO4

UK / AU

OR

MSI B560 Tomahawk (WiFi 6)

US / UK / AU


As Above
AMD Radeon RX 6600 XT (8GB)

US / US / UK / UK / AU / AU

OR

NVIDIA GeForce RTX 3060 (8GB or 12GB)

US / US / UK / UK / AU / AU



- Get Cheapest in Your Region

Kingston A2000 1TB

US / UK / AU

OR

WD Blue SN550 1TB

US / US / UK / AU



- Best Value M.2 SSDs

- NVMe PCIe (Gen3)

Corsair CX650M (Bronze)

US / US / UK / AU

OR

be quiet Pure Power 11 600W CM (Gold)

US / UK

OR

Cooler Master MasterWatt 650 (Bronze)

US / UK / AU



- 550w Fine if No Plan to Upgrade GPU

- Corsair RM550x Gold Also Good (UK / AU)

- EVGA 600 BQ Also Good

- Seasonic Focus GX-550 Also Good



Phanteks P400A

UK / AU



- Mid Tower

- 2x 120mm Fans

- Fan Controller (On Top Panel)

- 'Digital' Model Also Good (3 RGB Fans)

- Max GPU Length: 420mm (All Specs)

- NR600 Also Great (Specs)

< $1500 Gaming PC Build




High End

AMD Ryzen 5 5600X 6-Core

Other Stores:

US / US / UK / UK / AU / AU



- Only Worth it if < $300

- 12600K Faster, But 5600X + B550 Cheaper Overall (Z690 Expensive)

ARCTIC Freezer 34 eSports White

UK / AU

OR

Cooler Master Hyper 212 Black

US / US / UK / AU

OR

Cooler Master Hyper 212 RGB Black

US / US / UK / AU



- Stock 5600X Cooler Fine to Save Money (if Not Overclocking)

MSI B550-A Pro

US / UK / AU

OR

ASUS TUF Gaming B550-PLUS (WiFi 6)

US / UK / AU

OR

ASRock B550 Phantom Gaming 4 (Budget)

UK / AU



- ATX (Full Size)

- Socket AM4

- Best Value B550 Models

- All Specs: MSI, ASUS, ASRock

As Above

OR

Corsair Vengeance LPX 16GB 3200MHz (if Want White)

US / UK / AU



- 2x8GB, CL16

NVIDIA GeForce RTX 3070 (8GB GDDR6)

US / US / UK / UK / AU / AU

OR

AMD Radeon RX 6700 XT (12GB GDDR6)

US / US / US / UK / UK / AU / AU



- 3070 Faster in Most Games

- But 6700 XT Cheaper

As Above
Corsair RM650x

US / UK / AU / AU

OR

Older RM650x (if Cheaper)

US / AU / AU

OR

Super Flower Leadex III Gold 650W

UK / UK / AU

OR

SuperNOVA G3 650

US / UK



- Tier-A PSUs

- Get 750w if Plan to Upgrade GPU

Corsair 4000D Airflow

US / US / UK / AU



- Mid Tower

- 2x 120mm Fans

- Max GPU Length: 360mm (All Specs)

- Lancool 215 Mesh Also Great (Specs)

- 500DX Also Great
(Specs)

< $2500 Gaming PC Build




Ultimate

Intel Core i5 12600KF

US / US / UK / AU



- 10 Cores

- Best Value High-End CPU

Noctua NH-U9S Black (Requires This Bracket. Get Free Here)

UK / AU

OR

Cooler Master MasterLiquid ML240L RGB V2 (Requires This Bracket. Email CM to Get it Free)

US / UK / AU



- ML240L RGB V2 Good Value Liquid Cooler

- Mount ML240L to Top With Fans Blowing Upwards

MSI PRO Z690-A (WiFi 6, DDR4 Version)

US / US / UK / AU / AU



- ATX (Full Size)

- Best Value Z690

- Socket LGA 1700 (12th Gen)

- All Specs: MSI

G.Skill Trident Z Neo 16GB 3600MHz

UK / AU / AU

OR

Corsair Vengeance RGB Pro 16GB 3200MHz (if Much Cheaper)

US / UK / AU



- 2x8GB, CL16

- Avoid Corsair RGB Pro for Hyper 212 (Too Tall)

NVIDIA GeForce RTX 3080 (10GB GDDR6X)

US / US / UK / UK / AU / AU

OR

AMD Radeon RX 6800 XT (16GB GDDR6)

US / US / UK / UK / AU / AU
WD Black SN750 SE 1TB

US / UK / UK / AU / AU



- Best Value Gen4 NVMe

- Samsung 980 Also Good (But Gen3)

+

Seagate Barracuda 2TB (7200 RPM)

US / US / UK / UK / AU / AU



- Store Tons More Games

- Avoid 5400 RPM Drives (Slow)

Corsair RM750x

US / UK / AU / AU

OR

Older RM750x (if Cheaper)

US / US / UK / UK / AU

OR

Super Flower Leadex III Gold 750W

UK / AU



- Tier-A PSUs

- SuperNOVA G3 750 Gold Also Good

Cooler Master MasterCase H500 ARGB

US / UK / AU / AU



- Mid Tower

- 2x 200mm RGB Front Fans

- 1x 120mm Rear Fan

- Max GPU Length: 410mm (All Specs)

- Pro M (Specs) Also Great

- Enthoo Pro (Specs) Also Great

< $3000 Gaming PC Build




Hardcore

Intel Core i7 12700KF

US / US / UK / AU / AU

OR

AMD Ryzen 9 5900X

US / US / UK / AU



- Both 12 Cores

Noctua NH-U12S Black (if Intel, Requires This Bracket. Get Free Here)

US / UK / UK / AU



- Compact Cooler for Easier Meshify C Install

- But Powerful Enough for 12700KF (Even if Over-clocking)

As Above (if Intel)

OR

MSI MAG B550 Tomahawk (if AMD)

US / US / UK / UK / AU / AU



- ATX (Full Size)

- All Specs: MSI

- B550 Aorus Pro V2 Also Good (if AMD)

- ASRock B550 Steel Legend Also Good (if AMD)

As Above

OR

G.Skill Ripjaws V 16GB 3600MHz CL16

US / AU

OR

TeamGroup Dark Pro 16GB 3200MHz CL14



- 2x8GB

AMD Radeon RX 6900 XT


US / US / UK / UK / AU / AU



- 16GB GDDR6

Sabrent Rocket 1TB

US / UK / AU



- Very Fast Gen4 NVMe

+

WD Black 2TB

US / UK / UK / AU / AU



- Premium 7200RPM HDD

Corsair RM850x

US / UK / AU / AU

OR

Older RM850x (if Cheaper)

US / UK / AU

OR

Super Flower Leadex III 850W Gold

AU


Fractal Meshify C

US / UK / UK / AU



- Compact Mid Tower

- 2x 120mm Fans

- Max GPU Length: 315mm (See All Specs)

+

2 x Noctua NF-A14 PW 140mm Fan

UK / UK / AU / AU


- Install Both in Front

- Move Stock Front Fan to Rear Top

< $4000 Gaming PC Build




Cutting Edge

Intel Core i9 12900KF

US / UK / AU



- 16 Cores

- Fastest CPU on Market

Noctua NH-D15 Black (Requires This Bracket. Get Free Here)

UK / UK / AU / AU



- Ultimate Air Cooler



Gigabyte Z690 AORUS Pro (WiFi 6, DDR5)

US / US / UK / AU / AU



- Best Value High-End Z690

- ATX (Full Size)

- Socket LGA 1700 (12th Gen)

- DDR5 Memory Only

- All Specs: Gigabyte

- Compatible w/ NH-D15 Source

Corsair Vengeance 32GB DDR5

US / UK / AU



- Compact Size (Best Clearance for NH-D15)

- 2x16GB, 5200MHz, C38

NVIDIA GeForce RTX 3090

US / US / UK / UK / AU / AU



- 24GB GDDR6X

Samsung 980 Pro 1TB

US / US / UK / UK / AU / AU



- Premium Gen4 NVMe

+

Samsung 870 QVO 2TB

US / UK / UK / AU / AU



- Extra SSD for Games

Corsair HX 1000 (Platinum)

US / UK / UK / AU

OR

Corsair RM1000x (Gold)

US / UK / UK / AU / AU



- Get HX 1200w if Similar Price

-

- Tier-A 850w PSUs Fine Instead if No GPU Upgrade

- Supernova 1000 P2 and Prime TX 1000 Also Great

Phanteks Eclipse P600S

UK / AU



- Spacious Mid Tower

- 3 x 140mm Fans

- Max GPU Length: 435mm (All Specs)

- H500P Also Good (Specs)

- 750D Airflow Also Good (Specs)
---
Best Gaming PC Build Under $600
CPU: AMD Ryzen 5 5600G (6 Core, Integrated Graphics)
CPU Cooler: Stock Standard (Included)
Motherboard: Gigabyte B550M DS3H (Micro ATX, Socket AM4)
RAM: TeamGroup T-Force Vulkan Z 16GB (2x8GB, 3200MHz, CL16)
Graphics: Integrated With CPU
SSD: Western Digital Blue 1TB SSD (M.2 SATA)
Power Supply: Corsair CX550M (Semi Modular, 80+ Bronze)
Case: Thermaltake Versa H18 (Mini Tower, 1 Included Fan)
Extra Fans: Cooler Master SickleFlow 120mm (1 or 2, Any Color)
When planning the best cheap gaming PC build, getting an AMD CPU that has good integrated graphics is a great bang for buck solution well worth considering if you only play less demanding games (and at low settings). It means you don't have to fork out the funds for a graphics card, which are all more expensive these days due to the ongoing chip shortage (among other reasons).
The latest, recently released AMD CPUs with good integrated graphics (technically called an APU: Accelerated Processing Unit) are the Ryzen 5 5600G and Ryzen 7 5700G, the former of which being the better overall value since the gaming performance between the two is minimal.
When paired with a healthy 16GB of fast 3200MHz RAM, you get a very playable 1080p gaming experience in many popular titles if you keep those settings low. On older games you can even crank those settings a bit higher and still get nice frame rates.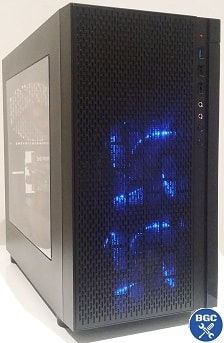 Recommended Usage:
1080p 60Hz (Low/Med Settings)

Stopgap PC (GPU Upgrade Later)
But for the most graphically demanding AAA games on the market (and for VR), that's where integrated graphics falls flat, but for the right type of game or if you're after a "stopgap" temporary setup to do some light gaming on until you can afford throwing a GPU into your rig, the 5600G is a great overall value option. Integrated graphics aside, it's a very capable 6-core CPU that will pair well with even a high-end GPU down the road.

To go with a 5600G and 16GB of RAM to make for a great bang for buck entry-level gaming PC build, I recommend a cheap yet respectable B550 motherboard like the Gigabyte B550M DS3H which is far superior than the previous B450M DS3H, and is of good enough quality for any budget to mid-range Ryzen build.
For what it's worth I've used this particular board for a recent Ryzen 5 3600 build and was impressed with what it serves up for the price, and also taking into account what others have said about it because one-person anecdotal evidence is close to a moot point, it's an easy recommendation for anyone wanting the best super cheap AMD motherboard so long as you don't need fancy features.
Like most modern motherboards, the board doesn't have built-in WiFi, so if you want wireless capability in your PC I'd look at a different B550 such as the cheap B550M Pro-VDH WiFi if you only need WiFi 5 (AC), or something like the ASUS ROG Strix B550-F Gaming if you want the latest and greatest WiFi 6 (AX).
Or, instead of buying a more expensive WiFi-enabled motherboard, you can just get a PCIe WiFi adapter for your build which slots onto the motherboard underneath where the GPU goes, which is what many people do if their motherboard doesn't have WiFi. Just remember that wired LAN is better for online gaming so you don't absolutely need WiFi when building a gaming PC.
For the $600 gaming PC I've recommended a decent quality 550 watt power supply, the Corsair CX550M, that'll comfortably handle an upgrade to a mid-range GPU such as a RTX 3060 or RX 6600 XT in future, and a good budget case that has better airflow than many other cheap cases (the H18 has a mesh front panel).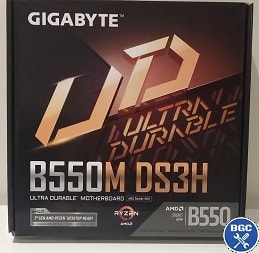 Don't be fooled by price; the B550M DS3H is fine for budget AMD builds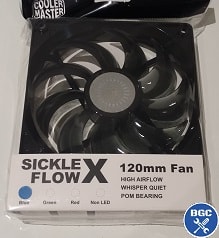 Cheap yet decent fans
I'd also install an extra 120mm fan in the front to boost airflow, especially if you chuck in a graphics card down the line, though if you wanted to save as much as possible you would be just fine only having the H18's one included rear fan as a 5600G on its own (without a graphics card) doesn't need much in terms of overall case cooling.
Cooler Master SickleFlow fans are cheap but perform decently, aren't too loud, and come in different LED colors. I put two blue ones in the Versa H18 build I did a while back (in the photo) since the case comes with a built-in blue LED strip (not shown since I had it turned off for that photo).
If you don't care for matching blue lights, any color fans will do. I also added 2 fans and not just one because I used the case to house an upper mid-tier GPU and wanted maximum airflow as the climate here can get hot (but 1 extra fan is just fine for less powerful GPUs). Oh, and if you would rather get the best performing fans that are the most quiet (instead of getting LED or RGB), look out for Noctua or Arctic fans which are two of the best manufacturers in that regard.

Lastly to storage, and there's no reason NOT to get an SSD these days as they are much faster and more reliable than HDDs, and well worth the extra money. A good value M.2 drive like the 1TB WD Blue will conveniently slot into your motherboard, freeing up space within a small-ish build like this, but you could always get a 2.5 inch sized SSD instead which installs on one of the H18's two 2.5 inch drive bays.
---
Best Gaming PC Build Under $800
CPU:

Intel Core i3 10100F (4 Core, No Integrated Graphics)

CPU Cooler:

Stock Standard (Included)

Motherboard:

Gigabyte B560M DS3H (Micro ATX, Socket LGA 1200)

RAM:

Corsair Vengeance LPX 16GB Black (2x8GB, 3200MHz, CL16)

Graphics Card:

NVIDIA GeForce GTX 1660 Super (6GB GDDR6)

SSD:

Western Digital Blue 1TB SSD (M.2 SATA)

Power Supply:

Corsair CX550M (Semi Modular, 80+ Bronze)

Case:

Cooler Master NR400 (Mini Tower, 2 Included Fans)
At this price point, assuming you can find a GTX 1660 Super for sale at a reasonable price, you can build a very nicely performing gaming PC that will run any game on the market, and many titles at or around 60FPS at 1080p - even on high settings. You won't get 60FPS on high settings with the most visually demanding AAA games like Red Dead Redemption 2, Cyberpunk 2077, The Witcher 3, Assassin's Creed Valhalla, Tarkov, Watch Dogs Legion, etc, but you could still run these on low or medium settings just fine.
I mean, you could also technically run PC VR games like Half Life Alyx with playable performance on low settings, though I definitely recommend the next tier of GPU if you want the best VR experience without dropped frames (stutters in VR is more noticeable than in regular games). Especially if you choose a modern PC VR headset, as their resolutions are quite high and therefore require beefier GPUs to run well. For older PC VR headsets like a Rift S or Vive, this setup could be all you need if you don't play very demanding VR games like racing/flight sims.
Recommended Usage:

1080p 60Hz (High Settings)

1080p 144Hz (Low Settings)

VR 90Hz/80Hz (Low Settings)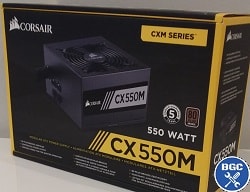 The CXM is a good value, mid-tier PSU
Anyway, for lesser demanding titles like Fortnite, Minecraft, CSGO, Valorant, Warzone, Dota 2, WoW, and many other popular titles, and also for medium-ish demanding games like GTA V, PUBG, Apex Legends, Star Wars Battlefront 2, and modded Minecraft (vanilla Minecraft isn't demanding), an $800 gaming PC build like this is enough for a very good experience. 
Let's talk a little about the specific parts chosen. In terms of choosing the best value CPU for gaming, at the time of writing Intel actually steals the show within the budget segment of the market, but only because AMD's budget range (Ryzen 3 3100 and 3300x) are difficult to find at reasonable prices. Historically, it's typically been Intel as the obvious high-end CPU choice and AMD for those on a budget, but the tables have turned in recent years with AMD currently dominating the high-end CPU market.
As I write this latest update, the i3 10100F is the best bang for buck cheap CPU for gaming, coming in at around 100 bucks and delivering solid gaming performance for 60Hz/75Hz monitors (and is okay for 144Hz in less demanding games). If you do manage to find a Ryzen 3 3100 in your region for around the same price, I would consider that instead as it slightly edges out the 10100F in most games (though the 10100F wins in a few titles like RDR2 and Cyberpunk for instance). If you do go for the Ryzen, don't forget you need to switch up your motherboard to an AMD B550 model (or B450 even: see B550 vs B450 if you want to know the differences).
As for choosing the 10100F vs 10100, the 'F' model means that it doesn't come with an integrated graphics chip and is therefore a little cheaper. When you're building a PC with a discrete (ie dedicated) graphics card like in this $800 build example, there's no need for integrated CPU graphics, so the 10100F is the best value overall. There is the odd case where integrated graphics is worth having as a backup, for example if you ever sold your GPU and wanted to continue using your PC in the meantime until you bought another one, or in the rare case your GPU failed etc. But I would just get the 10100F if you want to stretch every dollar as far as you can.
Choosing the best value motherboard for a budget 10th-gen Intel CPU like the 10100F comes down to deciding between the older B460 chipset, or the latest B560 chipset. B560 boards are backwards compatible with Intel 10th gen, allow for memory overclocking, and are also around the same price as B460, so there's no real reason to go for a B460 vs a B560. Just keep in mind that with a 10th-gen Intel CPU like a 10100F, whether you can set the RAM to 3200MHz will depend on the exact motherboard model.
Related: How to Choose a Motherboard (Specs 101)
The cheap Gigabyte B560M DS3H I've chosen to fit in with this $800 build example officially lists 2666MHz as the maximum speed with an 10100F - you can try 3200MHz but there's no guarantee it to be stable. However, if you upgrade to an 11th-gen Intel CPU in the future though, such an i5 11400F which would be a logical future upgrade for this build, you will be able to set the RAM to its intended speed of 3200MHz.
Speaking of RAM, 16GB of 3200MHz DDR4 memory is the sweet spot in terms of bang for buck these days, and is therefore a staple recommendation for most of the gaming PC builds in this guide, including this $800 build. I would simply get the cheapest model that is also from a reputable memory brand like Corsair, TeamGroup, or G.Skill. If you're wondering why get 3200MHz modules when this specific motherboard and CPU combination only technically allows for 2666MHz, the reason is simply because 3200MHz RAM is basically the same price these days, and besides, having 3200MHz is more future proof for when you perhaps get your hands on a newer CPU to increase the RAM speed.
If you wanted to run 3200MHz right now with a 10100F build, you would need a better B560 motherboard such as the one recommended in the next build below. The good thing is though, the difference between 2666MHz vs 3200MHz for gaming with a 10100F is really not that noticeable. It's AMD CPUs that typically benefit more from faster RAM rather than Intel CPUs, so it's less of a concern for this setup.
Last but not least is the same good value 550 watt power supply that is plenty of power for a future GPU upgrade to a strong mid-tier card like a RTX 3060 Ti, and the compact Cooler Master NR400 which is one of the best airflow cases on a budget with a front mesh design and 2 pre-installed fans (no need for more fans unless you throw a high-end GPU in this case). Like all cases recommended in these PC builds, it also has a universally attractive look that will appeal to most people, but that also isn't over the top in any way (nothing fancy, but slick in a simple way, with a see-through side panel). 
When choosing a gaming PC case, I do value form, but function is the higher priority (not fancy aesthetics). But you can easily turn any relatively plain looking case into an RGB fest if that's your style by simply adding some RGB fans (and/or a lighting strip) or getting a case with included RGB fans in the first place. That does it for the best gaming PC build under 800 US dollars, and now let's see what we can do to strategically spend an extra 200 dollars on a build.
---
Best Gaming PC Build Under $1000
CPU:

Intel Core i5 10400F (6 Core, No Integrated Graphics)

CPU Cooler:

Stock Standard (Included)

Motherboard:

ASRock B560 PRO4 (ATX, Socket LGA 1200)

RAM:

Corsair Vengeance LPX 16GB Black (2x8GB, 3200MHz, CL16)

Graphics Card:

AMD Radeon RX 6600 XT (8GB GDDR6)

SSD:

Kingston A2000 1TB NVMe (M.2 SSD, PCIe 3.0)

Power Supply:

Corsair CX650M (Semi Modular, 80+ Bronze)

Case:

Phanteks P400A (Mid Tower)
With a budget around 1000 US dollars you can start venturing into some seriously fast gaming performance. Assuming you can find a graphics card in stock and at a price that's not too crazily inflated, the best GPU you can squeeze into a $1000 build is a RX 6600 XT or RTX 3060 which are very close in performance and pricing. I would simply get whichever you can find at a better price in your region, but getting either card (or any graphics card for that matter) will take a little patience due to the current woeful state of the GPU market.
As for choosing the best CPU for a mid-range gaming PC build like this, it's hard to ignore Intel's mid-range right now given that AMD's mid-range CPUs are tough to find at this moment in time and are also inflated in price right now as well. Specifically, the i5 10400F and regular 10400 are very attractive buys if gaming is all you care about, offering frame rates very close to the Ryzen 5 3600 but for less money. Remember the "F" model simply means it has no integrated graphics, which isn't a problem if you're buying a dedicated graphics card.
At this price point you can also afford a nicer B560 motherboard with better memory overclocking support than cheaper B560M models, allowing you to set your RAM to 3200MHz within the BIOS even with a 10th-gen Intel CPU like the 10400F. Remember that older B460 motherboards don't allow you to set fast RAM speeds, so there's no point getting one over a B560. No need for a pricier Z490 or Z590 motherboard either, unless you were to get an overclocking-enabled "K" model Intel CPU such as a 10600K or 11700K (B560 motherboards don't support CPU overclocking, but Z490 and Z590 do).
Recommended Usage:

VR 90Hz (Low/Medium)

1080p 60Hz (Ultra)

1080p 144Hz (Low/Medium)

1440p 60Hz (Medium/High)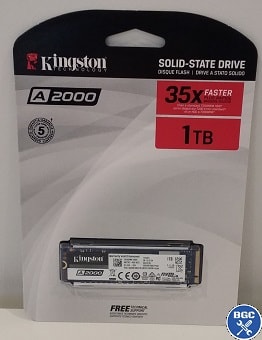 When cheaper than a Sabrent Rocket and WD SN750 Black, the A2000 is a good buy
For a $1000 build it also makes sense to consider a slightly faster SSD, allowing for speedier load times whether that's in-game or when using your system in general. The Kingston A2000 and WD Blue SN550 are two of the best value NVMe SSDs, and are slightly faster than SATA SSDs like the SATA WD Blue included in the $800 build. You also want a decent quality 650 watt power supply to accommodate future upgrades if you want to keep your options open, but 550w is enough if not planning a future GPU upgrade). One of the most important things to remember when building your first PC is to never go too cheap when choosing a power supply for a gaming PC, as your system is only as reliable and strong as its weakest link (a bad PSU puts your whole build at risk).
For the case, the slick Phanteks P400A remains from the previous builds earlier this year, as like most of the cases I recommended in those builds it's still a great buy right now. The P400A has good airflow out the box with a top-notch front mesh design and 2 good-quality 120mm fans included. Feel free to add an extra fan to the front to boost airflow further, though you're better off just getting the 'Digital' model instead that comes with 3 front RGB fans. For mid-range gaming PC builds like this though, 2 fans is adequate. You only really need 3 fans or more if your setup will live in a particular warm room or if you're using a higher-end GPU that can get hotter.
Rounding out the best gaming PC build under $1000 for this month is the same good value 16GB 3200MHz RAM options that I suggest for the previous builds, as you just don't need more than 16GB (or faster than 3200MHz) for a gaming desktop, and spending more on RAM is a luxury and you're better off putting that extra money elsewhere for a more noticeable return on investment (32GB is overkill for gaming).
See Also: The Best Prebuilt Gaming PCs
---
Best Gaming PC Build Under $1500
CPU:

AMD Ryzen 5 5600X (6 Cores, No Integrated Graphics)

CPU Cooler:

Arctic Freezer 34 eSports (White)

Motherboard:

 

MSI B550-A Pro (ATX, Socket AM4)
RAM:

Corsair Vengeance LPX 16GB White (2x8GB, 3200MHz, CL16)

Graphics Card:

NVidia GeForce RTX 3070 (8GB GDDR6)

SSD:

 

Kingston A2000 1TB NVMe (M.2 SSD, PCIe 3.0)
Power Supply:

Corsair RM650X (Fully Modular, 80+ Gold)

Case:

Corsair 4000D Airflow (Mid Tower, 2 Included Fans)
Recommended Usage:

VR 90Hz (High/Ultra)

VR 120Hz (Med/High)

1440p 144Hz (Med/High)

4K 60Hz (High)

1080p 144Hz (High/Ultra)

1080p 240Hz (Low)
When you move up to a $1500 budget, your options open up to the more serious gaming CPUs. Entry-level high-end CPUs, if you will. In that realm, Intel has just stolen the show with their impressive new i5 12600K that has only just released, but I'm saving that processor for the next more expensive build below because these new Intel CPUs also require the brand new Z690 motherboard chipset that does not come cheap. Building with AMD and their Ryzen 5 5600X - the previous king in this segment of the CPU market - works out cheaper overall as you can get a good quality mid-range B550 motherboard for a fair bit less money than the new Z690 series.
Plus, the 5600X is more forgiving on cooling requirements as the latest Intel CPUs are more power hungry and need beefier coolers to run optimally, meaning that going for a 5600X build allows you to also get away with a cheaper CPU cooler (as well as the cheaper motherboards as mentioned). With the money saved by going for the great value B550 platform, you can put that towards your graphics card or other components. That said, the 12600K is still the clear winner in terms of gaming performance, so if you don't care to save a few bucks and just want the fastest gaming CPU, go for that instead and see the next build below for tips on which components to use.
The 5600X comes with a stock cooler which will work okay to keep the 5600X relatively cool if not overclocking, but whether you plan to overclock the 5600X or not I suggest getting a better cooler like the Cooler Master Hyper 212 Black (or the RGB Black if that's your style). It doesn't cost much and brings tangible benefits in cooling performance, noise reduction, and aesthetics over the stock cooler. If you want something a fraction better but that also looks fantastic for a white PC case like the 4000D Airflow White (a great high-airflow, slick chassis by the way), check out the Arctic Freezer 34 eSports which is an excellent budget air cooler that'll keep a 5600X nice and cool, even if overclocking.

For graphics, the RTX 3070 is the best card you can fit in a sub 1500 dollar build these days, assuming you find it at a reasonable price and not too crazily inflated which is unfortunately the norm due to the current state of the GPU market (high prices, low supply). You've also got the RX 6700 XT and RX 6800, which cost a little less and a little more respectively, either of which could be the better option depending on your region and when you buy.
Right now it's more a matter of which GPU you can find in stock and at a fair price, rather than which exact model is the best buy. Whether you opt for a 3070, 3070 Ti, 6700 XT, or 6800, all these cards are neck and neck with each other and plenty powerful for super smooth 1440p, 4K, or VR gaming.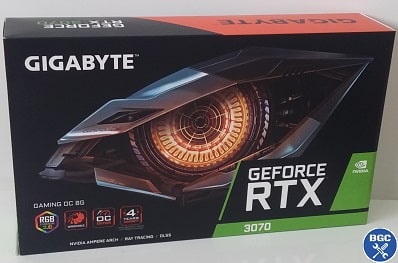 A 3070 I recently used for someone else's build
Choosing the best motherboard for a 5600X - at least in terms of getting the most for your money and not overspending on something you don't need - is a matter of selecting between the B550 motherboard chipset range or the generally more expensive X570 chipset range. For most people, there's no need for an X570, which is AMD's high-end motherboard platform, as there are many good B550 models that aren't far behind in terms of quality and features. The benefits of X570 vs B550 won't matter to most people, especially if you're putting together a typical gaming PC and aren't doing heavy workstation stuff such as using many different fast storage devices etc.
If you want to strategically use your money wisely, which I assume is the case if you're reading this PC build guide in the first place, you want a mid-range B550 motherboard that's not too cheap but not too expensive. There's no need for a high-end motherboard unless you're doing serious overclocking and tinkering, or if you needed an above average feature set. I chose the MSI B550-A Pro because it's one of the better value, nice-looking mid-range B550 boards, but there's plenty of good alternatives out there such as the cheaper ASRock B550 Phantom Gaming 4. If you want WiFi, the ASUS TUF Gaming B550-PLUS has the latest WiFi 6 standard and is also an all-around top notch motherboard too. For the $1500 gaming build, the standard recommendation of 16GB RAM remains, as 32GB is still a luxury for gaming and would hardly make any difference.
Last but definitely not least to the power supply, and when you start getting into high-end territory of 1500 dollars to build a powerful PC, your choice of power supply starts to become quite important. Not that it's ever not important, as you should always choose a good PSU for a gaming PC, but once you start building with one of the current best gaming GPUs like a RTX 3070, RX 6700 XT, RX 6800, or an even better card, if you want your system to be as reliable and long-lasting as possible without encountering issues, as well as to be well positioned to potentially upgrade to an even faster GPU in future, it's crucial to use a reliable, trustworthy PSU of high quality, with good feedback from professional reviewers (don't solely judge units by customer reviews as PSUs are complex products to assess fairly). 

Doesn't mean you need to spend a ton on a PSU, but for a high-end build, I highly suggest avoiding low or even mid-tier units as the small money saved can come back to haunt you later and cause issues for your system. The SuperNova G3 or G2 series from EVGA, the RMX series from Corsair (both the 2018 and 2021 versions), and the Super Flower Leadex III are some of the best gaming power supplies on the market today that are worth the extra dollars over inferior, more "mid-tier" models.
I'd look to get whichever of the aforementioned units are at a better price in your region. There are many cheaper options than these units, but like I said I wouldn't risk it for the fairly powerful RTX 3070 or 6700 XT. In terms of wattage requirements, NVIDIA's and AMD's official PSU requirement for the 3070 and 6700 XT is 650 watts, and so a good quality 650w unit will serve you well. But I recommend 750 watts if you want the extra headroom for a future GPU upgrade.
Oh, and if you're wondering about PSU cables for a RTX 3070, you can technically get away with a PSU that has a single 8pin PCIe cable, but ideally you want a PSU that has 2 8pin PCIe cables (but any good model will have this). Most 3070 models have 2x 8pin connectors, and while you can technically just use one PSU PCIe cable to connect them both (PSU cables have multiple connectors daisy-chained on the same cable), for the best stability you want to use 2 separate PCIe cables to connect to the 2 8pin ports on the card. If you buy the 3070 Founder's Edition, it's different and has a 12pin connector instead, but it comes with a 12pin to 8pin adapter included so nothing to worry about.
---
Best Gaming PC Build Under $2500
CPU:

Intel Core i5-12600KF (10 Cores, No Integrated Graphics)

CPU Cooler:

 

Noctua NH-U9S chromax.black

Motherboard: MSI PRO Z690-A WiFi DDR4 (ATX, WiFi 6, LGA 1700)
RAM:

G.Skill Trident Z Neo RGB 16GB DDR4 (2x8GB, 3600MHz, CL16)

Graphics Card:

NVidia GeForce RTX 3080 (10GB GDDR6X)

SSD: WD Black SN750 SE 1TB NVMe (M.2 SSD, PCIe 4.0)
HDD:

Seagate Barracuda 2TB (7200RPM)

Power Supply:

Corsair RM750x (Fully Modular, 80+ Gold)

Case:

Cooler Master MasterCase H500 (Mid Tower)
With a generous ceiling of 2500 US dollars you can (obviously) build a very fast high-end gaming desktop. Starting with the CPU, and Intel makes a big comeback in these latest builds this month. After a lackluster 11th generation launch earlier in the year - a series that did not compete well with Ryzen 5000 let alone dethrone it - this time around with 12th generation "Alder Lake" Intel has indeed surpassed AMD fair and square.
In most games, and even in many non-gaming applications, Intel now has the performance edge. Plus, they're also priced competitively, making them hard to ignore for any new high-end build. The best value of the latest Intel chips are the i5 12600K and 12600KF, with the former coming with integrated graphics and the latter not. If you want to save money, get the 12600KF, as there's rarely a need for having integrated graphics when building a PC with a dedicated graphics card. In reviews and benchmarks you'll see this latest i5 CPU easily beating the 5600X in the majority of games, even sometimes knocking off the 5800X. 
While being an i5, a name most mainstream tech consumers associate with "mid-range", don't be fooled as the 12600KF is very much high-end territory when it comes to gaming. You could argue the same for the 5600X, too. Pairing either with the super powerful RTX 3080 (or 3080 Ti) is totally fine and won't cause a CPU bottleneck in the far majority of situations, especially if gaming at high resolutions (4K, VR, but even 1440p) as performance in these situations are almost always GPU-bound.
Recommended Usage:

VR 90Hz (Ultra)




VR 120Hz, 144Hz (High)

4K 60Hz (Ultra)

4K 144Hz (High)

1440p 144Hz (Ultra)




1440p 240Hz (High)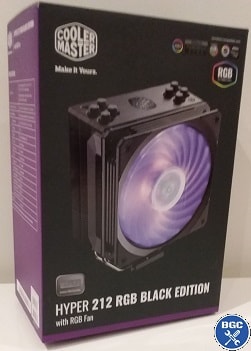 Nice upgrade from the stock cooler
There's no real need to spend more on a processor (like a i7 or i9) unless you know it'll help in your specific workflow or in certain edge-case gaming situations such as competitive 1080p 144Hz/240Hz gaming where you want to squeeze out every single frame possible to avoid any potential for performance dips during hectic action. Besides, the 12600K/F is super fast, rivalling and sometimes beating current gen Ryzen 9 chips and previous gen Intel i9 ones, meaning that it's still absolutely enough for very good high refresh rate gaming (144Hz etc).
To keep the 12600KF nice and cool, whether at stock speeds or if overclocking it a bit, you'll want a decent mid-range cooler of which there are many out there. Noctua are the best of the best when it comes to air coolers, not just in their quality and performance but in their support and ease of installation as well (factors I always keep in mind when making component recommendations in this guide). So, considering their range of coolers is always something I recommend as a starting point for high-end PC builds. Specifically, the NH-U9S would do well with the 12600KF (or 12600K) - it's powerful enough to keep it under wraps yet not overkill so as to be a waste of money.
If you prefer to get a liquid CPU cooler instead (referred to technically as a liquid AiO: All In One), the Cooler Master MasterLiquid ML240L V2 RGB is one of the best bang for buck models on the market right now and is also easy to install (can confirm as I've now used it twice for other people's builds: I used to build PCs for people as a side hustle).

If you also get the H500 case I've used in this example build, I recommend installing the AiO to the top of the case, and make sure to orient the AiO's fans as exhausts so that they blow air out the top of the case (instead of sucking air into the case). 
Also worth noting is the tubes on the ML240L isn't that long, meaning if you install it in the front of a case with the tubes on the bottom of the radiator (the optimal way to install an AiO as Gamer's Nexus explains here), the tubes may not reach in larger cases. Do your research in advance if wanting to use the ML240L in a difference case.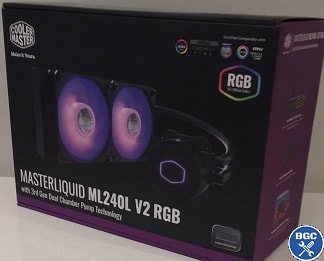 Liquid value; a very decent AiO for the price
Oh and if you're wondering, overall it doesn't really matter whether you use an air cooler or a liquid AiO, as the difference in cooling performance is rarely significant. Liquid will typically win slightly, but air coolers are better bang for buck and have less maintenance (plus less potential for issues such as water leaks). Choosing either way is really more of a personal preference in terms of aesthetics.
Choosing a compatible motherboard for the i5 12600KF means sifting through the latest Z690 chipset range, as that's the platform required for these latest Intel CPUs (since they use a brand new LGA 1700 socket). It's early days in terms of Z690 motherboard tests and reviews out there in internet land, but so far in my research the MSI PRO Z690-A WiFi DDR4 is my current top value pick for a good, reliable Z690 that won't break the bank and that has everything you need. It also comes with the latest WiFi 6 standard built-in as well which is handy. Also be aware this is the DDR4 version of the motherboard, and there's a more expensive DDR5 model of the board. Intel 12th gen is the first series to support next-gen, cutting-edge DDR5 memory, however it also supports DDR4 as well. Since the difference between DDR4 vs DDR5 for gaming is so minimal (we're talking a few FPS faster), DDR4 is absolutely fine and will save you some money, and is arguably the best bang for buck.
That said, if you want to be on the cutting edge and don't mind paying extra, consider getting a DDR5 motherboard (and therefore DDR5 memory instead). Just don't feel like you're missing out by sticking with the tried and true DDR4, as DDR5 is brand new and won't be "taking over" PC gaming anytime soon. And again, the performance difference is so small that it just doesn't matter, and at this stage I only suggest DDR5 for those who have specific non-gaming demanding workflows that have tangible benefits from DDR5, or if you're splurging on a luxury build like the last build in this series below and simply want the latest and greatest platform you can get your hands on.
As for the amount and speed of RAM, 16GB of 3200MHz or 3600MHz RAM is all you need for even the most demanding of modern games. Anything more (or anything faster) is a luxury. Having more such as 32GB would help in heavy non-gaming applications that lean heavily on memory such as video/photo editing and game development, but if you're just gaming then 16GB is fine and I'd say you're better off putting the extra money you would have spent on another 16GB towards something else (like the GPU).
Moving onto storage real quick, and at this point you can afford a very fast NVMe SSD using the latest PCIe Gen4 standard (PCIe 4.0 to be exact) such as the good value WD Black SN750 SE that'll make for blazing fast load times. Saving money with a PCIe Gen3 drive would be absolutely fine though, even for a high-end build like this, as the difference is not going to be noticeable for gaming. But PCIe Gen4 drives aren't much more expensive, really.
And of course, that brings us to the mighty RTX 3080, which unless you've been chilling under a sizeable rock this past year or so, you'll know won't be easy to find in stock at a non-ridiculous price these days due to such high demand, not just from gamers but even more so from Ethereum cryptocurrency miners who have been gobbling up each and every one faster than you can blink.
The RX 6800 XT is also impressive, and kudos to AMD for bringing the fight to NVidia in the high-end GPU market for the first time in forever (the previous two gens, RTX 2000 and GTX 1000, were both a no contest with AMD basically non-existent in the high-end market). But to say AMD brought the fight is an understatement, as the 6800 XT is actually the superior choice for 1080p or 1440p, where it generally outperforms the 3080. But if 4K gaming is your thing, whether 4K 60Hz or 4K 144Hz, NVidia wins fair and square as you'll see in most 4K benchmarks.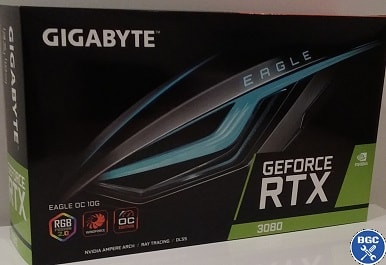 A 3080 I recently used for someone else's build
I also recommend the RTX 3080 over the 6800 XT if building a VR gaming PC due to generally better VR performance and driver support, and team green is also the objectively better choice if building a gaming and streaming PC since NVidia cards have the best built-in hardware encoders (for live streaming to Twitch). NVIDIA also boasts better ray tracing in RTX-enabled titles like Cyberpunk 2077 or Minecraft. That said, if you don't care about these things, the 3080 vs 6800 XT debate is a close one overall, and you can't go wrong with either. They're both absolute beasts with more FPS firepower than most gamers will ever need, and both obliterate previous generation cards. Besides, the current GPU market doesn't really give you much of a choice, and it's more a matter of which card you can find in stock, rather than which is best.
As for which specific RTX 3080 graphics card model to buy, the Founder's Edition is great and all with a good cooling solution, but is super exclusive. Third-party cards have better coolers anyway, and some are factory-overclocked to be a little faster than the base FE model. Check reviews on specific models if concerned about certain things like noise levels, OC levels, aesthetics, and so on, but it'll be hard to find a "bad" 3080 out there and all reviews I've seen so far are net positive, with no models that stand out in a bad way to be avoided. Just like with choosing an AMD or NVidia card for your next build, picking and choosing your desired 3080 model is a luxury afforded to no living breathing human at this moment in history (only lighting fast bots serving their sometimes scalping masters). Getting any 3080 during the current supply state of doom is a win, assuming you don't overpay too much over MSRP.
In terms of power cable requirements for a RTX 3080 build, as mentioned with the RTX 3070 build, most RTX 3080 models will have 2 8pin connectors, and for maximum stability make sure to use two separate PCIe cables coming from your power supply to connect them (instead of using just one daisy-chained PCIe cable). Any half decent PSU will have multiple PCIe cables to allow you to do this, but my point is that you shouldn't get lazy and just use one PCIe cable as it can spell trouble.
As for choosing a good power supply model, with such a powerful GPU you ideally want nothing less than a tier A unit such as the RMX series from Corsair (whether that's the 2018 or newer 2021 model - both are great). The Leadex III Gold series from Super Flower are also top notch and well known as some of the absolute most reliable. You could go for cheaper PSUs for a high-end build like this, but I can't personally recommend it as saving a few dollars upfront may come back to haunt you in a few years - you want a high-quality, reliable PSU that will take great care of your system over many, many years of heavy use (and be as quiet and power efficient as possible too). Oh, and 750 watts is plenty for a RTX 3080 or RX 6800 XT build, and I'd only consider 850 watts or more if you're sure that you may upgrade to an even crazier GPU in future (like a 3090, or a future 4090 or whatever it will be).
Topping off the sub $2500 gaming desktop for this month is the MasterCase H500, one of Cooler Master's best gaming PC cases that features standout 200mm RGB front fans which look awesome in action, and along with the front mesh case design provide good airflow. The H500 also comes with a rear 120mm fan, meaning complete airflow out the box without needing to buy and install extra PC fans. I've recommended this case a lot over previous editions of these builds, but it's still a great choice in my opinion.
If you want more lighting inside the case to supplement those front RGB fans, that RGB RAM, and that Hyper 212 RGB Black Edition, consider a 3-pack of RGB 120mm fans and use one to replace the stock exhaust fan and mount the other 2 on the top of the case. I wouldn't get a 3-pack of 140mm fans as the H500 only supports a rear 120mm fan (though you could buy 2x 140mm fans as the top of the case does support that size).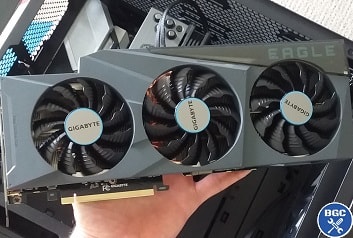 Installing the 3080 Eagle for a lucky local
---
Best Gaming PC Build Under $3000
CPU:

Intel Core 17-12700KF

 (12 Cores, No Integrated Graphics)

CPU Cooler:

 Noctua NH-U12S chromax.black

Motherboard: MSI PRO Z690-A WiFi DDR4 (ATX, WiFi 6, LGA 1700)

RAM: G.Skill Ripjaws V 16GB Black DDR4 (2x8GB, 3600MHz, CL16)
Graphics Card: AMD Radeon RX 6900 XT (16GB GDDR6)

SSD:

 Sabrent Rocket 1TB NVMe (M.2 SSD, PCIe 4.0)

HDD: Western Digital Black 2TB (7200RPM)

Power Supply: Corsair RM850x (Fully Modular, 80+ Gold)
Case: Fractal Design Meshify C (Mid Tower)

Extra Fans: 2 x Noctua NF-A14 PW 140mm Fan (Black)
Recommended Usage:

VR 90Hz, 120Hz, 144Hz (Ultra)

4K 60Hz (Ultra)

4K 144Hz (High)

1440p 144Hz, 240Hz (Ultra)

1080p 240Hz, 360Hz (eSports)
Moving on up from the 12600KF and RTX 3080 build, and with a few extra green pieces of paper if you want to build an even faster gaming PC I recommend going for a 12700KF and RX 6900 XT build that'll take gaming performance even further. Just keep in mind that the former is more than enough power for the majority of gamers, and not to mention far more than enough outlaying of cash for a new setup considering how much of a premium you unfortunately have to dish up when buying a new GPU these days in the current inflated market (due to the computer chip shortage among other reasons).
So just cause I'm listing this build example (and the next, even crazier one below) doesn't mean I think it's a good idea for most people. If your budget is indeed this high, I'm happy to give my opinions here on recommendations for an expensive $3000 build, but just remember that at this kind of price we're in the land of diminishing returns and unless you're a hardcore gamer you're unlikely to notice the difference between say a 12600K and a 12700K, or a RTX 3080 and a RX 6900 XT. A modern i5 and a RTX 3080 - even a 3070 - will provide a great gaming experience. Anything beyond that generally gives diminishing returns.
So with all that said, let's continue with the best $3000 build of the month for those of you still set on building a true monster. For a motherboard, if you choose the 12700KF (or 12700K) I would still opt for the MSI Z690-A WiFi DDR4 as listed in the 12600KF build as it's a solid motherboard at a good price (and no need for the DDR5 version unless you're looking to really splurge). If you go for AMD instead - I did list the 5900X as a secondary option for this build - at this price point you can afford any high-end B550 or X570, and either chipset will do and it's more about comparing the merits of a particular board versus another rather than simply choosing between the B550 or X570 chipset.
The B550 Tomahawk and B550 Steel Legend are evenly priced and equally impressive in their feature sets, quality, and design, but the Tomahawk gets the slight edge for its handy BIOS flash feature. Neither have onboard WiFi though, so look at other options if you need that in a board. For RAM, take your pick among the many good 3600MHz and 3200Mhz options out there, and once again as mentioned before 16GB is plentiful - no need for 32GB unless your non-gaming workflow would benefit (or if doing some intense multitasking, streaming to Twitch, etc). I simply chose the G.Skill Ripjaws V 16GB 3600MHz CL16 as the top option since it is good bang for buck at the time of writing.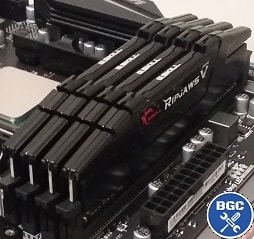 G.Skill is a reliable memory manufacturer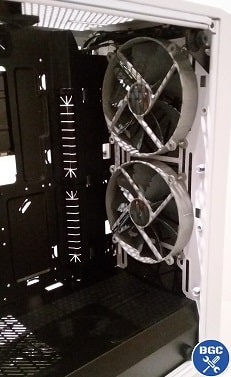 Adding 2 extra Noctua fans in the front of a white Meshify C
For a good case to house your previous parts, the Meshify C has been an extremely popular choice among PC builders for a long time thanks to its high-airflow, slick design and good build quality at a reasonable price. The second version of this case is out (Meshify 2, not to be confused with the Meshify S2), but it'll set you back a fair bit more and the original Meshify C remains a better value proposition in my eyes. Airflow of the Meshify C is decent out the box with its 2 included fans, but for optimal cooling of an extreme gaming build like this you ideally want to add another fan or two. Fitting a couple high-quality Noctua NF-A14 140mm fans in the front will do exactly that, as these are some of the best fans on the market. 140mm fans are also better than 120mm ones for the least noise (as they don't have to spin as fast in order to move the same amount of air as a 120mm). 
If you do get extra fans for the Meshify C as I suggest, consider putting 2 x 140mm fans in the front as mentioned, and move the front stock fan to the rear-top of the case (positioned as an exhaust so that it pushes air out the top of the case through the vents). To keep a 12700KF or 5900X cool and quiet, the Noctua NH-U12S is a great choice, with a low-profile design which makes it easier to install in the compact Mid Tower that is the Meshify C. It's not a small case, but its more compact nature makes it difficult to work with if using a large cooler like the NH-D15. I've used the NH-D15 in the Meshify C and it was a very tight fit and hard to manage, so it's not a combo I can recommend.
---
Best Gaming PC Build Under $4000
Recommended Usage:

VR 90Hz, 120Hz, 144Hz (Ultra)

4K 144Hz (Ultra)

1440p 240Hz (Ultra)

1080p 240Hz, 360Hz (eSports)

8K 60Hz (High)
If you're fortunate, hard-working, or just plain crazy enough to be throwing such a ludicrous lump sum of cash on a gaming system (I secretly envy you), this is the zero compromises parts-list of near perfection that I can suggest based on the current market, and basically what I would personally do if given the opportunity to play god for a second. This beautiful monstrosity ticks all the boxes that matter to a hardcore gamer, including the fastest gaming performance on the planet for cutting edge VR or 4K gaming (any other gaming usage, besides perhaps 1440p 144Hz Ultra, would be a waste for this system IMO), optimal cooling and airflow for maximum efficiency and longevity, near-limitless future upgrade flexibility, a healthy amount of cutting-edge blazing-fast DDR5 memory, premium dual SSD storage including the current best PCIe Gen4 SSD on the market from Samsung, the king of gaming GPUs powered by a mammoth top-tier Platinum rated power supply to handle it with ease, and an all-class spacious tempered-glass case that comes with everything you need including 3 high quality 140mm Phanteks fans.
Let's get into a little more specifics on certain components starting with graphics, and because I enjoy sleeping peacefully at night, it's hard to ever recommend a RTX 3090 over the already supremely powerful RTX 3080 or RX 6900 XT. The RTX 3090 is so wildly priced, and I'm talking even if you strike gold and manage to find one at/near MSRP (a rare feat considering the current sorry state of the GPU market). The price vs performance of the "cheaper" 3080 or 6800 XT is far superior, making the overpriced 3090 a very tough recommendation unless you're swimming in boatloads of cash and have more disposable income than GabeN, in which case I'd greatly appreciate a spare 3090 sent to my humble peasant door kind sir. But seriously, if you're after the single most powerful gaming card on the planet, the RTX 3090 stands alone on the throne, nicely outperforming every other released consumer GPU in history including the ludicrously priced $2499 US Titan RTX that makes the 3090's $1499 US launch price look reasonable by comparison. With its crazy 24GB of VRAM, the 3090 will deliver the ultimate 4K 144Hz or PC VR gaming experience that money can buy right now. 
Touching on virtual reality for a second, a 3080 is definitely more than enough to handle any current VR game on maxed settings. But that extra pixel pushing power of a 3090 can make a tangible difference to VR enthusiasts as it'll allow you to crank up SS (Super Sampling) higher than a 3080 could, which improves visual fidelity and increases immersion. Plus, it'll leave nothing to chance for Valve Index owners wanting to take full advantage of that headset's super demanding 144Hz mode without sacrificing much (if anything) in terms of visual settings. As for power requirements for this beast of a GPU, a good quality 850 watt power supply is plenty, but for maximum headroom and full flexibility for future upgrades, for a 3090 build I would get a 1000 watt PSU, and ideally get a Platinum-rated model for the best in efficiency. Because you can.
For the CPU, the single best gaming CPU on the market right now is the freshly released i9 12900KF which has taken the crown from AMD. The previous gen 11900K was a letdown, but as already mentioned, with this latest 12th gen launch Intel has smashed it out of the park and the 12900KF is now the chip to beat (or the 12900K if you want integrated graphics, remember the "F" at the end of an Intel CPU model number means it does not have integrated graphics). The 12900K or 12900KF will give the highest frame rates of all processors on the market, but it gets real hot so you need some serious cooling to keep it, well, cool. There's nothing more effective than the menacing, notorious Noctua NH-D15 (see the NH-D15 install guide if you need) and it's long-been the best air cooler on the market, so that's what I suggest unless you want to go with a liquid cooler instead (I'll get to that). Just remember you'll need to use a separate mounting bracket to install it onto a Z690 motherboard as mentioned in the main table earlier in the guide.
Noctua's flagship cooler is a beast in every sense of the word, as the better the performance of an air cooler, the larger its surface area. So, think through your other components when using this monster as you need a case that fits it, a motherboard that won't have its top PCIe slot covered by it, and RAM modules that aren't too tall in height so that they clash (especially if you want all 4 RAM slots occupied either now or in future). If mixing and matching parts to use with this legendary cooler, check out the Noctua compatibility charts to confirm motherboard and case compatibility.
For this $2500 build example, I've gone for a roomy case that has no issues with the NH-D15, as well as low-profile DDR5 Corsair RAM that also won't get in the way if/when you have all 4 RAM slots populated. Also, the Gigabyte Z690 AORUS Pro motherboard, which is in my opinion the best value high-end Z690 DDR5 motherboard from what I've seen so far out there. It's also officially compatible with the NH-D15 (not all Z690 boards are). As with any of these PC build examples, feel free to install a liquid AiO instead if you prefer, but also plan in advance in terms of choosing the right radiator size for your case (ie 240mm or 280mm, and also plan your fan setup).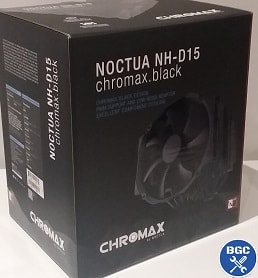 The air cooler to end all air coolers
If you're thirsting for water instead, the NZXT Kraken X63 and EVGA CLC 280mm are two of the best liquid AiO coolers you can get. Last but not least, there's a plethora of good high-end PC cases you could use, but the P600S makes my shortlist as one of the best all-round options right now due to its impressive simultaneous soundproof and airflow-focused design, generous space to easily accommodate any upgrade imaginable, slick but not over-the-top look, and excellent performance out the box with three good quality 140mm Phanteks fans pre-installed (2 front, 1 rear) to keep this ridiculously powerful RTX 3090 build under control. It comes in various colors too, all of which I can recommend. That wraps up the breakdowns of the best gaming PC builds for this month (in my opinion of course). Hope it's helped you in your research, but we're not done yet so let's now go over everything else to know about building your first PC including choosing software, accessories, installation, and more.
---
Software, Accessories, & Installation
Recommended Operating System
Choosing an operating system for a new gaming PC build basically comes down to either Microsoft Windows or some variant of Linux (such as Ubuntu or Manjaro just to name a couple).
However, if you're new or unsure, just stick to Windows. While Linux is free and can offer more control and security features, it's a more advanced OS that takes a while to learn and get used to, and it also has less support overall for gaming compared to Windows (but it's always getting better). If you're interested, check out these good resources on learning Linux: 1, 2, 3).
As for Windows 11 which is just about to be released, I would still build with Windows 10 normal for now, and then once Windows 11 has been out for a while and the kinks have been ironed out with some updates from Microsoft, then you can easily update from Windows 10 to 11 for free with a couple clicks.
To get Windows 10 for a new gaming PC build you have 3 options:

1) Download Windows Onto a USB Drive (For Free), Then Buy/Activate Later

This is the cheapest way to get Windows 10 up and running on your new PC build as you don't have to buy a Windows 10 license/key straight away. You can do this for free and then buy a key later when you have perhaps saved up more money, and until then your PC will still be 100% functional without any limitations. The only downside is you'll see a watermark image in the bottom right of your screen reminding you to upgrade (watermark disappears when gaming).

All you need is an empty USB flash drive that's 8GB or bigger (like this) and access to another desktop or laptop to download Windows onto the USB. Here's how you do it:
Clear all data on the USB drive by formatting it (it must be blank). Do this even if it's brand new.


Go here to download the Windows 10 installer to your computer, then follow the steps on that same page under the heading "Using the tool to create installation media". Both of these things can take a while (up to a few hours depending on your internet connection).


When you've finished installing all your PC parts and you've also set your RAM speed within the motherboard BIOS (explained in what to do after building a PC), insert the USB drive into a USB 2/3 port (depending on type of USB drive) on either the front or rear of your new PC build.


Reset the computer and the Windows installation should automatically begin on-screen. If it doesn't, re-enter your motherboard BIOS and set the boot priority order so that the USB drive is showing up first in the queue, and then exit the BIOS making sure that it also saves your changes. The Windows installation should begin once the system restarts, otherwise keep retrying this process by tinkering with the boot queue within the BIOS as mentioned until it works, or try a different USB port.


Follow the steps on-screen to install Windows, and click "I don't have a product key" or something similar when that options appears. Full photo steps for every aspect of this is included in my extended eBook manual for DIY beginners, but to be honest it's not hard to figure out on your own unless you're completely not tech-savvy and have never used a Windows PC before (in which case I can comfortably recommend the manual for detailed guidance on every aspect of building, owning, and maintaining a PC for the first time). Oh and as for the Windows privacy settings screen - which can be confusing as to which to select or not - I personally turn them all off. Read them through and make your own decision, but if you don't understand what one of them means I would default to turning them off (I personally don't like to enable something if I don't understand what it is).


If you're wondering, no you don't need to connect to the internet to finish the installation, nor do you need to sign into a Microsoft account. But once Windows is installed you do want to connect to the internet to first update Windows (search and click on "search for updates" from the main search bar in the bottom left of the Windows desktop screen), and then to download driver software for your motherboard and GPU (and also for a wireless adapter if you installed one). I cover all this over in this article.


In your own time, buy a product key from the Microsoft Store or from Amazon (or elsewhere, but make sure it's a legit key you're buying).
2) Buy Windows 10 Physical Copy (USB or DVD)

Instead of downloading Windows onto a USB drive explained above, you could just buy the official USB or DVD version either online or in a physical store. You simply insert the USB or DVD when you've finished building your PC (and finished BIOS setup).

The DVD version (available at Amazon, and B&H) is usually cheaper than the USB flash drive version, so get that if you're including a DVD drive for your PC build (and don't forget to ensure your case has a 5.25" drive bay as not all do). But if you're not including a DVD drive in your build (which will actually be most people these days since physical media is fast becoming ancient), get the USB version (available at Amazon, B&H, and BestBuy

Consider Windows 10 Pro instead of Home if you're building a hybrid gaming and workstation PC for professional use if you need its advanced features like BitLocker, remote desktop, and domain join. If you don't know whether you need Windows 10 Pro or Home, chances are you're not going to benefit from Pro, so just stick with Home to save money. Besides the Microsoft Store, you can also find Windows 10 Pro on Amazon (DVD, can't find USB version), B&H (DVD or USB), or BestBuy (USB).


3) Reuse Your Previous Copy of Windows

If you already have Windows on another PC and it's a full retail version that's eligible to be reused on another system, this is the way. See our reusing PC parts guide for more details on this, but I can pretty safely say that if your previous PC was a prebuilt one (and not a custom built one by either you or someone else), then chances are you won't be able to reuse Windows as it's likely tied to that single machine.


Other Software for New PC Builds
You don't want to immediately bloat your fresh new PC build with a ton of software, but there are some key programs that will make your gaming PC more secure, useful, and/or fun. I'm talking anti-virus and malware software (crucial if you use your PC for important work), hardware monitoring and benchmarking programs (ie to conveniently check system temperatures/stats, show FPS on-screen when gaming to see how your build is performing, stress-test your CPU and GPU, and so on), and VPN software if you want to further secure your PC when online.
For vetted recommendations for all of these things and more (including the best places to actually buy PC games), see our continually updated list of recommended applications for gaming/workstation PCs:

Recommended PC Gaming Accessories
If you want recommendations for accessories, see the following buying guides:

Recommended Wireless Setups
Last but not least, if you choose a motherboard that doesn't have built-in wireless, you can still get wireless functionality (for WiFi) by buying a wireless adapter. These come in either USB or PCIe models; the latter is usually best for signal strength and range, but make sure you have a spare PCIe slot on your motherboard to accommodate it (most boards will) and that your graphics card doesn't cover that extra slot (if it's a huge GPU with a smaller board for instance).
You'll also want a good router if you'll be gaming online via wireless, especially if you'll be using an Oculus Quest 2 for wireless PC VR via AirLink/Virtual Desktop. Just remember wired Ethernet is best for online gaming so your best bet for the fastest, most secure online gaming sessions is to just plug your PC straight into your router or modem using an Ethernet cable (if you don't have a cable you can buy one for cheap almost anywhere).

Building Your Gaming Computer
Required Tools:
Phillips-head screwdriver size #2 (medium head) like this or this. Ones with a magnetic tip such as these ones are handy to avoid dropping screws into the deep dark depths of your case.


Phillips-head screwdriver size #1 (small head) like this, this - but only if installing a M.2 SSD as the screw used to secure M.2 drives to the motherboard are smaller than all other computer screws.
Optional Tools:
Anti-static wrist strap like this one or this one if you want to be extra safe (but you can instead simply periodically touch a metal object before handling components).


Flashlight or directional lamp to see inside your case better if your room lighting is poor, which may come in handy when trying to connect cables to the motherboard (or just use your phone's flashlight).


Cable/zip ties and scissors (however most cases comes with zip ties already).


Full PC toolkit if you want to get fancy and be prepared for anything both now and in future (see recommendations in our computer tools guide). Or just get a basic screwdriver kit like this one and call it a day (most builds don't need anything other than screwdrivers).
For your first gaming PC build, you will need a full walkthrough/tutorial to follow; manuals that come with hardware components don't contain detailed instructions or explanations that you probably need as a beginner (though don't throw them out as you will need to refer to them during installation; especially the motherboard and case manuals). To learn how to put together your first PC, it boils down to either following a written or video tutorial:

Option A: Written Tutorial (Most Detail)

Our complete photo guide to assemble a PC was carefully crafted with complete beginners in mind and includes all the little important details you need to know as a first-timer, including photos from multiple builds (one Intel, one AMD), along with diagrams throughout to help illustrate certain steps. Our tutorial has been fine-tuned over multiple years to be as easy to follow (yet detailed) as possible so that no noob gets left behind - even if you're a complete beginner who's never seen the inside of a PC before.
Option B: Video Tutorial (Quicker)

Linus's POV build guide. While a YouTube video doesn't provide as much in-depth guidance and instruction as a written guide, and generally moves through the steps quite quickly while missing certain little details that could be important to understand as a beginner, in conjunction with using other guides it may be enough for you to build your first PC (especially if you're a little more tech savvy and understand the basics of computers).
Reminder: No matter how you learn to build your PC, don't forget you need to manually set your RAM speed (such as 3200MHz). All DDR4 memory modules are automatically set to 2133MHz or 2400MHz, so if your RAM is faster than that (99% of you) you need to manually set the speed in the BIOS (by first enabling "XMP"). See what to do after building a PC for more.
Scared to Build Your Own PC?
If it's your first time building a gaming PC, stress less as it really isn't anything to be overwhelmed or scared by if you simply take your time and follow basic safety precautions. If you're afraid because you perhaps don't consider yourself tech-savvy, transform that fear into excitement because it's actually quite hard to go too wrong if you take it slow one step at a time, and if you get stuck, everything is "figureoutable" with a few internet searches or posting in a helpful community like r/BuildAPC (or commenting on one of our articles; I try my best to reply to every comment).
If you've heard the saying that building a PC is essentially adult Lego, that's no exaggeration, as it really is just a matter of plugging things in, connecting things, screwing a few things in here or there, tidying and tying cables, and so on. Far from rocket science, especially if you stick to a typical gaming build such as the ones above which don't have any overly complicated installations (I avoid recommending parts that aren't that beginner-friendly). 
Sure - building a PC takes a little patience, and your first go will likely span a good few hours minimum (sometimes a whole day), but it's well worth it to not only get the fastest gaming PC for your money but to become way more self-sufficient and prepared to handle upgrades, to troubleshoot and overcome potential problems in future (not to mention reaping all the other benefits of building your own PC).
No Time to Build a PC?
No hard feelings, friend. Buying a premade desktop isn't the end of the world if you don't mind paying a bit more for the convenience of having a pre-assembled system that's ready to go, and if you don't mind the various downsides to prebuilt PCs such as companies typically using cheaper parts.

If going this route, make sure to do your homework to find a respectable model from a reputable company that's not a complete rip off - surprisingly hard to do once you've opened your eyes and gained a little knowledge about building PCs, but definitely possible. If you want my opinion, see the best prebuilt gaming PCs for the money for hand-picked, vetted recommendations for desktops that won't blow up within the week.

---
FAQ
Can I mix and match parts from different builds?

Of course; customizing parts for your exact usage and aesthetic preferences is part of the fun. This best gaming PC builds series is simply my own opinion on what I would personally buy if building a PC at a certain budget based on the current market. Just don't forget to always check compatibility between all of your parts when changing things around, and don't just rely on auto tools like PCPP which don't check for absolutely everything and can make the occasional mistake (though it's generally quite accurate and I'm a fan). If you need help or a second opinion on your parts-list, feel free to ask in the comments.
Why isn't Windows included in the build prices?

Because there are various ways to get Windows for a new gaming PC build. For example, some will already have a (legal) copy of Windows they can reuse from a previous PC, some people will use Linux (which is free but more complicated), and some people will download Windows onto USB using another computer and install it for free on the new build (and then buy an activation key later in their own time). So for simplicity, the above builds just focus on the core parts.

Why aren't accessories included in the build prices?
Choosing accessories such as a monitor, keyboard, mouse and headset comes down to personal preference a lot more than when buying hardware (which is more based on objective data/facts of what performs best), and like the OS, many people will reuse PC parts for a new build too. For specific accessory recommendations, see our main menu.
Should I wait for part X to release before building?

An age-old question that comes down to various factors, including whether you just want to build now or are not in a rush for a new system and are willing to play the waiting game if there is something coming up that could be worth holding out for. The hardware game is a fast moving one with new parts always seemingly (and sometimes actually) just around the corner, either real soon or in the not too distant future.
But if you wait for all new releases before building your computer you'll be waiting forever. However, not all new releases are created equal, so it does depend on your particular build and the particular part you may be waiting for. Some might be worth the wait, others not so much. Also keep in mind that if do hold out for a new part, it may not be the best overall value for money once released, and previous generation parts might drop enough following a new series launch to actually be the better buy overall even after that new part is released.
Do the builds have WiFi capability?
Most modern motherboards don't actually come with built-in WiFi, so if you want wireless internet access for your new desktop you can either buy an external USB or internal PCIe adapter or choose a motherboard that does have WiFi. If the recommended motherboard we suggest for a certain build doesn't have WiFi, in that build's guide we typically mention a secondary motherboard choice that does have WiFi.
How Do You Decide On the "Best" Builds?
When building your own PC, when planning a parts list you have near-limitless combinations to choose from. So how on Coruscant do I begin to narrow the entire hardware market to the absolute best picks to publish on this page each quarter/month? It's not easy, but there is careful strategy behind these recommendations, with an aim of getting as close as possible to what the objectively-best value part combinations are right now for gamers who not only want the fastest gaming performance for the money but that also want a quality, reliable, awesome looking system that's built to last (and that is also flexible for future upgrades).
Countless hours of ongoing research goes into each iteration of this guide, which includes considering the thoughts of the most credible, trustworthy reviewers and testers in the industry, studying many detailed benchmarks and comparisons, as well as blending in my own subjective opinion based on many years of carefully analyzing the hardware market for both work and play. When hand-picking and selecting the parts I take into account everything that makes for a good custom PC build including: 
Ensuring full compatibility between all parts and manually checking what auto tools like PCPP can't check (ie RAM/cooler clearance among other things)
All that said, the nature of anything "DIY" obviously implies you should do your own research to ensure you choose the right parts for any particular wants and needs that you have, and so despite these being the greatest gaming PC builds in the known galaxy you shouldn't just take my word for it, especially when it comes to a large and (hopefully) long-lasting purchase like a new gaming desktop.
Though a lot of time and ongoing effort does go into giving the best, most accurate, nuanced, well thought-out recommendations possible, and these example PC builds are not just haphazardly hashed together at random overnight. So if you're after a solid "safe bet" parts-list to buy or to use as a base for your research, I'm confident you may find these build templates to be somewhat helpful in your ongoing research. Thanks for reading and good luck with your setup!
---
Need help choosing parts, have general feedback, or just want to let me know you found the guide helpful? Leave a comment below, and if you include a question I'll do my best to get back to you when I get a chance.
---
Search the Site
Trusted VPN
VPNs are fast becoming must-have software these days to improve the security and privacy of your PC when online. There's lots of VPNs but NordVPN is objectively one of the best and the one I use. VPNs also help for online gaming as explained here.
About Me
Indie programmer currently working on my first official game release (after years of hobby projects), an atmospheric story-driven VR FPS/adventure built with Unreal Engine to be announced once I'm ready here and here (for anyone into VR FPS's). Also likes writing about tech, which helps to fund development of the game. My favs of all time are OOT, Perfect Dark, MGS1, MGS2, GE007, DKC2, THPS3, HL1, WC3, Vice City, and KOTOR, with the most recent addition to my list of immortals being the VR masterpiece Alyx. 
If you want help with a new build or upgrade feel free to ask on the main PC builds guide. I try to respond to every comment. If you found the site extra helpful and want to support the content here, all I ask is consider sharing an article with anyone you think might also benefit from it (I'm also never going to say no to coffee should you want to directly support the site). - Julz