Home > PC Builds

Current Best Gaming PC Builds for the Money
Top Recommended Sample PC Builds to Strategically Stretch Any Budget for Maximum Gaming Performance, Component Reliability, Airflow, Flexibility & Looks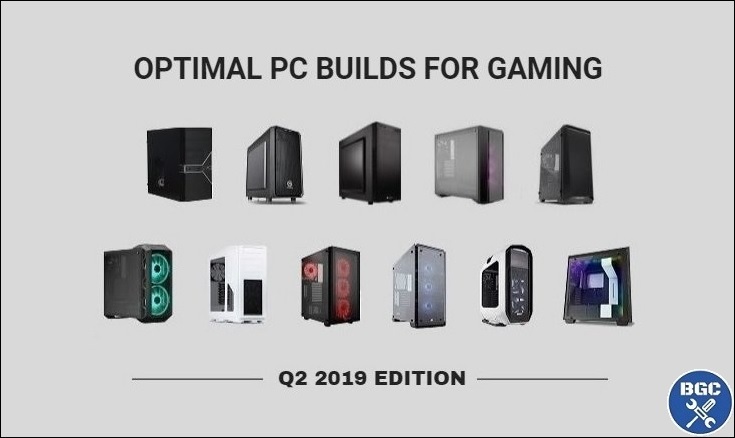 Some of the Best PC Builds for Gaming After An Extensive, Objective Analysis of the Q2 2019 Market
Last Updated: June 5, 2019
Planning the best PC build for gaming in Q2 2019 and looking for ideas on good configurations to stretch your money as far as possible? Explore our meticulously-researched, well thought-out sample computer builds below to get started on the right foot with picking good parts. Every quarter we tap into every ounce of hardware experience we have and do the painstaking research to carefully design what we believe to be the current best gaming PC builds for various budgets, based on a combination of objective market analysis and our own subjective opinion on which combination of parts would not just perform the fastest for any given budget, but that would also look awesome too (and run cool and quiet). In other words, these are the current best gaming PC builds in terms of bang for your buck as a gamer, and list our current highest recommended combination of parts based on keeping a continual finger on the pulse of the hardware market. If you're new to gaming PC builds, make sure to read our introduction to building a gaming PC first.
Right now in mid 2019, objectively speaking it's a good time to build a PC. The Great GPU Drought of 2017-18 is thankfully well behind us, which for those who've been living under a rock meant we saw graphics card prices rise dramatically as Cryptocurrency miners bought almost every graphics card in sight to take advantage of the Bitcoin mining boom which required graphics card power to do effectively (GPU supply lowered, demand rose, and prices soared; economics 101). 
But now in Q2 2019, it's not just graphics card prices that are back to normal for the most part, but CPU prices are quite attractive, RAM prices are lower than they've been for a while, and same thing with SSDs. AMD have upcoming CPU launches, but this has led to price drops of the already-very-capable current crop of Ryzen processors, meaning that if you're looking to build an AMD rig now it's a close call between going ahead now with Ryzen 2nd gen chips or waiting it out for the 3rd gen to arrive.

We hope these sample gaming PC builds and their accompanying in-depth guides helps you on your DIY path, and good luck constructing the custom setup of your dreams that'll have you gaming in full graphical glory for years to come (well, if you choose good parts that is). Although consoles are great fun too, long live the master race; when done right, the PC really is the premier platform and the pinnacle of gaming with its vast sea of possibilities, superior performance, and sheer flexibility. Anything a console can do, a PC can do and do better. Good luck, gamer.

See Also: 5 Compelling Reasons To Build Your Own PC
The Best PC Builds for Gaming (Q2 2019)
Swipe to Scroll the Builds:

A Note On Using Our Builds to Plan Your Perfect New PC
For clarification, our gaming PC builds above are the "best" builds you can build right now in the Q2 2019 market in terms of what WE believe to be the best way to spend any particular budget as a gamer looking for maximum return on investment, based on a combination of thorough objective analysis of the current market and our own personal opinion after having designed custom builds for many, many years. In other words, it's simply the parts we would personally buy ourselves if someone put a gun to our head and said "build the best rig for X amount" right now.
Keep in mind as you tweak your parts-list that our builds have been designed with maximum gaming performance as the chief aim; your needs may vary, such as in instances where you value gaming performance AND workstation/multitasking/content-creation performance equally, in which case additional considerations should be made such as including more RAM for a video editing build, placing additional weight to your choice of CPU for 3D Rendering/CAD/Animation as well as when building a PC for gaming AND streaming, and so on if you don't just use your computer for gaming.

But if gaming performance is your number one priority when building your desktop, because you want to play games as smoothly as possible, and at the highest graphical quality, the above best gaming PC builds are a great place to start to wisely maximize any given spending budget because we do our due-diligence to ensure each parts-list is carefully-tweaked to be a very solid safe-bet buy for that particular price category. Good luck mates and hope our latest builds come in handy in your planning.
- Julz (Founder/Editor)
Best Gaming PC Builds for 4K/VR (Extreme)
Current Best $3000 Gaming PC Build
Build Tier: Ultimate 4K and VR
Gaming Performance: 10/10
Recommended Resolutions/Refresh Rates:
4K 60Hz/144Hz or 1440p/1080p 144Hz (& flawless VR)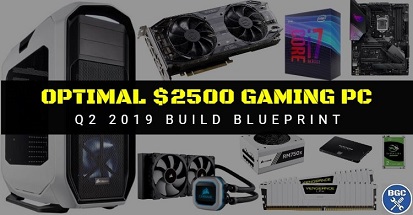 Current Best $2500 Gaming PC Build
Build Tier: Ultra 4K
Gaming Performance: 10/10
Recommended Resolutions/Refresh Rates:
4K 60Hz or 1440p/1080p 144Hz (& flawless VR)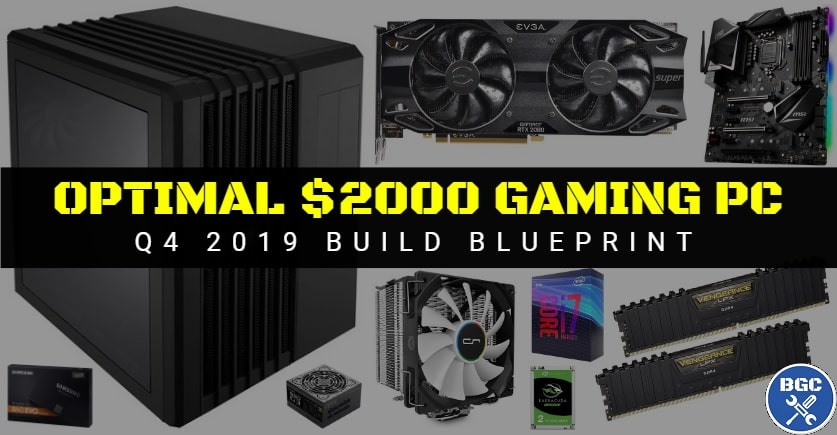 Current Best $2000 Gaming PC Build
Build Tier: Good 4K
Gaming Performance: 9.5/10
Recommended Resolutions/Refresh Rates:
4K 60Hz or 1440p 60Hz/144Hz or 1080p 144Hz (& great VR)
Best Gaming PC Builds for 1440p (High End)
Current Best $1500 Gaming PC Build
Build Tier: Ultra 1440p
Gaming Performance: 9/10
Recommended Resolutions/Refresh Rates:
1440p 60Hz or 1080p 144Hz (& good VR)
Current Best $1200 Gaming PC Build
Build Tier: Great 1440p
Gaming Performance: 8.5/10
Recommended Resolutions/Refresh Rates:
1440p 60Hz or 1080p 144Hz (& good VR)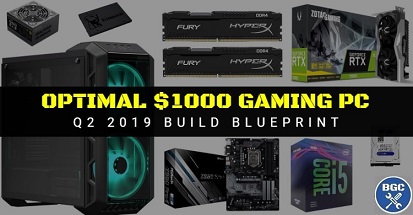 Current Best $1000 Gaming PC Build
Build Tier: Good 1440p
Gaming Performance: 8/10

Recommended Resolutions/Refresh Rates:
1440p 60Hz or 1080p 60Hz (& entry-level VR)
Best Gaming PC Builds for 1080p (Budget)
Current Best $800 Gaming PC Build
Build Tier: Ultra 1080p
Gaming Performance: 7.5/10

Recommended Resolutions/Refresh Rates:
1080p 60Hz or 1440p 60Hz
Current Best $600 Gaming PC Build
Build Tier: Mid-Range 1080p
Gaming Performance: 7/10
Recommended Resolutions/Refresh Rates:
1080p 60Hz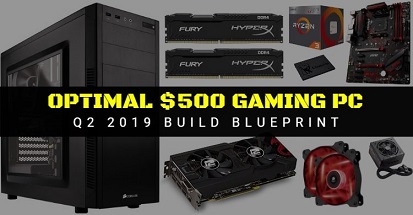 Current Best $500 Gaming PC Build
Build Tier: Budget 1080p
Gaming Performance: 6.5/10

Recommended Resolutions/Refresh Rates:
1080p 60Hz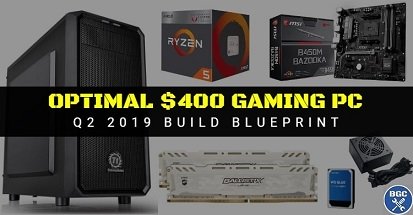 Current Best $400 Gaming PC Build
Build Tier: Cheap 1080p
Gaming Performance: 5.5/10

Recommended Resolutions/Refresh Rates:
1080p, 900p, 720p (60Hz)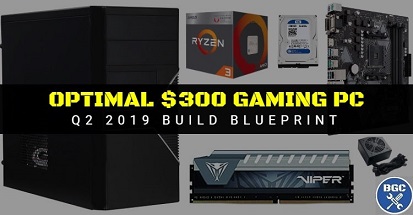 Current Best $300 Gaming PC Build
Build Tier: Entry-Level 1080p
Gaming Performance: 5/10 (entry level 1080p)

Recommended Resolutions/Refresh Rates: 1080p, 900p, 720p (60Hz)
Confused About Resolutions, Refresh Rates, or Frame Rates?

Gaming Builds FAQ
Which of the builds is right for me?

Short Answer:
How long is a piece of string? It's a question only you can answer based on your wants and needs (and budget of course). 
Long Answer:
How much you spend on a new gaming computer comes down to many factors, with perhaps the biggest ones (besides how much you actually have to spend) being what resolution you want to play in (1080p, 1440p or 4K), what types of games you want to play (demanding AAA titles, older games, or a mix etc), and what type of performance you'd be happy with in those games (flawlessly smooth at all times, or can you stand a little laggy-ness or toning down the graphic settings to get better performance?).
See Also: 1080p vs 1440p vs 4K: Gaming Resolutions Explained and Compared
As a general rule of thumb, for standard 1080p resolution (full HD), which is what most gamers still use in 2018 and will continue to do so in 2019, $500 - $800 will serve you well depending on the performance level you seek. Less if you're only playing lesser-demanding games, older titles, 720p resolution, or you don't mind 1080p on the lowest graphical settings.
Next step up in quality is 1440p resolution which is also quite popular these days; you're looking at spending $800 to $1500 for a build of that nature. For virtual reality and 4K resolution, the pinnacle of PC gaming if you can afford it, you're looking at throwing down $1500 and above, with $2000-$2500 allowing for the very best performance in this resolution. Anything more than this, such as our above suggested SLI builds (read: multi GPU setups) is pure luxury and overkill for 99.953632% of gamers.
Can I mix and match parts around from different builds?

Absolutely - the above best gaming PC builds are our recommended "safe bets" for any particular budget based on years of hardware experience and obsessing over the ever-changing market (as well as our own personal opinion on what looks great), but go ahead and tweak these builds 'till the ends of the earth until you're 100% satisfied.
Just don't forget to always consider compatibility between all your components when changing a build. Many basic changes, such as using a different graphics card of similar power, won't require changing any of the other parts (in most instances). But sometimes changing a component may cause a compatibility issue, so keep that in mind. See the tips on checking compatibility in our introduction to building a gaming computer or leave a comment on the build you're tweaking and we'll gladly give you a helping hand.
Do the builds have WiFi capability?

All modern motherboards come with built-in wired LAN networking capability, however most DO NOT have built-in wireless. If you want wireless internet access for your new rig (for gaming or non-gaming purposes), you have three options:

If you get an internal network card, which is typically better than a USB adapter, you'll want to ensure your motherboard has a spare PCI-E slot (most will), especially if you're getting a mATX (Micro ATX) motherboard which sometimes can be a little cramped for room.
Should I wait for component X or Y to be released before building?

This is an age-old debate that will never die. Truth is, there's always new parts coming out, either really soon or in the not too distant future, so if you wait for all new releases before building your computer you'll be waiting forever. However, not all new releases are created equal, so it does depend on your particular build and the particular part you may be waiting for. Also keep in mind that even if you wait for a new part, it may not even be the best overall value for money at the price at which its released, and over its initial first few months or so, and sometimes older parts represent better bang for your buck.
When are the builds updated?

We thoroughly look over, re-consider, tweak and completely redesign from the ground up (when necessary) our range of the best gaming PC builds each and every quarter of the year (roughly every 3 months). This means they're always updated as great example setups for gamers, no matter what time of year you build your gaming PC. Some updates are bigger than others though. For example, sometimes a certain build may stay roughly the same from quarter to quarter if every part of that build is still our top recommendation, and other times a build may become unrecognisable from the previous quarter if there have been a lot of changes in the market at that particular price category.
Why isn't Windows included in the price of the builds?

We don't include the operating system, which for most builders will be Windows 10, because A) there are other choices other than Windows such as Linux, and B) some builders will already have a (legal) copy of Windows that they can reuse for their new build (such as a multi-machine edition they previously bought). In each individual build guide below though we do explain more about buying your OS.
Why aren't peripherals included in the price of the builds?

Choosing peripherals such as your monitor, keyboard, mouse and headset comes down to personal preference a lot more than the actual hardware parts, so it wouldn't make sense to include specific peripherals for each recommended build. Plus, like with the operating system, a lot of readers will already have peripherals they can use from a previous desktop build. See our peripheral buying guides in the main top menu for our top picks on these parts if you want some guidance, which also includes which features to look for in each accessory and info on what current pro gamers use as of 2019.
Are you sponsored by X or Y manufacturer because you recommend them so much?

No - we're not affiliated with any specific manufacturer. BGC prides itself on being as objective unbiased as possible, and we're independently operated, and do not accept any outside incentives to suggest a particular brand over another. All our recommendations are solely our opinion on what we genuinely believe is the best choice for most readers, and are what we would buy ourselves if building a particular tier right now. If we include a certain brand or component over and over again, it's simply because we think it's a great buy. Nor are we fanboys of any company, however in saying that we do love to see the underdog do well, because that's exactly who we are in the hardware/gaming publishing space.
Which countries are these gaming PC builds for?

Hardware is an international product, and if a certain component is a good buy in the USA it's usually also a good buy in other countries, and all our Amazon links will automatically direct you to your local country's where possible. However, sometimes relative pricing may differ from country to country which may affect the value of any given part in a certain region. But we tweak our recommended gaming PC builds primarily for the USA market; if you live outside North America then whether a certain build is good value or not will depend on the current market in that region. If you want we can design for you a specific build for a specific region if you use our build planning service.

Which online stores have the best prices on PC components?

The following are our top recommended hardware stores to buy parts (and accessories) in 2019:
#1 Recommended Store: Amazon (tough to beat on price and shipping)

#2 Recommended Stores (3-Way Tie): BHPhotoVideo (reliable, respected company) and Newegg and OutletPC
Our top recommended hardware store in terms of the most competitive pricing, biggest range, reliability of shipping, and customer service for computer hardware in the USA (or Canada for that matter) is good-old Amazon, who are hard to beat when it comes to PC components and accessories. They're a well-oiled machine and it's rare to encounter problems with them, and their handy Prime membership (you can get a 30-day free trial here) allows you to get unlimited 2-day free shipping (without needing a minimum order size). Two alternatives we can comfortably recommend to buy hardware online for the best price and that also have good, reliable shipping and service would be BHPhotoVideo and OutletPC, who are also trusted, well-respected names for all-things computers.
Why trust your build recommendations? Are you Hardware Jesus?

Yes. On a serious note, first of all this must be said: don't trust what we - or anyone - says on the internet blindly without doing your own research, especially when it comes to forking out what's likely to be a fair chunk of change on a new computer. But we have made it a mission for many years to practically obsess over the ever-changing DIY PC sphere to better serve you - the first-time (or second/third time) newbie PC builder - as best as we possibly can, and as objectively as we can (meaning we try to clarify every recommendation and take into account why it may or may not be suitable for your particular situation). 
We avoid recommending something without carefully weighing up the options and doing comprehensive analysis, and we re-evaluate our selections over and over again during our continual updates of these builds as hardware is a constantly evolving beast. Point is, we've learned a thing or two over many years regarding what makes a solid build for any given budget, and a lot of effort has gone into and continues to go into this site to make it as helpful a resource as possible for the PC building community. Your feedback over the years as readers has also helped us understand what your needs are, what we need to improve, and what the average beginner builder struggles with. So, take what you can from our guides and we genuinely hope they help you along the way, but remember they're here to supplement your own research, especially if you have more specific wants and needs than the average gamer.
PS: Speaking of heavenly hardware gods, I think we can all concur Steve from Gamer's Nexus takes the cake as hardware Jesus; even his hair agrees. Check out his YT channel if you want to take your DIY knowledge to the next level. A good, credible, objective guy from what I've seen. 

Your Feedback/Get Help 

(New)
Enjoyed the article? Give it a thumbs up above, share it with a gaming buddy who might also benefit, or let us know below in our new comments section. Some of you guys asked for one and we've obliged.
Need help? If you have a quick question or two, or you want a quick critique of your potential parts-list, post below and we'll help a brother out. If you need more in-depth guidance, we can also plan a fresh new 100% customized parts-list for your exact situation - see our Human Build Generator email help service.
Any other feedback or constructive criticism is also always more than welcome as we continue our mission to making BGC the most helpful, accurate, beginner-friendly DIY resource it can be. Hope this guide helped and good luck.
Note: You can post anonymously by clicking the "I'd rather post as a Guest" that pops up after writing your comment.