Build the Best PC for Witcher 3
System Requirements & Best Value CPUs / GPUs for 60FPS (1080p, 1440p, or 4K)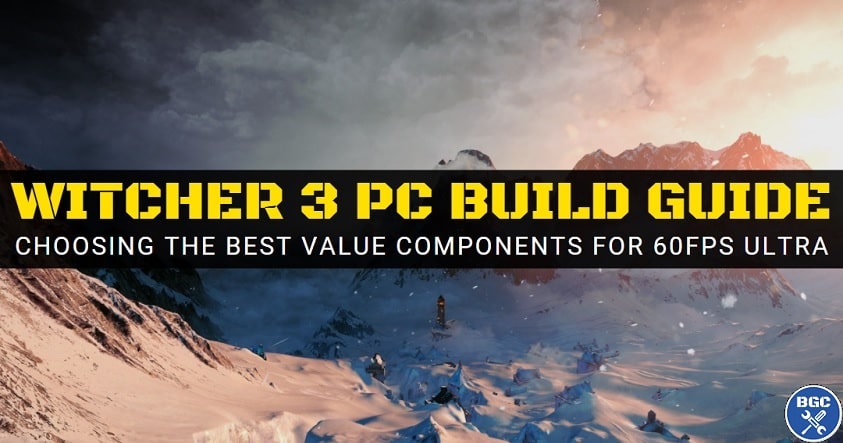 Last Updated: January 19, 2022
The Witcher 3: Wild Hunt is a game that needs no introduction. Arguably among the very greatest, most ambitious, and immersive game worlds ever crafted, if you're upgrading or building a new PC to experience the grand adventure in its full glory at 60FPS on max settings, I've hunted down the modern CPUs and GPUs that'll achieve that goal based on your display resolution. It's a few years old now as I write this, but The Witcher 3 is still a very demanding game, especially on the GPU, and is still often used by pro benchmarkers and hardware reviewers to stress new graphics cards to see what they're made of. There are other more graphically demanding games than The Witcher 3 now, but it's still demanding enough on today's hardware that reaching 60FPS at high resolutions and high settings requires very strong specs.
Witcher 3 System Requirements (to Run the Game)
Before getting into 60FPS requirements, here are the official minimum requirements for The Witcher 3 as listed on Steam. The game is a fair few years old now, so it's no surprise that by today's standards the requirements are very low, and the game will run on basically any cheap modern PC.
Witcher 3 Requirements
CPU (Minimum): Intel CPU Core i5-2500K 3.3GHz / AMD CPU Phenom II X4 940
CPU (Recommended): Intel CPU Core i7 3770 3.4 GHz / AMD CPU AMD FX-8350 4 GHz
GPU (Minimum): Nvidia GPU GeForce GTX 660 / AMD GPU Radeon HD 7870

GPU (Recommended): Nvidia GPU GeForce GTX 770 / AMD GPU Radeon R9 290

RAM (Minimum): 6GB

RAM (Recommended): 8GB

Storage Space: 35GB

Operating System: 64-bit Windows 7, 64-bit Windows 8 (8.1) or 64-bit Windows 10
The Witcher 3 is a beautiful masterpiece with an engrossing story set in a vast, detailed, believable open world
Best PC Builds for Witcher 3 (60FPS Ultra)
Now to what matters - hardware requirements to get flawless 60FPS performance on max settings in order to experience The Witcher 3 in all its graphical glory. When it first released a few years back, hitting 60FPS on Ultra was reserved for only the most high-end of GPUs, but now that The Witcher 3 has aged a fair bit, up against modern hardware it doesn't take too much to reach flawless performance. At 1080p, a GTX 1660 Super or the newer RTX 3050 is what you need for a consistent 60FPS on Ultra (or an AMD equivalent like the 6500 XT).
With any of these cards you'll stay above 60FPS in the majority of scenes, though you will dip under slightly at times. Especially if you have Hairworks enabled, which is a special rendering feature that The Witcher 3 is known for (but which noticeably hurts performance by a few frames). That said, there's no need for a stronger GPU than the ones I just mentioned at 1080p, seeing as it's no big deal in a slower-paced title like this if you temporarily dip under 60FPS at times (and again, with those GPUs you'll mostly stay above 60 anyway).
New to PC? Gaming Resolutions Explained

As for 1440p resolution, you're looking at a RTX 3060 or RX 6600 XT if you want 60FPS at ultra settings. Based on benchmarks out there I'd say these two cards are the best bang for buck for this title at 1440p. That's with or without Hairworks, but if you have it enabled expect the occasional dips under 60FPS to be a little more pronounced. For 4K displays, that's where the game seriously hammers even the best modern GPUs, and if you want 60FPS at 4K on maxed settings in The Witcher 3 the reality is that nothing but an RTX 3080 or RX 6800 XT will do it consistently.
An RTX 3070 or RX 6700 XT would be totally fine though, and based on benchmarks it seems you'd average between the 50-55FPS mark in most areas of the time. Which is a more than acceptable frame rate for the slower nature of an RPG like this in order to fully experience the game to the fullest. But yeah, if you want a flawlessly smooth experience at 4K Ultra where you almost always stay above 60FPS, an RTX 3080 or 6800 XT is what would be required.
Best Witcher 3 Specs for 60FPS (ULTRA SETTINGS)
CPU (Value): Intel Core i3 12100 or AMD Ryzen 3 3300X / Ryzen 5 3600
CPU (Best): Intel Core i5 12400 or AMD Ryzen 5 5600X
GPU (1080p): NVidia GeForce RTX 3050 8GB / GTX 1660 Super / 1660 Ti 6GB or AMD Radeon RX 6500 XT / RX 5600 XT

GPU (1440p): NVidia GeForce RTX 3060 12GB / 3060 Ti 8GB / RTX 2070 Super 8GB or AMD Radeon RX 6600 XT / RX 5700 XT
GPU (4K): NVidia GeForce RTX 3080 10GB or AMD Radeon RX 6800 XT 16GB
RAM: 16GB 3200MHz DDR4 (2x8GB)

As for the CPU, while The Witcher 3 was relatively demanding on CPUs back in its prime days following launch in 2015, these days it's not an overly CPU intensive game. Plus, when it comes to reaching 60 frames per second, it doesn't take much in terms of processing power, no matter the game in question (unless it's one of the most CPU intensive games on the market). 
In other words, any entry-level CPU from the modern stack out there will get the job done to reach 60FPS in The Witcher 3 (assuming your GPU is good enough), and there's only a need for a high-end CPU if you want to fully maximize frame rates beyond say the 100FPS mark (which isn't important in a slower paced game like Witcher 3 - 60FPS is all you need to get the most out of this particular title).
Related: Build the Best PC for Cyberpunk 2077
Sure, old CPUs can struggle in the game, but if you stick to the latest or previous generation, even Intel or AMD's entry-level series (i3 or Ryzen 3 respectively) will suffice. 60FPS in Witcher 3 is all about that graphics card (even at 1080p). If you want the highest frame rates possible, to stay well clear of 60FPS at all times and avoid ever dipping under during CPU intensive areas, a slightly stronger CPU like a modern i5 or Ryzen 5 does make sense and would be the absolute ideal.
But again, it's unnecessary for this game, and a modern i3 or Ryzen 3 is the better bang for buck (and put that extra money saved into your graphics card). Last but not least to RAM, and the standard modern recommendation of 16GB 3200MHz applies here as well, as it's the sweet spot in terms of value for money (and there's no need for more than 16GB as the far majority of games won't see any performance benefit with more than that).
Related: Build the Best PC for Elden Ring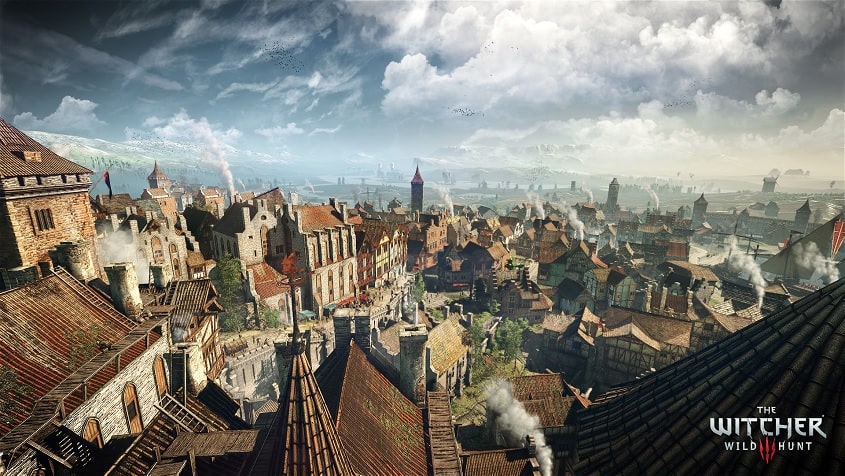 At 4K res on the highest visual settings, The Witcher 3 will demolish most GPUs
---
Trusted VPNs
VPN software is quite important in this day and age and will improve the security and privacy of your PC when online. There are also benefits to using VPNs for gaming.

There's lots of VPNs out there but the ones I recommend most to gamers is ExpressVPN (special link that gets you 3 months off. they also offer a free trial here) and NordVPN which are both highly rated gaming VPNs because they're the fastest and most secure.
Search the Site
About the Author
Indie game dev currently working on my first public release after years of hobby projects, a story-driven VR FPS built with Unreal Engine (to be announced soon here for anyone into VR FPS's). Also likes writing about tech, which also helps fund development of the game.
My favs of all time are OOT, Perfect Dark, MGS1, MGS2, GE007, DKC2, THPS3, HL1, and HL2, with the most recent addition to my list of immortals being the VR masterpiece Alyx. If you want help with a new build feel free to ask on the main PC builds guide. If you found the site extra helpful and wish to support the work I do here, sharing an article with a friend helps a lot and is much appreciated. - Julz