Build the Best PC for Elden Ring (60FPS)
System Requirements and Best Bang for Buck CPUs, GPUs for 1080p, 1440p, or 4K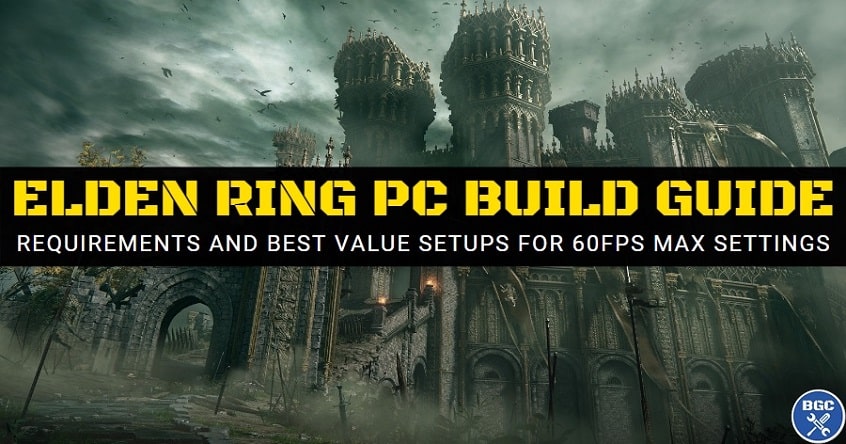 Published: March 2, 2022
The latest release from Dark Souls developer From Software has been a smashing success, with many praising Elden Ring as being among the best action RPGs ever made. If you're upgrading or building a new PC with Elden Ring performance in mind, in this hardware guide we'll look at the system requirements and more importantly which modern CPUs and GPUs are the best bang for buck to experience this new magical land in full 60FPS glory at your chosen resolution and visual settings. Based on an improved version of the 'Souls' engine used for Dark Souls 3, Bloodborne, and Sekiro, Elden Ring has relatively demanding system requirements and can push CPUs and GPUs at high res or settings, though 60FPS at 1080p doesn't require much if you run low or medium settings.
Elden Ring System Requirements for PC
As always, before getting into specific hardware recommendations, let's look over the official minimum and recommended specs as provided by the developer on Steam which as mentioned you could consider to be quite high generally speaking (especially the recommended specs).
Elden Ring PC Requirements
CPU (Minimum): Intel Core i5-8400 / AMD Ryzen 3 3300X
CPU (Recommended): Intel Core i7-8700K / AMD Ryzen 5 3600X
GPU (Minimum): 

Nvidia GeForce GTX 1060 3GB / AMD Radeon RX 580 4GB



GPU (Recommended): Nvidia GeForce GTX 1070 8GB / AMD Radeon RX VEGA 56 8GB
RAM (Minimum):

 12GB



RAM (Recommended):

 16GB



Disk Space:

60GB



Operating System (Minimum): Windows 10
Operating System (Recommended): Windows 10/11
With a setup akin to the minimum requirements, you'll get a decent 1080p experience at medium settings, and with the recommended specs you can expect a great 1080p experience and acceptable 1440p performance. But let's get into the specifics, including exactly what CPU and GPU I can recommend if you want that flawless 60FPS on average throughout the game based on the current hardware market.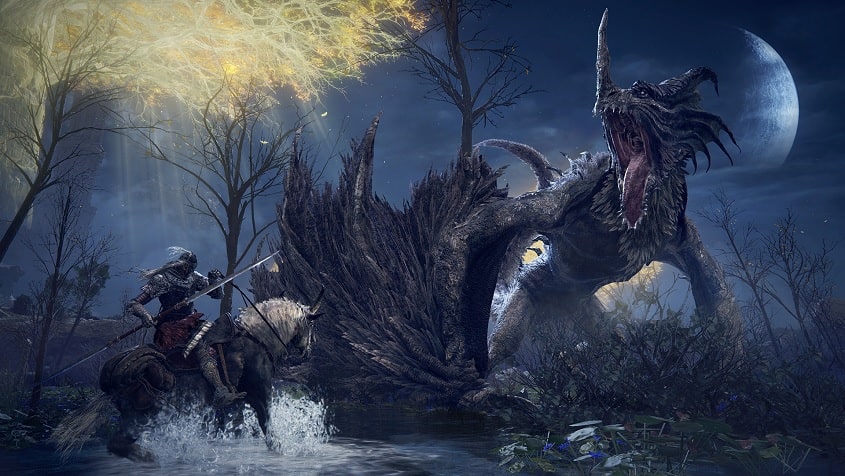 Best PC Builds for Elden Ring (60FPS)
Time for my recommended setups to reach an average of 60FPS to experience the vast, dark world of Elden Ring as smoothly and hiccup-free as possible. Keep in mind the game has a built-in 60FPS cap, though you can remove it if you really want to by installing an unofficial mod (just search online for 'Elden Ring 60FPS mod'). So for most gamers there's no point aiming for anything higher than 60 frames per second in this title, though even if the game didn't have a 60FPS cap there's still little need to aim for 60FPS anyway given that this isn't an every-millisecond-counts First-Person Shooter that would tangibly benefit from very high 100+ frame rates if using a 144Hz refresh rate monitor. By comparison Elden Ring is slower-paced, so 60FPS is all you need for a super smooth experience.
Related: Best PC Builds for Witcher 3

Elden Ring isn't overly demanding on the CPU, so you're good to go with any modern entry-level CPU from Intel or AMD, though bumping up to a modern i5 or Ryzen 5 would be ideal to help keep frame rate drops (ie your 1% and 0.1% FPS) higher than they otherwise would be. In terms of RAM requirements, they're a little higher than the norm, with 12GB being the minimum RAM requirement in the official specs covered above (for most games it's typically 8GB as the minimum), though nothing more than 16GB is necessary to get the most performance out of the game, and like the far majority of other modern releases today, 32GB is a mere luxury that would only net you a few extra FPS here or there (at best; at worst you would see basically 0 difference between 16GB and 32GB). 
GPU requirements are considerably higher than previous FromSoftware games (eg Dark Souls 3), but at 1080p you don't need much and even the lowly, much-hated RX 6500 XT gets the 60FPS job done at medium settings. Speaking of settings, Elden Ring has the following presets plus a decent array of individual custom settings to tweak:
Elden Ring doesn't have ray tracing or DLSS, though the former has been confirmed to be added in future which will bring this beautifully crafted world come to life even more. Let's hope they add the latter too for a nice performance boost on NVidia cards, and also FSR for AMD cards.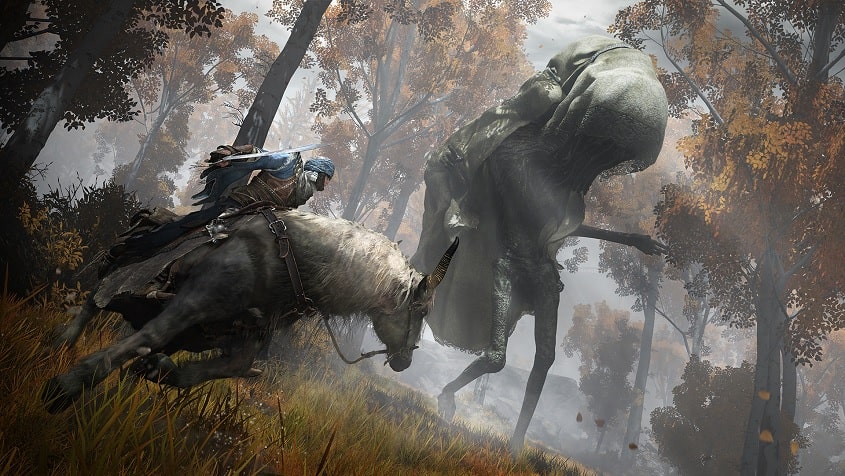 At 1440p or 4K resolution and running high or maximum settings, obviously your GPU requirements rise a fair bit over 1080p, though you don't need anything too crazy as an upper mid-range to lower high-end GPU is plenty for 60FPS at high or max settings. Keep in mind that with the following specs you may get an average FPS of 55-60FPS, but for Elden Ring that is still great. If you're a performance perfectionist and want to ensure hitting and staying at that 60FPS cap, you'll need slightly better GPUs than the one listed below, though I don't recommend it for most people as the price difference for a few extra FPS just isn't worth it.
Best Value Elden Ring Specs (60FPS Average)
CPU (Budget): Intel Core i3 12100 / 10100 or AMD Ryzen 5 3600
CPU (Best): Intel Core i5 12400 / 12600K or AMD Ryzen 5 5600X / Ryzen 7 5800X
RAM: 16GB DDR4 (2x8GB, 3200MHz or faster)
GPU (1080p MEDIUM): GeForce GTX 1650 Super 4GB / 1060 3GB or Radeon RX 6500 XT / 5500 XT / RX 580 4GB

GPU (1080p MAXIMUM): GeForce RTX 3050 8GB / GTX 1660 Super 6GB or Radeon RX 5600 XT 8GB

GPU (1440p HIGH/MAXIMUM): GeForce RTX 3060 / RTX 2060 Super 8GB or Radeon RX 6600 8GB
GPU (4K HIGH/MAXIMUM): GeForce RTX 3070 Ti 10GB or Radeon RX 6800 16GB
Just keep in mind that performance issues still surround Elden Ring on PC despite a performance patch having been already released to address such issues, so if you encounter occasional stuttering from performance drops it's unlikely due to your setup not being powerful enough and probably down to the game/engine itself. Some found disabling HyperThreading (on relevant CPUs) helped reduce the stutters. Hopefully performance issues will be ironed out over time with more patches.
And with that is pretty much all you need to know when planning the best upgrade or PC build for Elden Ring. See the main PC builds guide for more detail on choosing modern components and building your own custom setup, or check out the best prebuilt PCs for gaming if looking at buying a premade desktop instead. Good luck and GG.
---
Trusted VPNs
VPN software is quite important in this day and age and will improve the security and privacy of your PC when online. There are also benefits to using VPNs for gaming.

There's lots of VPNs out there but the ones I recommend most to gamers is ExpressVPN (special link that gets you 3 months off. they also offer a free trial here) and NordVPN which are both highly rated gaming VPNs because they're the fastest and most secure.
Search the Site
About the Author
Indie game dev currently working on my first public release after years of hobby projects, a story-driven VR FPS built with Unreal Engine (to be announced soon here for anyone into VR FPS's). Also likes writing about tech, which also helps fund development of the game.
My favs of all time are OOT, Perfect Dark, MGS1, MGS2, GE007, DKC2, THPS3, HL1, and HL2, with the most recent addition to my list of immortals being the VR masterpiece Alyx. If you want help with a new build feel free to ask on the main PC builds guide. If you found the site extra helpful and wish to support the work I do here, sharing an article with a friend helps a lot and is much appreciated. - Julz