Home > Prebuilt PCs > Refurbished Desktops
Best Refurbished Gaming PCs Under $500
& Are Refurbished Desktop Computers Worth it? What About Amazon Renewed?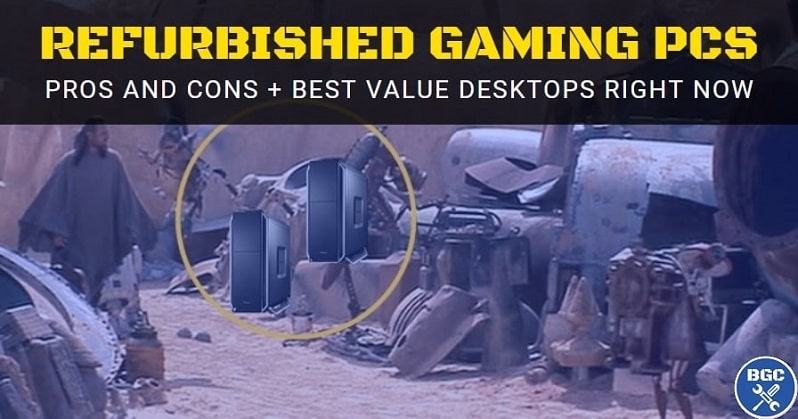 Last Updated: August 15, 2023

If you're set on buying a prebuilt gaming PC instead of building your own, hunting for a good refurbished gaming desktop is an option to consider that could very well be worth it, and something that not everyone is aware of. But if - and only if - you find a good-enough deal that's also from a reputable, trustworthy store and seller, and of course if you're comfortable with the fact that it's essentially a used product (albeit professionally checked and tested etc). 
In this guide we round up the current best refurbished gaming PC deals we found on the current US market (on Amazon who offer a 90 day warranty - more on that later). We'll also cover common questions on refurbished PCs, including what it means, a bit about Amazon renewed products, and more.
See Also: Best Prebuilt Gaming PCs
1. HP RGB Gaming Desktop (RTX 2060)
Check Price: Amazon
GPU: NVIDIA GeForce RTX 2060 (6GB GDDR6)
CPU: Intel Core i7 6600 Quad-Core (3.2GHz - 3.6GHz)
RAM: 16GB DDR4
Storage: 128GB SSD + 2TB HDD
Other: WiFi, Bluetooth, Keyboard, Mouse, Windows 10 Pro
This mini HP computer is currently the best refurbished gaming PC under $500 that I found on Amazon, as it includes a fairly powerful RTX 2060 graphics card along with 16GB of RAM and an i7 which would make for a very solid 1080p gaming experience or respectable entry-level gaming desktop for the best VR gaming headsets such as the Oculus/Meta Quest 2. If you have a little more to spend on a RTX 3060 or RX 6600 gaming desktop, check out the best new prebuilt gaming PCs instead for our more powerful PC recommendations.
2. Dell RGB Gaming Desktop (GTX 1660 Ti)
Check Price: Amazon
GPU: NVIDIA GeForce GTX 1660 Ti (6GB GDDR6)

CPU: Intel Core i5 4590 Quad-Core (3.3GHz - 3.7GHz)
RAM: 16GB DDR3
Storage: 128GB SSD + 2TB HDD
Other: WiFi, Bluetooth, Keyboard, Mouse, Windows 10 Pro
Another solid refurbished gaming desktop, this Dell comes with a very decent GTX 1660 Ti which will get you good frame rates at 1080p resolution on medium to high settings depending on the title. The processor is a little older as with most refurbished deals, as is the memory (it's DDR3), but this setup still holds up okay in modern games and is more than enough for less demanding games like many eSports and competitive games.
3. Dell Optiplex Gaming PC (RX 550)
Check Price: Amazon
GPU: AMD Radeon RX 550 (4GB GDDR5)

CPU: Intel Core i5 2600 Quad-Core (3.4GHz - 3.8GHz)
RAM: 16GB DDR3
Storage: 128GB SSD + 2TB HDD
Other: WiFi, Keyboard, Mouse, Windows 10 Pro
If you want the best cheap gaming PC for 1080p for less demanding games, older games, or for using low graphics settings, this refurbished Dell computer is very affordable and has a respectable Radeon RX 550 graphics card. It only has a second generation i7 processor and the RAM is DDR3, but it'll hold up okay for modern gaming thanks to the RX 550. Just don't expect 60FPS on high settings in the most graphically demanding games. For light gaming this may be all you need.
Honorable Mentions
The following refurbished prebuilt PCs didn't make our top recommendations, but came close and so are worth mentioning in case they fit your needs. In order of most powerful graphics performance to least:
Dell Gaming Desktop GTX 1660 Ti

HP RGB Gaming Desktop GTX 1660 Super

Lenovo Gaming Desktop GTX 1660 Super

HP RGB Gaming Desktop RX 580

Dell RGB Gaming Desktop RX 5500 XT

Lenovo Gaming Desktop GTX 1650

HP Omen RTX 3060 Ti (higher-end option over $500)

HP Envy RTX 3070 Ti (higher-end option over $500)
What is a Refurbished Computer?
A desktop or laptop computer listed as refurbished could mean slightly different things depending on the particular product and which store it's being sold on, but in general refurbished means that a product has been tested and verified to work (as opposed to a used product that may or may have defects or be faulty). There's no official standard for what exactly constitutes a refurbished product though, so depending on the store/seller it could specifically mean either:
Therefore, it's all about reading that a particular store's policy is regarding refurbished products, and judging refurbished deals on a case by case basis to determine whether it's worth it or not. Because you typically won't be able to find out the exact history of a refurbished product, as a general rule of thumb you should only consider buying refurbished hardware from stores you trust so you know they've been professionally repaired and/or tested, and so you have some sort of guarantee.
TL;DR (Summary)
Refurbished computers are returned and/or damaged stock that is then repaired, tested and cleaned for resale in new condition - at a discount.
Think of it like a middle ground between buying a straight-up used PC and buying brand new.
You typically get some sort of warranty too (albeit shorter than normal) which you don't always get when buying used.

Are Amazon Renewed PCs Worth It?
Amazon sells refurbished tech, but they refer to these products as "renewed". So in the context of Amazon, refurbished and renewed mean the same thing. They say that these products are professionally inspected, tested, and cleaned to work and look like new, and you can get a replacement or refund within 90 days if you're not satisfied. To know if a product on Amazon is renewed, it will say so at the end of the product title. 
Whether it's worth buying a renewed gaming PC on Amazon (or a refurbished computer from any other store) will come down to personal preference and how comfortable you are buying used products in general. I'd say it's generally safe when you buy from a place like Amazon as they have a high standard of quality, with a track record of happy customers who have had no problems buying refurbished products (as not just any random seller can list refurbished products on there).
But on the other hand, keep your wits about you, because renewed products on Amazon are sold by third-party sellers. They may have had to be approved by Amazon to sell refurbished goods, but you still want to do your research into a particular seller (click through from the product listing to their seller reviews) to get a sense of their service, trustworthiness, what customers have said about them, etc. 
It should go without saying, but don't impulse buy a computer without doing your pricing and store comparisons, and if a refurbished gaming desktop isn't all that discounted compared to the new version of the same model, perhaps it's not worth the potential trouble (and potential hassle of having to return it if something turns out to be wrong with it, despite it having been supposedly fixed/repaired).
Refurbished vs Used PCs: 

What's the Difference?
The difference between refurbished and used is simply that refurbished parts have been professionally tested and cleaned, and fixed where necessary, so you know there aren't any defects and that it's going to work. Plus, you get a warranty/guarantee of some sort (such as Amazon's typical 90-day renewed product guarantee).
When buying used PCs, there's no telling if something is defective or not, and there's quite a lot more risk - not good if you're not that tech-savvy. There's no telling how long a private seller has used their computer (despite what they might tell you), how they've looked after it, or thrashed it with overclocking. I would generally avoid buying used unless you're fairly confident in being able to check the PC thoroughly in-person before buying, so for most people, buying a refurbished gaming desktop is the safer way.
Related: Tips on Buying Used GPUs
Should You Buy Refurbished Monitors/Peripherals?
Gaming monitors may also be a potentially good deal to get refurbished so long as they have some sort of decent warranty (I'd say ideally 1 year and 6 months minimum) and you're fine with the possibility of getting a dead pixel or two. Monitors often get returned for this reason and then they are sometimes put straight back up for sale (yes, with a dead pixel) unfortunately, however a dead pixel is not the end of the world and some people wouldn't even notice it. But yeah, so long as there's some sort of return policy then you could always return it, so overall refurbished monitors can be a great way to save as monitors can quickly eat into even the healthiest of build budgets.
As for keyboards, mice, headsets, speakers, etc, these are also all fair game to get refurbished if you find a good deal as these parts either work or not. The only thing I'd probably avoid in this realm would be with mechanical keyboards, as each key is an individual mechanical component which could possibly fail early, so there's a bit more risk involved especially if the warranty is short. Also, if you're a pro or aspiring pro gamer who cares about every little microsecond of precision, speed and accuracy and you wish to grab a high-quality mouse, I'd personally only ever buy a new gaming mouse to avoid any potential issues now or down the road so you can game at your best at all times without having to worry about whether your mouse has a defect that may be hard to detect. Just my two Galactic credits on the matter.
Related: Save More Money When Building a PC
---
Trusted VPNs
VPN software is quite important in this day and age and will improve the security and privacy of your PC when online. There are also benefits to using VPNs for gaming.

There's lots of VPNs out there but the ones I recommend most to gamers is ExpressVPN (special link that gets you 3 months off. they also offer a free trial here) and NordVPN which are both highly rated gaming VPNs because they're the fastest and most secure.
Search the Site
About the Author
Indie game dev currently working on my first public release after years of hobby projects, a story-driven VR FPS built with Unreal Engine (to be announced soon here for anyone into VR FPS's). Also likes writing about tech, which also helps fund development of the game.
My favs of all time are OOT, Perfect Dark, MGS1, MGS2, GE007, DKC2, THPS3, HL1, and HL2, with the most recent addition to my list of immortals being the VR masterpiece Alyx. If you want help with a new build feel free to ask on the main PC builds guide. If you found the site extra helpful and wish to support the work I do here, sharing an article with a friend helps a lot and is much appreciated. - Julz