Learn How To Build Your Own Custom Gaming Computers
Do you need help with building your own high performance gaming computer from scratch? Stuck on choosing the right parts? Here at Build-Gaming-Computers.com you can learn everything you need to know about building your very own custom gaming PC, from choosing the best bang for your buck gaming components according to your budget, to step by step installation guides, and everything in-between.
Whether you're on a tight budget, or you want the very best performance on the market right now, we will show you exactly how you can build gaming computers with performance, reliability, and value for money in mind. No matter what you may have heard, putting your own system together is very easy to do and you don't need any prior experience or fancy technical knowledge.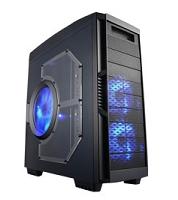 There are many advantages to building your own over buying a pre-built system, but most importantly you will save a decent amount of money, and you will have a computer tailored for your own gaming needs. 

With our hardware guides on choosing the best parts for high performance gaming, step by step installation guides, and custom build examples, you have everything you need to build a killer gaming machine that won't break the bank.
---
Recommended 2015 Custom Gaming Builds
If you need help choosing your own parts for a cost-effective high performance gaming build our continually updated Custom Gaming Desktop Computer Builds series are here to help where we show you 4 custom gaming build examples for 4 different price ranges to help you get the most bang for your buck no matter what your budget is.

We have done the painstaking research for you and only include the best value, highest-performing, and most reliable components. More importantly, we explain our component choices and you can learn a lot about what it takes to build a capable gaming rig for the best price. All builds are continually updated each month to keep up with the ever-changing PC hardware market.

Builds From Left To Right: Budget, Mid Range, High End, and Extreme
---
Start Learning How to Build a Gaming PC 
Introduction to Building Custom Gaming Computers
If you're new to building a custom PC, start here. Building your own gaming PC is quite straightforward once you have the right information, and this introduction will explain how to get started.


How to Choose the Best CPU
The latest information on buying the right CPU for your gaming system. For high performance gaming you will definitely need a capable processor in your build.


How to Choose the Best Motherboard
The motherboard is also a critical component in any computer system and this article helps you select the right motherboard for the job.


How to Choose the Best RAM
Explains the different types of RAM, the benefits of RAM for your gaming computer, and how much RAM you need to play the latest games.


How to Choose the Best Hard Drive
This article looks into the important factors you should consider when buying a hard drive for your gaming computers.


How to Choose the Best Video Card
The video card is a very important part of a gaming PC and a decent card is crucial if you want smooth 3D performance. Here we help you choose the best video card based on your needs as a gamer.


How to Choose the Best Gaming Monitor
What to look for when shopping for a new screen to hook up to your custom gaming desktop. All the important specs are explained including response rate, refresh rate, resolution, and contrast ratio.


How to Choose the Right PC Case
Information on how to choose a good case to house all your fancy new components and what features you should look out for.


How to Choose Your Computer Power Supply
Takes a look at why the power supply is a vital part of your computer, and helps you choose the right power supply for your needs.


How to Choose the Best Sound Card
An article on the different factors you should consider when buying the best sound card for your gaming audio needs.



How To Build A PC: Installation Guides
Learn how to install all of your components here with our step by step instructions. Also includes safety precautions so that you build your gaming machine safely.


---
Latest Articles
The Top Gaming Monitors of 2015
A roundup of the current best-value gaming monitors on the market right now. Your monitor plays an important part in your gaming experience: hooking up a high-end gaming rig to a mediocre monitor is a waste.
Tips For First Time PC Builders
If you are building your very first custom gaming PC here are some handy tips to help you along your way to ensure you avoid some common problems that newbies face.
What's the Best Gaming Laptop? How to Choose a Good One
Desktops have better performance when compared to laptops at the same price point, but some people would love to game on the go. Here's what to look for in a good laptop for gaming.
Tips For First Time PC Builders
If you are building your very first custom gaming PC here are some handy tips to help you along your way to ensure you avoid some common problems that newbies face.
5 Reasons Why You Should Build a Computer
Here are 5 solid reasons why you should definitely choose to put together your own custom rig instead of buying a pre-built machine.
Solid State Hard Drive Buyer's Guide
Solid state drives are fairly new on the scene, and here we explain what they are and the advantages they have over a normal hard drive.
Blu Ray Burner Buyer's Guide
The new Blu-ray format can hold huge amounts of data in a single disc and is pushing technology further. If you're looking to buy a Blu-ray drive then read this first.
Introduction To SuperSpeed USB 3 Technology
Explains the new SuperSpeed USB 3 technology that is only just starting to emerge into the personal computer market, and outlines the benefits over USB 2.
Building a Cheap Gaming Computer: Tips to Save Money
PC gaming can be an expensive hobby, and this article provides some handy hints on how to save money on your next custom gaming PC build for those on a tight budget.
See all articles ...
---
Home | About | Contact Us | Privacy Policy/Disclaimer | SiteMap

---