---
Best Budget Gaming Desktop Computer Builds: August 2017
---
(Best PC Builds Under $500 and $1000)
AUGUST UPDATES

Switched Budget Build's CPU from i3 to G4560, and Case from Rosewill Galaxy 01 to Cooler Master N200.

Changed Mid-Range Build target budget from under $800 to $1000 and added a better CPU, GPU, case, and more RAM. We want to keep our builds in $500 increments from now on to keep things simple (we now have monthly 500, 1000, 1500 and 2000 builds).

Our detailed eBooks

 on building your first PC from A to Z are now live; thanks to everyone who pre-ordered a copy!

We recently started a new 

Facebook page

 so check it out if you find our content helpful and/or want to stay notified as soon as new builds and reviews are posted.
Last Updated: August 2nd, 2017

Welcome to our latest lineup of the best budget gaming desktop builds for your money, where each month we do the extensive research for you to make choosing the current best bang for your buck components and peripherals for your new custom build that little bit easier.
On this page we have the Budget and Mid-Range builds which show how to maximize budgets of under $500 and $1000 respectively (US Dollars), but we also have our High-End Gaming PC Builds for those with bigger budgets who want to build a top of the range gaming rig for great performance in higher resolutions and VR.
You can use these build examples exactly as they are or as a base of inspiration to make your own tweaks and adjustments, but remember to always do your homework to ensure 100% compatibility if you do mix and match parts around. 
We also include recommendations for the best value peripherals and accessories down the bottom of this page. Note that we link all parts and accessories to Amazon because their prices are hard to beat and their shipping is fast and reliable.
Let's get into the first gaming desktop build for this month which has been carefully-considered for gamers on a fairly tight budget who still want a very capable, reliable and well-balanced modern gaming rig for good 1080p (full HD) performance.

---
Best Budget Gaming Desktop Computer Build: August 2017
---
(Top Performance & Reliability Under $500)

*All prices listed were correct at the time of writing but may fluctuate from day to day.
Expected Performance:
1080p (1920 x 1080):
Smooth
1440p (2560 x 1440):
Playable/Average
4K (3840 × 2160):
Unplayable
The above is the expected average performance of this build for each main resolution in modern, graphically-demanding games on max settings.
The Budget Build: Parts-List Breakdown
You don't need to break the bank to build a capable gaming desktop computer to play the latest games, and this custom build is a great example of that. It's all you really need for smooth 1080p gaming, unless you want absolutely flawless performance on max settings in the most demanding of titles in which case the next "Mid-Range" build below would be better suited for that. But this budget build really stretches your money quite far and runs most new games very nicely, including total domination of older titles including popular eSports titles.
It includes the excellent value, all-new G4560 processor which is perfect for a budget gaming rig, 8GB of DDR4 RAM, and a GeForce GTX 1050 Ti graphics card which holds its own against the latest games in 1080p. To top it off you have a solid motherboard with good features, a cheap yet sturdy and fairly compact case with decent airflow, a reliable budget power supply, and 1TB hard drive.
Keep in mind the above list of components does not include the operating system software which is required for a new running PC (we suggest Windows 10 Home 64 Bit). In fact, for a new working build you'll also require a monitor, keyboard, mouse, and either a set of speakers or a headset for audio (if your monitor doesn't have built-in audio which most don't). If you want WiFi for wireless internet you will also need a wireless adapter as most motherboards do not come with this built-in; you can either get a wireless network card which you install on your motherboard, or you can get an external USB WiFi adapter (your call). We provide suggestions for all these peripherals as well as other optional add-on components later on in this guide below.
This budget gaming desktop computer will easily outperform many pre-built computers that sell for WAY more than this, and is a shining example of
why building is almost always better
than buying pre-built (plus it's way more fun and satisfying). Also, even though it's kind of a meaningless comparison, you'll find this PC to be more powerful than current generation consoles as well.
We actually just built this PC last month to take pictures and use as our real-life example for our
new eBook
on how to build a gaming PC for beginners, and it was a very beginner-friendly list of parts to install and work with. We can confidently recommend this build to any entry-level gamer building their very first computer. Ok, let's take a closer look at each carefully-selected component and why they made the cut for those who want to get into the nitty-gritty details.
Graphics Card
Starting off with the all-important graphics card, which is the biggest factor when it comes to gaming performance, and it's hard to look past the
Gigabyte GeForce GTX 1050 Ti 4GB OC
when building a budget gaming PC. It offers excellent value for money and is undoubtedly the best bang for your buck around the $150 mark.
With a 1050 Ti you'll be playing the latest games very smoothly in full HD (1080p resolution), even with in-game graphic settings turned up to the max. The 4GB of video memory (also known as the VRAM - not to be confused with your system's RAM) it comes with is also plenty for games of today and into the future.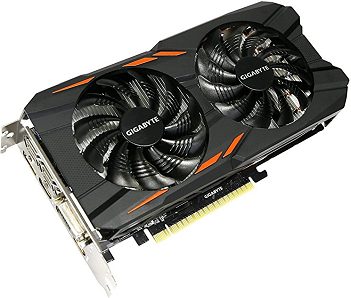 Processor
Now to the CPU/Processor, which is the second most important component when it comes to gaming performance, and the all-new Pentium range from Intel is the new go-to for smart gamers on a tight budget who still want good gaming performance. Specifically, we'd recommend the
Intel Pentium G4560 3.50 GHz
which nears Intel's i3 range in terms of performance but at a much cheaper price. The G4560 is the new king of budget gaming CPUs under the 100 dollar mark and perfect for an entry-level gaming build like this.
It comes with a decent stock cooler which is good enough to keep this processor running nice and cool. We only recommend getting an aftermarket/third-party CPU cooler if you're going to be overclocking, or for enthusiasts building a higher powered system who want the absolute best cooling possible.
When it comes to playing the latest games, the G4560 is all you need to keep up when combined with a good graphics card like the 1050 Ti we recommend. For those wondering, no it will not bottleneck a card like the 1050 Ti. We can't recommend the G4560 enough if you're trying to keep costs as low as possible for modern gaming; it's the true definition of "bang for your buck". For anyone wondering, yes we recommend the G4560 over AMD's new Ryzen 3 series as well.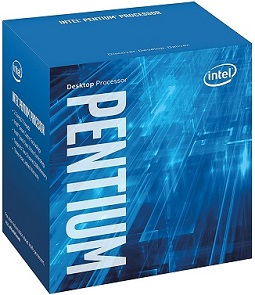 Motherboard
Now to the motherboard, which you could consider the heart of your gaming machine where your other components all connect to, and we've picked the reliable, well-priced
MSI B250M Pro-VD
which has all the features you would actually need for a budget gaming computer build like this.
For such a cheap motherboard it's good-quality, durable, and has decent built-in audio which is good enough for a quality gaming audio experience; no need to buy a separate sound card. It has good LAN capability too, as most modern motherboards do, but it doesn't have built-in WiFi (most motherboards don't) so if you want wireless capability you'll need to get a wireless adapter. Our suggestions for these are later on in this guide below.
RAM
Memory/RAM is an important piece of the puzzle yet less crucial than your CPU or graphics card. We chose the
Crucial 8GB (DDR4, 1 x 8GB, 2400 MHz)
because it's cheap, fast DDR4 memory from a trusted name in the memory game. 8GB is the sweet spot right now for gaming, and when you have a good CPU and graphics card it's all you need for excellent gaming performance now and into the near future. We recommend getting a single stick of 8GB instead of two 4GB sticks so you leave one of the 2 RAM slots on your motherboard free for an upgrade later should you want to (to make a total of 16GB).
You could shave off a few dollars by going for 4GB instead without noticing too much difference in most games, however now we're starting to see some games really benefiting from 6GB and above so you might as well get 8GB now to avoid having to upgrade later. Plus, RAM isn't that expensive, and 8GB will definitely help general system performance too. As for getting more than 8GB; we think it's a waste of money for a highly cost-effective budget build like this one. We'd only consider a huge 16GB of RAM if your overall PC budget is say, $800 and over.
Hard Drive
When putting together a gaming desktop computer on a tight budget it's probably best to avoid SSDs (Solid State Drives) because traditional HDDs (Hard Disk Drives) are much more cost-effective. However, if you do want to take advantage of faster boot and application load times and don't mind spending an extra 50 bucks or so on your build, the SSD included in the upcoming Mid-Range build below would be our suggestion and will fit into this build without problems.
For your HDD though, you can't go wrong with the very popular
Western Digital 1TB Blue
which is great value and a nice size of storage that'll cover most people's needs. Western Digital are a top name for hard drive reliability, with Seagate being our second choice.
Since this is a low-cost, cost-effective gaming PC, you could save a little extra money by opting for smaller storage such as 750GB, 500GB or even 250GB if you don't think you'll need the large 1TB. It's totally up to your individual needs and the 1TB we've listed is just a suggestion. If in doubt, just stick with the 1TB to be safe as you probably won't save too much going for smaller sizes.
Power Supply
Now onto the often-overlooked PSU (don't underestimate the
importance of a decent PSU
) and we have the well-priced
EVGA B1 500 Watts
which is a solid budget-conscious choice to reliably power the parts of your budget build. For such a cheap price it's actually a decent quality unit and all we need for a setup like this. It also has an official 80+ Bronze rating as well, which isn't the only indication of quality but a nice thing to have. 500 watts is also more than enough power for our needs, including plenty of wiggle room to accommodate upgrades you may wish to make later on.
Case
Last but not least we have the excellent budget gaming case in the
Cooler Master N200 Mini Tower
which fits our budget and feature needs without sacrificing on quality and reliability. This is easily one of the better affordable PC cases out there with a fairly sturdy design and nice features such as easily removable dust filters, 3 USB ports on the front, a mesh front panel for good airflow, and two pre-installed fans (one on the front and one on the back). To top it off it looks great with a sharp, minimalist black design.
It's a mini-tower too, coming in at a little under the size of your typical Mid-Tower, which makes it a little more portable too. But whilst it's a compact little case, it's not
that
small and has more than enough room for our needs, even taking into account any basic upgrades you may wish to make down the line (it's got plenty of HDD bays, special SSD bays, and an optical drive bay should you want one). We just used this case for the example build in our
new eBook
and the case was a pleasure to work with and we can't recommend it enough for gamers on a budget.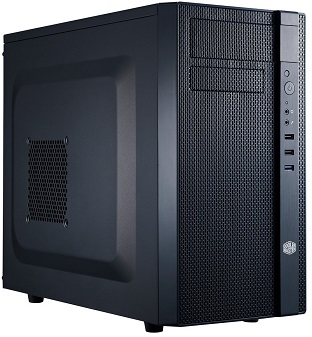 ---
Best Mid-Range Gaming Desktop Build: August 2017
---
(Top Performance & Reliability Under $1000)

*All prices listed were correct at the time of writing but may fluctuate from day to day.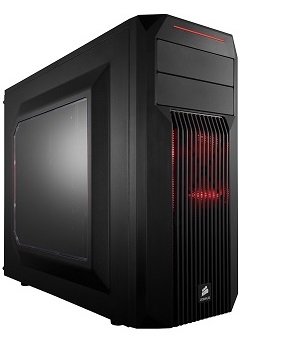 Expected Performance:
1080p (1920 x 1080):
Flawless
1440p (2560 x 1440):
Smooth
4K (3840 × 2160):
Average
The above is the expected average performance of this build for each main resolution in modern, graphically-demanding games on ultra settings (maximum in-game graphics settings).
Mid-Range Build: Parts-List Breakdown
This well-balanced, very high-performing and awesome-looking gaming desktop computer build boasts a brand new super-fast AMD Ryzen processor and a powerful GTX 1060 graphics card which is capable of flawless gaming in 1080p (full HD) and good performance in 1440p. It's also built to last, upgrade-friendly and newbie-friendly. Let's get into our component choices in more detail.
Graphics Card
First to what matters most to us gamers, the graphics card, and at this moment in time your best bet for a mid-range card is the GTX 1060. In fact, because AMD's competing cards (RX 570 and RX 580) are almost impossible to find right now due to a global shortage caused by the Bitcoin/Cryptocurrency craze (AMD cards work better for Bitcoin/mining builds), getting a 1060 is basically your only real choice. But that's fine with us; the 1060 is a mightily capable gaming card and with one in your new build (either the 3GB or 6GB versions) you'll dominate any game in 1080p on ultra settings, with performance in 1440p resolution being fairly good too.
Any version of the 1060 will do just fine really, but for this build we've opted for the
EVGA GeForce GTX 1060 6GB
because it's well-priced at the time of writing, it's a 6GB version which we'd recommend as it's more future-proof than the 3GB version, and it has good cooling. Feel free to opt for a 3GB variant as the performance difference in the games of today isn't that big.
Another thing worth noting; consider bumping up to a GTX 1070 grahpics card instead of the 1060 if you have more to spend than the $1000 target for this build yet the next
High-End Gaming Computer
is out of your price range. For example, if you have an extra 100 or 200 to spend on this build, get the 1070 as you'll see the biggest improvement compared to throwing your extra funds at any other part. Another great card that'll fit in well with this build is the RX 580 should you be able to find one that's both in stock and at a decent price. But overall, the 1060 is enough to dominate 1080p gaming now and into the future.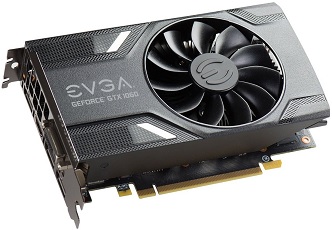 Processor
For a mid-tier gaming desktop computer the recently-released
AMD Ryzen 5 1600
is an excellent choice. This 6-core 3.7 GHz processor offers top bang for your buck when it comes to both gaming and other demanding non-gaming applications, and slightly edges out Intel's i5 range in our eyes in terms of current value. Though if you do opt for an Intel i5 instead of an AMD Ryzen, which is still a very good gaming CPU, don't forget to get an Intel compatible motherboard and check whether it comes with a cooler or not (Intel CPU's with a "K" are meant for overclocking and typically don't come with coolers).
Speaking of coolers, the one that comes with the Ryzen 5 1600, named the Wraith Spire, is very solid and all you need to keep your CPU running cool and quiet assuming you won't be overclocking. We don't generally recommend overclocking for beginners, but if you do want to overclock to squeeze out a little extra 5-10% performance then make sure to get a third-party/aftermarket cooler as your CPU may run hotter and louder than the stock cooler is designed to handle.
Motherboard
The
Gigabyte GA-AB350
is a good no-frills, well-priced motherboard that'll serve as a great base for your AMD Ryzen build, and aesthetically fits in well with the red-themed case. Gigabyte produce some of the best value, easy-to-use motherboards around and this one is no exception. It has a total of four memory sockets, which will leave you with two free sockets for upgrades if you choose the memory we've suggested for this custom build (the board has support for up to 64GB).
The GA-AB350 also covers all the basics you'd expect from a good gaming motherboard such as nice built-in audio, LAN, plenty of USB ports and add-on card sockets. It doesn't support SLI, however the GTX 1060 doesn't officially support SLI anyway. Plus, we don't recommend SLI in general as it comes with added issues and isn't well supported by games anyway.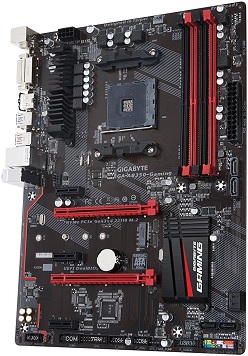 RAM
The memory we've included in this month's mid-range build is the
Ballistix Sport LT 16GB (2x8GB, DDR4, 2400 MHz)
which is a ton of well-priced, fast (don't need more than 2400 Mhz when it comes to gaming) RAM from a reliable name in the memory game, and the latest type (DDR4) which you should always aim for when building a new rig.
16GB really is quite a lot, and the maximum amount we can recommend for gaming; anything more and you won't see a difference unless you're using highly-demanding non-gaming programs (pro video production, 3D rendering/animation, etc) and/or doing a ton of multitasking.
In fact, you could even go for 8GB of RAM instead and hardly notice a difference when it comes to modern gaming. Do so if you're looking to cut costs on this build without sacrificing many frames per second, otherwise just stick with 16GB when building a PC around this price as it means you're set for the future and won't have to worry about upgrading. But yeah, anything over 16GB is overkill for gaming, unless you have the money to burn and building an extreme over-the-top system to last you as long as humanly possible (like the second build in our
high-end builds
section).
Storage
The standard 1TB hard drive from the previous budget build remains the same, however for the mid-range PC we've also included an SSD in the great bang-for-your-buck
SanDisk SSD PLUS 120GB
. You don't NEED an SSD, but these days they're fairly affordable and it's a very nice addition to any build that will allow you boot your PC (and any programs you throw on the drive) quite a bit faster.
Power Supply
Some beginners make the tempting mistake of picking the cheapest PSU they can get their hands on in order to cut costs on their build thinking that it doesn't matter, but as we've said before this is the last thing you want to do. The quality of your PSU does matter and it's a definite risk to have a low quality unit powering your expensive components.
For this month's mid-range build we have the good quality, reliable
EVGA GQ 650
. Can't go wrong with a good EVGA PSU - they have really shaken up the PSU market in recent times and for good reason as they have many value for money offerings at the moment. The 650W GQ is gold-rated which is a nice bonus even though the rating isn't the only determining factor of quality. 650 watts is also more than enough with plenty of room for any type of upgrade you may wish to make to this custom computer down the track.
Case
To top off the mid-range gaming build we have the
Corsair Carbide SPEC-02 Mid-Tower
- one of the better mid-tier cases for gaming builds out there right now that will house your precious parts well. It's got the quality, features and looks of more expensive cases, yet it's only around 60 bucks.
It's got a clear side panel so you can see the insides of your new masterpiece in action, and it comes with 2 pre-installed fans which is all the airflow you need for this setup. It's also got 2 USB 3.0 front ports, decent cable management features, and plenty of room for upgrades. If this case doesn't float your boat, another excellent value choice that doesn't sacrifice on quality is the
Cooler Master HAF 912 Mid-Tower
which will also work just fine with all of these parts.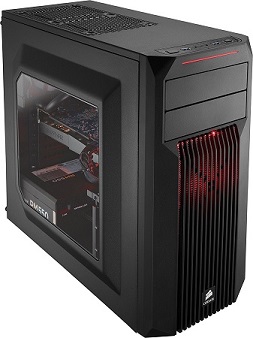 ---
Recommended Operating System & Peripherals/Accessories
---
Recommended Operating System:
Note this is the USB flash drive version, but if you plan on getting an optical drive for your build then we'd suggest getting the
disc version of Windows
as it's usually cheaper.
Recommended Monitors:
See Also:
Best Gaming Monitors
Recommended Keyboards/Mice
See Also:
Best Gaming Mice
and
Best Gaming Keyboards
Recommended Headset:
See Also:
Best Gaming Headsets
Recommended Speakers:
See Also:
Best Gaming Speakers
For either builds above, you may want to consider the following add-on components (DVD drive, wireless card, mouse mat and anti-static wristband) depending on your wants/needs, however they are all optional and not required for a complete build.
---
How to Build Your Gaming Desktop Computer
---
If you're putting together your very first budget/mid-range gaming PC you can rest assured that these days it's fairly straightforward and kinda like Adult lego. You don't need prior experience, but you'll need a step by step guide to do it the right, safe way and avoid any problems and frustrations.
Installation Articles - If you don't need too much guidance and are already fairly confident with going ahead and building your PC, check out our collection of free installation articles here.


Installation eBook - For those craving the most guidance and detail possible with accompanying images, this is our comprehensive eBook on building your PC from scratch that also includes further topics such as all software installations, PC maintenance, troubleshooting, cable management, upgrades, optimization, cleaning and more.
---
Home | About Us | Contact Us
Budget Gaming Builds | High-End Gaming Builds
Best Video Cards | Best Processors | Best Laptops
Disclaimer | All Articles | Our Book | FB Page
---