Recommended Gaming Desktop Computer Builds: October 2016
(Best Builds for $500 and $900)
Welcome to the latest gaming desktop computer builds where we show you how to spend your hard-earned money wisely when building a new gaming PC this month to maximize gaming performance, reliability and lastability.
We update these builds every single month without fail by doing the extensive, painstaking research for you so you don't have to spend countless hours trying to keep up with the ever-changing (and often confusing) PC hardware market.
We have 4 custom build examples to suit any type of budget, starting with the $500 budget build for gamers on a tight budget who still want great performance in the latest games. Then there's the $900 Mid-Range Build for even better performance. If you want to step things up a notch then be sure to check out this month's
High-End Gaming Builds
. Enjoy, and long live PC gaming!
Note that we link all parts to
Amazon
because their prices are hard to beat and service/shipping is world-class.
---
The Budget Gaming PC Build
---
(Best Performance & Reliability for $500)

* All prices listed were correct at time of writing but can change at any time.


The Budget Gaming Build: Summary
This month's budget gaming PC build is a great example of how to put together a very capable, reliable gaming system without breaking the bank. As well as having excellent performance in the latest PC titles, it's also great for any other applications and general use (just like any of these builds).
The build boasts the latest generation i3 processor, a solid yet low-priced motherboard, a great bang for your buck gaming video card, and a large 8GB of DDR4 RAM. To top it off you have a nice mid-tower case that is both functional and stylish, a reliable 500 watt power supply, 1TB hard drive, and a DVD drive (which is optional these days with the rise in popularity of game download services like Steam).
This setup will easily outperform many pre-built computers that sell for WAY more than this, and you'll also find it to be more powerful than consoles when it comes to gaming. Let's take a closer look at each carefully-considered component and why they made the cut.
Processor / CPU
This month we've ditched the previously recommended AMD FX-6300 and have included the
Intel Core i3-6100 3.70 GHz
instead which is now our top recommended budget gaming CPU. It's the latest 6th generation "Skylake" processor and will outperform the AMD FX-6300 in most cases.
The i3-6100 has faster single-core performance, and whilst it's essentially a dual-core processor it can still handle multi-threaded games easily due to its hyperthreading technology. It also comes with a decent CPU cooler which is good enough to keep things running nice and cool (no need to buy a separate cooler).
Motherboard
The
ASUS H110M-K
is a basic Skylake DDR4 motherboard that has everything you need for a build of this nature, though don't expect any fancy features for the price. You can't go wrong with Asus boards as they are known for producing some of the best value for money, reliable motherboards. This one is no exception and has proved to be a popular choice for gamers putting together an entry-level system.
RAM / Memory
As for RAM, you've got the latest DDR4 memory, namely the
Kingston HyperX FURY Black 8GB 2133MHz DDR4
. This model is well-priced and one of best-selling 8GB RAM sticks right now, and Kingston are a reliable memory manufacturer. Enough said. 8GB is definitely the sweet spot for gaming right now.
Yeah you could shave off a few dollars by going for 4GB and get away with it (ie not noticing much of a difference in gaming performance), however now we're starting to see some games really benefiting from 6GB and above so you might aswell get 8GB and be done with it. RAM is fairly cheap. As for getting more than 8GB? Waste of money for a budget-friendly build and better spent somewhere else.
Graphics Card
Now to the all-important video card which is the biggest factor when it comes to gaming performance. We've chosen the
EVGA GeForce GTX 950 2GB
for this build because it's the current best bang for your buck graphics card around the $150 mark. It's powerful enough to play any of the latest games on the market quite well, and the 2GB of video memory that it comes with is also more than enough for games of today.
Hard Drive
Now to your storage and we've got the very popular
Western Digital 1TB Blue
which is great value and the most reliable brand name for hard drives. 1TB is also more than enough to please most, however since this is a "budget" PC you could save a little extra money by opting for a smaller size such as 500GB (just stick with either Western Digital or Seagate).
Case
As for the case, it can sometimes be a little tricky finding a real cheap yet good-quality and reliable case, but the
Rosewill Galaxy-01 ATX Mid Tower
case fits our needs nicely. It's an excellent value for money choice that will comfortably and securely house all of your precious components, and with plenty of room to spare for any potential upgrades. It has good airflow and cooling with 3 pre-installed fans, plenty of ports and drive bays, blue LED lighting which looks cool, and is beginner-friendly (easy to work with). Can't go wrong for the price.
Power Supply
Now onto the often-overlooked PSU (don't underestimate the importance of a decent PSU) and we have the
EVGA 500 B1 80+ BRONZE, 500W
which is an excellent choice to reliably power your gaming PC. It's a decent quality unit and has a 80+ Bronze rating which is great, and 500 watts is more than enough for our needs including plenty of wiggle room to accommodate any potential upgrades you may wish to make later.
Optical Drive
Finally there's the
Asus DVD Burner
which is a reliable well-priced drive from a good company which allows you to read and write many different DVD and CD formats. These days an optical drive such as this is actually totally optional, as you could install your Operating System via a USB drive and download all your PC games through the online service Steam.
Some people will still want a drive in their PC though for things like playing movies, playing older games, or perhaps they may buy the occasional game on disk. But yeah, it's totally your call.
Budget Gaming Build: Final Thoughts
So that makes up the core components for this month's budget gaming desktop computer which will have you playing any PC title on the market with quite decent performance. Remember you can either use this build exactly as is, or use it as a base and make modifications to suit your specific budget and needs (just remember to check for compatibility and other potential issues).
Here's an easy example - if you have a little more than $500 to drop on your new build for more performance yet the next "Mid-Range" Gaming Desktop Computer Build is out of your price range, consider swapping the recommended GeForce 950 for a more powerful card such as the RX 480 recommended in the mid-range build.
For gaming, the graphics card is always the first component you should consider putting money into. In this case you won't need to change anything else in this configuration as the RX 480 will fit in with the budget build's component list without problem (yes, even with the same power supply).
Also, keep in mind that this build contains only the PC tower and not the operating system software (Windows) or peripherals (keyboard, mouse, monitor etc). However, if you scroll to the bottom of this page we've compiled our top-value picks for these parts.
Now it's time for the next build for those who have a larger budget to work with to build an even faster gaming machine.
---
The Mid-Range Gaming PC Build
---
(Best Performance & Reliability for $900)

* All prices listed were correct at time of writing but can change at any time.


The Mid-Range Build: Summary
This well-balanced, very high-performing gaming PC build will take on almost anything you throw at it with ease. With a super-fast i5 processor, a massive 16GB of the latest DDR4 RAM, and the latest RX 480 graphics card, it'll pack enough punch to play any game on the market very nicely (and for a while to come).
Don't be fooled by the name, just because we've dubbed it the 'mid-range' build doesn't mean it's not capable of high-end gaming performance. Let's take a closer look at the individual component choices, not including the components that remain from the previous budget build (hard drive and DVD Drive stays the same - can't go wrong with them).
Motherboard
Our current top pick for a motherboard under the $150 mark is the popular
ASUS H170 PRO
. This board makes for a sturdy, reliable base for the mid-range build and has all the features that you would need. As mentioned before, ASUS motherboards are a pretty safe bet in terms of great value for money, and the H170 is no exception.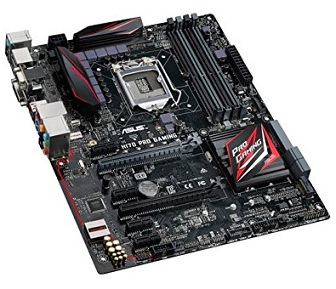 Processor
For a mid-range gaming build the
Intel Core i5-6500 3.20 Ghz
is your best bet for a build around this price range if you know that you won't be overclocking. It'll a ton of processing power to dominate any game (no, you don't NEED an i7 for great gaming performance. For anyone who wishes to overclock then you will want to get the more expensive "unlocked" version of this CPU, AKA the 6600K (and you'll want to get an aftermarket cooler for it as well).
RAM / Memory
We've included a huge 16GB of fast
Kingston HyperX FURY Black 16GB (2x8GB) 2133MHz DDR4 RAM
which is the icing on the cake for this build to allow for seriously good gaming performance for a long time to come. 16GB isn't necessary for gaming at this point in time (heck, even 8GB could be considered a little overkill for current PC titles), however it makes your build just that little bit more future-proof so that you won't have to ever worry about upgrading your RAM in the future.
Plus, the extra memory may come in handy when running demanding non-gaming applications and multitasking. Feel free to stick with 8GB of RAM though like in the previous budget build if you want to save a few bucks - it's your call and will depend on your budget.
Graphics
For a gaming PC build around this price, right now one of the best choices would have to be the
Sapphire Radeon NITRO+ RX 480 4GB
which gives you high-end gaming performance without the crazy-high price tag. I've opted for the 4GB version instead of the 8GB version because 4GB of video memory is more than enough to take full advantage of any game on the market now and into the foreseeable future.
SSD
These days, since SSDs (Solid State Drives) are quite affordable, it's a great idea to include one in a new PC build - unless you're on a tight budget (like in the previous budget build). The
Crucial MX300 275GB
is hard to beat in terms of size and performance for the money.
Crucial SSDs are very speedy, reliable and great value for money. With a generous 275GB you can install your operating system and a bunch of other frequently-used programs (or games) onto it for seriously fast loading. Once you get an SSD, it'll be hard to go back.
We've also included a large 1TB traditional Western Digital hard drive to store all of your other data on. Of course, pick whichever size you want, and yes if you wanted to you could simply get one single large SSD to store everything on (but large SSDs can get real pricey).
Case
The
Cooler Master HAF 912 Mid Tower
is an excellent value pick to house all of your expensive components and is easily one of the best choices compared to other cases around this price. It has all the features you need, and is as sturdy and high-quality as other cases that go for a lot more than this. It's also easy to work with for beginners and is designed in a way that makes cable management a breeze. The built-in cooling and great design tops it off.
Power Supply
Next up is the often overlooked power supply where some beginners make the tempting sin of picking the cheapest one they can get their hands on. The thing is, the quality of your PSU does matter and it's a definite risk to have a low quality unit powering an expensive setup of high-end parts.
For this month's mid-range build we have the high-quality and reliable
EVGA 650 GQ 80+ GOLD 650W ECO Semi Modular
. Can't go wrong with a good EVGA PSU - they have taken over the PSU market in recent times and for good reason. The 650W GQ is a gold-rated unit which is ideal for a mid to high-end PC, and is also SLI-compatible too if you end up going down that route. 650 watts is more than enough with plenty of room for any type of upgrade (yes, even a dual 970 SLI setup).
Mid-Range Build: Final Thoughts
So that makes up the mighty mid-range build for this month. A build of this caliber is more than enough for the vast majority of PC gamers. You'd only really need a more powerful PC if you want absolutely flawless performance in high resolutions, or you simply have the cash to burn and want to future-proof the heck out of your system to build a true
high-end gaming desktop
. Our operating system and peripheral suggestions for the above builds are up next.
---
Recommended Operating System & Accessories
---
The above gaming desktop builds include the components that make up your computer tower, but for a working PC you'll need operating system software, a monitor, a keyboard, a mouse, and either some speakers or a headset. We've analyzed the current market to compile our top picks for these accessories below to help you get the most bang for your buck. We've included multiple options and choosing between them comes down to your budget and personal preference.
Recommended Operating System
We suggest Windows 10 for a new PC build these days, however if you wish to choose either Windows 8 or 7 instead due to personal preference then that's totally fine and they will work with any of these builds without any problems. It's totally up to you, but if you're a beginner and confused as to which you should pick then just stick with Windows 10 as it's the latest version. Also note that if you're not planning on installing an optical drive (ie a DVD drive), remember to get the USB version instead of the DVD version listed below.
Recommended Keyboards & Mouse Combos
Recommended Gaming Monitors
Recommended Gaming Headsets
Recommended Gaming Speakers
Recommended Wifi Adapters
---
The High-End Gaming Builds
---
If you have the money to spend on an absolute powerhouse high end machine then be sure to check out our recommended high-end gaming desktop computer builds to help make the selection process easy as pie. Once again, all the parts are carefully selected with both maximum gaming performance and reliability in mind.
These builds will dominate PC gaming even on ultra settings and high resolutions, and they'll obviously have longer lastability allowing you to enjoy flawless gaming for years to come without needing to upgrade. Take a look at the current high end builds for yourself:
October 2016 High-End Gaming Computer Builds
---
Building Your New Gaming PC
---
If you're putting together your very first gaming desktop build, you can rest assured that these days it's a very straightforward process and you don't need any prior experience. Basically, if you can build Lego, you can build your own computer without problem. Check out these resources if you want step by step guidance:
Prefer reading? Check out our installation guides. Alternatively, take a look at this step by step guide here.
Prefer videos? This YouTube tutorial is popular and for good reason: it's easy to follow. That video is part 2 which covers the actual building process - you don't need to watch part 1 as it just covers things you probably already know like "what is a computer" etc.
Good luck with your new killer build, and long live PC gaming ;)
---
Need Further 1-on-1 Help?
---
If you need more of a helping hand with choosing the absolute best parts for your exact wants and needs we do offer a
personalized parts-list email support service
dedicated to first-time builders. For a fraction of the price you'd pay to get help from a local technician we can do all of the time-consuming, confusing hardware research for your specific PC build so that you can be totally confident in ordering the best parts.
---
Home | About Us | Contact Us
Budget Builds | High-End Builds | Parts-List Service
Privacy/Disclaimer | All Articles
---