Recommended Gaming Desktop Computer Builds: December 2016
(Best Builds for $500 and $800)
Last Updated: Nov 28, 2016 (Cyber Monday)
Welcome to the latest gaming desktop computer builds where we show you how to spend your hard-earned money wisely when building a new cost-effective gaming PC this month to maximize gaming performance, reliability and lastability.
We update these builds every single month without fail by doing the extensive, painstaking research for you so you don't have to spend countless hours trying to keep up with the ever-changing (and often confusing) PC hardware market.
We have 4 custom build examples to suit any type of budget, starting with the $500 Budget PC Build for gamers on a tight budget who still want great performance in the latest games. Then there's the $800 Mid-Range PC Build for even better performance.
If you want to step things up a notch then be sure to check out this month's
High-End Gaming Builds
too. Note that we link all parts to Amazon because their hardware prices are typically hard to beat and service/shipping is world-class (and you also get free 2-day shipping with an Amazon Prime account).
---
The Budget Gaming PC Build
---
(Best Performance & Reliability for ~ $500)
The Budget Build: Full Breakdown
This above budget gaming PC build for this month is a great example of how to put together a very capable, reliable gaming system without breaking the bank. As well as having excellent performance in the latest PC titles, it's also great for any other applications and general use (just like any of these builds).
The build boasts the latest generation i3 processor, a solid yet low-priced motherboard, a great bang for your buck gaming video card, and a large 8GB of DDR4 RAM. To top it off you have a nice mid-tower case that is both functional and stylish, a reliable 500 watt power supply, 1TB hard drive, and a DVD drive (which is optional these days with the rise in popularity of game download services like Steam).
This setup will easily outperform many pre-built computers that sell for WAY more than this, and you'll also find it to be more powerful than consoles when it comes to gaming. Let's take a closer look at each carefully-considered component and why they made the cut.
Motherboard
The
Gigabyte GA-H110M-A
is an excellent little Skylake DDR4 motherboard that has everything you need for a build of this nature, though of course don't expect any fancy features for the price. Gigabyte are known for producing some top value for money and reliable mobos, and this one is no exception and will serve this build well.
Processor / CPU
This month we've ditched the previously recommended AMD FX-6300 and have included the
Intel Core i3-6100 3.70 GHz
instead which is now our top recommended budget gaming CPU. It's the latest 6th generation "Skylake" processor and will outperform the AMD FX-6300 in most cases.
The i3-6100 has faster single-core performance, and whilst it's essentially a dual-core processor it can still handle multi-threaded games easily due to its hyperthreading technology. It also comes with a decent CPU cooler which is good enough to keep things running nice and cool (no need to buy a separate cooler).
RAM
As for memory, you've got the latest DDR4 memory, namely the
Crucial Ballistix Sport LT 8GB DDR4 2400 MT/s
. Can't really go wrong with Crucial RAM, and 8GB is definitely the sweet spot for gaming right now and all you need for flawless performance.
Yeah you could shave off a few dollars by going for 4GB and get away with it (ie not noticing much of a difference in gaming performance), however now we're starting to see some games really benefiting from 6GB and above so you might aswell get 8GB and be done with it. RAM is fairly cheap. As for getting more than 8GB? Waste of money for a budget-friendly build and better spent somewhere else.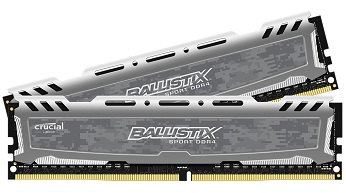 Graphics Card
Now to the all-important video card choice which is the biggest factor when it comes to gaming performance. This month we've introduced the all-new
EVGA GeForce GTX 1050 Ti SC 4GB
which has replaced the previously recommended GTX 950 as the current best bang for your buck card around the $150 mark.
The GTX 1050 Ti is an excellent buy for gaming on a tight budget and has been released to great reviews from reliable sources around the web, and we predict it's going to stay as our #1 recommended budget card for a while to come here in these monthly build write-ups.
With this card in your rig you can expect to play modern PC titles very, very nicely in full HD (1080p resolution) - even with the in-game graphic settings cranked up. Plus, with it's nice amount of on-board VRAM, 4GB GDDR5 to be exact, you'll be able to play the latest games smoothly for quite a while.
General Gaming Performance for 1050 Ti 4GB:
1080p (1920 x 1080): Smooth - Very Smooth
1440p (2560 x 1440): Playable
4K (3840 × 2160): Unplayable
The above guidelines gives you an overview of what sorta performance you can expect for each main resolution size in modern graphically-demanding games on ultra settings (in other words with the in-game graphic settings cranked up to maximum). This also takes into account the budget build's i3 processor and 8GB of DDR4 RAM. In older and less-demanding games you can obviously expect even better performance.
Hard Drive
Now to your storage and we've got the very popular
Western Digital 1TB Blue
which is great value and the most reliable brand name for hard drives. 1TB is also more than enough to please most, however since this is a "budget" PC you could save a little extra money by opting for a smaller size such as 500GB (just stick with either Western Digital or Seagate).
SSD (optional)
We've included a Solid State Drive in the budget build, namely the great bang-for-your-buck
Kingston Digital 120GB
, however it's a totally optional component. You don't NEED an SSD, but these days they're quite affordable and it's a great addition to any build that will allow for much storage.
It's very simple to set up as well for beginners - you simply install your OS and any frequently-used programs/games on there and then you make your Western Digital hard drive as the secondary drive where you stash all of your other files.
Case
The
Rosewill Galaxy-01 ATX Mid Tower
case fits our needs nicely as a budget-friendly enclosure that doesn't sacrifice much on quality. It's sturdy enough and will comfortably house all of your precious components with room to spare.
It's got decent airflow and built-in cooling with 3 pre-installed fans, plenty of ports (including a USB 3 port on the front) and drive bays, and is easy to work with for first-time builders. To top it off it has a nice blue LED lighting effect. Overall a great buy and easily one of the best gaming PC cases under $50.
Power Supply
Now onto the often-overlooked PSU (don't underestimate the importance of a decent PSU) and we have the
EVGA 500 B1 80+ BRONZE, 500W
which is an excellent choice to reliably power your gaming PC. It's a decent quality unit and has a 80+ Bronze rating which is great, and 500 watts is more than enough for our needs including plenty of wiggle room to accommodate any potential upgrades you may wish to make later.
Recommended OS and Peripherals:
---
The Mid-Range Gaming PC Build
---
(Best Performance & Reliability for ~ $800)
The Mid-Range Build: Full Breakdown
This well-balanced, very high-performing and attractive gaming PC build will take on almost anything you throw at it with ease. With a super-fast i5 processor, a massive 16GB of the latest DDR4 RAM, and the latest RX 480 graphics card, you can expect to experience flawless gaming in 1080p (full HD) and also excellent performance in 1440p.
Don't be fooled by the name, just because we've dubbed it the 'mid-range' build doesn't mean it's not capable of high-end gaming performance. It'll also look seriously awesome once setup with a red and black theme including LED lighting, matching MSI motherboard and graphics card, and a clear glass side panel on your case to show off the cool insides.
Let's take a closer look at the individual component choices (excluding the 1TB hard drive which stays the same - of course if you need more than 1TB then go right ahead).
Motherboard
First of all we have the
B150 GAMING M3
motherboard which is a reliable, sturdy, well-priced (and seriously good looking) base for a Skylake DDR4 gaming build of this caliber. MSI produce some great value for money boards and this one is a great example of that.
It has a nice list of features too with everything you would likely need including plenty of ports, CrossFire support should you choose to add another video card later on, and good quality LAN and on-board sound.
Processor
For a mid to high-end PC the
Intel Core i5-6500 3.20 Ghz
is arguably the best performance for your money assuming you won't be overclocking your CPU (it's not an unlocked CPU meaning that it's not meant for overclocking). It comes with a decent stock fan which is adequate for our needs.
For more advanced builders who do plan on overclocking you'll want to get the unlocked 6600K version, as well as getting an aftermarket CPU Cooler (you'll also need a new 'Z' series motherboards).
RAM
We've included a huge 16GB of fast
Corsair Vengeance LPX 16GB (2x8GB) DDR4 2133MHz
which is the icing on the cake for this build to allow for seriously good gaming performance for a long time to come. Truth is, 16GB isn't necessary for the far majority of modern titles and you actually won't notice a difference in performance between having 8GB (for gaming that is - other demanding applications will benefit from the extra RAM tho).
However at this price point going for 16GB does have its merits to avoid having to upgrade later down the track, and RAM isn't the most expensive hardware anyway. Overall it's your call whether to go with 16 or 8 (or even 12), so if you want to save 50 bucks or so on this build (and not notice a drop in gaming performance) then go right ahead and get the 8GB from the previous build.
Graphics
Now to what matters most, and at this moment in time if you're building a mid-range gaming build under the $1000 mark it's hard to go past the powerful yet well-priced
MSI GAMING RX 480 GDDR5 4GB
. It'll have you absolutely dominating gaming in 1080p (full HD) on maximum settings and also fairing very well in higher resolutions.
We've gone for the 4GB version over the 8GB as it's the better cost-effective buy in our honest opinion (the difference in gaming performance between the two is minimal) - however if you do wanna splash the extra $50 or so on the 8GB model to further future-proof your build that little bit more then go right ahead.
Keep in mind that at this price point it's actually neck and neck between the 480 and NVIDIA's similar priced offering, the GTX 1060 (which comes in 3GB and 6GB versions). Performance is very close overall with some games seeing the 480 win out slightly, and vice versa. So if you wanna go for the 1060 then go right ahead - they're both great cards and either will serve you very well.
General Gaming Performance for RX 480 4GB:
1080p (1920 x 1080): Flawless
1440p (2560 x 1440): Smooth
4K (3840 × 2160): Playable
The above guidelines gives you an overview of what sorta performance you can expect for each main resolution size in modern graphically-demanding games on ultra settings.
SSD (optional)
Since SSDs (Solid State Drives) have become quite affordable it's a great idea to include one in a new PC build unless you're on a real tight budget. The
Crucial MX300 275GB
is hard to beat in terms of size and performance for the money.
Crucial SSDs are very speedy, reliable and great value for money. With a generous 275GB you can install your operating system and a bunch of other frequently-used programs (or games) onto it for seriously fast loading. Once you get an SSD, it'll be hard to go back.
We've also included a large 1TB traditional Western Digital hard drive to store all of your other data on. Of course, pick whichever size you want, and yes if you wanted to you could simply get one single large SSD to store everything on (but large SSDs can get real pricey).
Case
Now to the case, the
Corsair Carbide Series SPEC-01 Mid Tower
, which is truly excellent value and hard to fault at this price. It's got the sturdiness, features and looks of an expensive case - yet at a very budget-friendly price. Can't go wrong with this one.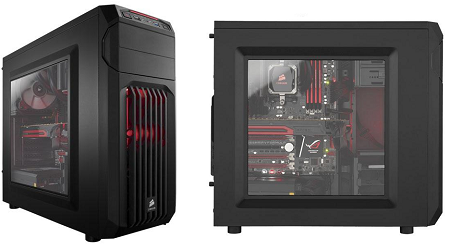 Power Supply
Next up is the often overlooked power supply where some beginners make the tempting sin of picking the cheapest one they can get their hands on. The thing is, the quality of your PSU does matter and it's a definite risk to have a low quality unit powering an expensive setup of high-end parts.
For this month's mid-range build we have the high-quality and reliable
EVGA 650 GQ 80+ GOLD 650W ECO Semi Modular
. Can't go wrong with a good EVGA PSU - they have taken over the PSU market in recent times and for good reason. The 650W GQ is a gold-rated unit which is ideal for a mid to high-end PC, and is also SLI-compatible too if you end up going down that route. 650 watts is more than enough with plenty of room for any type of upgrade (yes, even a dual 970 SLI setup).
Recommended OS and Peripherals:
---
Optional Add-On Components for Budget & Mid-Range Builds
---
For either builds above, you may want to consider the following add-on components (DVD drive, wireless card, mouse mat and anti-static wristband) depending on your wants/needs, however they are all totally optional and not required for a complete build.


Asus DVD Drive: These days you don't require an optical drive (ie the DVD drive above) as most people download all their games using Steam, but the above Asus drive is what we'd recommend if you still want one. Note that if you DO get a DVD drive, you may as well get the Windows 10 disc-install version instead of the USB-install version that we've suggested above as the disc version is typically a little cheaper.
TP-Link Wireless Card: If you want your desktop to have wireless internet/networking capabilities you'll require a wireless adapter card such as this one which fits into your motherboard, although you can get USB dongle versions too (we prefer the card as it frees up a USB port). Whilst all motherboards support LAN/wired networking, they rarely have built-in wireless support unfortunately.
SteelSeries Gaming Pad - Totally optional but if your desk doesn't allow for smooth, comfortable mouse movement then it's worth picking up a cheap decent pad like this one to improve your gaming experience. Can't go wrong for the price.
Anti-Static Wrist Band - This is something you wear whilst building a PC to avoid damaging your precious components with anti-static electricity, however it's totally optional as you can apply the same effect by constantly grounding yourself by touching your case with one hand before handling your hardware (see more in our PC building guide). If you wish to take extra precaution though, get the wrist band as it costs nothing and can give extra peace of mind.
---
The High-End Gaming Builds
---
If you have the money to spend on an absolute powerhouse high end machine then be sure to check out our recommended high-end gaming desktop computer builds to help make the selection process easy as pie. Once again, all the parts are carefully selected with both maximum gaming performance and reliability in mind.
These builds will dominate PC gaming even on ultra settings and high resolutions, and they'll obviously have longer lastability allowing you to enjoy flawless gaming for years to come without needing to upgrade. Take a look at the current high end builds for yourself:
The High-End Gaming Computer Builds (December 2016)
---
Assembling Your Gaming PC
---
If you're putting together your very first gaming desktop computer, you can rest assured that these days it's a very straightforward process and you don't need any prior experience. Basically, if you can build Lego, you can build your own PC. However, as simple as it is, if you're brand new it helps a lot if you have a step by step guide by your side to make the process even easier and to avoid any potential problems.
---
---
Home | About Us | Contact Us
Budget Builds | High-End Builds | Best Laptops
Build Help | Privacy/Disclaimer | All Articles
---