---
The High-End Gaming Computer Builds: September 2017
---
(Best PC Builds for Under $1500 and $2000)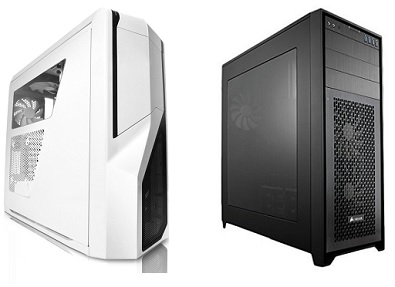 Welcome to the latest high-end gaming computer builds for this month showing you how to maximize gaming performance, reliability, cooling (oh, and looks) for your hard-earned money when building a top-tier custom rig.

Don't stress about choosing the very best parts on the market right now; we've done the hard-yards for you and picked out the current best bang for your buck hardware to compile 2 nicely balanced PC builds that won't let you down.
Simply put, these are two of the very best custom gaming desktops you can put together to stretch your money further, but of course feel free to use these PC builds as an example to make your own modifications. Both of these high-end builds are suitable for gaming in high resolutions such as 1440p and 4K, VR gaming, and both are well-equipped to include custom water-cooling should you venture down that path (we also have a detailed eBook on water cooling for anyone interested).
First up is the $1500 high-end build which maximizes a budget of under 1500 dollars, and then further down the page we have our killer extreme build which shows how to choose great parts for a custom gaming PC under 2000 dollars.
If these 2 high-end builds are out of your price range then don't worry as you can still build a high-performance PC that is capable of playing the latest games quite well for a much smaller budget (head on over to this month's Budget Gaming Builds if that's you). 

Without further ado, let's get into the current best high-end gaming builds, in our honest opinion. In other words, this is what we would personally buy ourselves for the following spending amounts:

---
Best High-End Custom Gaming Computer Build: Sept 2017
---
(Top Performance & Reliability Under $1500)
| PART | MODEL | PRICE* |
| --- | --- | --- |
| Graphics | EVGA GeForce GTX 1080 8GB Gaming | $570 |
| CPU | AMD Ryzen 7 1700 (8-Core, 16 Threads, 3.7 GHz) | $295 |
| Motherboard | ASUS Prime X370-Pro (ATX, DDR4, SLI) | $130 |
| RAM | Corsair Vengeance LPX 16GB (2x8GB, DDR4, 3200MHz) | $156 |
| HDD | Western Digital Blue 1TB (7200 RPM, 64MB Cache) | $50 |
| SSD | Crucial MX300 275GB | $95 |
| Power Supply | EVGA SuperNOVA G1 750 Watts (80+ Gold, Fully Modular) | $100 |
| Case | NZXT Phantom 410 (ATX, Mid-Tower, White) | $90 |
| | ESTIMATED TOTAL (US Dollars): | $1486 |

*All prices listed were correct at the time of writing but may fluctuate day to day.
Expected Performance:
1080p (1920 x 1080):
Flawless
1440p (2560 x 1440):
Flawless
4K (3840 × 2160):
Smooth
The above is the expected average performance of this build for each main resolution in modern, graphically-demanding games on ultra settings (ie: maximum in-game graphics settings).
High-End Build: Parts-List Breakdown
This month's high-end PC build has it all - amazing gaming performance with a heavyweight GTX 1080 8GB graphics card, super-fast all-new Ryzen 7 CPU, and a huge 16GB of speedy DDR4 RAM. It's also a well-balanced and reliable build, upgrade-friendly, fully VR-ready, and the icing on the cake is a seriously awesome sharp look inside and out (including matching white-themed components). Oh, and we've gone for a large SSD as the main drive (feel free to add a secondary storage drive if you need more space).
This build is also overclocking-friendly with an unlocked processor and overclock-friendly motherboard - but it's also a great setup for non-overclockers as well. A desktop of this caliber is enough power to please literally 95% of gamers out there and will have you playing the latest games very, very nicely for years to come.
Graphics Card
First things first, the
EVGA GeForce GTX 1080 8GB Gaming
will dominate any game on ultra settings in 1080p and 1440p, and perform nicely in 4K and VR. It doesn't get much better than this, and with a 1080 you'll be powering through modern games for years to come without issues. If this build is a little out of your budget, drop down to the GTX 1070 instead which will save you 100-150 dollars and you'll still be getting seriously good performance.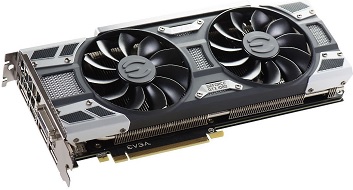 CPU and Cooler
As for your processor, we've gone for the very fast yet great bang for your buck
AMD Ryzen 7 1700 (8-Core, 16 Threads, 3.7 GHz)
which is all the processing power you need for flawless gaming and excellent multitasking with its 8 cores and 16 threads. Once again, the stock cooler it comes with is very decent if you won't be overclocking; otherwise get an aftermarket cooler.
Motherboard and RAM
The
ASUS Prime X370-Pro
is a well-priced feature-rich motherboard that's perfect for a build of this caliber, that also has SLI support for the enthusiasts out there who may consider adding a second 1080 to the mix later down the track.
As for memory we have the slick and super-fast
Corsair Vengeance LPX 16GB DDR4 3200MHz RAM
which matches the white theme of this build nicely, and more importantly is quality, speedy RAM from a trusted memory manufacturer. With these two modules you'll have another two spare sockets on your motherboard for future upgrades; the motherboard supports up to 64GB of RAM.
SSD
For this build we've opted for a nicely-sized SSD in the
Crucial MX300 275GB
. Definitely a good idea to include an SSD as it really speeds up the boot process (for Windows and any games/programs you throw on there). Whilst 275GB is a solid amount and will hold a nice amount of games/programs as well as Windows, feel free to go for a 500GB model or even going all out and ditching the traditional WD 1TB drive we've included in this build and getting a single large SSD (such as 1TB) as your main drive.
Power Supply
The
EVGA SuperNOVA G1 750 Watts
is a high-quality 80+ Gold-rated PSU (the second highest quality rating overall). EVGA produce some really top-notch power supplies these days and this one is a prime example. The last thing you want to do is go too cheap on your PSU and put all of your other precious components at risk; don't underestimate the importance of a good quality PSU, especially with a high-end system such as this one.
750 watts of power is also more than enough for this build even taking into account the beast of a video card and any potential upgrades you may wish to make in the future (yup, even a 1070 SLI setup should you get power-hungry down the track). To top it off the SuperNOVA G1 750 is also fully modular which helps in keeping your build nice and tidy by minimizing excess cabling.
Case
Last but not least we have our choice of enclosure to house the precious insides of your shiny new high-end gaming PC build. At this point in time the
NZXT Phantom 410 Mid-Tower
comes out on top as one of the very best choices for a value-for-money yet high-quality gaming PC case. We're big fans of NZXT in general and the Phantom 410 has the quality and features of an expensive top of the range case minus the huge price tag. At under 100 dollars at the time of writing it's seriously good value.
First of all, it looks amazing (pics don't do it justice) with a very sharp and sleek design. We chose white based on taste however feel free to pick whichever color you prefer as they're all the same (was hard to pick between the black and the white versions to show off on this page).
Aesthetics aside, all of the other important aspects of a good case are present. You've got excellent airflow and built-in cooling (comes with 2 x 140mm fans and 1 x 120mm fan), tons of room to work with (it's a generously-sized mid tower), plenty of ports/bays, and a bunch of other nice features.
Highly recommended, however feel free to pick a different case if this one isn't up your ally. Most mid or full tower sized cases will do the trick, but do your homework on compatibility especially if it's a mid tower (some may not have enough room for a build of this nature).
---
Best Extreme Custom Gaming Computer Build: Sept 2017
---
(Top Performance & Quality Under $2000)

*All prices listed were correct at the time of writing but may fluctuate day to day.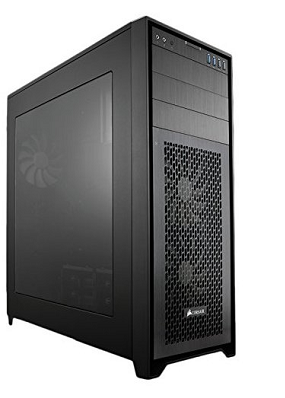 Expected Performance:
1080p (1920 x 1080):
Flawless
1440p (2560 x 1440):
Flawless
4K (3840 × 2160):
Excellent
The above is the expected average performance of this build for each main resolution in modern, graphically-demanding games on ultra settings (ie: maximum in-game graphics settings).
Extreme Build: Parts-List Breakdown
This is an example of the type of dream machine with all the bells and whistles that you can put together if you have some serious cash to drop on a new build. The experience of playing a great game on a machine like this will absolutely blow you away, assuming you also have a nice large, high-quality monitor and a solid set of speakers or headset to go with it. In an ideal world this is how game developers want their creations to be enjoyed. Let's take a look at the individual parts that make up this monster:
Graphics Card
For an extreme gaming rig it's an obvious choice to go for the current king of single GPUs (besides the Titan X) which is the almighty GTX 1080 Ti. We've gone for the
EVGA GeForce GTX 1080 Ti 11GB FTW3
version which comes with great cooling and aesthetics. This card will dominate gaming at any resolution and on max settings for a long while to come, and if you're not happy with this you never will be. Get ready for your gaming buddies to be green with envy when they find out you're rockin' this rocket GPU in your rig.
CPU and Cooler
The
Intel Core i7 7700K (4.20 GHz, Quad Core)
is the latest i7 chip from Intel that is perfect for an extreme setup. Like mentioned in the previous build, getting an i7 isn't necessary for maximum gaming performance right now in the latest titles (assuming your graphics card is up to scratch) and an i5 such as the one included in the previous high-end build is more than enough processing power - but if you're dropping around 2k on a new computer you might as well get the best of the best to maximize the lifetime of your machine (and it'll help in certain games too).
We've paired your i7-7700K CPU with the high-end quality of the
Noctua NH-D14
to keep your CPU as cool and quiet as possible. Can't go wrong with Noctua when it comes to cooling, they are the best of the best.
RAM
As for memory you have the
Corsair Vengeance LPX 16GB (2x8GB) DDR4 3200MHz RAM
. Feel free go higher than 16GB, although for 95% of people 16GB is absolutely more than enough for any tasks including demanding non-gaming stuff like streaming, virtual machines, production, heavy multi-tasking etc.
Even over the next few years you'll unlikely find any benefit of having more than 16GB, especially if gaming is your primary concern. You'll find that 8GB has been the gaming sweet spot for a fairly long time, and it'll take an eternity for 16GB to not only take that crown but for it to be outdated if that makes sense.
The only situation where I could comfortably recommend spending the cash on more than 16GB is if you simply have money to burn and wish to make your system last as long as humanly possible (or you're using freakishly-taxing applications to take over the world).
SSD
For this rig we've gone for a nicely-sized and very fast
Samsung 850 EVO 500GB SSD
paired with a large HDD for all your other files. This SSD HDD combo is a popular way to go, but feel free to get a larger SSD and forego traditional storage altogether if access, booting and loading speeds matter to you.
Power Supply
The
EVGA SuperNOVA G2 850 Watts
is a very high-quality, reliable, gold-rated unit that will not let your precious components down. 850 watts is plenty of power for the extreme build, even with the monstrous graphics setup and all of the other components (the GTX 1080 is actually fairly power-efficient to be honest).
You also have plenty of extra power at your disposal to take into account future upgrades you may wish to make, and yes - even if you went on a power-hungry rampage and threw another 1080 graphics card to the mix (if you do so, be sure to email us to make us jealous).
Discerning readers of our site will know we previously had the Seasonic X-850 in this spot over previous months, however the EVGA is right up there with the Seasonic and is currently (at the time of writing) a bit cheaper. But feel free to get either as they're both top-dog 850 watt PSUs that will reliably power an extreme system like this.
Case
The
Corsair Obsidian Series 750D Airflow Edition (Full Tower ATX)
is a full-tower case that has stellar quality, features and design. It's widely regarded as one of the top value high-end PC cases and does a better job than some cases that are a lot more expensive. This case has it all and will serve your extreme gaming PC build well for many, many years to come.
It comes with 3 built-in fans which is plenty to cool your rig, but feel free to add more for whatever reason such living in a hot climate or if you want to get some LED colored fans. I'd personally get the
Corsair Air Series AF140 LED
fans if I wanted some cool lighting that will look good with this build, however like I said the 3 stock fans will keep most people happy from a cooling standpoint. Your call, boss.
---
Best OS & Peripherals for High-End & Extreme Builds
---
Recommended Operating System:
Note this is the USB flash drive version, but if you plan on getting an optical drive for your build then we'd suggest getting the
disc version of Windows
as it's usually cheaper.
Recommended Monitors:
See Also:
Best Gaming Monitors for 2017
Recommended Keyboards/Mice
See Also:
Best Gaming Mice
and
Best Gaming Keyboards
Recommended Headsets:
See Also:
Best Gaming Headsets for 2017
Recommended Speakers:
See Also:
Best Gaming Speakers for 2017
---
Optional Add-On Components
---
For either builds above, you may want to consider the following add-on components (DVD drive, wireless card, mouse mat and anti-static wristband) depending on your wants/needs, however they are all optional and not required for a complete build.
---
Building Your High-End or Extreme Gaming Computer
---
If you're putting together your very first budget/mid-range gaming desktop computer you can rest assured that these days it's fairly straightforward and kinda like Adult lego. You don't need prior experience but it helps to have a step by step guide to do it the right, safe way and avoid problems. We have created two guides that covers everything you need to know:
Free PC Building Guide - If you don't need too much guidance and are already fairly confident with building your PC, check out our collection of free installation articles.


Premium PC Building Guide - For those craving more detail and specific guidance as well as images and diagrams to make it easier to follow along (and/or print out), this is our comprehensive eBook covering every step of building a gaming PC from scratch. It includes a full primer on hardware basics, more info on choosing components that we couldn't fit into the above build breakdowns, detailed troubleshooting tips, and more.
---
The Ultimate Step-by-Step Beginner's Guide on How to Build a PC
---
Tutorials, forums and blog articles on how to build a computer can only cover so much and are usually either incomplete, out of date, written/recorded by an expert who forgot what it's like to be a beginner (therefore confusing you further), and/or they rush or skip over important fundamentals or guidelines.
This year we spent many months on a singular mission to create the ultimate beginner-friendly, logically-ordered, easy-to-follow, image-filled and fully-up-to-date digital guide on every step of building your very first custom gaming rig from scratch, that doesn't rush things and that doesn't cut corners either. Download The Gaming Build Blueprint today and start your journey to cleverly-planning and safely-building your dream new machine, minus the headaches and confusion.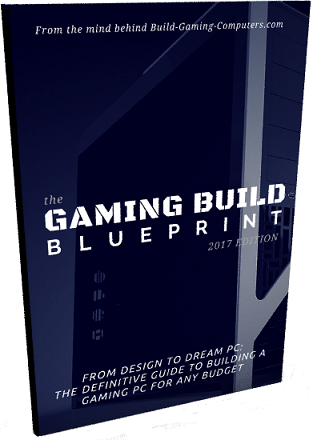 ---
Home | About Us | Contact Us
Budget Gaming Builds | High-End Gaming Builds
Best Video Cards | Best Processors | Best Laptops
Disclaimer | All Articles | eBook | Facebook Page
---