Recommended Custom Gaming Builds
May 2013 High-End Builds
Here are the latest high end gaming build examples for this month to help you get the most bang for your buck (ie the best gaming performance for the money) when choosing which components to put together for your new high end custom gaming build.
Firstly there is the high end build which maximizes performance for those on a budget of approximately 1500 dollars, and then there is the extreme gaming build which is for those with a fairly large budget of around 2500 dollars to build the ultimate gaming rig that will last you years playing the latest games smoothly.
If these builds are out of your price range, you can still build a capable high performing PC for quite a bit less (see the Budget and Mid Range Gaming Builds).
---
High End Gaming PC Build


Motherboard
ASUS Sabertooth Z77 Intel Series 7 ($245)
CPU
Intel Core i7-3770K Quad Core ($320)
CPU Cooler
Cooler Master Hyper 212 EVO ($35)
RAM
Corsair Vengeance 8GB (DDR3 1600 MHz) ($65)
Video Card
XFX Radeon HD 7970 (3GB) ($410)
Hard Drive
Western Digital Blue 1TB (7200 RPM, 64MB Cache) ($80)
Optical Drive
LG 12X Internal Blu Ray Burner ($60)
Case
Cooler Master HAF 922M Mid Tower ($100)
Power Supply
Corsair Enthusiast Series TX750 V2 750 Watts ($100)

Total Cost: $1412 (USD)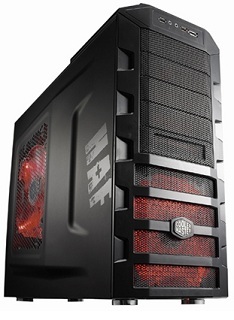 May 2013 High End Gaming Build
High End Build Summary:
This high end custom gaming build shows you how to maximize the components of a build under the $1500 mark to squeeze out as much gaming performance as possible for your money. With a build of this calibre you can expect a future-proof system capable of handling any game out right now comfortably on high setings. Let's take a closer look at the important parts that make up this build and why they were chosen.
The Components:
Like any good custom gaming build the CPU needs to be solid, and the Intel Core i7-3770K Quad Core Processor is the perfect choice for high end gaming. When coupled with the great value Cooler Master Hyper 212 EVO CPU Cooler your i7-3770K will run very cool and quiet. Although if you don't plan on overclocking and want to save a bit of money you could leave out the CPU cooler and just use the stock fan that comes with the i7-3770K which does a decent job.
The ASUS Sabertooth Z77 Intel Series 7 Motherboard is an excellent high quality and high value choice to provide a powerful base for your build, and comes with all the features and slots a gaming build requires these days. ASUS boards are known for quality and are also straightforward to work with. This motherboard also has a great design to it and will look awesome inside of your build, especially with a see-through case.
As for the RAM we have stuck with 8GB like the previous mid-range build because that's all you really need for gaming these days and any more would just be a luxury. The Corsair Vengeance 8GB 1600 MHz DDR3 RAM is quality memory and good value too. This RAM also looks awesome inside of your build which is a nice touch if you have a case with a see-through side panel.
Now to the important graphics card and we have gone with the XFX Radeon HD 7970 3GB Video Card which is our current pick for the best bang for your buck card for gaming around the 400 dollar mark. With a single 7970 you can expect to comfortably play any game on high settings, and if you ever need the extra grunt later on down the track in a few years or so you can always easily add another 7970 running in CrossFire mode which will give your system a huge performance boost.
The hard drive chosen is the Western Digital Blue 1TB Hard Drive which is great value and runs fast. Western Digital are one of the most reliable manufacturers out there. 1TB is a huge amount of storage and this will be more than enough for most gamers.
Next up is the case which houses all your important components, and the Cooler Master HAF 922M Mid Tower Case truly is amazing value. At only 100 dollars this case has it all and is perfect for a new gaming build. Along with a very aesthetically-pleasing design this case is strongly built and quality throughout with all the features that you need from a good case such as built-in cooling, efficient cable management, and plenty of room.
Now to the PSU which will power your build. It's never a good idea to go too cheap on the power supply as it is still an important piece of the puzzle. The Corsair Enthusiast Series TX750 V2 750 Watt Power Supply is a good choice in terms of value for money and 750 watts is definitely more than enough power for this build.
We have also included an internal blu-ray burner/player in this build, but this is entirely optional and if you want to save some money and don't care about blu-ray playback you can go for a standard DVD drive instead like in the previous budget builds.
That's all the core components covered for the high end build, and to make a working system you will require operating system software (we recommend 64-bit Windows 8), a mouse, a keyboard, a monitor, and then you're good to go.
Next up is the extreme gaming build which is recommended to those who have the money to burn to build the ultimate dream PC gaming machine to last you as long as possible without having to upgrade for years. This build is not for the feint of heart and is only recommended to hardcore gamers and those playing games on massive or multiple screens.
---
Extreme Gaming PC Build


Motherboard
ASUS Sabertooth Z77 Intel Series 7 ($245)
CPU
Intel Core i7-3770K Quad Core ($320)
CPU Cooler
Cooler Master Hyper 212 EVO ($35)
RAM
Corsair Vengeance 16GB (DDR3 1600MHz) ($120)
Video Cards
XFX Radeon HD 7970 (3GB) x 2 ($820)
Sound Card
ASUS Xonar Essence STX ($233)
System Drive
OCZ Agility 4 256GB Solid State Drive ($190)
Storage Drive
Seagate Barracuda 3TB (7200rpm, 64MB cache) ($140)
Optical Drive
LG 12X Internal Blu Ray Burner ($60)
Case
Cooler Master HAF 932 Full Tower ($160)
Power Supply
Corsair CMPSU-850AX AX850 (850 Watt) ($190)

Total Cost: $2513 (USD)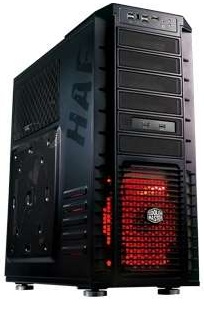 May 2013 Extreme Gaming Build
Extreme Build Summary:
The extreme gaming PC is an example of the type of dream build you can put together if you're lucky enough to have a fairly loose budget. You can expect to play the latest games flawlessly for a long while to come, even on massive viewing displays and with the game settings set to maximum.
The Components:
The extreme build has the same processor and motherboard as the previous high end build simply because it is a very powerful base for a gaming build. The Intel Core i7-3770K Processor will handle anything you throw at it and anything more would be considered overkill for gaming.
Now to the all important graphics setup and right now we think your best bet is a dual setup of XFX Radeon HD 7970 3GB video cards running in CrossFire mode. The two 7970 cards will tear through any game for a while to come, even on ultra high game settings and/or large viewing displays.
Also included in the extreme build is a super fast 256GB solid state drive where you can store your operating system, a massive 3TB Seagate hard drive to store all your games and files, a blu-ray burner/player, and a high-end ASUS sound card for the very best quality surround sound that will work wonders hooked up to a good set of speakers or headphones. If you don't require the absolute cream of the crop sound card on the market, opting for a cheaper sound card (or even no sound card at all as the motherboard has decent built-in sound capability) will save you some money on this build.
The case chosen is the Cooler Master HAF 932 Full Tower Case and it's everything you could ever want in a full tower case and many in the industry would agree that it's one of the best high end cases going around. There are many reasons to choose this case including efficient built-in cooling, good cable management, a quality and sturdy design throughout, and a huge amount of room to work with.
The power supply included for the extreme gaming build is the Corsair CMPSU-850AX AX850 850 Watt Power Supply. This unit is high quality with a certified gold rating, and it runs very quiet too. 850 watts is enough for the extreme build even with two 7970 video cards. The fact is that many novice builders overestimate how much power they really need.
The experience of playing a great game on this sort of machine will blow you away, especially if you have a nice fast-response monitor to play with. In an ideal world this is how developers want their games to be enjoyed! As we said before the extreme build isn't for everyone but those lucky few who are able to fork out so much money on a gaming rig will have the very best platform for high end gaming for years to come. Long live PC gaming!




Return to Budget and Mid Range Builds from High End and Extreme Builds.

---