Recommended Custom Gaming Builds
August 2015 High-End & Extreme Builds
Here are the latest high-end gaming build examples for this month to help you get the most bang for your buck (ie the best gaming performance for the money) when choosing which components to put together for your new high end custom gaming build.
Firstly there is the High-End Build which shows how to maximize gaming performance for a maximum budget around 1500 dollars. Then there's the Extreme Gaming Build which is for those lucky few who wish to put together the ultimate dream machine that will dominate any PC title for years and years.
If these builds are out of your price range, you can still build a capable high performing PC for a lot less (see the
Budget and Mid Range Gaming Builds
).
---
High-End Gaming PC Build
Motherboard
ASUS Z97-A
($150)
CPU
Intel Core i7-4790K
($340)
CPU Cooler
Cooler Master Hyper 212 EVO
($35)
RAM
Corsair Vengeance 16GB (2x8GB) DDR3 1600 MHz
($105)
Graphics Card
EVGA GTX 980 Superclocked 4GB
($520)
SSD
Samsung 850 EVO 250GB SSD
($98)
Hard Drive
Seagate Barracuda 2TB
($76)
DVD Drive
Asus 24x DVD Burner
($21)
Case
Corsair Carbide Series Black 400R Mid Tower
($105)
Power Supply
Antec 750 Watts 80 Plus Gold
($110)
Total Cost: $1560 (USD)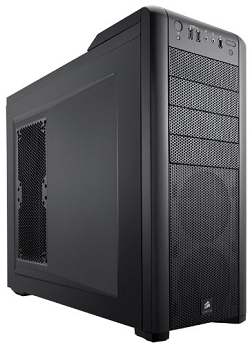 August 2015 High-End Gaming Build
High-End Gaming Build Summary
This build is a great example of how to maximize gaming performance and reliability for a budget around $1500. With a PC of this caliber you can expect a future-proof system capable of comfortably handling any game out right now even on high-ultra settings. Let's take a closer look at the important parts that make up this build and why they were chosen.
CPU and Cooler
The extremely powerful Intel Core i7-4790K Processor is hands down the best processor for gaming, period. Coupled with the Cooler Master Hyper 212 EVO CPU Cooler it'll run super quiet and cool.
If you don't plan on overclocking at all and want to save a bit of money you could just use the stock fan that comes with the i7-4770K which still does a fairly decent job at stock speeds.
Motherboard
For this build I've stuck with the trusty Asus Z97-A as in the previous "mid-range" build because it's a great platform for a capable machine. This board is a recent model from ever-reliable Asus and is sturdy, feature-rich and reliable.
RAM
As for the RAM I've gone with the Corsair Vengeance 16GB 1600 MHz RAM which is fast and reliable, and very popular among gamers. To be honest you could opt for 8GB of RAM if you wanted and you wouldn't really notice a difference when it comes to playing current titles on the market.
But if your wish is to future-proof this build as much as possible from the get-go (or you plan on using highly demanding applications such as CAD/3D development etc), then going for a massive 16GB of RAM makes sense.
Graphics Card
The EVGA GTX 980 Superclocked 4GB is a beast of a card that will absolutely dominate anything you throw at it. You'll definitely be the envy of other gamers - not everyone can afford to throw down half a G on a video card.
But if you're a hardcore gamer that loves 100% flawless gaming with the settings cranked up, it'll be money well spent! If you have a little more to spend on this build, consider the 980 Ti for slightly better performance. For most people though, the 980 will definitely do.
SSD and HD
I've included a fairly decently sized SSD (Solid State Drive) for super fast-loading of your operating system and other programs: the Samsung 850 EVO 250GB SSD.
This model is regarded as one of the best around and it's quite affordable - SSD prices have dropped quite a bit recently. Then there's also the Seagate Barracuda 2TB standard hard drive where you can store all of your other files that don't fit on your mighty SSD.
Case
Now to the Corsair Carbide Series Black 400R Mid Tower which has the quality and features of an expensive top of the range case minus the huge price tag.
It's got plenty of room, a sturdy and functional design, and great cooling with 3 built-in fans with the option to include many more fans if you need. It also has handy front-panel USB 3 capability.
Again, you can substitute for a different case if you like as most mid and full-tower ATX cases will be fine with this build. Just make sure to do your research on whether it's worth your money and has the features that you want. For example the
NZXT Phantom 410 Mid Tower
is another excellent value choice that would serve you well with this build.
Power Supply
The Antec 750 Watts 80 Plus Gold is a high-quality PSU that will reliably power your components. For a build of this caliber you definitely don't want to be getting a cheap sup-par PSU otherwise you're asking for trouble.
Antec power supplies are some of the best around and are known for quality and this one is no exception. 750 watts is also ample power for this build even with the powerful 980 on board and also taking into account future upgrades such as adding a second video card in the future.
That's all the core components covered for the high end build, and to make a working system you'll require operating system software (I'd recommend either 64-bit Windows 8 or Windows 7), a mouse, a keyboard, a monitor, and then you're good to go.
Next up is the extreme gaming build which will suit only the most hardcore of gamers out there. Not for the feint of heart:
---
Extreme Gaming PC Build
Motherboard
Asus Maximus VII Formula
($340)
CPU
Intel Core i7-4790K
($340)
CPU Cooler
Noctua NH-D14
($77)
RAM
Corsair Vengeance Pro 16GB 2x8GB DDR3 2400MHz
($104)
Graphics Card
2 X EVGA GTX 980 Superclocked 4GB
($1040)
Sound Card
Creative Sound Blaster Z
($95)
SSD
Samsung 850 EVO 500GB SSD
($178)
Hard Drive
WD Black 3TB Performance
($151)
Blu-ray Drive
LG Blu-Ray/DVD/CD Burner
($60)
Case
CM Storm Stryker Full Tower
($193)
Power Supply
Seasonic X-850 80 Plus Gold
($150)
Total Cost: $2728 (USD)
August 2015 Extreme Gaming Build
Extreme Gaming Build Summary
This is an example of the type of dream gaming machine you can put together if you're lucky enough to have the luxury of dropping some serious cash on a new rig.
You can expect to tear through any game on ultra settings, even on massive viewing displays and huge resolutions. With a build like this you won't need to even think about upgrading anytime in the near future.
Let's take a look at the individual parts that make up this monster machine:
CPU and Cooler
The same i7-4790K processor is included as it's a powerhouse CPU and for gaming you definitely don't need anything better than this. The only reason you would need an even faster CPU would be for purposes other than gaming such as professional 3D editing and production.
The CPU cooler is different than the previous build though, and the Noctua NH-D14 is the absolute cream of the crop that will cool your i7-4770K even more effectively. Just a word of warning: this thing is absolutely MASSIVE. But of course I've triple checked that it will fit without problem with this particular list of parts.
Again, if overclocking is not your thing than you could actually get away with the stock fan if you really wanted to, but this is the extreme build after all so I'm sure you'll want the extra cooling that an aftermarket heatsink provides you.
Motherboard and RAM
We've gone with the top of the range Asus Maximus VII Formula motherboard which provides the ultimate base for an extreme system such as this. This board is the very best of the best and is quality throughout.
It's got a ton of cool features (more than most people will actually use), it's built very sturdily, and looks totally awesome in your finished build. THE best for extreme gamers and overclockers. I've also gone with matching red super-fast 2400 MHz RAM (16 GB).
Graphics Cards
As for the all-important graphics setup I've gone for 2 980's. I'm sure you can imagine what sort of power 2 of these monster cards will produce for you. Massive monitors, multiple displays, the most-demanding games on ultra settings...all that is child's play for this setup.
Sound Card
A dedicated sound card is included if you want to get the most out of a decent set of speakers or headset for the very best gaming audio possible. The Creative Sound Blaster Z is one of the best gaming sound cards on the market and what we would recommend right now, and once you experience the sound quality of a high-end card like this you won't want to go back to on-board sound ever again.
Blu-ray Drive
I've also included an internal blu-ray burner/player in this build, but this is entirely optional and if you want to save some money and don't care about blu-ray playback simply switch this one for a standard DVD drive instead like in all of the previous builds.
Case
Now to the super awesome case, the CM Storm Stryker Full Tower, which not only has the quality and features you'd expect from a high-end case, but it's one of the most stylish cases going around. If you wish to substitute for a different case that is fine so long as you pick a quality one (read many reviews) that can stand the test of time and look after your expensive components.
Power Supply
Then there's the power supply, the Seasonic X-850 80 Plus Gold. This unit is the absolute best of the best, and Seasonic PSUs are the cream of the crop and scream quality. 850 watts is plenty of power for this build too, even with the extreme graphics setup on-board.
SSD and HD
Lastly to the storage drives, and I've included a large super-fast SSD and a massive top-tier standard hard drive (WD Black - the fastest around) for quick, reliable storage for everything that won't fit on your SSD.
Of course, these are just suggestions and pick the sizes that you actually need. Some people may only need small drives because they don't have much to store, but always get a little more than you think you'll need just to be safe.
Conclusion
The experience of playing a great game on a machine like this last "extreme" build will blow you away, especially if you have a nice large, high-quality monitor and a solid set of speakers or headset to go with it. In an ideal world this is how game developers want their creations to be enjoyed.
As mentioned before the extreme build definitely isn't for everyone but those lucky few who are able to fork out so much on a custom rig will have the very best platform for high-end gaming for years to come.
So that wraps up all the custom build examples, I hope they help you to build a killer new rig. Enjoy!