Recommended High-End Gaming Computer Builds - June 2016
(Best Builds for $1500 and $2500)
Here are the latest high-end gaming computer builds showing you how to save money and put together a high-performing and reliable new custom gaming rig to play the latest and most-demanding PC titles in their full glory. All of the painstaking and oftentimes confusing hardware research has been done for you. You can either use these builds exactly as they are or use them as a base and customize them to suit your wants and needs.
First up is the High-End Build which shows you how to maximize gaming performance with a spending limit of around $1500 US dollars, and then there's the Extreme Gaming Build which is for those lucky few with a massive budget of around $2500 to put together the ultimate dream gaming machine with all the bells and whistles for the best PC gaming experience on the planet (or thereabouts!).
If these builds are out of your price range don't fret as you can easily build a high-performance PC for way less (see the
Budget Gaming Desktop Builds
). Let's get into these 2 beasts that simply will not disappoint.
*Note* -
All prices below were correct at the time of writing and may fluctuate throughout the month.
---
The $1500 High-End Gaming Computer Build
---
Motherboard
ASUS Z170-A ATX DDR4
($152)
CPU
Intel Core i5-6600K 3.50 GHz
($242)
CPU Cooler
Cooler Master Hyper 212 EVO
($30)
RAM
Crucial Ballistix Sport LT 16GB Kit (2 x 8GB) DDR4 2400 MT/s
($70)
Graphics Card
EVGA GeForce GTX 980 Ti Super Clocked 6GB GDDR5 ($600)
SSD
Samsung 850 EVO 250GB SSD
($87)
Hard Drive
Seagate Barracuda 2TB
($63)
DVD Drive
Asus 24x DVD Burner
($23)
Case
Corsair Carbide Series Black 400R Mid Tower
($100)
Power Supply
EVGA SuperNOVA 750 G2 80+ GOLD, 750W Fully Modular ($100)
Total Cost: $1468 (USD)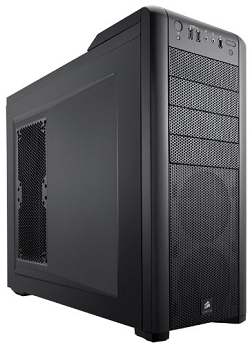 June 2016 High-End Gaming Build
High-End Build Summary
A solid example of how to maximize gaming performance for a spending budget under $1500, whilst still ending up with a balanced and reliable machine that is future-proof. A high end gaming computer of this caliber can comfortably play any game out right now even with the settings cranked up to the max and is enough power to please 99% of gamers out there. Let's take a closer look at the individual hardware choices and why they made the cut.
CPU
The
Intel Core I5-6600K 3.50 GHz
is the perfect processor for gamers and overclockers right now. No, you don't need an i7 for a high-end gaming PC. An i5 will do just fine and you're better off putting your money towards the graphics. Note that this i5 is the unlocked "K" version which is easy to overclock for even faster performance.
CPU Cooler
Coupled with the
Cooler Master Hyper 212 EVO CPU Cooler
, your CPU will run super quiet and cool under load. If you don't plan on overclocking at all and want to save a bit of money you could actually just use the stock fan that comes with the CPU, which still does a fairly decent job at stock speeds. But if you're definitely going to be overclocking then you'll need an aftermarket cooler.
Motherboard
As for the motherboard we have the
ASUS Z170-A ATX DDR4
which is a newly released DDR4-compatible board that will serve as an excellent base for your high-end rig. ASUS boards are typically great value and this one is no exception, and it comes with all the features you would ever need including SLI support if you plan on adding another video card down the road, solid on-board audio, built-in LAN, USB 3 support, and it's also aesthetically-pleasing too with a sexy white and grey design.
RAM / Memory
For memory we have the slick and super-fast
Crucial Ballistix Sport LT 16GB Kit (8GBx2) DDR4 2400 MT/s
. To be honest you could opt for 8GB of RAM if you really wanted to cut your costs and you wouldn't really notice a difference when it comes to playing current titles on the market. But if your wish is to future-proof this build as much as possible from the get-go (or you plan on using highly demanding applications such as CAD/3D development etc), then going for a massive 16GB of RAM makes sense.
Graphics Card
The
EVGA GeForce GTX 980 Ti Super Clocked 6GB GDDR5
will have you absolutely dominating anything you throw at it for a long time to come - 'nuff said. Throwing down over half a grand on your video card alone may seem crazy, however if you want to play games to their absolute full potential in full HD (or in 4K) it'll be money well spent.
As for those of you wondering if you should get a 1080 instead - personally I'd choose a 980 Ti over a 1080 at this moment in time because only the 1080 "founders edition" is available for purchase (overpriced).
Storage (SSD + HDD)
We've included a fairly decently sized SSD (Solid State Drive) for super fast-loading of your operating system and other programs: the
Samsung 850 EVO 250GB SSD
. This model is regarded as one of the best around and it's affordable too - SSD prices have dropped quite a bit over recent times which is excellent news.
As well as the super-fast SSD, we've also included a
Seagate Barracuda 2TB
standard drive where you can store all of your other files that don't fit on your mighty-fast SSD. If you have more to spend then definitely consider getting a larger SSD because they have become quite affordable in recent times (and potentially scrapping the traditional hard drive altogether).
Case
Now to the
Corsair Carbide Series Black 400R Mid Tower
which has the quality and features of an expensive top of the range case minus the huge price tag. It's got plenty of room, a sturdy and functional design, and great cooling with 3 built-in fans with the option to include many more fans if you need. It also has handy front-panel USB 3 capability.
Again, you can substitute for a different case if you like as most mid and full-tower ATX cases will be fine with this build. Just make sure to do your research on whether it's worth your money and has the features that you want. For example the
NZXT Phantom 410 Mid Tower
is another excellent value choice that would serve you well with this build.
Power Supply
The
EVGA SuperNOVA 750 Watts G2 80+ GOLD Fully Modular
is a high-quality PSU at a good price. EVGA produce some really top-notch power supplies these days and this one is a prime example. 750 watts of power is also more than enough for this build even taking into account the beast of a video card and any potential upgrades you may wish to make in the future (yup, even a godly 980 Ti SLI setup). This one is fully modular too which helps in keeping your build nice and tidy by minimizing excess cabling.
High-End Gaming Build: Final Thoughts
That's all the core components that makes up your computer tower, but for a working PC you'll need operating system software, a mouse, a keyboard, a monitor, and either some speakers or a headset. Our recommendations for these accessories are below on this page.
Next up is the extreme build which will suit only the most hardcore of gamer's with a ton of cash to spend who wish to assemble an absolute monster.
---
The $2500 Extreme Gaming Computer Build
---
Motherboard
ASUS ROG MAXIMUS VIII HERO DDR4
($230)
CPU
Intel Core I7-6700K 4.00 GHz
($364)
CPU Cooler
Noctua NH-D14
($75)
RAM
Corsair Vengeance LPX 16GB (2x8GB) DDR4 3000MHz
($95)
Graphics Card
2 X EVGA GTX 980 Superclocked 4GB
($998)
Sound Card
Creative Sound Blaster Z
($80)
SSD
Samsung 850 EVO 500GB SSD
($135)
Hard Drive
WD Black 3TB Performance
($150)
Blu-ray Drive (optional)
LG Blu-Ray/DVD/CD Burner ($65)
Case
CM Storm Stryker Full Tower
($165)
Power Supply
Seasonic X-850 80 Plus Gold
($130)
Total Cost: $2472 (USD)
June 2016 Extreme Gaming Build
Extreme Build Summary
This is an example of the type of dream machine with all the bells and whistles that you can put together if you have some serious cash to drop on a new build. The experience of playing a great game on a machine like this will absolutely blow you away, assuming you also have a nice large, high-quality monitor and a solid set of speakers or headset to go with it. In an ideal world this is how game developers want their creations to be enjoyed. Let's take a look at the individual parts that make up this monster:
CPU and Cooler
The Intel Core I7-6700K 4.00 GHz CPU is an absolute powerhouse processor and is actually a little overkill for gaming if we're being honest. However, this is the extreme build after all and so you might as well get an i7 to make your build even more future-proof (and the extra processing grunt will help in other applications). Plus, in certain games you will see a minor performance improvement over the i5 anyway. We've paired it up with the massive Noctua NH-D14 CPU cooler to keep things under control even when overclocking.
Motherboard and RAM
We've gone with the recently-released ASUS ROG MAXIMUS VIII HERO DDR4 motherboard which provides the ultimate base for an extreme system such as this. This board is one of the best-priced premium boards and comes with many good features. As for RAM you have a whopping 16GB of super-fast DDR4 3000 MHz Corsair RAM.
Graphics Card
As for the all-important graphics setup we've decided on 2 980's running in SLI mode which gives you unbeatable gaming performance for a long, long time. 4K, multiple displays, the most-demanding games on ultra settings...all that is child's play for this monster setup. If you want to go another step further, consider two 980 Ti's instead for even more grunt (yes your 850 watt power supply can handle this too).
Sound Card
A dedicated sound card is included if you want to get the most out of a decent set of speakers or headset for the very best audio experience possible in your games. The Creative Sound Blaster Z is in our opinion one of the best gaming sound cards on the market and what we would recommend right now. Once you experience the sound quality of a good sound card like this you won't want to go back to on-board sound ever again. Again, this card is just a suggestion and there definitely are better models out there if you want to spend more on your audio if that's your thing.
Blu-ray Drive
We've also included an internal blu-ray burner/player in this build, but this is entirely optional and if you want to save some money and don't care about blu-ray playback simply switch this one for a standard DVD drive instead like in all of the previous builds. Or, you could even ditch the DVD drive altogether if you download all of your games online and if you're going to boot your OS from a flash drive.
Case
Now to the super awesome case, the
CM Storm Stryker Full Tower
, which not only has the quality and features you'd expect from a high-end case, but it's one of the most stylish cases going around. If you wish to substitute for a different case that is fine so long as you pick a quality one (read many reviews) that can stand the test of time and look after your expensive components.
Power Supply
Then there's the power supply, the Seasonic X-850 80+ Gold, which is the cream of the crop. Seasonic is THE best name when it comes to PSUs and I highly recommend investing in a high-end unit like this one for an extreme build like this. 850 watts is plenty of power for this build too, even with the extreme graphics setup on-board and all of the other components. You also have plenty of extra power at your disposal to take into account future upgrades you may wish to make.
SSD and HD
Lastly to the storage drives, and we've included a large super-fast SSD and a massive top-tier standard hard drive (WD Black - the fastest around) for quick, reliable storage for everything that won't fit on your SSD. Of course, these are just suggestions and you should pick the sizes for your particular purposes as not everyone needs so much storage.
---
Recommended Operating System & Peripherals for High-End Builds
---
The above high-end gaming computer builds include only the core parts and you will also need operating system software, a monitor, a keyboard, a mouse, and either some speakers or a headset. We've spent hours analyzing the market to compile our top picks below, including different options for varying spending budgets.
Recommended Operating System
We suggest Windows 10 for the majority of builders but if you wish to choose either Windows 8 or 7 instead due to personal preference then that's totally fine and they will work with any of these builds without any problems.
Recommended Gaming Keyboards
Recommended Gaming Mice
Recommended Gaming Monitors
Recommended Gaming Headsets
Recommended Gaming Speakers
---
Putting Your Parts Together
---
If you are building your very first computer you can feel safe that these days it's very straightforward. These resources will help if you need step by step guidance:
Good luck with your new killer new high-end gaming computer build, and long live PC gaming!!
---
Need Further 1-on-1 Help?
---
If you're a first-time builder and are still confused on choosing the best parts for your exact situation, check out our
Personalized Parts List Service
which may be exactly what you need to take all your doubts and concerns out of the equation.
This is how it works - simply send in your gaming build requirements in as much or as little detail as you like, and for a small fee we'll do all the extensive time-consuming research for you to carefully compile the absolute BEST list of parts we can muster using our 10+ years of experience.
We also offer a cheaper and quicker critique service where instead of getting a new build you can send in your list of parts and we'll analyze it to look for compatability issues and/or suggest better parts.
All of our services also come with 1 on 1 email support with an expert to get any of your follow-up questions answered as quickly as we can.
---
Home | Budget Builds | High-End Builds | Our Services About | Contact | Privacy/Disclaimer | SiteMap

---