Home > Best Gaming Monitors > 4K 144Hz Monitors
Top 3 Best 4K 144Hz Gaming Monitors: November 2020 (Budget & High-End Picks)
Choosing the Ultimate 4K Gaming Monitor for the Mighty RTX 3080 or RX 6800 XT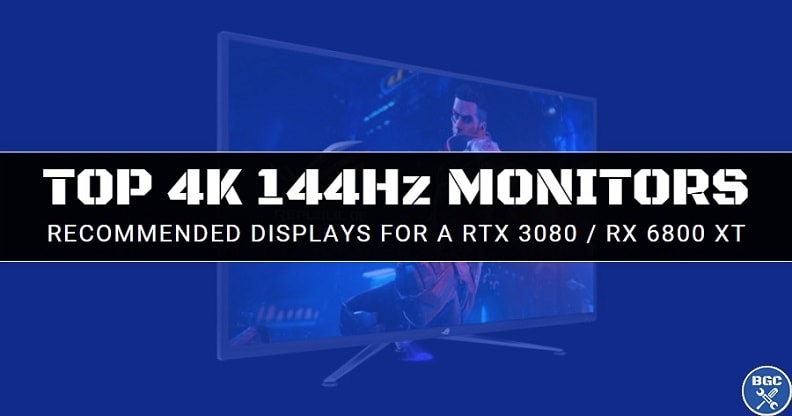 Date Published: November 16, 2020
So you've managed to snag a slick new RTX 3080 or have returned from the future clutching a soon to be released RX 6800 XT. After such a get, you're now naturally on the hunt for the best 4K 144Hz gaming monitor you can find to take full advantage of such game-changing graphical power. Gaming on a lower resolution like 1080p or 1440p would be almost criminal; with such GPU power comes responsibility to not let it go to waste. 
Translation? 4K 144Hz gaming or bust. Sure, there's other legit paths to take including 1080p 240Hz/360Hz, 1440p 144Hz/240Hz, or 4K 60/75Hz displays, all of which can indeed be suitable for such a powerful card like the RTX 3080 depending on the game and settings (eg with certain extremely demanding games at 4K on max settings, good luck getting too much higher than 60FPS, even with a 3080).
But if you're reading this guide you've probably already set your sights on what is the current cutting-edge of gaming displays (8K doesn't count as it's too niche) - 4K 144Hz. Excellent choice; for most people, it really is the best type of monitor for the full RTX 3080 or RX 6800 XT experience, as RTX 3080 benchmarks have proven its worth as a legit 4K 144Hz card in many titles. 4K 144Hz gaming monitors are fairly new to the scene, only first appearing a couple years ago, but while they're generally very expensive and out of reach for most gamers, the good news is that recently we've seen more affordable models that make this scintillating resolution and refresh rate combination a much more accessible proposition.
After having carefully looked over all of the best 4K 144Hz gaming monitors on the market as of the time of writing, and having read as many technical and consumer reviews as possible, in this guide I bring to you my findings as well as my own opinion, and narrow things down to what I believe are the absolute best 4K 144Hz monitors for gaming in terms of overall value for money within certain categories (budget, ultimate, and extra large). Just keep in mind that if you're on the fence about choosing a 4K 144Hz or 1440p 144Hz monitor, the latter of which being way more affordable, unless you have a high-end cutting-edge graphics card (read: RTX 3080 or better) than I highly recommend sticking to 1440p 144Hz (or even 1440p 240Hz if you're a big shooter/FPS fan), as you'll get much better performance.
A RTX 3070 would be okay for 4K 144Hz, but you would need to seriously sacrifice on settings since a RTX 3070 is around the same performance as a RTX 2080 Ti (and the 2080 Ti was never good enough for 4K 144FPS). Let's cut to the chase and first get into an overall specs comparison of the best 4K 144Hz gaming monitors, and then I'll share my thoughts on why I chose each model including good alternative models to also consider depending on your particular usage/preferences. If you need help with something, leave a comment over on the main best gaming monitors page. Anyway hope this guide helps a bit.
Affiliate Disclosure: Links to products below are affiliate links, meaning I earn a small commission on any purchases made through these links (at no extra cost to you). This has no affect on my recommendations which are 100% independently decided. Learn more here.

Best 4K 144Hz Monitors for Gaming (Specs Comparison)


Category:
Best Budget 4K 144Hz Monitor
Ultimate 4K 144Hz Monitor
Best Large 4K 144Hz Monitor
Our Pick:
LG UltraGear 27GN950-B 27 Inch
Asus ROG Swift PG27UQ 27 Inch
Asus ROG Swift PG43UQ 43 Inch
Preview:
Alternative Stores:
US / Canada / UK / Australia
US / Canada / UK / Australia
US / Canada / UK / Australia
Resolution:
UHD (3840 x 2160)
UHD (3840 x 2160)
UHD (3840 x 2160)
Aspect Ratio:
16:9
16:9
16:9
Refresh Rate:
144Hz
144Hz
144Hz
Response Time:
1ms (GtG)
4ms (GtG)
1ms (MPRT)
Panel Type:
IPS
IPS
VA
Flat/Curved:
Flat
Flat
Flat
NVidia G-Sync:
G-Sync Compatible (48 - 144Hz)
G-Sync Ultimate (1 - 144Hz)
G-Sync Compatible (48 - 120Hz)
AMD FreeSync:
Yes
-
Yes
Video Ports:
1x DisplayPort 1.4

2x HDMI 2.0
1x DisplayPort 1.4

1x HDMI 2.0
2x DisplayPort 1.4

2x HDMI 2.0
USB Ports:
Yes
Yes
Yes
HDR:
Yes (HDR 600)
Yes (HDR 1000)
Yes (HDR 1000)
Brightness:
400 nits (typical)

600 nits (peak)
600 nits (typical)

1000 nits (peak)
750 nits (typical)

1000 nits (peak)
Contrast Ratio:
1000:1
1000:1
4000:1
Flicker Free:
Yes
Yes
Yes
Speakers:
-
-
Yes (2x 10 Watt)
Stand Adjustments:
Tilt, Height, Pivot
Tilt, Height, Pivot, Swivel
Tilt
Included Cables:
DisplayPort, HDMI, USB
DisplayPort, HDMI, USB
DisplayPort, HDMI, USB
Full Specs:
LG
Asus
Asus
1. LG UltraGear 27GN950-B (Best Budget 4K 144Hz Monitor)
The LG UltraGear 27GN950-B 27 Inch is not only the cheapest 4K 144Hz gaming monitor recommended in this guide, but also the best overall bang for buck 4K 144Hz display on the market right now without a doubt. To be honest, I see little reason for most gamers to fork out considerably more cash on one of the more expensive 4K 144Hz displays out there, unless you're wanting a larger screen, want better HDR, or you really want full, true G-Sync support, which to be real just isn't required these days. The 27GN950-B is certified by NVidia to be "G-Sync Compatible", and based on reviews and user reports (linked in the sources at the end if you're interested), G-Sync works just fine on this model, and even works up to 144Hz which isn't always the case with G-Sync Compatible 144Hz monitors (sometimes they might be limited to using G-Sync up to 120Hz only).
Full, native G-Sync support found on more expensive displays like the PG27UQ does have certain small advantages, such as a wider variable refresh rate (VRR) range that not only guarantees G-Sync to work up to the display's maximum refresh rate (ie 144Hz) but that also guarantees smooth tear-free G-Sync gameplay at a lower FPS such as under 60FPS. True G-Sync implementations also have a feature called variable overdrive which helps to reduce ghosting.

But are these things necessary? For most gamers, the answer is no, so if you can accept the slight limitations of a "fake" G-Sync monitor - one that's listed as "G-Sync Compatible" which is essentially a software implementation of G-Sync compared to the full hardware implementation of native G-Sync monitors - you'll be just fine using a G-Sync Compatible display like the LG 27GN950-B.
Plus, one upside to NOT buying a native G-Sync screen is the fact that it also supports AMD FreeSync, meaning you can take full advantage of an AMD graphics card for the smoothest tear-free gameplay experience (native G-Sync monitors don't support FreeSync and so are only recommended for NVidia graphics cards). Besides better G-Sync support, another reason to spend more on a 4K 144Hz screen is to get a better, true HDR performance, since the LG is lacking in that regard (it's not that bad in regards to HDR though). But this is also unnecessary for most, and a luxury not everyone sees a need for.
The LG UltraGear 27GN950-B (Image: B&H)
The 27GN950-B has RGB on the back (Image: B&H)
Coming in well under $1000 US (at least at regular pricing), compared to other 4K 144Hz monitors which sell for more (and sometimes WAY more), the 27GN950-B is as good a value buy as you can get in regards to 4K 144Hz displays. Some argue 27 inches is too small for 4K, and that at such a high-quality resolution you should go bigger or go home, but it's technically not true; while 4K does more clearly shine over 1440p at higher screen sizes, at 27 inches 4K is still noticeably more crisp and detailed than 1440p. Besides, not everyone has the space nor wants a bigger display than 27 inches, which to many people is big enough anyway. If you're coming from a 24 inch screen or smaller, it's going to feel humungous and very immersive.
But while it's easily the best 4K 144Hz gaming monitor on a budget, one clear downside to the 27GN950-B (and most other current-gen 4K 144Hz monitors) that will be a deal breaker for some is the lack of HDMI 2.1 - give this one a miss if you're going to use it for a PS5 or Xbox Series X as these next-gen consoles need HDMI 2.1 to get 4K 120Hz. But for PC gamers, this is irrelevant because you'll be hooking it up via a DisplayPort cable (which comes included) that can provide that sweet 144Hz refresh rate.

Another thing to be aware of is IPS glow, a phenomenon present in IPS displays where you may notice a bit of a glow on the corners of the screen during dark scenes if you're playing games or viewing movies in a dark room, but it's not overly prevalent on this particular model compared to other IPS screens from what I've seen about this monitor around the web.
If you're researching IPS glow, remember that it's going to look a lot worse in a picture that you see online (ie here) compared to actually seeing it in-person (some people don't even notice it unless you point it out to them). Overall, the LG 27GN950-B is a fantastic monitor with wide praise across the board and a competitive price tag that makes other 27 inch 4K 144Hz monitors hard to recommend at this time.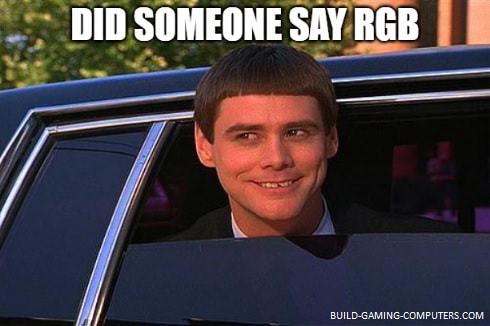 You and I may not care for RGB but we know 97% of the planet seems to
So if you want the best monitor for a RTX 3080 or AMD 6800 XT, the 27GN950-B is unlikely to disappoint. Despite it being the best "value" according to many - including yours truly after having done as much due diligence into it as possible from as many different sources as I could find online - it doesn't sacrifice on anything that's going to matter a great deal to most people. Just remember the 27GN950-B has no built-in speakers, so make sure to have some good gaming speakers or headphones/a headset to go along with it (not that built-in monitor audio is ever any good though). Oh, and for what it's worth (varies dramatically by person), it's got RGB on the back which can light up your wall behind and that you can sync to either changes in gameplay or audio using LG's Sphere Lighting 2.0 software.
2. Asus ROG Swift PG27UQ (Best 4K 144Hz Monitor Overall)
If you don't care about getting the most bang for buck and simply want the absolute best of the best 4K 144Hz gaming monitor that money can buy - and at a "standard" size of 27 inches (which some argue is too small for 4K; not necessarily true as that's a subjective opinion) - the Asus ROG Swift PG27UQ 27 Inch has no equal.

It's super costly, but comes with everything you'd expect from a premium gaming display including pristine image quality, certification as "G-Sync Ultimate" which uses an advanced built-in G-Sync module/processor which supports a refresh rate range all the way from 1 - 144Hz, and excellent HDR lighting with a DisplayHDR 1000 certification to top things off. The PG27UQ has been around for a couple years or so now, but it's still the best 4K 144Hz gaming monitor money can buy (again, only if we're talking 27 inches).
Image Credit: B&H
Asus PG27UQ vs Acer XB273K (Sbmiprzx)
Another true/native G-Sync monitor that's in the discussion of current best 4K 144Hz gaming monitor on the market overall (well, at 27 inches) would have to be the Acer Predator XB273K Sbmiprzx 27 Inch (of the Acer Predator XB3 series) which is worth considering if you want the best of the best but the PG27UQ is out of your price range. The PG27UQ is clearly the better monitor though, with a more impressive spec sheet boasting a full-array backlight, superior HDR, and better ergonomics/adjustments.

If you're trying to cut costs on a 4K 144Hz monitor purchase - as much as a contradictory sentence as that is - the LG 27GN950-B I covered earlier is in my opinion a better buy over the XB3/XB273K as it's not only cheaper but has better HDR, a better looking bezel, better RGB, and more intuitive controls. But if you see the XB273K on sale, it's worth a look, especially if you want a true G-Sync monitor (the 27GN950-B is only G-Sync Compatible which as mentioned before is different).
Acer XB273K Sbmiprzx vs Pbmiphzx vs Gpbmiipprzx
There are 3 different versions of the Acer Predator XB273K (of the XB3 series). These are their key differences:
XB273K Sbmiprzx (Alternative Stores: US / UK / Australia) - A true G-Sync (native) monitor which allows G-Sync turned on at 4K 144Hz, unlike the Gpbmiipprzx model which only supports it up to 120Hz. This is the best model.


XB273K Pbmiphzx - Also known as the XB273K P, this is the older model that also has true G-Sync, and is very much the exact same monitor. I would avoid and just go for the latest Sbmiprzx version, which is also typically cheaper and easier to find nowadays, but if you find the Pbmiphzx discounted it's still one of the best 4K 144Hz monitors despite its age.


XB273K Gpbmiipprzx - Also known as the XB273K GP, this model is cheaper than the Sbmiprzx and Pbmiphzx because it does not have true G-Sync, and is instead only "G-Sync Compatible" using Adaptive Sync (and therefore is also AMD FreeSync compatible). It can't run 4K 144Hz mode with G-Sync or FreeSync turned on though (only up to 120Hz). At this price point you might as well get the superior LG 27GN950-B instead which is G-Sync Compatible too, but up to 144Hz.
3. Asus ROG Swift PG43UQ (Best Large 4K 144Hz Monitor)
The monstrous Asus ROG Swift PG43UQ 43 Inch is an excellent big-screen 4K 144Hz display and what I would personally lean towards if I was choosing a massive 4K monitor for myself as it ticks most of the key boxes. Like the PG27UQ, it's a couple years old now, but not any less relevant and still the best large 4K 144Hz monitor on the market.
Be aware the PG43UQa is a VA panel, not an IPS, meaning worse viewing angles, and a tough recommendation as a daily driver for work and productivity purposes due to subpar font clarity (though tweaking settings can improve this). But if just care about gaming, the PG43UQ will be a sight to behold with top-notch image quality and good HDR performance. If you're rocking an RTX 3080 or equivalent GPU with the power to reach up and beyond 100FPS in 4K, it's going to be a wild immersive ride.
Despite its excellent 1ms response time and low input lag, due to it being a VA panel, reviewers have reported slight smearing/ghosting with the PG43UQ though which isn't ideal for fast-paced games (ie FPS/shooters). For most genres, it's not going to be an issue, and you would only notice it if making fast movements such as rapidly flicking your mouse when in first-person mode.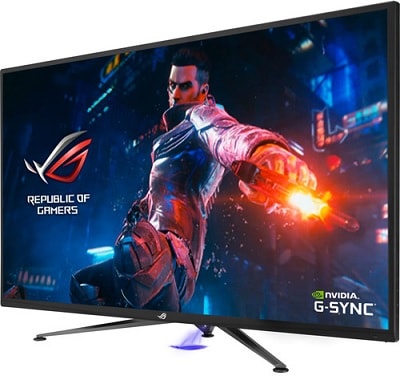 Image Credit: B&H
If you do end up getting this one, make sure to avoid having the monitor's "overdrive" setting any higher than level 3 as this will minimize the ghosting effect. In terms of size, it goes without saying this is a monster at 43 inches, and with that comes maximum immersion; just obviously make sure you have a large desk with plenty of space between you and the screen (if you're not placing it in the lounge).
Honorable Mentions:

LG OLED CX 55 Inch TV (4K 120Hz)

Asus ROG Strix XG438Q 43 Inch Gaming Monitor (4K 120Hz)
Consider an OLED TV instead of a gaming monitor (Image: B&H)
Asus ROG Swift PG43UQ vs LG OLED
When you're going big, don't forget that getting a 4K TV instead is an option; LG's latest OLED CX series are proven to be fantastic for gaming, whether placing it on a large desk like a normal computer monitor or whether you're gaming from the couch using a console controller instead of a keyboard and mouse (for anyone wondering, yes, lounge PC gaming is absolutely a thing and not just for consoles). 
If you're not just a PC gamer and you'll also (or just) be gaming on a PS5 or Xbox Series X, an OLED TV like this is the best way to go since it sports the latest HDMI 2.1 specification - necessary if you want to get 4K 120Hz on the PS5 or Xbox Series X (but doesn't matter for PC gaming since you'll be using DisplayPort).
Just keep in mind that if you get a TV like this to use as a monitor, there is the chance of burn-in as there's static images like desktop icons or your internet browser's outline that stays on-screen for a long time (not an issue for console gaming though as the image is constantly changing). For that reason, if using it as a computer monitor, I'd recommend the Asus ROG Swift PG43UQ over an LG OLED TV - at least for most people.
If you'll just be gaming though, an OLED TV is just as good a choice if not better in certain areas such as having a lower response time and therefore less likelihood of ghosting, slightly better blacks, and more "pop" in terms of color since it's a gloss screen (compared to the PG43UQ's matte screen, though matte is better to avoid reflections under sunlight). The PG43UQ does have better brightness and a higher refresh rate (144Hz vs the 120Hz of the OLED TV), but these aren't huge factors.
Asus ROG Swift PG43UQ vs Asus ROG Strix XG438Q
Another option within the discussion of best large 4K 144Hz gaming monitor is the Asus ROG Strix XG438Q, the older model of the PG43UQ that is very much the same but with lower brightness capability and worse HDR, and a slightly lower refresh rate of 120Hz compared to the 144Hz of the PG43UQ. The PG43UQ is better overall, and for what it's worth also comes with DSC (Display Stream Compression Technology) that supposedly improves image quality, and so I can only recommend the older XG438Q if you find it for significantly cheaper (ie on sale).
FAQ
Is a 27 Inch Monitor Too Small for 4K?

Some people believe that a 27 inch display doesn't do 4K justice, but that's a subjective call and not everyone agrees. It's personal preference, because on a 27 inch screen, 4K resolution does look noticeably more crisp and detailed than 1440p (to most people anyway). So you're not technically "wasting" 4K at this size. That said, 4K looks amazing on large displays, and you would indeed notice more of a difference compared to 1440p if you were to compare larger screens than 27 inches side by side. That doesn't take away from the fact that 27 inches still looks great at 4K, so it's really up to you. If you have the desk space for a bigger monitor, I'd say go for it, but it's not everyone's cup of tea to have a humongous screen, and plus it's going to cost more.

What GPU is Required for 4K 144Hz Monitors?
4K resolution is very demanding due to the sheer amount of pixels needed to be rendered on-screen, but when you add the fast 144Hz refresh rate to the mix things go from demanding to demigod demanding. The only GPUs that make sense for a 4K 144Hz monitor - at least if you want to make the most of it - is the all-new NVidia GeForce RTX 3080 or the similar-performing AMD Radeon RX 6800 XT. Even faster cards like the RTX 3090 or RX 6900 XT would do even better, but aren't necessary for a good 4K 144Hz experience unless you're talking about the most demanding games running at the highest settings (but for most games, an RTX 3080 will serve you well at 4K 144Hz).
Related: How to Choose the Best Gaming GPU
What CPU is Required for 4K 144Hz Monitors?
To get around 144FPS at 4K (or at least 100FPS+) - the performance level you need if you want to take full (or near full) advantage of a 4K 144Hz display - you not only require a powerful cutting-edge graphics card like a RTX 3080 or RX 6800 XT, but you also need a decent CPU to reach those high frame rates consistently. The GPU is much more important at 4K, but if you want to get the most out of such a powerful GPU to keep your FPS consistently close to 144FPS or higher, you'll still want a high-end CPU like a recent Ryzen 7 or Core i7 (or better).
If you were gaming at 4K 60Hz/75Hz instead it would be a different story, as basically any mid-range CPU would be fine for that since lower FPS targets like 60FPS isn't anywhere near as demanding on the CPU, but when it comes to higher refresh rates like 144Hz, the stronger your CPU the better and you will get higher average frame rates with a top CPU - no matter the resolution. That doesn't mean you need the ultimate gaming CPU for 4K 144Hz such as an Intel Core i9 10900K or AMD Ryzen 9 5900X/5950X, but if you want to squeeze out every frame that you can and avoid limiting such a powerful graphics card, these are the best CPUs for 4K 144Hz gaming without a doubt.
Related: How to Choose the Best Gaming CPU
Your Thoughts
If you have any feedback or a question about choosing the best 4K 144Hz monitor, feel free to leave a comment over on the main gaming monitor recommendations page. Hope this guide helped a little and happy gaming.
Sources