What's the Best Refresh Rate for PC Gaming in 2018?
What is Refresh Rate, How it Affects Gaming Performance, 60Hz vs 75Hz vs 120Hz vs 144Hz vs 240Hz Monitors, & Which Are Most Common for PC Gamers in 2018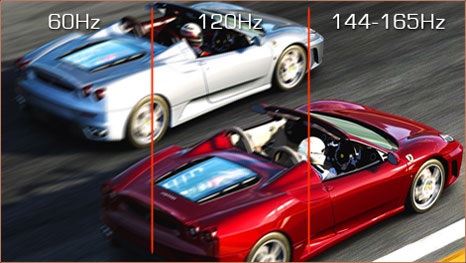 What is Refresh Rate & How it Affects Your Build
The refresh rate of your monitor is another important consideration when it comes to defining the desired performance you want out of your new gaming PC. The refresh rate is basically how quickly your monitor updates its display, with higher refresh rates allowing for slightly smoother graphics. This is not to be confused with the response rate of your monitor, which is something different (but still important; always try and get a monitor with a response rate of 5ms or under for gaming).
The common refresh rate of a monitor is 60Hz, and this is why you'll often hear gamers trying to aim for the flawless 60FPS (frames per second) for the smoothest, lag-free experience. But nowadays high refresh rate monitors are becoming more and more popular, as they allow you to reach (and actually see) higher frame-rates such as 144FPS and above.
However, high refresh rate monitors come at a price, so they're definitely not for everyone and if you're trying to cut costs as much as possible you should stick to the standard 60FPS as that is still a smooth experience and what gamers have been using for eternity without much complaints.
60Hz vs 144Hz vs 165Hz vs 240Hz for Gaming: Which is Best?
Again, just like using a higher resolution, higher refresh rates are going to require more powerful hardware to be taken advantage of. If you have a 144Hz screen (ie a monitor with a refresh rate of 144 which is the next common refresh rate after 60) to take full advantage of it you'll want to aim to get 144 frames per second in your games, which obviously requires more expensive hardware than simply reaching 60FPS. Although do keep in mind that if you get a 144Hz screen, you don't NEED to get 144FPS, as even getting 100FPS or above will allow you to see a slight difference in smoothness.
Don't worry if all this confuses you; especially if you're just getting a standard 60Hz monitor to save money. But if you have more to spend on your rig, and you want to play like the pros who use higher refresh rate screens to get the smoothest graphical experience possible with the least motion blur in fast-paced games, consider getting a sweet 120/144Hz or higher monitor and designing your parts list to get high frame rates around this mark.
Is 60Hz Refresh Rate Good Enough for Gaming?
For most gamers, absolutely. Keep in mind that 60Hz has been the common standard (and still is) for gaming for a long, long time, and due to the higher costs of 144Hz+ screens/hardware it's going to remain that way for the foreseeable future. Getting a solid 60FPS on a 60Hz screen makes for a very smooth experience, so don't worry about higher refresh rates unless you have the money to spend and/or you're a really picky gamer who wants to play exactly like your favorite pros do to get every little extra edge that you can in fast-paced games.
---
Trusted Stores
The online retailers I recommend for tech.
USA: Amazon US / BestBuy / B&H

Canada: Amazon CA

UK: Amazon UK / Overclockers

Australia: Amazon AU / PLE / Scorptec
Affiliate Disclosure: Build-Gaming-Computers.com is a participant in the Amazon Services LLC Associates Program, an affiliate advertising program designed to provide a means for sites to earn advertising fees by advertising and linking to Amazon.com.
That simply means if you purchase product/s within a certain period of time after clicking the store links above (or any product links on this site), if that store offers an affiliate program I receive a small commission of the total sale amount (at no extra cost to you - it comes out on the retailer's end). This is how I'm able to earn an income writing and updating these articles for you guys. Also note this is unrelated to manufacturers: I don't accept monetary incentives to recommend a certain product over another.
Trusted VPN
Cybersecurity is becoming an increasingly important issue in the digital age, and installing a VPN is one easy way to improve the security and privacy of your PC. VPNs can also help for gaming. NordVPN is the one I use and can recommend. For more on VPNs see my gaming PC software guide.
Most Shared
Search Articles
About Me
Indie game dev currently working on my first public release, a story driven VR FPS adventure built with Unreal Engine and designed from the ground up for virtual reality (to be announced here). Also likes writing about tech.
My favorites of all time are OOT, Perfect Dark, MGS1, MGS2, GE007, DKC2, THPS3, HL1, HL2, WC3, GTA3, and KOTOR, with the most recent addition to my list of immortals being the VR masterpiece Half Life Alyx. - Julz