Home > Streaming PC Builds > Best Webcams
The Best Webcams for Game Streaming to Twitch or YouTube (Top Value Picks)
Recommended Value for Money Webcams to Show Your Game Face in Style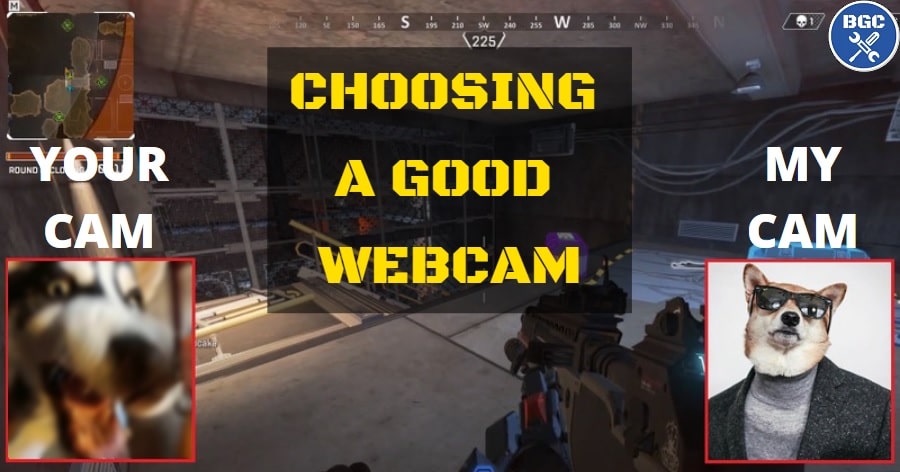 Last Updated: January 31, 2023
If you're chasing the best webcam for game streaming to Twitch, YouTube, or wherever - in this guide I'll share my thoughts after having had a good hard look at the current webcam market. In the past couple of years, webcams have been selling like hot cakes due to a lot more people getting a work from home setup going, and at one stage it was near impossible to find any webcam available to buy.

These days things are back to normal, but webcams can still often be overpriced and/or still difficult to find in stock, so keep your wits about you and do your research before buying anything (to not get ripped off). If you're a new Twitch or YouTube streamer, you'll need a webcam so your audience can enjoy your on-screen antics and reactions. Most laptops come with a built-in webcam, but on a desktop PC you'll need to bring your own to the party (besides, most laptop webcams are a straight F).
Before we look at the some of the current best webcams for game streaming in terms of features and quality for the price (ie bang for buck), first think about whether you should even upgrade your webcam. I'm not here with this site to simply haphazardly push product recommendations in your face (pun intended), but instead to first make you a smarter, savvier shopper, and that means making it crystal clear to you that buying a new webcam might not be the best use of your money.

If you already have a webcam but aren't happy with the video quality, if you simply added better lighting to your setup by buying 1-2 lights to position behind your camera, and also looking into optimal settings for your particular setup - that could make things look a lot better, even on an average webcam, and that money you would have spent buying the latest and greatest webcam can go towards something more important.
See Also: How to Build a Streaming PC (Hardware Guide)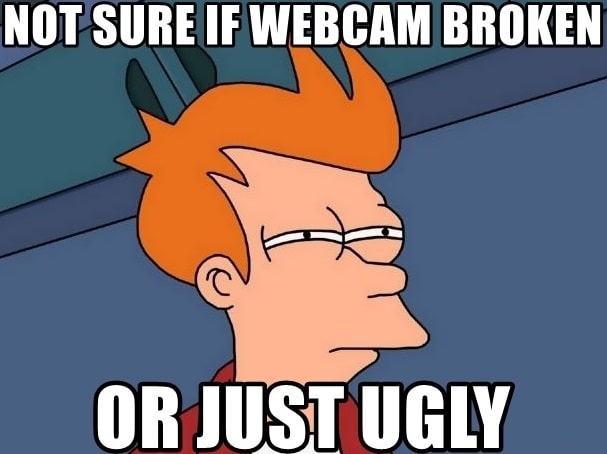 How it feels to buy and turn on a webcam for the first time - every time
So, if your audio quality is lacking, consider upgrading that first before buying a webcam. Being heard nice and clear by your audience is the more important aspect of your streaming setup when compared to your face cam. Then there's your PC hardware, which is also something you want to upgrade before looking into buying one of the best webcams for Twitch streaming. Especially if your gameplay streaming is lagging or low-quality - no point having the best webcam on the market if your streaming PC is struggling to produce consistent, good-quality gameplay to your viewers. A bad game stream is how you'll lose viewers or limit your ability to gain new followers - not having a subpar quality face cam.
All that said, as a streamer you still want a good webcam at some point to maximize all your pieces of the puzzle, especially if you do occasional fullscreen face cams where the resolution matters more. So if you've got your lights, action, and audio on-point, let's get into our opinion on what the best webcams for game streaming are in terms of maximum value for the money, so fellow gamers can finally see that joyous mug of yours in the best light.
1. Logitech Brio

(Best 1080p 60FPS or 4K)
If you're a pro or aspiring pro streamer willing to invest in the best quality webcam for game streaming, the Logitech Brio is the best option on the market right now. It can do 4K 30FPS and also 1080p 60FPS, the latter of which is ideal if you want the smoothest video quality possible.

When buying a high-quality cam like this, or any of our recommended webcams below for that matter, make sure to get a nice light or two to supplement it and get the most out of it, otherwise you're essentially wasting your money as you won't be utilizing its full potential.
Honorable Mention: Logitech StreamCam (1080p 60FPS)
Logitech Brio vs Logitech StreamCam
Logitech released the StreamCam in 2020, a new and improved webcam that builds on the C922 and C920 and is designed specifically for streamers. You can mount it horizontally or vertically on top of your monitor, and you can rotate it on multiple angles or even tilt it down at 90 degrees.
It can't do 4K like the Brio though, but that's a non-issue for many streamers who won't be streaming their face cam in 4K anyway (no real point, unless you often do full-screen face cams). It's a little cheaper than the Brio, so worth considering if you don't want the option to do 4K and just want 1080p 60FPS (which both the Brio and StreamCam do).

Logitech Brio vs DSLR Camera
The next step up in quality from a top webcam like the Brio is to use a digital camera like the popular Sony a5100 along with a capture device like the Elgato Cam Link. This gives the best quality image possible, but it's going to cost a lot more so it's hard to recommend this sort of setup to streamers unless you have the money to invest in pro equipment. But again, as mentioned earlier, if you have money to throw at your streaming setup then look to upgrade your hardware and mic first as these things are more important than your webcam when it comes to game streaming. Therefore, if you are stuck choosing between the Logitech Brio or a DSLR camera for Twitch, get the Brio if you're on any sort of budget.
2. Logitech C920 (Best for 1080p 30FPS)
The Logitech C920 has been the most popular webcam for Twitch streamers over recent years, and for good reason as it has been, and still remains, the single best bang for buck webcam out there. At its normal retail price, the quality and reliability is great, and its 1080p 30FPS resolution is all you need for a Twitch facecam. It comes in the standard version, a version with a privacy shutter (C920s), and a version with an Xsplit subscription (C920x).
Honorable Mentions: Logitech C922 or Logitech C922x
Logitech C920 vs Logitech C922
Both are very good webcams for game streaming on Twitch (or YouTube or wherever) and both are used and recommended by tons of experienced streamers, but which is better? The main two differences between the C920 and C922 is that the C922 has improved image quality in low-light conditions and the option for 720p 60FPS.
These are minor additions though, so they're essentially the same webcam at heart, and both webcams use the same sensor and hardware. If you have a well-lit setting, and you don't care for 720p 60FPS (many report this feature on the C922 as being a little blurry and so they resort back to 1080p 30FPS), the C920 is the better value buy. That's assuming you find it for a little cheaper than the C922 (normal market conditions).
See Also: The Best Routers for Gaming and Streaming

3. Microsoft LifeCam Cinema (Best Cheap Webcam for 720p)
If you're on a budget and looking for the cheapest webcam for game streaming that still has passable quality and reliability, the Microsoft Lifecam Cinema is a great option (assuming you find it at its normal cheap price).

It does 720p 30FPS which is fine if you're a new streamer, especially if you're not doing full-screen face cams where 1080p becomes desirable. So if you can't afford the Logitech C920 or C922, get this and you'll be fine.

One thing to keep in mind is the built-in mic on the Lifecam is of noticeably lower quality than the better Logitech webcams we mentioned earlier, but for most streamers this isn't an issue as you should be using a dedicated mic anyway (or the mic on a good headset) as even the built-in mics on the top streaming webcams leave a lot to be desired and don't come close to a good mic like the extremely popular Blue Yeti.
FAQ

Do Webcams Have Speakers?
No, webcams do not come with speakers. If you have a monitor that doesn't have built-in speakers, you will need to buy a set of computer speakers.
Do Webcams Come With Mics?
Yes, the far majority of webcams on the market come with a built-in microphone. Some webcams come with two built-in mics to improve quality. To know if your webcam has a mic, just look in the spec sheet on the product page.
Are Built-in Webcam Mics Good Enough Quality?

The quality of the built-in mic depends on the webcam in question, but generally speaking the mic will be of average quality and is simply there to get the job done. For professional production though, the quality of even one of the better webcam's built-in mic will leave a lot to be desired, and you will want to buy a standalone mic for much better audio quality and clarity.
Webcam vs Laptop Cameras
A webcam is a standalone digital camera that can be connected to a computer, while a laptop camera is built into the laptop. A webcam typically has better image quality and more features than a laptop camera, but a laptop camera is more convenient for on-the-go use. Some high-end laptops may include a good quality camera that gives top webcams a run for their money in terms of quality and features, but most laptop cameras will be outdone by even a cheap webcam.
---
Trusted VPNs
VPN software is quite important in this day and age and will improve the security and privacy of your PC when online. There are also benefits to using VPNs for gaming.

There's lots of VPNs out there but the ones I recommend most to gamers is ExpressVPN (special link that gets you 3 months off. they also offer a free trial here) and NordVPN which are both highly rated gaming VPNs because they're the fastest and most secure.
Search the Site
About the Author
Indie game dev currently working on my first public release after years of hobby projects, a story-driven VR FPS built with Unreal Engine (to be announced soon here for anyone into VR FPS's). Also likes writing about tech, which also helps fund development of the game.
My favs of all time are OOT, Perfect Dark, MGS1, MGS2, GE007, DKC2, THPS3, HL1, and HL2, with the most recent addition to my list of immortals being the VR masterpiece Alyx. If you want help with a new build feel free to ask on the main PC builds guide. If you found the site extra helpful and wish to support the work I do here, sharing an article with a friend helps a lot and is much appreciated. - Julz