Home > Saving Money > OEM Parts
Buying OEM PC Parts Explained 
What is OEM Computer Hardware, OEM vs Original Products, & Buying Tips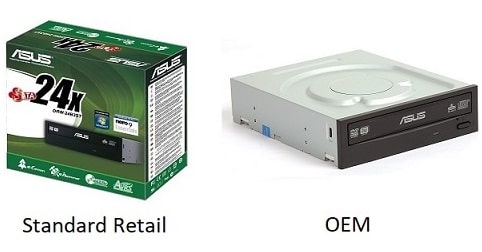 What is OEM and the Difference Compared to the Original Retail Version
Last Updated: June 25, 2019

When looking to save money on a custom PC build, on top of various strategies like buying officially refurbished parts, buying a good barebone PC kit, or getting straight-up used private parts (woah, that came out wrong but a good laugh must stand), there is also such a thing as OEM PC parts out there in the hardware wilderness that you may or may not have come across before. In this guide to buying OEM computer parts we'll explain everything you might want to know.
OEM PC Parts Meaning

What is OEM? Short for Original Equipment Manufacturer, it's a confusing term as the name doesn't really hint at what they're all about. Simply put, an OEM product is simply a bare product that sells for less than the standard retail version, and that usually won't come as a full package like the original retail version, with things like packaging, cables, manuals, instructions, and so on being left out. Even some things that are required for the operation of the part may be left out, such as cables. OEM parts will also typically have a shorter warranty and/or limited or no support. When browsing an online store an OEM product will either list "OEM" or "bare" in the product listing.
The name OEM comes from the fact that these parts are typically sold to computer companies (usually in bulk) for them to integrate into their computers that they sell. These days they are more popular with normal consumers due to the rise in online shopping, as online stores don't need to display any packaging to sell a product as compared to a physical location where having a full package on display is more important. The most common hardware components you'll find available as OEM are hard drives, optical drives, and PCI/PCI-E cards such as graphics cards and sound cards. Software also comes as OEM, including Windows.
Is OEM the Same as the Original?
Yes and no. The actual bare hardware is the same, but what you get for your purchase is not the same. Let's use an optical drive as an example to explain the difference between an OEM and a full retail version or a product, which is a common component that sells as OEM. The full retail version of the drive will (well, should) come with the cable, full box/packaging, manual/install instructions, as well as any software CD/DVD that relates to the drive. With an OEM version of the same drive, you will probably only get the drive in its anti-static bag, and that's that (as well as a shorter warranty).

Should You Buy OEM Computer Parts?
The biggest benefit to buying an OEM computer part is obviously the lower cost, although don't expect any huge savings as only rarely will you see a large difference in price between OEM and retail. So whether you should get something OEM will come down to personal preference and the individual product and price you're looking at, how much you're going to save compared to the full version, what you're missing out on by going OEM (cables, documentation, drivers, box), and the warranty and potentially limited return/service terms.
For example, sometimes you may need something extra that comes with the retail version such as a cable or a bracket or something, and buying that piece separate may end up not making the lower-priced OEM version worth it after all. Also, if you're a hardware beginner who likes or needs to know all the little details about installation and/or maintenance of the component, the instructions/manual may come in real handy and so the OEM version may not be worth it to you as it likely won't come with any of this.
Although for most parts the install and setup steps are essentially the same across different models and you can just learn how to use the part in this guide or other tutorials online, there may be little nuances to know about for a particular model that you may need to know as a beginner.
Should You Buy OEM Windows?
Software also have discounted OEM versions, with the most common you'll likely consider when building a PC being Windows, but you can also get OEM versions of all the other programs that you install on a new PC build such as security, utility and productivity applications. 
Windows OEM is potentially a good buy if you can find it at a good price compared to the full retail version, however there are some things to keep in mind. With OEM Windows you can only legally install it on the one computer, and you can't move it to a new build in future, whereas the full version has more flexibility with this (more on this in our guide to reusing old parts for a new computer). Plus, OEM Windows doesn't come with documentation, and has no tech support either.
Where to Buy OEM PC Parts Online in 2019
So overall, OEM parts or software is absolutely fine to use in your PC build and can save you a bit of cash without too much downside, so long as you take the above into account. Physically, OEM products are identical to the full retail versions. One last thing to note about OEM parts in case anyone wonders about this, yes - strangely enough, sometimes the OEM version costs more. This typically happens when a component is going into the end of its lifespan and spare stock is sold as OEM and marked up for the same or higher price as retail.
In terms of where to buy OEM computer parts, there's no particular places that stand out as the best source to score them, and you'll see them from time to time at any typical online hardware store like Amazon and OutletPC.
Your Feedback/Get Help 

(New)
Enjoyed the article? Give it a thumbs up above, share it with a gaming buddy who might also benefit, or let us know below in our new comments section. Some of you guys asked for one and we've obliged.
Need help? If you have a quick question or two, or you want a quick critique of your potential parts-list, post below and we'll help a brother out. If you need more in-depth guidance, we can also plan a fresh new 100% customized parts-list for your exact situation - see our Human Build Generator email help service.
Any other feedback or constructive criticism is also always more than welcome as we continue our mission to making BGC the most helpful, accurate, beginner-friendly DIY resource it can be. Hope this guide helped and good luck.
Note: You can post anonymously by clicking the "I'd rather post as a Guest" that pops up after writing your comment.