List of XeSS Supported Games (As of 2023)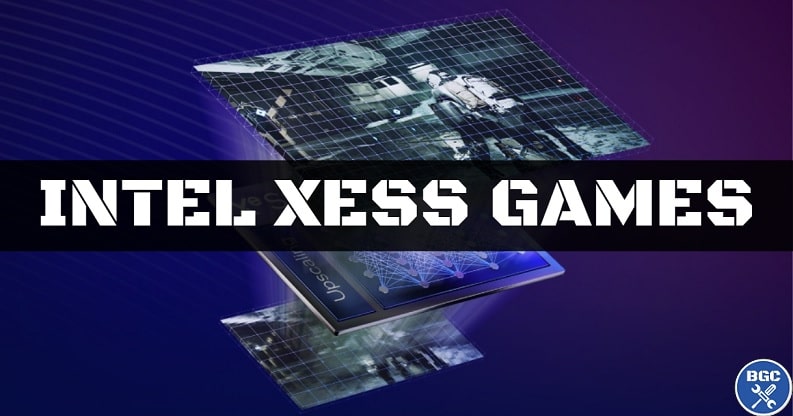 Published: February 11, 2023
If you want a list of games that support XeSS, we've got you covered. But first, what is XeSS? Intel XeSS (short for Xe Super Sampling) is an upscaling technology similar to NVIDIA DLSS and AMD FSR.
Using AI and machine learning, it renders low-resolution frames and upscales them to higher resolution with minimal image quality, with the aim of improving performance and frame rates in games and 3D graphics applications.
Related: The Best Resolutions for PC Gaming
There are two versions of XeSS: the open-source DP4A version supported by most NVIDIA and AMD GPUs since 2016 and 2018 respectively, and the XMX (Xe Matrix Extension) version that works exclusively with Intel's own Arc Alchemist GPUs (such as the A770 and A750) and which leverages AI cores inside of those cards.
Games That Support XeSS
In alphabetical order, as of the time of writing the following games have support for XeSS:

3DMark

ANVIL

Arcadegeddon

Call of Duty: Modern Warfare II

Chivalry 2

Chorus

Conqueror's Blade

Deadlink

Death Stranding Director's Cut

Deceive Inc.

Dolmen

Dying Light 2

Dysterra

Farming Simulator 22

Forspoken

Ghostbusters: Spirits Unleashed

Ghostwire: Tokyo

Gotham Knights

GRID Legends

Grit

Gungrave G.O.R.E

Hi-Fi RUSH

Hitman 3

Hogwarts Legacy

HypeSquad

Instinction

Judgment

Lost Judgment

Martha Is Dead

Marvel's Avengers

Marvel's Spider-Man: Miles Morales

Marvel's Spider-Man Remastered

Myth of Empires

Naraka Bladepoint

Need for Speed Unbound

Night of the Dead

Nightingale

Propnight

Redout 2

Returnal

Scathe

Shadow of the Tomb Raider

SUPER PEOPLE 2

The DioField Chronicle

The First Descendant

The Riftbreaker

The Settlers

Vampire The Masquerade: Bloodhunt

Warzone 2.0
How to Enable Intel XeSS?
To enable XeSS, in a supported XeSS game above simply navigate to the in-game settings and look for a setting that's something along the lines of 'upscaling' or something similar and set it to XeSS. You will also be able to choose the strength of XeSS, such as XeSS Quality and XeSS Performance, with higher quality XeSS settings having less impact on image quality at the expense of less performance gains (and more aggressive XeSS settings such as XeSS Performance leading to a bigger loss in image quality with the benefit of bigger performance gains).

The XeSS settings in Hogwarts Legacy
Related: Best CPUs and GPUs for Hogwarts Legacy
---
Trusted VPNs
VPN software is quite important in this day and age and will improve the security and privacy of your PC when online. There are also benefits to using VPNs for gaming.

There's lots of VPNs out there but the ones I recommend most to gamers is ExpressVPN (special link that gets you 3 months off. they also offer a free trial here) and NordVPN which are both highly rated gaming VPNs because they're the fastest and most secure.
Search the Site
About the Author
Indie game dev currently working on my first public release after years of hobby projects, a story-driven VR FPS built with Unreal Engine (to be announced soon here for anyone into VR FPS's). Also likes writing about tech, which also helps fund development of the game.
My favs of all time are OOT, Perfect Dark, MGS1, MGS2, GE007, DKC2, THPS3, HL1, and HL2, with the most recent addition to my list of immortals being the VR masterpiece Alyx. If you want help with a new build feel free to ask on the main PC builds guide. If you found the site extra helpful and wish to support the work I do here, sharing an article with a friend helps a lot and is much appreciated. - Julz