The Best eGPU Enclosure for Gaming Laptops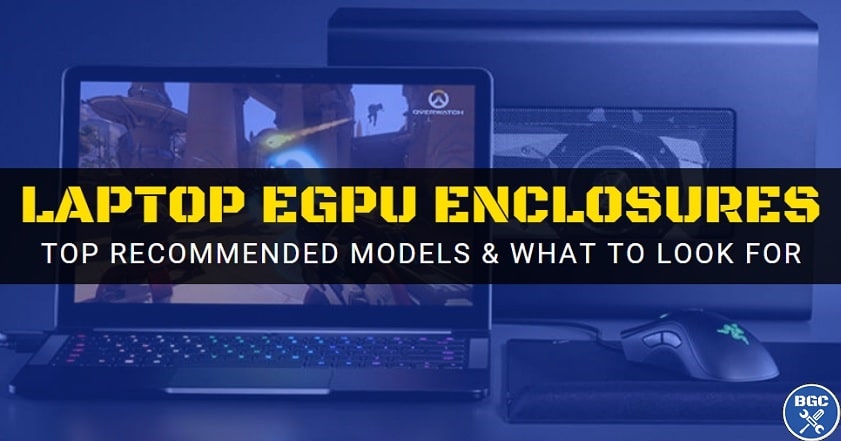 Published: December 24, 2022
Is your gaming laptop not giving the graphics performance you seek? Perhaps you need extra graphical power for gaming, video editing, game development, AI/machine learning, or other graphically demanding applications. That's where eGPUs come in, or more specifically, an eGPU enclosure. An eGPU enclosure is an external device that houses a desktop graphics card, and is typically connected to a laptop using a fast Thunderbolt 3 or 4 connection.
Most eGPU enclosures also come with a built-in power supply to seperately power the installed graphics card, and are designed to keep the card cool when under load. In addition to providing a connection for the graphics card, eGPU enclosures may also have additional features, such as USB ports for connecting peripherals and an Ethernet port for wired internet.
After researching the current eGPU market as it stands right now, I've pinpointed the current best eGPU enclosures for gaming laptops to help you in your hunt for the right unit. Just make sure to do your own research for your particular laptop and setup, as eGPU enclosures can vary a lot in terms of their requirements and specs.
Related: Choosing the Best Gaming GPU
The Best eGPU Enclosure for 2023
Out of all the eGPU enclosures on the market, the Razer Core X is the single best right now overall, offering great flexibility, high durability, effective cooling, and to top it off in typical Razer-like fashion, excellent aesthetics. The Razer Core X allows you to install a desktop graphics card inside, powers it with its built-in 650 watt power supply, and connects to a Thunderbolt 3 port on your gaming laptop to take your laptop's graphics performance to the next level.
Due to its generous power supply and ample space inside - the enclosure supports GPUs up to 3 slots in width - the Razer Core X supports a wide range of modern desktop graphics cards such as the RTX 3060, RTX 3070, RTX 3080, RTX 3090, RX 6700 XT, RX 6800 XT, and RX 6900 XT. While not yet listed on the official Razer site at the time of writing this due to them being so new, there's no reason the latest NVIDIA GeForce RTX 4000 and AMD Radeon RX 7000 series of cards won't work just fine (assuming they fit the physical dimensions of the enclosure of course - check the specs carefully).
Although I would avoid using a RTX 4090 (or RTX 3090 and 3090 Ti for that matter) as the 650 watt power supply would struggle with that. Only way to use such powerful GPUs in this eGPU enclosure would be to change the power supply of the enclosure. You also have the Razer Core X Chroma version of this enclosure, which has a slightly more powerful 700 watt power supply, though I would still get more wattage for the aforementioned top-tier GPUs (RTX 4090 etc). Anyway, for any other powerful GPU, the Razer Core X (or Chroma version if you want the RGB lighting and extra power supply wattage) is a great choice and is easily one of the best eGPU enclosures on the market right now.

Honorable Mentions:
Razer Core X Chroma (700w Power Supply, RGB Lighting)

Sonnet Breakaway Box 750 (750w Power Supply)

Akitio Node Titan (650w Power Supply)

Akitio 131385 Node Pro (500w Power Supply)
Choosing a Compatible eGPU Enclosure for Your Laptop
When choosing the right external GPU enclosure, there are several key factors to consider:
eGPU Encosure Compatibility With Laptop: Make sure the eGPU enclosure is compatible with your laptop's operating system, and that your laptop has the necessary port (Thunderbolt 3, Thunderbolt 4, etc).
Graphics card Compatibility With eGPU Enclosure: Confirm that the eGPU enclosure can support the graphics card you want to use. Some eGPU enclosures have a very limited range of graphics cards they can support, while others are much more flexible.
Power Supply Compatibility With GPU: Make sure the eGPU enclosure has a sufficient power supply for the graphics card you want to use, also taking into account future GPU upgrades (if you want to add a more powerful GPU to the enclosure later).
Size and Portability: Consider the size and portability of the eGPU enclosure if you plan on taking it with you on the go. Some eGPU enclosures can be quite large and heavy, just as if you were porting a mini desktop around.
Brand: Research the brand and read reviews to get a sense of the reliability and customer support of the eGPU enclosure are considering. Also consider the seller that you're buying from if you're looking at a listing from a third-party seller.
That pretty much covers the basics of eGPU enclosures, including which are the best to buy right now. Just make sure to do some extra research before purchasing one, to ensure you have got all your compatibility bases covered. If you want to learn more about eGPUs or ask a question, check out the eGPU subreddit.
---
Trusted VPNs
VPN software is quite important in this day and age and will improve the security and privacy of your PC when online. There are also benefits to using VPNs for gaming.

There's lots of VPNs out there but the ones I recommend most to gamers is ExpressVPN (special link that gets you 3 months off. they also offer a free trial here) and NordVPN which are both highly rated gaming VPNs because they're the fastest and most secure.
Search the Site
About the Author
Indie game dev currently working on my first public release after years of hobby projects, a story-driven VR FPS built with Unreal Engine (to be announced soon here for anyone into VR FPS's). Also likes writing about tech, which also helps fund development of the game.
My favs of all time are OOT, Perfect Dark, MGS1, MGS2, GE007, DKC2, THPS3, HL1, and HL2, with the most recent addition to my list of immortals being the VR masterpiece Alyx. If you want help with a new build feel free to ask on the main PC builds guide. If you found the site extra helpful and wish to support the work I do here, sharing an article with a friend helps a lot and is much appreciated. - Julz