How to Choose the Best Computer Speakers for Gaming: Buying Guide & Our Top 2018 Picks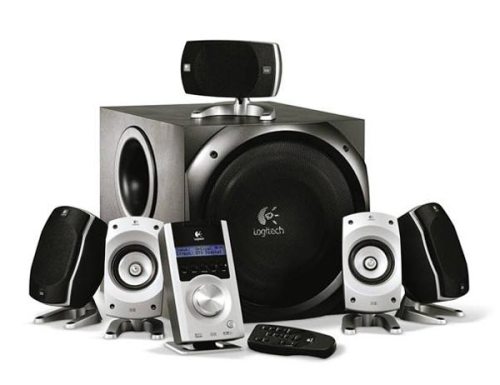 If building a high-end rig, make the most of it with high-quality sound
Last Updated: June 30, 2018
Finding the best computer speakers for your particular budget, preferences and room type can be a tricky task, but we're here to help make your purchase a little easier. Whilst gaming headsets are very popular and a necessity if you wish to communicate with your teammates during multiplayer games, sometimes you feel like blasting some nice speakers with quality heart-throbbing bass instead. Built-in speakers than come with some monitors just won't cut it if you're after quality, immersive sound for your games and music.
Plus, even with a high-quality headset, long gaming sessions can become uncomfortable and sometimes you need a break from your trusty headset and that's where it's handy to have some solid gaming speakers on hand. In this buying guide teaching you how to choose the best computer speakers for your money, we'll firstly explain the features that you should know about when shopping for a good set, and then we'll get into our top picks of the current best gaming speakers for different budgets including the top cheap speakers under $50, the top mid-range speakers under $100, and then the best high-end gaming speakers over $100.
See Also: The Best PC Gaming Desks
---
5 Types of Gaming Speakers
---
There are basically 5 different setup types to decide between when shopping for the best computer speakers for your needs.
2.1 Stereo Speakers
The most common speaker setup for PC gamers as it'll offer the best overall value and most don't need a fancy high-end setup. 2.1 speakers include 2 main satellite speakers, and 1 subwoofer for decent bass.
2.0 Stereo Speakers
Just like the 2.1 setup but without the subwoofer. It's always better having a subwoofer for better, louder bass, but perhaps it's not the best idea for your situation (perhaps you live in a dorm room, shared apartment, or your parents are crazy Nazis) and so 2.0 speakers might be the better choice. Or perhaps you're trying to save on space, as you have to consider having the space to place your sub on the floor somewhere under your PC setup although they're not that big ,really.
5.1 Surround Sound Speakers
Includes 5 satellite speakers with 2 in the front, 2 in the rear, and 1 in the center, as well as a subwoofer. These setups can offer really nice high-quality, loud sound as well as a more immersive experience than 2.1 or 2.0 stereo systems as the surround sound allows you to hear more accurate sound positioning.
If you go this route, make sure your gaming computer's motherboard supports 5.1 by checking its specs, and you also want to consider the room you'll be gaming in. If you have a dedicated gaming room with enough space, and you have the freedom to really crank up the volume and bass, it could be the perfect gaming setup for an amazing experience. 
If you're using a dedicated sound card and not your motherboard's built-in audio, you'll also need to check for 5.1 and/or 7.1 support, but if you're buying a sound card then chances are it will.
7.1 Surround Sound Speakers
If you have the room and the budget, a 7.1 surround sound speaker setup would be the ultimate experience for a home theater or high-end gaming rig. Again, like with 5.1 surround sound, you'll need to ensure your motherboard supports this feature.
Sound Bar
This is an all-in-one speaker setup you can place just infront or behind your screen to save space. Don't be fooled by their compactness as they can still offer fairly decent and loud sound, but obviously they aren't going to match a good 2.1 or 5.1 setup in terms of bass.
---
Considering Speaker Quality
---
Choosing the best computer speakers doesn't come down to looking at specs and comparing one setup to the other. You won't know the quality of a unit, including the highs and lows and the bass, until you hear it in action. That's where reading a bunch of professional and customer reviews comes in very handy. If you don't have the time we've done this ourselves and have summed up what we believe to be the best computer speakers for your money in different categories at the end of this article below.

---
What is THD?
---
A certain specification you do want to look out for though (if you're picky about quality) is the THD (total harmonic distortion) of your speakers' amplifier. Speaking of the amplifier, you'll want to get speakers that are self-amplified.

Wikipedia states THD as the measurement of the harmonic distortion present and lower distortion means your amplifier produces a more accurate reproduction of the audio it plays (ie higher quality audio).
The lower the THD of your gaming speakers the better, and in general you should probably stick to speakers with a THD LESS than 1-2% if you care about high quality audio.
---
Best Cheap Gaming Speakers Under $50
---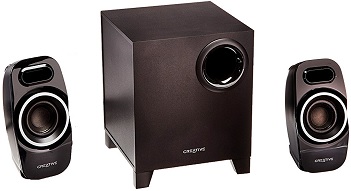 ---
Best Mid-Range Gaming Speakers Under $100
---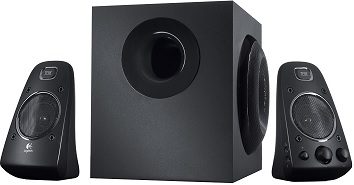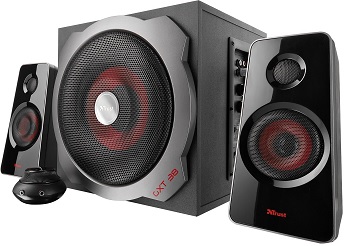 ---
Best High-End Gaming Speakers Over $100
---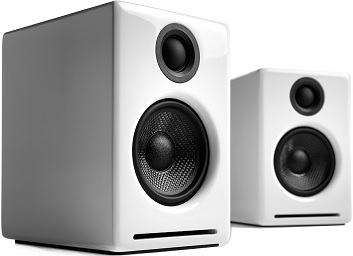 ---
Hope this guide helped in your research, and good luck with your new setup. Need further help?
For Simple Questions
If you need further help choosing the optimal bang-for-buck parts-list for your specific requirements, feel free to post a question in our main comments section (on our Latest Gaming PC Builds page). We'll respond to you ASAP and do our best to help steer you in the right direction.
For Detailed Help (Premium Email Support)
To have ongoing access to our exclusive support email (reserved for customers only), check out the "Master" or "VIP" editions of our book (The Gaming Build Blueprint Manual). These editions come with included long-term support which may just come in real handy if you're building your first PC but are still a bit worried or intimidated.
You'll have the peace of mind to be able to ask us directly for help at any stage of your build. Our book is also the best way to directly support our work here at BGC, with profits often re-invested back into creating more and better content, including being able to buy more hardware and equipment for testing and so on.