Home > PC Builds > Best Deals USA
Best Cyber Monday 2021 Deals for PC Gamers (North America Edition)
Hand Picking the Standout Deals on Components, Prebuilts, Monitors, VR, & More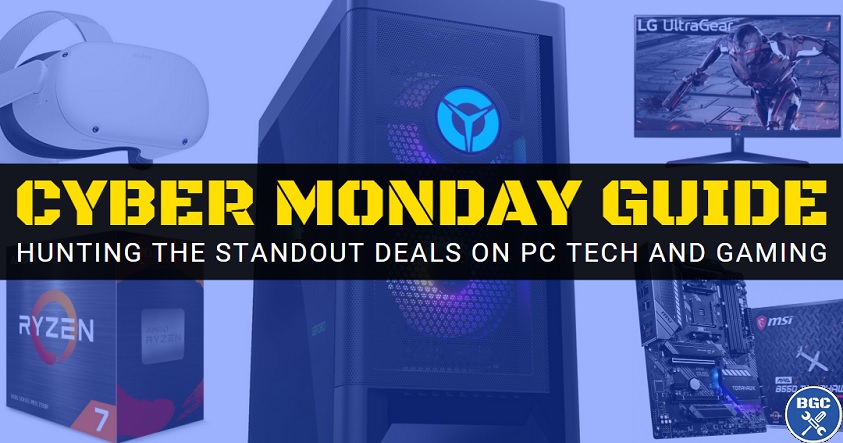 Last Update: Nov 29, 2021 (8:49AM Pacific)
Cyber Monday is usually a great day to upgrade a gaming or work setup, and as I did last year I'll be continually hunting, vetting, and gathering all of the best legit deals that I find during my hunt across a multitude of online retailers. Deal season can get confusing out there, 'cause every gaming tech company and their goat seems to be shilling a deal on something. 
But not all deals are worth it, especially when it comes to PCs as you really do want to stick to trusted, quality, reliable products at all times. I skip over perhaps 98% of deals, and only look further into the occasional gem. So if you see a deal out there you think is juicy, no need to frantically whip out that wallet at lightspeed like you're Revolver Ocelot - take your time and do your research. Let's get straight into the deals, and remember that I'll be continually updating this page throughout the day if I find anything worth adding.
See Also: November PC Builds Guide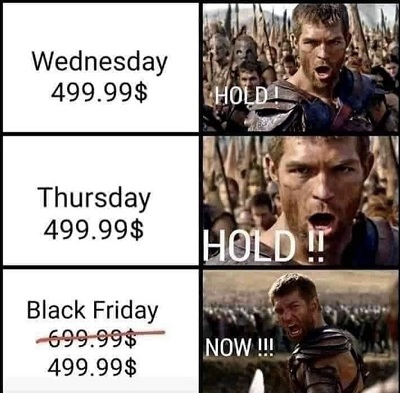 Always do your research on deals
---
Best VR Deals
---
Quest 2 (Also Here and Here and Here)
Deal: Get $50 Voucher

Starting with VR 'cause I'm super biased and think it's the coolest thing since the revolutionary N64/PS1 era, and on participating retailers (Amazon, BestBuy, B&H, and Newegg from what I gather) you get a $50 voucher with a Quest 2 purchase (128GB or 256GB versions).
The Quest 2 from Oculus (well, Facebook, err, I mean Meta) is the most successful VR headset of all time, and for good reason as it's the best bang for buck and is capable of both wireless standalone VR gaming along with full PC VR support (SteamVR) if you hook it up to a PC (either using the Oculus Link cable or wirelessly using the AirLink or Virtual Desktop app).
Price: $549.99 USD (Save $50)

Edit: Previously I said it was $150 off, but that was only at the Microsoft store and I uncovered that there is no guarantee that you would get the latest updated edition of the G2 when ordering from there. The G2 was recently refreshed with improvements that iron out some issues, making it an even better VR headset, but to ensure you get that latest version I would order direct from HP unless you can get a confirmation from Microsoft that you would indeed be getting the new and improved version.
The HP Reverb G2 is a cool 50 bucks off if you buy direct from the HP site. Don't be fooled by the bad reviews thinking this headset is perhaps a second class citizen in the VR scene: it is objectively the best VR headset for simulations like racing or flight games, as it has the best resolution and clarity (but tracking isn't as good as the Quest 2). 
But it's also great for other VR titles. The negative reviews about it are mostly to do with setup issues that have either been ironed out or that have clear, easy solutions if you do your research. Setup is a bit more involved than the Quest 2 though, so this headset is not for everyone and more for tech-savvy enthusiasts who have some sort of experience with VR and who have strong PCs (you need a beefy GPU to take full advantage of the G2's very high resolution).
---
Best PC Component Deals
---
AMD Ryzen 7 5800X 8-Core (Also Here)
Price: $340.99 USD (Save ~ $50)

Price: $479 USD (Save ~ $70)

Nice discounts on the excellent 5800X and 5900X is great to see, but needed in a way if we're being honest seeing as the latest 12th gen Intel CPUs recently snatched back the gaming performance crown from AMD. For gaming, the 5800X is the better value.
CM MasterLiquid ML240L RGB V2 (Also Here & Here)
Price: $57.99 USD (Save $30)

I've always recommended the ML240L V2 and given it a thumbs up as a good liquid cooler on a budget, so when on sale it get two thumbs up.

Samsung 980 1TB NVMe Gen3 (Also Here & Here)
Price: $99.99 USD (Save ~ $40)

These blazing-fast A-tier drives from ever-reliable Samsung have some pretty juicy discounts on the 1TB and other sized models. These are the next best thing to next-gen PCIe Gen4 drives without the crazy price tag.

If you do want a next-gen PCIe Gen4 drive, and have a compatible motherboard and good cooling within your case (these drives can get real hot), these are 2 of the best and on sale. If you want value, stick with a Gen3 drive - you'll hardly notice a difference, especially when it comes to gaming load times. Expensive Gen4 drives are more for workstation builds.

MSI MAG B550 Tomahawk ATX (Also Here)
Price: $148.99 USD (Save ~ $30)

A great mid to high-end AMD motherboard perfect for any Ryzen 5, 7, or 9 build, this board is a common inclusion in my best PC builds for the money series. Highly recommended, even when at its normal price. Just keep in mind it doesn't come with WiFi though, so you would need to buy an adapter if you want wireless functionality in your build.
Corsair 4000D Airflow Black Mid Tower (or White)
Price: $79.99 USD (Save $15)

A fantastic case for any new system, with good cooling thanks to an airflow focused design and 2 included 120mm Corsair fans. No need for more fans unless you're building a very powerful system.
Price: $76.49 USD (Save $13.50)

Yet another case that often gets a mention in the main gaming PC builds guide due to its good value and airflow potential (has a front mesh design). Also comes with 2 fans. Not a big discount, but a discount on a quality component that I would normally recommend anyway? That's worth mentioning for sure. Great option for mid-range gaming systems.
Price: $104.99 USD (Save $25)

Price: $119.99 USD (Save $20)

Price: $129.99 USD (Save $20)

High quality, fully modular, 80-Plus gold power supplies that I would recommend at normal pricing anyway.
Price: $64.49 USD (Save ~ $40)

Another top-notch, high-quality and fully modular 80+ Gold power supply on sale. The G3 is one of EVGA's best units, made by Super Flower who are a leading PSU manufacturer.
---
Best Gaming Monitor Deals
---
1440p 165Hz, HDR10, FreeSync, 0.5ms

Price: $249 USD (Save ~ $50)

Around 50 bucks off this high-refresh 1440p screen is a legit deal over at Walmart. I say it's $50 off instead of the listing which says 100 off because if you go to Amazon it's 300 bucks.
1440p 170Hz, IPS, FreeSync, 0.5ms

Price: $279.99 USD (Save ~ $80)

A good value 1440p IPS display with a super fast 170Hz refresh rate, made even better value with a decent discount. It's got all the specs that matter for gaming, including a fast response rate of 0.5ms and FreeSync support.
MSI Optix MAG321CQR 32" Curved
1440p 144Hz, VA, FreeSync, 1ms

Price: $259.99 USD (Save ~ $40)

A good value 1440p IPS display with a super fast 170Hz refresh rate, made even better value with a decent discount. It's got all the specs that matter for gaming, including a fast response rate of 0.5ms and FreeSync support.
---
Best Prebuilt PC Deals
---
RX 6900 XT, Core i9 11900KF, 32GB RAM, 1TB SSD
Price: $2899.99 USD (Save ~ $300)

Not my first choice in terms of prebuilt brands (iBuyPower are okay, I guess), but when on sale like this it becomes worth a look as this is a solid price for a system with a mighty 6900 XT.
RTX 3080, Ryzen 7 5800X, 16GB 3600MHz RAM, 1TB NVMe SSD

Price: $2499.99 USD (Save ~ $300)

All things considered, this isn't a bad price for a build with a RTX 3080, given how overpriced and hard to find these graphics cards are when trying to buy them separately. Thermaltake are also a reliable brand, so I would trust this more so than iBuyPower to be honest. This prebuilt also comes with everything else you'd need for a legit high-end system, including a current-gen Ryzen, 16GB of fast 3600MHz memory, a fast 1TB NVMe SSD, and a 750 watt Gold-rated power supply just to name the standout parts.
RTX 3060, Ryzen 7 3700X, 16GB RAM, 256GB NVMe SSD, 1TB HDD

Price: $1249.99 USD (Save ~ $250)

A fair discount on this quite decent Asus prebuilt featuring a RTX 3060 and everything you need to get going including an optimal 16GB of RAM for gaming and productivity, a dual HDD and SSD storage setup with plenty of space, and an included keyboard and mouse.
RTX 2060, Core i5 11400F, 8GB RAM, 500GB NVMe SSD

Price: $875.99 USD (Save ~ $154)

Good price on this okay prebuilt with a RTX 2060, but only has 8GB of RAM so I would highly recommend upgrading to 16GB (as well as consider adding a second SSD or HDD).
RX 6600 XT, Ryzen 5 3600, 8GB RAM, 500GB NVMe SSD

Price: $999.99 USD (Save ~ $150)

Another nicely discounted CyberPowerPC but with a more modern RX 6600 XT. But again, only has 8GB RAM, so upgrade that and you're golden with a fairly cheap new setup.
RTX 3060 Ti, Core i7 11700F, 16GB RAM, 480GB SSD, 1TB HDD

Price: $1399.99 USD (Save ~ $200)

Another bang for buck 3060 Ti setup.
GTX 1660 Super, Core i5 11400, 8GB RAM, 256GB SSD, 1TB HDD
Price: $899.99 USD (Save ~ $100)

A solid little entry gaming system, but I would upgrade the RAM.
---
Best Gaming Laptop Deals
---
ASUS ROG Zephyrus 14" Gaming Laptop

1080p 144Hz 14", RTX 3060, Ryzen 9 5900HS, 16GB RAM, 1TB SSD, WiFi 6
Price: $1349.99 USD (Save ~ $200)

1080p 144Hz 15.6", RTX 3060, Core i5-10500H, 16GB RAM, 512GB SSD, WiFi 6
Price: $1049 USD (Save ~ $50)

1080p 144Hz 15.6", RTX 3060, Core i7-11375H, 16GB RAM, 512GB SSD, WiFi 6
Price: $1282.25 USD (Save $100+)

---
Best PC Accessory Deals
---
HyperX Cloud II 7.1 Gaming Headset

Price: $58.29 USD (Save ~ $20)

Logitech Z623 400 Watt 2.1 Speaker System (Also Here)

Price: $99.99 USD (Save ~ $20)

Price: $22.25 USD (Save ~ $27)

Netgear Nighthawk AX5200 WiFi 6 Router

Price: $149.99 USD (Save $150)

Price: $259 USD (Save ~ $90)

---
Best VPN Deal
---
Price: Depends on Plan (Up to 68% Off)

If you ever wanted a VPN, this is the weekend to do it. NordVPN is one of the best out there so can't go wrong with them. But you're going to see deals on pretty much every VPN under the sun, so take your pick as Nord isn't the only good one (just my top pick and the one I use personally).
Notes/Disclosure:

Any prices mentioned were only correct at the time of writing and can change at any moment
Crossed out deals are either sold out or have had their price increase since I listed it
Links to products on Amazon, BestBuy, and B&H are affiliates links. These companies offer creators like me a small commission if you purchase products after clicking my links. This does not cost you anything extra. I don't get commissions for the other stores.
---
Trusted Stores
The retailers I recommend most, for the regions that make up the majority of my readers.
USA: Amazon US / BestBuy / B&H

Australia: Amazon AU / PLE / Scorptec

UK: Amazon UK / Overclockers

Canada: Amazon CA

Germany: Amazon DE

France: Amazon FR

Italy: Amazon IT

Spain: Amazon ES
Disclosure: As an Amazon Associate we earn from qualifying purchases. We may also earn a commission on some sales made through other store links (Best Buy, B&H, PLE, and OCUK).
Trusted VPN
VPNs are fast becoming must-have software these days to improve the security and privacy of your PC when online. There's lots of VPNs but NordVPN is objectively one of the best and the one I use. VPNs also help for online gaming as explained here.
Search Articles
Most Shared
About Me
Indie game programmer currently working on my first official game release (after years of hobby projects), an atmospheric story-driven VR FPS built with Unreal Engine (to be announced once I'm ready here and here for anyone into VR FPS's). Also likes writing these articles about tech, which helps to fund development of the game (bringing on help from talented artists and modelers is not cheap).
My favs of all time are OOT, Perfect Dark, MGS1 and 2, GE007, DKC2, THPS3, HL1, WC3, Vice City, and KOTOR, with the most recent addition to my list of immortals being the VR masterpiece Half Life Alyx. Thanks for visiting, hope the site helps, and if you want a second opinion on your PC build feel free to ask a question over on the main PC builds guide. I try to respond to every comment. - Julz