Home > Gaming PC Builds > Deals Guide
Where to Find the Best 2021 Deals on PC Hardware & Accessories (US, CA, UK, AU)
+ FAQ on Black Friday and Cyber Monday for PC Builders / Gamers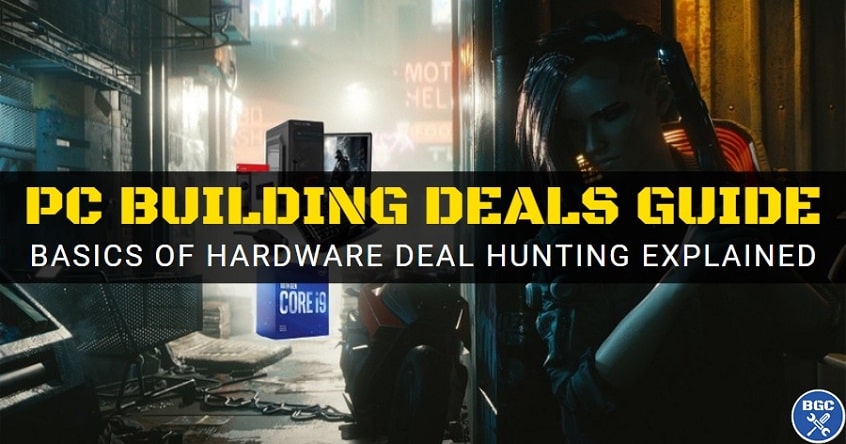 Last Updated: January 7, 2021
The biggest tech deals are typically found on the big sales events like Black Friday, Cyber Monday, and Amazon Prime Day (which we'll get to further below and explain). But the good news is you can indeed find PC hardware deals at any time throughout the year.

Sure, most deals aren't going to be worth it, and can sometimes only appear to be a good deal (when in reality it really isn't discounted by much - if at all). However, if you keep your eyes peeled and do your research on what the typical price is for any given product, you can find the occasional legit deal that's worth considering.
See Also: The Best PC Builds for Gaming in 2021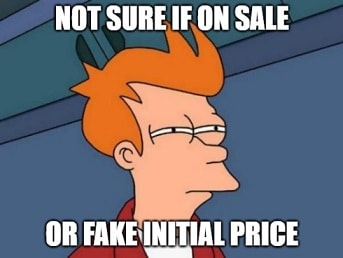 Be skeptical about deals and do your research
Where to Find Daily Deals on PC Hardware
Here's where to find the best PC hardware deals throughout the year based on your country. Apologies if your region is not included as I'm simply listing the countries that I am familiar with in terms of hardware stores. Also, I only listed stores that I trust and can recommend in good faith.
Best PC Hardware Deals in North America (US & Canada):
Best PC Hardware Deals in the UK:
Best PC Hardware Deals in Australia:

Other Resources for Finding Deals
Black Friday / Prime Day FAQ
When Are the Biggest Hardware Deals of the Year?
Black Friday and Cyber Monday have long been, and continue to be, the two biggest tech sales events of the year. Unless the world ends, 2021 will be no exception. If the world does end, make sure to have played and finished the freakin' miracle that is Half-Life: Alyx beforehand otherwise GabeN will restrict access at the gates to gaming heaven. But I quite dramatically digress.
When is Black Friday 2021?

Since Thanksgiving in 2021 will be on November 25th, this year Black Friday will be on Friday November 26th, 2021.
When is Cyber Monday 2021?

This year, Cyber Monday will be on Monday November 29th, 2021.
What Time Do Black Friday Sales Start?

It depends on the store, with the earliest being midnight on Thanksgiving (the Thursday before) for certain eCommerce stores like Amazon, and the latest being late afternoon on Friday for certain physical (AKA brick and mortar) stores.
Black Friday vs Cyber Monday: Which is Best for PC Parts?
Historically, both deal days are on par with each other in terms of having the best deals on PC hardware, accessories, desktops, laptops, and so on. I've been running this site for years now, having payed close attention to the sales each year, and I honestly can't split them as they are both worth checking out for PC related deals. 
Certain categories tend to have better deals on one day vs the other, but it depends on the year and there's no telling in advance which day will be better for which type of component etc. For example, last year I found no standout difference between which categories of parts went on sale on Black Friday vs Cyber Monday - they both had plenty of discounted CPUs, SSDs, motherboards, RAM, etc etc.
Some deals from Black Friday also either continue on through Cyber Monday (including the Saturday and Sunday in-between) or they return and pop-up on Cyber Monday. That's because many retailers effectively treat Black Friday and Cyber Monday the same, and sometimes lump all their deals into one big long weekend (or week) of deals.
But if you only start your hunt when waking on Mon, you miss deals that start midnight Sun
Which PC Parts Go on Sale During Black Friday?

For us tech lovers, Black Friday and Cyber Monday, including the Saturday and Sunday in-between, are good opportunities to upgrade our setups for less. However, you must be relatively quick and know what you're looking for beforehand. Don't go into Black Friday too blind, and have a good plan of attack because the best deals probably won't last long.
But in terms of which PC parts typically go on sale, you get a bit of everything on Black Friday and Cyber Monday, from CPUs to cases, monitors to motherboards, PSUs to GPUs, storage to slick accessories - it's all fair game. Discounts on prebuilt desktops and gaming laptops are also worth looking out for if those are what you're considering instead, and it's also a prime time to pick up a new monitor on special.
Anyway, on the big day check back to this very page if you want my opinion on the best deals of the day - I'll be updating this page and listing any good quality PC components and accessories that are legitimately discounted and that I would consider buying myself if I was hunting for a particular category of product. Goes without saying, but some deals will be much more worth it than others. Watch this space (like, literally) or follow our Facebook page where we'll announce when this updated deals page goes live starting just after midnight on Black Friday 2021.

Is Amazon Prime Day Good for PC Deals?
Is Prime Day as good as Black Friday for tech deals? No, but these days Prime Day is hard to ignore as the deals seem to get better each year and the past couple years were decent for PC-related stuff. Nothing too crazy, but decent discounts here and there on quality parts and accessories. So if you're building a PC around that time (mid year), or just looking to upgrade for slightly cheaper, it's worth keeping an eye on Prime Day.
Related: How to Save More Money When Building a PC