Choosing the Best Gaming Mouse

2018 Buying Guide to What Makes a Good Mouse for Casual or eSports/Competitive Gaming, Mouse Features Explained, & Our Top Picks
Some games require pinpoint precision and timing, where the responsiveness and quality of your mouse plays a key role
Last Updated: August 23, 2018
Choosing a good gaming mouse for your computer build will allow you to play your games with more comfort and optimal control, which is important for all types of gamers all the way from the casual PC gamer to the most attentive-to-detail, competitive eSports player. 
Not all mice are created equal, and there are some features that you'll want to be aware of and understand if you wish to choose the best for your specific games and spending budget, and in this guide we'll give you the lowdown of what you need to know to pick the perfect mouse. We'll also run through our current top picks of the best gaming mice for the money in different categories (updated for the 2018 peripheral market). Happy mouse hunting.
See Also: How to Choose the Best Gaming Keyboard
---
CONTENTS (click to jump)


---
1 - Current Best Gaming Mice for the Money (Top Value Picks for September 2018)
We'll get to explaining all the features that matter when choosing the best mouse for gaming later in this guide, but first let's cover the current top 2018 mouse picks for gamers in different price points based on painstaking on-going research for months on end of not just the gaming peripheral market and which mouse is better quality for better value, but most importantly in this day and age of eSports superstars and teams we also keep a close eye on what all the top gaming pros of all the top eSports in the world actually use themselves. By combining and considering these two data points over an extended period of time the patterns emerged and the answer that all pro or aspiring pro gamers wish to know revealed itself: Are certain mice better for certain games? Heck yes.

No pro at the top of their game would use an average mouse, especially when it comes to first-person shooters where good mice are crucial to playing at your best. You don't NEED to use a mouse that the pros are using, but it'll be a safe bet that you're buying wisely. Just make sure to take your own needs into account such as shape, weight and grip-style. Without further ado, let's get into our top hand-picked gaming mice for September 2018 for different budgets and different game genres. 
1.1 - Current Best Cheap Gaming Mouse on a Budget Under $50 (Sept 2018)
Model:
Logitech G300s Optical Gaming Mouse
For Hands:
Left or Right Handed (Ambidextrous)
For Hand-Size:
Small to Medium Hands
Recommended For:
Budget builders, casual gamers, and gamers who don't need a top-end luxury mouse. ie Just something decent enough for gaming purposes but cheap enough that it will hardly eat into your budget.
1.2 - Current Best General Gaming Mouse Under $100 (Sept 2018)
Model:
Corsair M65 Pro Optical Gaming Mouse
For Hands:
Right Handed
For Hand-Size:
Medium to Large Hands
Recommended For:
More serious gamers wanting a higher-quality, longer-lasting mouse for solid all-purpose PC gaming (but it does shine as a FPS mouse). Overall a safe bet buy if you're wanting a good, versatile mouse that's good for all types of games. If you only play one game and you want the best specific mouse for that specific game (that the top pros in that game use themselves), I'd consider the more game-specific mouse picks below instead, but yeah as a good general gaming mouse, the M65 will serve you well.
Honorable Mention:
Model:
Logitech G502 Proteus Spectrum Optical Gaming Mouse
For Hands:

Right Handed
For Hand-Size:
Small to Medium Hands
Recommended For:
Another high-quality, good gaming mouse for general use (and good for FPS, too). It's got cool RGB and it's also a highly customizable mouse with 11 programmable buttons and weight adjustment in the forms of little weights you can add or remove to the bottom of the mouse for the perfect feel Not good for left-handed players, though.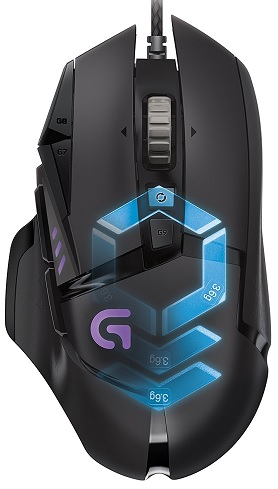 The Logitech G502 Proteus Spectrum
1.3 - Current Best FPS Gaming Mouse Used By Top CS:GO & Overwatch Pro Players (Sept 2018)
When it comes to competitive gaming, and especially first-person shooters (FPS) games like Overwatch and CS:GO where every little bit of an edge counts, your mouse is perhaps the single most important piece of equipment of all. 
To play at your 100% best in these every-millisecond-counts battles, you want to ensure you're using a mouse that doesn't let you down and that allows you to play optimally. Of course gaming skill level, practice, patience, and focus are the most important attributes to a successful pro gaming campaign, but if your mouse plain sucks it's going to get in the way and could be the difference between playing well and playing like a beast.
This goes for any genre, not just FPS games, as MOBA and RTS games will still require you to be quick on your fingers and precise with your control. When picking the right eSports mouse for your particular needs (remember everyone is different), first and foremost you want to get a mouse that allows you to move, aim and click as comfortably and accurately as possible for your particular hand size and grip style.
BenQ Zowie EC2-A vs EC1-A vs FK1 vs FK2
Which is the best CSGO and Overwatch mouse in 2018 that is used by more pro players than any other? The BenQ Zowie in all its various editions - the EC2-A, EC1-A and FK1 (and FK2) - currently take the cake as the best overall mouse for these super fast-paced, competitive FPS titles. 
Zowie mice have an amazing reputation within the FPS community, and for good reason as they're high-quality and highly-accurate for fast-paced FPS titles with zero input lag whatsoever. Zowie complete selection of FPS-focused gaming mice come in various sizes and styles to suit any type of hand and feeling preference.
Simply pick the one that matches your hand the most and you have a very safe bet in terms of getting a great mouse for stellar control in CSGO, Overwatch and other First Person Shooter games.  
FK1 model will suit those with medium to large hands, who use a claw-grip, and is also suitable for lefties as it has an ambidextrous design. The FK2 is yet another good choice used by a few pros, and is the same as the FK1 but made more for medium-sized hands (and also good for fingertip grips).
1.4 - Current Best MOBA Gaming Mouse Used By Top DOTA 2 and LoL Pro Players (Sept 2018)
Model:
Razer DeathAdder Elite Gaming Mouse
For Hands:
Left or Right Handed (Ambidextrous)
For Hand-Size:
Small to Large Hands
Recommended For:
Another great mouse for any genre but used by many LoL, DOTA 2 and SC2 pros (and some FPS pros). It's a versatile mouse that works well for a variety of hand shapes and sizes, has two side buttons, with many players finding it super comfortable with on-point ergonomic design.
---
2 - Which Mouse Specs Matter as a Gamer? Gaming Mice Features Explained
The following features and specifications are what you should consider when choosing the best gaming mouse for your needs. You don't need to know every little detail of these specs, but it'll help you navigate the often-confusing peripheral market which is plagued with hypey marketing, gimmicks, average products, and misleading advice.

2.1 - Are Optical or Laser Mice Better for Gaming?
A computer mouse comes in different types: optical, laser, or ball mice. Ball mice are dead and gone so we won't discuss them further. Optical and laser mice are the current technologies you have to choose from, and despite lazer being the more recent tech when it comes to gaming you're much better off with an optical mouse. Why are optical mice better for gaming? Whilst there are some good lazer gaming mice out there, and lazers do track better on glass, simply put an optical mouse is slightly more reliable and precise overall when used on most surfaces including your typical mouse pad. Don't get us wrong though; if you really want a lazer then go for it, but try to get a hard mouse mat, and keep your mouse and mouse pad clean of dust as much as possible. 
2.2 - Mouse Grips & Sizes Explained

There are basically three types of mouse grips which gamers use. There is a palm grip where you hold and move the mouse with your entire hand with your palm resting on the mouse. A claw grip is where you hold the mouse with all your fingers in a claw-style fashion and rest your palm on the mouse, and lastly a fingertip grip is where you emphasize resting and controlling the mouse with your fingertips and your hand hovers in the air. A picture is worth a thousand words:

Different mice are designed for different grip styles, so you'll want to pick one that best suits your particular battle stance. Keep in mind that some mice are designed for multiple grip styles. As well as choosing a mouse that suits your grip style, to make the most of your eSport aspirations you will most definitely want a model that fits comfortably with the size of your hand, and that also feels good in terms of weight. Mice aren't all created equal and they can vary quite in a bit in feel.
For example, if you're a giant of a guy with massive mitts then you'll want a mouse designed for big hands; this will be specified either by the manufacturer or by reading professional and/or customer reviews. If you're left-handed then don't forget to pick an ambidextrous mouse that can be used for left or right hands. Do your research if you have large or small hands, or even if you have normal-sized hands (who knows what that really means) then check that the mouse you pick isn't designed for large/small hands.
The best option would be to test out different mice before you buy at your local store, but unfortunately not everyone is going to be able to find all the mice they want to test at a store. If you buy your mouse online and it doesn't feel right then don't hesitate to return your order for another one; there's nothing worse than being distracted by uncomfortable peripherals when you're trying to focus all your energy on winning.
2.3 - Mouse Responsiveness Explained

The next thing to look for in a gaming mouse for competitive eSports play is responsiveness, which basically refers to how fast the mouse sensor processes movements. If you want to play at your absolute best and you really care about winning, do everything you can to get what's known as a flawless mouse, which is one reported by pros as having no input lag whatsoever.
In our recommendations of specific mice further below we'll mention which are considered flawless or not. However, getting a mouse with a flawless sensor is most important for first-person shooters. Not all pros use flawless mice for other games.
As for wireless mice, whilst wireless technology and responsiveness overall has gotten a lot better in recent years, for eSports you're still better off avoiding them and going wired for guaranteed responsiveness and consistently. However, if you really do want to get wireless, there are a few great options that won't let you down (and that some pro gamers actually use). See our current 2018 recommended gaming mice section.
2.4 - Gaming Mouse DPI/Resolution Explained

The quality of a gaming mouse is determined by a number of factors, with an important one being the resolution. Measured in dots per inch (DPI), the resolution is the number of pixels per inch that the mouse's optical sensor and focusing lens can see when you move the mouse around. In general, the higher the resolution of a mouse, the better the accuracy and precision will be, however this isn't always the case so you shouldn't put too much weight on the DPI measuring.
2.5 - Is a Wireless Gaming Mouse Good for Gaming?

Having a wireless mouse can be more convenient than a corded one, however there's the added issue of potential input lag slowing down the precision and accuracy which can harm your experience. Mouse lag occurs with wireless mice because of the added time it takes to send information to the receiver from the mouse. Although the good news is that modern wireless mice are becoming faster and faster as the technology improves, and with some of the best wireless mice on the market you'll hardly notice a difference.
So if you intend to buy a wireless mouse, be sure to do your research on whether or not it has input lag and to what degree. If you're gaming professionally or just want to avoid the issue altogether, I'd recommend still sticking to wired to guarantee the best speed possible. Same goes for internet connections for optimal online game: stick with wired connections for pro gaming.
Need help planning your PC? Leave a comment on the Gaming PC Builds hub.
Need help building your PC? Leave a comment on the Gaming PC Assembly hub.

Enjoyed the guide or have feedback? Let us know, too.
Lastly, if you found this guide real helpful, help us spread the word about our objective, in-depth noob-friendly guides by sharing it with anyone who might also benefit. Thanks guys, and good luck with your build.