Stuck Choosing the Perfect List of High-Performing, Fully Compatible, Bang for Your Buck Parts for Your First PC Build?
Want a Hardware Enthusiast to Thoroughly Plan & Tweak the Most Cost-Effective, Well-Balanced and Optimally-Cooled Parts-List for Your Exact Budget, Country, Games/Applications, and Desired Features?



BGC PRESENTS...
The (Human) PC Build Generator
How This Help Service Works
Like the Sample Gaming PC Builds We Regularly Publish But Want a More Customized Parts-List for Your Specific Requirements, And Would Rather Get Guaranteed, Thorough Help From Us Instead of Winging it With the Responses You May or May Not Get Asking for Help on a Forum?
Input Your Requirements Below and We'll Destroy One of the Most Common Obstacles to Building Your First PC: Choosing the Right Parts-List for Your Exact Wants and Needs That You Can Be Confident in Buying and Assembling as a First-Time Beginner Builder
Avoid Buying Average, Low-Quality, Overpriced, or Straight-Up Incompatible Components and Tap Into Our Extensive Hardware Experience to Help You Stretch Your Money As Far As Possible 
We'll Give Your New Build Our Undivided Attention for As Long as it Takes to Thoroughly Plan the Very Best Custom Parts-List That We Possibly Can for Your Exact Situation

NOTE: This service is for beginners wanting to be "spoon-fed" a new custom parts-list from the ground up, but if you just have a simple question or two, or just want a quick critique of your parts-list, leave a comment anywhere on the site instead and we'll help you out (or email us/DM us)
Besides Prioritizing Performance for Your Favorite Games/Apps, When Designing Your Build We Also Consider Everything Else That Makes for a Great Custom PC:
Including only high-quality components from reliable manufacturers and brands in your personalized parts-list to maximize the longevity of your new PC and reduce chances of something failing or breaking in future




Ensuring your new PC will provide effective airflow for your particular needs by selecting the right combination and balance of cooling-related parts (your case, CPU cooler, case fans, etc) 



Triple-checking 100% compatibility between all of the parts including any necessary manual checks beyond auto tools like PCPartPicker (which doesn't check everything such as certain size/spacing issues among other things)
Searching around for and considering any current deals or price cuts on quality components in your selected country to reduce costs of your build




And if you include any design preferences below we will take that into consideration to design a matching, cool-looking system for the type of theme/look you want
Select Your Personalized Parts-List Package
Standard Build
$9.99 USD
WHAT YOU GET
A Personally-Researched Parts-List for Your Exact Requirements

Direct Product Links for Your Country + PCPartPicker List
Emailed Within 2-5 Days
Express Build
$14.99 USD
WHAT YOU GET
A Personally-Researched Parts-List for Your Exact Requirements

Direct Product Links for Your Country + PCPartPicker List
Emailed Within 24-48 Hours
VIP Build
$29.99 USD
WHAT YOU GET
A Personally-Researched Parts-List for Your Exact Requirements

Direct Product Links for Your Country + PCPartPicker List
Emailed Within 2-5 Days
VIP Only: Receive an Accompanying In-Depth Breakdown of Your Build: A Shorter Version of the Detailed Guides We Publish On the Site *

VIP Only: Available 1-on-1 Email Support for Up To 3 Months After Your Build Should You Ever Need Further Help With Anything Related to Planning, Building or Maintaining Your System
* The personal build breakdown you get with the VIP package includes explanations of why each individual part was chosen for your build, any good alternative picks we can suggest, an example of a future upgrade path for your build, and any other information we think might be helpful for your situation (eg estimated frame rates for any games you list below that you really want to get 60FPS/144FPS/240FPS for). Also, your build guide may or may not be published on our site to potentially help others (if you don't wish for it to be posted on our site then just let us know below).
(if you're unsure if this service is right for you, see the FAQ at the bottom of the page)
Enter Your Requirements:

(please be as specific as possible so we can better help you)
FAQ
"Is This Build Help Service Right for Me?"
This isn't for everyone, and if you have a good understanding of PC hardware you should be fine to plan and tweak your own build from scratch, but here's the deal:
If you're a beginner who's a little scared of building your first PC, and a little stuck on choosing the right combination hardware components to get the fastest performance possible in the games and applications that are important to you (and without overspending on power you don't need) - this build help service might be exactly what you need to gain 100% confidence in the parts you buy and obliterate any fears or concerns you might have about building a good first PC.
Picking parts for a custom PC build can get real confusing real fast, as there's an almost infinite amount of possible hardware configurations you could go for, and every gamer or creator has their own unique preferences, requirements, and differences in what type of performance would make them happy. That's why we offer this service if you get stuck and confused, and want help and guidance so that you don't have to throw in the towel on your dream of building your own computer just because you can't decide on which parts to get and are afraid to choose the wrong components.
Once you've finished building your first PC you'll be super happy that you did end up taking the leap of faith into building your own system instead of taking the easier, less-advantageous path of buying a prebuilt PC (see 11 Compelling Reasons Why You Should Build Your Own Computer).

Before proceeding with your build request, look over our latest sample gaming PC builds as you might find one that suits your exact budget and needs (and looks/aesthetics). But if you want something more customized for your specific wants and needs, we'll gladly do everything we can to plan a great customized build for you.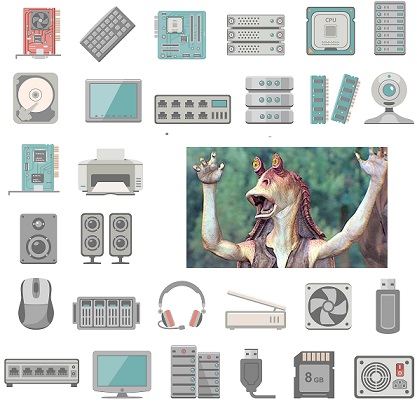 If this is you right now trying to plan your first build, we can make it easier
"Why Pay for Help When I Can Post in a Forum?"
You can get help choosing parts for your new custom PC build on forums or online communities like Reddit, and we encourage you to do so (I recommend the "buildapc" SubReddit), however you'd have to be lucky to get someone to not only spend the necessary time and effort to properly plan and tweak a new parts-list for you from scratch, but to also take into account all of your preferences and other additional details (and to continue thoroughly helping you with any additional questions you might have). 
So if you want 100% guaranteed help, and from someone who will put in the care and necessary time it takes to plan you a great build for your exact situation, using our build generator service above might be just what you need.
But while we can't plan new builds for everyone for free all day (this site takes enough time as it is to run and continue growing), we've kept this parts-list help service as affordable as humanly possible. So even if you're building on a tight budget, it won't eat into your budget at all. On the contrary; we'll do whatever we can to help you save more money on your build, and avoid overspending on stuff you don't need.
Compared to how long it usually takes to plan a good new build from scratch for a certain list of requirements and preferences, we hardly profit from offering this service (it's fun though and keeps my skills sharp though), but whatever (little) profits we do make is reinvested back into the site to continue making it better. Therefore, by using our "build generator", you're helping the site too (so thanks in advance).

"If I Don't Like the Build Can I Get a Refund?"
Because we're spending our time to do this service for you, and there's no way to get that time back, we cannot offer a refund on this service. However, after having completed dozens upon dozens of personalized builds, never has anyone asked for a refund or complained about anything (touch wood) and we genuinely try to help as best we can and deliver more value than what you actually paid. Plus, if you don't like the build we conjure up for you, or you need further help tweaking it to your liking - just email us back and we'll gladly continue helping a brother out until you're happy.