The (Human) PC Build Generator
"Help Me Build the Best Gaming or Workstation PC for My Budget"
Send In Your Specific Computer Build Requirements & Performance Aims & I'll Personally, Comprehensively Research, Plan & Tweak the Very Best Bang for Your Buck, Reliable, Upgrade-Friendly, 100% Compatible, & Future-Proofed Parts-List for Your Exact Budget Based on the Current Market
I'm no hardware god but I do know a thing or two about planning optimal builds...but you'd hope so after it essentially being your job for 10+ years.
Based on many years giving computer build help to gamers, power users and content-creators to build better PCs for the money, the following quote from one of my fav manufacturers is spot-on:
"Surprisingly, the hardest part about building a computer is deciding which parts to use and purchase" - NZXT Staff

You'd think actually building and installing your PC would be the hard part as a beginner, but frankly that's the easy bit these days. Doing the extensive pre-planning and research on choosing the right parts for your needs and perfecting a compatible, well-balanced and high-quality parts-list for specific spending amounts and desired performance aims is often where you get stuck and overwhelmed as a newbie.
And it's understandable - PC hardware and technology can easily rack up in cost, and if you know what's good for you you'll want to be 100% confident you're buying the right parts and accessories for your needs before pulling the trigger and ordering those expensive new components to your door.
It's all too easy when building your first PC to get lost in a sea of specs, different hardware models, performance benchmarks, opposing opinions on forums, misleading customer reviews, not to mention the myriad of straight-up misinformation and factually incorrect information and advice you'll see gamers haphazardly spreading online.
The internet is an amazing tool for humanity and you can learn almost anything and everything, but with all the good info comes the flipside of a ton of misinformed and straight-up bad advice. Which makes sense 'cause most people don't objectively think things through thoroughly before giving PC build and hardware help in forums, comments sections, social media, etc (and that goes for any topic, not just PC building).
Some would-be builders get too overwhelmed and scared they'll choose the wrong parts, and end up throwing in the towel on their dream of building their own awesome gaming/workstation PC, even though they know it's almost-always the better overall choice when compared to buying a pre-built desktop.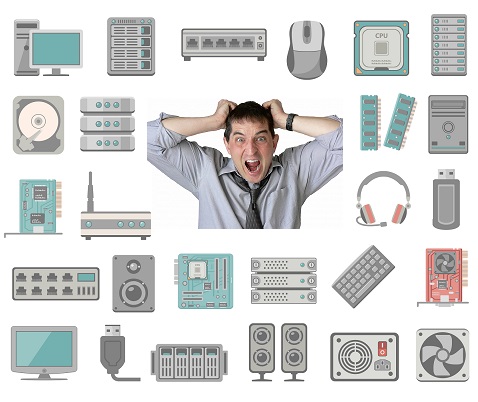 Planning the right PC build for your needs by navigating the oftentimes-confusing, ever-changing hardware market is fun if you're a tech nut like me, otherwise it can get super confusing and super frustrating super fast
You may start out excited to build a PC, then get overwhelmed during the planning stage and end up getting seduced by the easier path of just buying a pre-built PC - the darkside, if you will. Pre-built systems are typically overpriced and contain lower quality components, less upgrade options and flexibility, annoying/useless pre-installed software, not to mention they're hardly ever optimized (ie bang for your buck) when it comes to gaming or workstation performance.
If you're buying an office PC that doesn't have much demands, a basic pre-built is just fine, but for serious gamers, power users and content-creators - nothing really comes close to picking your own parts individually and building a system yourself.
So, if you appreciate that building is the best way to go to get the best PC for your money, but you're on the fence about actually going ahead and doing it because you're overwhelmed with choosing the right fully-compatible, bang for your buck, high-quality parts-list - this PC build generator service might be exactly what you need to gain the confidence to keep your Do-It-Yourself dream alive.
PCs can be seriously expensive hobbies (or necessities for work) so you want to do your homework before buying anything to ensure you not only fully maximize your budget and get the performance you're after in the specific games/resolutions/apps you care about most, but also to avoid any compatibility issues or potential complications down the road, avoid making rookie mistakes when picking parts such as allocating too much or too little on a certain component compared to another, not planning ahead for potential upgrades, or straight-up picking subpar quality parts.
So, if you want 1-on-1 PC build help from someone who's had their finger on the pulse of PC technology for over a decade, let me introduce the (human) PC build generator:
Want to Build a Great Custom PC But Stuck Choosing the Current Best Bang for Your Buck, 100% Compatible, Reliable and Long-Lasting Parts-List & Peripherals for Your Exact Budget & Performance Aims?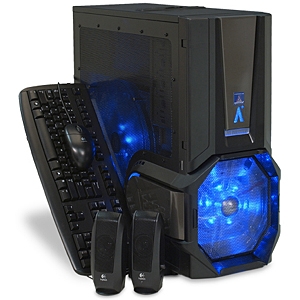 Send in Your Specific Gaming and/or Workstation Requirements Below and I'll Give You My Undivided Attention to Personally Undertake the Painstaking, Extensive Hardware & Benchmark Research to Fine-Tune the Very Best Custom Parts-List for You By Tapping Every Ounce of Hardware Knowledge & Build Planning Experience I Have.
After having run BGC for so long I've received boatloads of emails over the years from gamers and power-users like you who need help picking the right parts, and I used to do my best to reply to each and everyone that came to me for specific, detailed advice.
However due to time constraints these days it's just not physically possible to help everyone that emails in needing specific, detailed help with their build. If I did that I wouldn't have the time to actually run BGC (and my other projects).
Initially I was going to develop my own attempt at a computer-generated build simulator, as I do have a programming background (ie you input your requirements and AI will determine the right build for you), but I decided it wasn't worth the crazy time-investment that it would take to create something half-decent because there will always be limitations to these sorts of build generators which you may have seen online before.
Maybe one day someone will create a build generator/simulator that is actually very accurate to get specific PC build help and that takes into account all factors, but for now nothing beats the objective human eye for the oftentimes-complicated and multi-faceted decision making that is required to pick the very best hardware parts for your needs.
"What's the Catch? You Can't Just Spoonfeed Everyone Builds for Free All Day?"
I wish I could, but of course there's only so much time in a day and this site requires a huge time investment to maintain and grow as it is (and some builds can take many hours to properly plan, even when you know what you're doing).
However, the good news is I've aimed to make this Done-For-You Parts-List service as affordable as humanly possible so that it doesn't cut into your build budget at all, and plus when designing your build one of the chief aims is to help you save as much money as possible anyway.
Therefore, chances are by ordering a parts-list you'll still end up saving quite a bit on your PC (and avoid overspending on things you may not need as well).
For those of you who think you may need it, I also offer the option for you to get 1 month (or 6 months depending on the package you select below) of available dedicated email support where you can get 1 on 1 help with any follow-up questions or concerns you might have now and into the near future on anything related to planning, building or maintaining your new system.
It's my sincere hope this PC build generator service helps you on your quest to building the ultimate dream PC for your specific needs, and I look forward to being of service.
Once you've sent in your build details below, as Yoda would say, "Meditate on this, I will".
What Recent Customers Have Said About the Service
"Very helpful. Was worth way more. Very detailed list of parts for my editing build.
Matt M, USA (2018)
"It was super helpful"
Aaron Mohr, USA (2018)
"I liked how helpful the information was for a 1st time PC builder."
Craig Campbell, USA (2018)
- Julien AKA CYBERJULZ/Zenakin (depends on the game)
Owner Operator, BGC
PS: As I believe in the notion that when growing your small business you should re-invest the profits you make back into your business as much as you can (instead of say, buying a fancy watch to try look cool on Instagram), any profits that may be made from this goes back into helping BGC become a better resource. Therefore, if you're going ahead to order a parts-list below, thanks in advance for supporting the site.
Enter Your Specific PC Build Requirements
To get your PC build help underway, simply select between the 3 service options I offer below depending on whether or not you want follow-up email support included with your build. Then, fill out your build requirements in as much as detail as you can with the carefully-designed questions below.
Your build will be thoroughly planned and then sent to your email inbox within 2-5 days. I'll do it as fast as I can without rushing anything but whether I sent it to you within 1/2/3/4 or 5 days will depend on my current workload and how complicated your particular build is.
---
CORE EDITION
(parts-list only)
$17
What You Get:
A thoroughly-researched, compatible, personalized parts-list for your requirements (includes breakdown of your build explaining why each part was selected for your situation)
VIP EDITION
(includes 1 month email support)
$27
What You Get:
A thoroughly-researched, compatible, personalized parts-list for your requirements (includes breakdown of your build explaining why each part was selected for your situation)



1 month access

to our dedicated support email

where you can get any follow-up questions answered including ongoing parts advice, help with installation or maintenance, and general tech support (reserved for customers only)
MASTERY EDITION
(includes 6 months support + eBook)
$47
What You Get:
A thoroughly-researched, compatible, personalized parts-list for your requirements (includes breakdown of your build explaining why each part was selected for your situation)
6 months access

to our dedicated support email

 where you can get any follow-up questions answered including ongoing parts advice, help with installation or maintenance, and general tech support (reserved for customers only)
---