Home > Request a Parts-List
The Human PC Build Generator
Input Your Specific Requirements & We'll Plan the Best Custom PC for You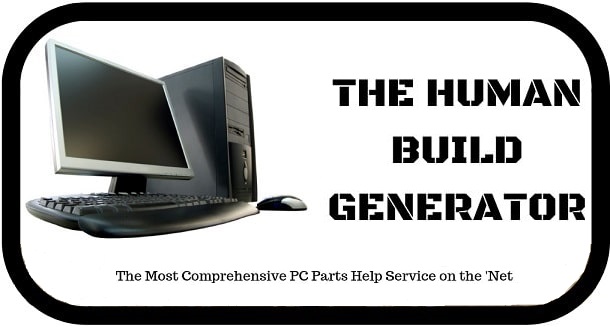 How it Works:

1: Input Your Build Requirements, Performance Aims, & Preferences in the Form Below

2: We'll Take it From There to Thoroughly Plan and Tweak the Best Customized Gaming and/or Workstation Build for Your Exact Wants and Needs, by Tapping Into Over 12+ Years of PC Building Experience to Help You Make the Absolute Most of Your $$$

3: Once Perfected, We'll Send Your 100% Personalized Parts-List to Your Email Inbox Within 24-72 Hours, Along With a Build Breakdown, and if You Need Further Help We'll Keep Working With You to Keep Tweaking the Build Until You're 100% Satisfied!
Note: This is for beginners wanting a new parts-list designed from the ground up. If you just have a simple question or want a quick critique of your parts-list, leave a comment on the main gaming PC builds page and I'll help you out.
"Surprisingly, the hardest part about building a computer is deciding which parts to use and purchase" - NZXT
Based on many years helping gamers and power users make smarter purchases (both in-person at my old PC sales job, and digitally here at BGC), that quote is pretty spot-on.
You'd think actually assembling your custom PC would be the hard part as a beginner, but in reality, for most people the trickier bit is doing the extensive planning and research required to choose the perfect list of complimentary, fully-compatible, value for money parts for exactly what you want to do with your PC (everyone has slightly different needs).
And that's understandable:
Actually building your PC is just a matter of plugging, connecting and screwing things in (the saying building a modern PC is adult Lego is another spot-on quote).
But choosing the right parts you're 100% confident in buying can be a frustrating, head-scratching affair.
When building your first PC, it's all too easy to get lost in a sea of specs, endless different models, confusing performance benchmarks, strong opposing opinions on forums, misleading customer reviews - not to mention the myriad of misinformation and factually straight-up-incorrect advice you'll see gamers often haphazardly spreading online.
Unless you continually keep a pulse on the hardware world, choosing parts can be confusing
Unfortunately, some would-be builders get too overwhelmed and intimidated with choosing parts, and end up throwing in the towel on the DIY dream.
You may start out excited to build a PC, then get overwhelmed during the planning stage and end up getting seduced by the easier path of just buying a pre-built PC - the darkside, if you will. 
Pre-built systems are typically overpriced and contain lower quality components, less upgrade options and flexibility, annoying/useless pre-installed software, not to mention they're hardly ever optimized (ie bang for your buck) when it comes to gaming or workstation performance.
If you're buying an office PC that doesn't have much demands at all, a basic cheap pre-built is okay, but for graphically-demanding modern AAA games nothing comes close to picking your own parts individually and building a system yourself.
Same thing goes when building any other demanding PC for things like VR, editing, streaming, game development, music production, 3D rendering, and so on - building your own computer is best 95 times out of 100.
But if despite understanding all the benefits of building a PC yourself (and the fact it's easy these days), if you're still on the fence about actually going through with it due to being a little overwhelmed with choosing the right fully-compatible, bang for buck, high-quality parts-list - this PC planning service might be what you need to gain full confidence and assurance in your purchases, so you can keep your DIY dream alive.
This "done for you" build planning service is essentially the digital equivalent of having a tech-savvy big brother by your side to help you 1-on-1 with anything you need help with, I'm here to help if you need thorough, tailored help and advice.
We Can Tailor a PC Build for Any of the Following Countries:
I've made this 1-on-1 help service as affordable for you as humanly possible, so that it won't take away from your build budget at all, and this is cheaper than getting thorough help and advice from a local IT pro (many of which charge insane prices).
Thing is, I'd love to do this for free as I enjoy planning builds, however at the end of the day if I was planning builds for people all day there would be no time left to actually run the site in the first place (which, if you were wondering, takes a behemoth of time to both maintain and continue growing).
So if you want me to give your build my undivided attention for as long as necessary, this service allows you to book a chunk of my time just for you.
If I'm being honest though, the far majority of the time I don't profit from this premium help service whatsoever, as a build can take hours to properly plan and tweak, especially if there's additional research to be done (as hardware is a constantly-evolving beast and there's always work involved in staying up with all the latest changes, even as someone with a lot of experience).
But I don't mind as I enjoy planning builds and helping you guys, and besides, doing these extra builds for you guys keeps my skills sharp which then helps me in running and improving the site in general.
Besides Prioritizing Performance for Your Favorite Games/Apps, When Designing Your Build We Also Consider Everything Else That Makes for a Great Custom PC:
Only including high-quality components from reliable manufacturers and brands in your personalized parts-list to maximize the longevity of your new PC and reduce chances of something failing or breaking in future




Ensuring your new PC will provide effective airflow for your particular needs by selecting the right combination and balance of cooling-related parts (your case, CPU cooler, case fans, etc) 



Triple-checking 100% compatibility between all of the parts including any necessary manual checks beyond auto tools like PCPartPicker (which doesn't check everything such as certain size/spacing issues among other things)
Searching around for and considering any current deals or price cuts on quality components in your selected country to reduce costs of your build




And if you include any design preferences below we will take that into consideration to design a matching, cool-looking system for the type of theme/look you want
What Other Gamers and Power Users Have Said About Our Service
"Very helpful. Was worth way more. Very detailed list of parts for my editing build."

- Matt M, USA
"Great and detailed service, quick to answer and friendly to beginners! 100% recommend"
- Anthony Vidal, USA

"It was super helpful"
- Aaron Mohr, USA

"I liked how helpful the information was for a 1st time PC builder."
- Craig Campbell, USA
How to Get Started
To have me start personally planning the best PC I possibly can for your requirements, in order to help you make the absolute most of your money and be 100% satisfied with the new PC you build, select from one of the 3 service options  below, fill out your requirements, and then you'll arrive at our secure payment page (PayPal or card payments are fine). 
Once you've sent both your requirements and payment, work will commence on your fresh new build ASAP and the build will be sent to your email inbox within 24-72 hours (depending on current workload) along with a breakdown of why each part was chosen for your particular situation (plus any other extra tips for your particular situation where relevant).
Also, if I feel your build could help others, I may publish it on the site for other readers to potentially learn and benefit from. If you don't want your build published for whatever reason, just let me know below. As an example, here's a recent build I did for one of our readers:
The $1500 Hybrid Gaming, Editing, Streaming & Music Production PC (Q4 2019)
Once you've sent in your details below, as a wise green man once said: meditate on this, I will.
Speak soon,
---
CORE EDITION
(parts-list only)

$9.99

What You Get:
A thoroughly-researched, compatible, personalized parts-list for your requirements (includes breakdown of your build explaining why each part was selected for your situation)
VIP EDITION
(includes 1 month email support)

$14.99

What You Get:
A thoroughly-researched, compatible, personalized parts-list for your requirements (includes breakdown of your build explaining why each part was selected for your situation)
1 month access to our dedicated support email where you can get any follow-up questions answered including ongoing parts advice, help with installation or maintenance, and general tech support (reserved for customers only)
MASTERY EDITION
(includes 6 months support + eBook)

$29.99

What You Get:
A thoroughly-researched, compatible, personalized parts-list for your requirements (includes breakdown of your build explaining why each part was selected for your situation)