Home > Motherboards > B550-A Pro vs B450-A Pro Max
Comparing the MSI B550-A Pro vs B450-A Pro Max (Motherboard Differences Explained)
Are the New Features of the MSI B550-A Pro Worth the Price Premium?
Motherboard season is in full swing, with new AMD and Intel boards popping up on the market over the past few weeks. Building upon our general overview of B550 vs B450 motherboards, here we take a closer look at a couple of specific models to point out the benefits that new B550 models typically bring over their cheaper B450 model, and if the new B550 model is actually worth the extra money or not.
The MSI B450-A Pro Max is popular among the B450 range for fair quality and respectable features at an affordable price of usually under $100 (US), and ever since it's release last year has been a consistent recommendation within our best gaming PC builds for the money series.
It's a no-nonsense board with all the basics you need for a typical mid-tier gaming system. But now the B550-A Pro is out and has been priced roughly $40 more (US), budget builders will no doubt wonder if its benefits are worth the price premium over the previous model. Let's first compare the spec differences side by side and then we'll go into more detail on the main features differences and whether they are actually important (to you).

B450-A Pro Max vs B550-A Pro (Specs Comparison)
Motherboard:

MSI B450-A Pro Max

MSI B550-A Pro
Form Factor (Size):
ATX
ATX
Compatible CPUs:
Ryzen 1000, 2000, 3000

Ryzen 5000 (with Beta BIOS update)

Ryzen 2000, 3000 APUs

Athlon APUs
Ryzen 3000

Ryzen 5000 (with BIOS update)
RAM Slots:
4 x DDR4
4 x DDR4
Maximum RAM Capacity:
128GB
128GB
Maximum RAM Speed:
4133MHz OC (Ryzen 3000 Only)
4400MHz OC
M.2 Slots: (SSD)
1 x PCIe 3.0
1 x PCIe 4.0

1 x PCIe 3.0
PCIe x16 Slots: (GPU)
1 x PCIe 3.0

1 x PCIe 2.0
1 x PCIe 4.0

1 x PCIe 3.0
LAN Port:
1 x Gigabit Ethernet (Realtek 8111H)
1 x Gigabit Ethernet (Realtek 8111H)
WiFi:
No (adapter required)
No (adapter required)
Audio:
Realtek ALC892 Codec
Realtek ALC892 Codec
Fan Headers:
4 x Chassis

1 x CPU

1 x AiO Pump
6 x Chassis

1 x CPU

1 x AiO Pump
RGB Headers:
1
1
ARGB/Rainbow Headers:
-
2
Front USB Type-C Header:
-
Yes
SLI / CrossFire:
No / Yes
No / Yes
Manufacturer Specs:
MSI
MSI
Key Differences of the B450-A Pro Max vs B550-A Pro
The main differences between the MSI B450-A Pro Max and the MSI B550-A Pro motherboards are as follows: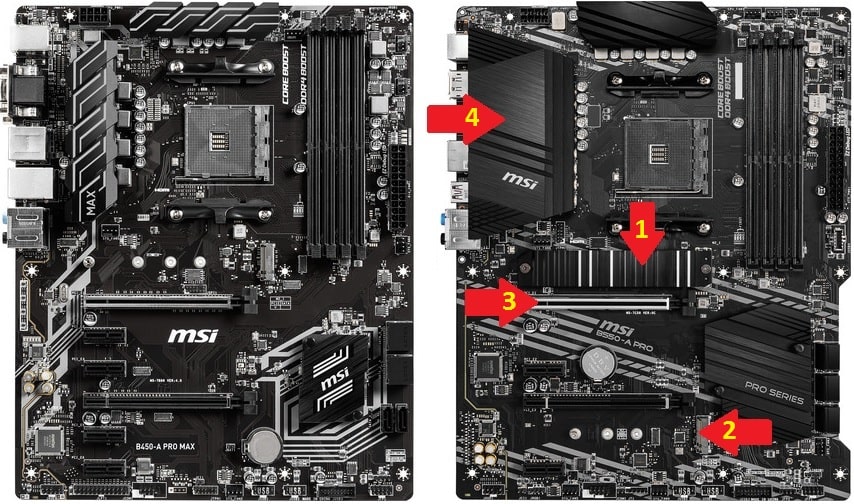 The MSI B450-A Pro Max (left) vs the MSI B550-A Pro (right)
1. PCIe 4.0 M.2 Slot

PCIe 4.0 support at an affordable price is the main drawcard of the B550 chipset, and the most notable way that affects a system is in the form of a PCIe 4.0 compatible M.2 SSD slot. That means, today (or in future) you can run the fastest high-end SSDs on the market (specifically, PCIe 4.0 NVMe M.2 SSDs) at their maximum speed. Whereas with a B450 board, that same SSD would only run at PCIe 3.0 speeds. This PCIe 4.0 slot also has a cover (called a heatshield) which theoretically helps keep the drive cool and running optimally (without getting throttled via overheating).
Having this PCIe 4.0 slot isn't necessarily an important feature as most people are not, and will not be buying high-end PCIe 4.0 SSDs due to their high cost (especially if eyeing off a budget/mid range motherboard like this). But if you're say building a fast video editing PC on a budget and do want to invest in the absolute fastest SSDs on the market (PCIe 4.0 drives of today or that'll release in the near future), the B550-A Pro is a cost-effective board to consider if you're not going too extreme with your CPU (in which case you'd be better off investing more in your motherboard). 
2. Additional M.2 Slot (PCIe 3.0)

Another difference between the B450-A Pro Max and B550-A Pro (and between B450 vs B550 motherboards in general) is the B550 model has 2 M.2 slots (but the B450 has 1). Only the more high-end B450 boards have 2 M.2 slots. But having 2 M.2 slots isn't of huge importance for many though, as a common storage setup for a typical cost-effective gaming PC is to have 1 M.2 SSD (or SATA SSD) as your main system drive for Windows and a few key games/programs, and a large traditional HDD for all your other stuff. But what's also common these days is getting 2 SSDs, so having the ability to throw in 2 M.2 SSDs is handy as that means you don't need to get a 2.5" SATA SSD which also reduces cables slightly (but nothing wrong with getting a 2.5" SSD like the super popular Samsung 860 Evo).
3. PCIe 4.0 GPU Slot

Besides PCIe 4.0 storage support, the other "main" benefit of B550 (at least, on paper) is having a PCIe 4.0 x16 slot to take full advantage of PCIe 4.0 compatible graphics cards. This is even less important than the above two points, as there's no real-world performance gains from running a PCIe 4.0 compatible GPU in a PCIe 4.0 slot (at least not now and unlikely for the near future). Put another way, PCIe 4.0 is not important for GPUs and likely won't be for a long time. Keep in mind it's only the top PCIe x16 slot that is PCIe 4.0 - the bottom PCIe x16 slot is PCIe 3.0 (and the other short PCIe x4 slots, for add-on cards like networking cards, are also PCIe 3.0).
4. Larger Heatsink (& Better VRM)

The MSI B550-A Pro comes with a larger main VRM heatsink compared to the B450 model, which means the board is more effectively able to cool the VRM (Voltage Regular Module). Speaking of which, the VRM of the B550-A Pro is naturally better than the VRM of the B450-A Pro Max, and is of similar quality to the well-known solid VRM that's found on the B450 Tomahawk Max. The better VRM and heatsink means the B550-A Pro is more suitable for running a capable CPU like a Ryzen 7 or 9, and/or when overclocking any CPU. 
5. DisplayPort

The B550-A Pro has a DisplayPort on the rear, but this won't matter for most as you wouldn't use this port anyway if you have a graphics card in your build (monitor connects to the GPU, not the motherboard). But it's worth mentioning because it could be worth using if using a next-gen Ryzen 5000 APU (integrated graphics) or if connecting multiple monitors. Just keep in mind that B550 boards are NOT compatible with current or previous Ryzen APUs (so you can't use a 2200G, 2400G, 3200G, or 3400G).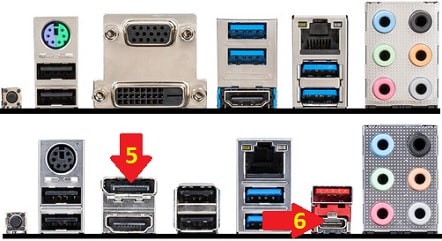 Rear ports of the B450-A Pro Max (top) vs the B550-A Pro (bottom)
6. USB Type C (Rear + Front)

As pictured, the B550-A Pro has a rear USB Type-C port (USB 3.2 Gen2), but it also has an internal Type-C header on the board for connecting a front-panel USB Type-C port (should your case have this feature; most don't yet). Hate to sound like a broken record, but again, this new feature isn't anything special, as most people don't even use USB Type-C ports on their computer (yet). If you're wondering, Type C ports are just like Type A but a smaller form factor (size) for connecting other Type C devices like smartphones. It may become the norm one day, but that's a far way off (just like PCIe 4.0) so buying a motherboard that doesn't have a Type C port (like the B450-A Pro Max) isn't a deal breaker.
Other New Features of the B550-A Pro

Besides the above, the MSI B550-A Pro has a bunch of other additional features over the B450-A Pro Max, including:
Better board quality/construction, also referred to as the PCB (Printed Circuit Board). This means improved heat dissipation and overall better stability/longevity when running high-end CPUs or if overclocking.
Is the MSI B550-A Pro Worth It? (Pros and Cons)
Both the B550-A Pro or the B450-A Pro Max would make a fine choice for a cost-effective AMD build. But based on the B550-A Pro currently being $40 more assuming normal pricing conditions, the B450 is hard to beat overall in terms of extracting maximum bang for your buck as the new features of the B550 model aren't necessary for a typical budget or mid-range gaming/work system.
The B450-A Pro Max is still all you really need for something like a Ryzen 5 3600/X/XT or Ryzen 3 3300X/3100 system (even a Ryzen 7 3700X/XT if not overclocking), as chances are you likely aren't going to be using any of the new features of the B550 version such as PCIe 4.0, 2.5G LAN, front and rear USB Type-C, 2 extra fan headers (4 is more than enough for most).
Same thing with the beefed-up VRM and heatsinks; unless running a serious CPU or doing some overclocking, you're paying for something you don't really need. The money saved from getting the B450-A Pro Max could go into more important components like your CPU, RAM, or graphics card, which would actually positively affect the performance of your PC.
See Also: The Best Value B450 Motherboards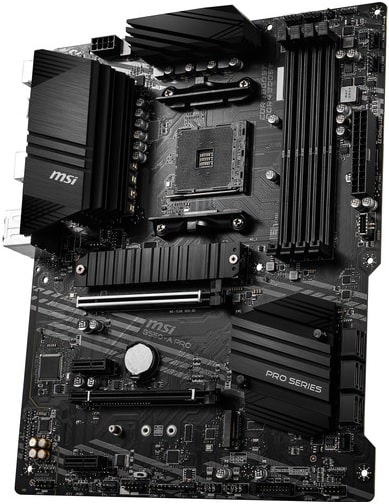 All that said, the B550-A Pro is the better motherboard, and the price difference between the B450-A Pro Max can be easily justified if you either have a need for a couple of its features mentioned earlier, and/or if pairing it with more powerful AMD processors such as the 3700XT, 3800X, 3900X or 3950X (or a mid to higher-end Ryzen 5000 CPU).
If you're in the market for the cheapest motherboard you can get away with that won't crumble under the pressure when running such powerful processors, the B550-A Pro definitely is the way to go (over the B450-A Pro at least) for its superior VRM and cooling, and better overall PCB/board quality.

Same thing for overclocking - the B550-A Pro is going to be more reliable, stable, and will run at lower temperatures. Though I'd give both of these boards a miss if you're looking to tinker with a high-end 3900X or better, as you ideally want even better VRMs such as those found on a higher-tier B550 like the MSI B550 Tomahawk or Gigabyte B550 Aorus Elite (or opt for an X570).
On the other end of the spectrum, for overclocking less heat-producing CPUs like a 3600/X/XT or 3300X, the B450-A Pro Max (or B550-A Pro) would be just fine. Anyway, hope you now have a better sense which of these budget MSI boards is right for you.
Pros (B550-A)

Tons of case fan headers (6) to easily accommodate any type of cooling configuration
---
Trusted VPNs
VPN software is quite important in this day and age and will improve the security and privacy of your PC when online. There are also benefits to using VPNs for gaming.

There's lots of VPNs out there but the ones I recommend most to gamers is ExpressVPN (special link that gets you 3 months off. they also offer a free trial here) and NordVPN which are both highly rated gaming VPNs because they're the fastest and most secure.
Search the Site
About the Author
Indie game dev currently working on my first public release after years of hobby projects, a story-driven VR FPS built with Unreal Engine (to be announced soon here for anyone into VR FPS's). Also likes writing about tech, which also helps fund development of the game.
My favs of all time are OOT, Perfect Dark, MGS1, MGS2, GE007, DKC2, THPS3, HL1, and HL2, with the most recent addition to my list of immortals being the VR masterpiece Alyx. If you want help with a new build feel free to ask on the main PC builds guide. If you found the site extra helpful and wish to support the work I do here, sharing an article with a friend helps a lot and is much appreciated. - Julz