Home > Choosing Motherboards > B550 Overview
B550 vs B450 Differences Explained: Are B550 Motherboards Even Worth It? (FAQ)
Overview of the B550 Chipset & What PCIe Gen4 Support Means in Practical Terms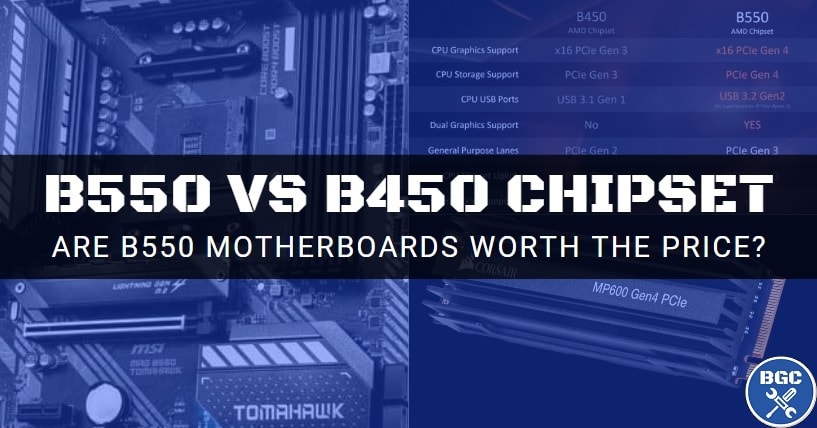 Choosing between a B450 and B550 motherboard can be confusing. PCIe 4.0 here, improved I/O connectivity there, faster general purpose PCIe lanes what, 2.5G LAN who? Even if you consider yourself a little PC savvy, it's easy to get lost in a sea of specs and not really understand what they actually mean (or more importantly, if they're actually noteworthy upgrades over B450 for your particular usage). 
Here we simplify the now popular B450 vs B550 debate in as easy to understand a way as possible, to help you make the right choice for your particular build and budget, including what the feature differences between B550 and B450 actually mean for you as a gamer or creator, plus answers to common questions surrounding the stumbling block of a decision that is B550 vs B450 motherboards.
See Also: B550 vs X570 Differences Explained

Sounds great and all, but are these features actually important? (Image Credit: AMD)
Just because something is the latest and greatest model, doesn't necessarily mean it's worth buying over the previous generation/model. If you're planning a new AMD computer, you shouldn't automatically assume that you need to spend the extra money on a new B550. If you're looking for maximize your return on investment, a good B450 motherboard is still a very viable option, even if you're eyeing off an upgrade to Ryzen 5000 CPUs thanks to AMD recently backtracking and confirming that B450 motherboards will support Zen 3.
Put another way, just because B550 is out, doesn't mean B450 is completely obsolete and worthless. Quality B450 boards like the B450 Tomahawk Max aren't going anywhere; the B550 Tomahawk is priced at over $50 more but doesn't justify the extra cost for most builders (especially if simply running a stock Ryzen 5 3600 or 3700X for instance). Throw in the higher than expected launch prices of the B550 range (see below), and B550 really doesn't seem all that compelling of a purchase for budget or mid-range systems where seeking bang for buck is the name of the game.
See Also: The Best B450 Motherboards
B550 vs B450 Launch Price Increases
B550 prices have raised a few eyebrows around the community, but not in a good way. Back when B450 first launched, models were priced between $70 - $130. Many people were expecting B550 to be priced roughly on-par with B450 or thereabouts, but that hasn't happened and almost every single B550 motherboard has released for significantly higher than their B450 predecessors, and sometimes much higher, with certain B550 models priced deep into X570 territory. 
To leave it at that wouldn't be telling the whole story though, as B550 boards do bring a bunch of new features when compared to their same (or similar) named B450 predecessors, with premium B550 models boasting rich feature sets that resemble X570 rather than B450. But despite the fact that B550 motherboards aren't just an improved chipset, and do come with various improvements over B450, that doesn't necessarily mean their higher cost is automatically worth it compared to settling for a tried and true B450 with less fancy features (most of which you might have no use for, even over your system's entire lifespan, but more on that in a bit).
To get a gist of the price differences between B550 and B450, here's just a handful of some (likely to be) popular B550 motherboards and their launch price:
| B450 Model | MSRP (USD) | B550 Model | MSRP (USD) | Increase |
| --- | --- | --- | --- | --- |
| ASUS TUF B450-PLUS | $109.99 | ASUS TUF B550M-PLUS | $159.99 | + $50 |
| ASUS ROG STRIX B450-F | $129.99 | ASUS ROG STRIX B550-F | $189.99 | + $60 |
| MSI B450-A Pro Max | $94.99* (cannot confirm) | MSI B550-A Pro | $139.99 | + $45 |
| MSI B450 Tomahawk Max | $119.99 | MSI B550 Tomahawk | $179.99 | + $60 |
| Gigabyte B450 Aorus Elite | $109.99 | Gigabyte B550 Aorus Elite | $159.99 | + $40 |
| ASRock B450M Steel Legend | $99.99 | ASRock B550M Steel Legend | $154.99 | + $55 |
B550 vs B450 Chipset Differences
Put simply, excluding certain model-specific improvements, these are the main overall differences between the B550 and B450 chipsets:

B550 Has a PCIe 4.0 M.2 Slot: All B550 motherboards have a PCIe 4.0 M.2 slot to accommodate PCIe 4.0 SSDs, with the one exception being the Gigabyte B550 Aorus Master which has 2 PCIe 4.0 M.2 slots. B450 boards only have PCIe 3.0 M.2 slots (PCIe 4.0 SSDs can still work on them they only at PCIe 3.0 speeds).
B550 Has a PCIe 4.0 GPU Slot: B550 motherboards also have a full-length PCIe 4.0 x16 slot to take full advantage of PCIe 4.0 compatible graphics cards like the Radeon RX 5700 XT (but keep in mind PCIe 4.0 doesn't matter for GPUs). B450 boards only have PCIe 3.0 x16 slots, meaning that PCIe 4.0 GPUs will run at PCIe 3.0.
B550 Has Official Dual GPU Support: Another moot point for the far majority of people, as multi-GPU systems aren't anywhere near as popular (or effective) as they used to be. But for certain niche enthusiasts, B550s can now officially support multi-GPU technologies (SLI or NVLink for NVidia cards and/or CrossFire for AMD cards). Technically, on a B450 that has 2 full-length PCIe x16 slots, you can run dual GPUs, but the second GPU will be limited in bandwidth to something like PCIe 2.0 x4.


B550 Has Gen3 PCIe Lanes: While B550 offers PCIe 4.0 slots to connect super high-speed SSDs and GPUs, the general PCIe lanes (as in, connections) between the motherboard chipset and devices plugged into the board use PCIe 3.0 instead. This is an upgrade over B450 though, which only has PCIe 2.0 general purpose lanes. In simple terms, this simply means the B550 chipset is more flexible (and faster) behind the scenes, but not as flexible/fast as X570 which has PCIe 4.0 general purpose lanes.


B550 Can Support WiFi 6: WiFi 6 (also referred to as 802.11 ax) is the latest wireless standard which is included on certain B550 models that have built-in WiFi capability out of the box. WiFI 6 hasn't caught onto the mainstream just yet (like PCIe 4.0, that could take a while), therefore the fact that wireless-ready B450 models only support WiFi 5 isn't a deal-breaker for most (unless you invested, or plan to invest in one of the best gaming routers with WiFi 6).
B550 Can Have 2.5G Ethernet: The more expensive B550 motherboards also have next-gen wired networking in the form of a 2.5 Gigabit LAN port, whereas B450 motherboards "only" have 1G (1 Gigabit) LAN ports. I say "only" because like WiFi 6, 2.5G is not a big deal as most people's routers (let alone internet plan) don't get close to maxing out a 1G Ethernet port.
B550 Has USB 3.2 Gen2 Ports: B550 slightly beefs up I/O speeds compared to B450. Most B450 boards had USB 3.1 ports (though more recent "refreshed" B450 models like MSI's "Max" range do have USB 3.2), whereas with B550 you now have USB 3.2 Gen2 ports as standard (like X570 does). 


B550 is Guaranteed for Ryzen 4000: Most (if not all) 

B450 motherboards will support Ryzen 4000

, but only by using a beta BIOS that may have certain features missing. AMD says that B550 (or X570) is recommended for a guaranteed optimal experience with upcoming Ryzen 4000 processors. That's true, but doesn't mean B450 isn't still worth considering to use with Ryzen 4000.
B550 Does Not Support Ryzen 2000/1000 CPUs: B550 motherboards aren't compatible with Ryzen 1000 or 2000 (only Ryzen 3000 and 4000), whereas B450 supports all Ryzen series. Just remember, if you plan to update a B450 BIOS for Ryzen 4000 (when the times comes), your B450 likely won't support earlier Ryzen CPUs (as in, there's no going back once you've done the BIOS update).
B550 Does Not Support Ryzen 3000 APUs: Not to be confused with standard Ryzen 3000 CPUs, the Ryzen 3000 APUs (Accelerated Processing Units, AMD's term for their CPUs that have integrated graphics) include the Ryzen 3 3200G and Ryzen 5 3400G.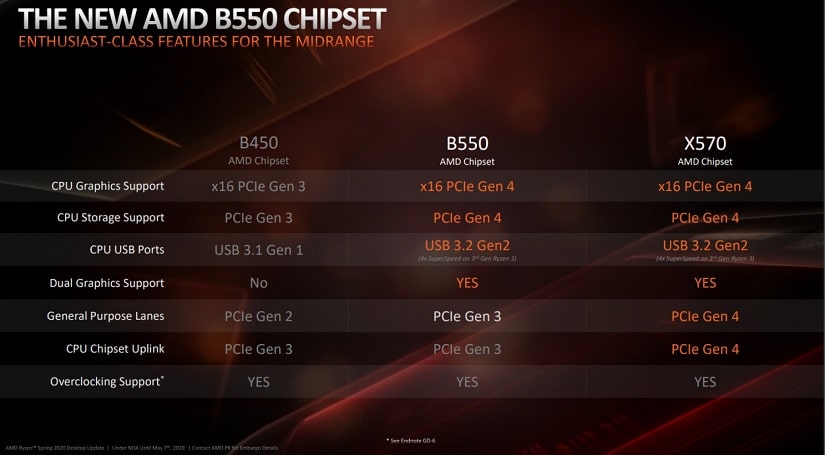 B550 isn't a huge leap over B450 overall, and both are worth considering (Image Credit: AMD)
On paper, the improvements of B550 over B450 sound great. But which new CPU, GPU, chipset, or [insert new release] doesn't? Throw in just a little FOMO-generating marketing that signifies something as having must-have, next generation features like PCIe 4.0, and less tech-savvy users will typically assume that not buying it is a mistake. Yeah, B550 boards are nice, but based on current pricing, their advancements aren't important enough to automatically make them a no-brainer buy. Let's go deeper on why that is, including where spending more on a B550 does make sense.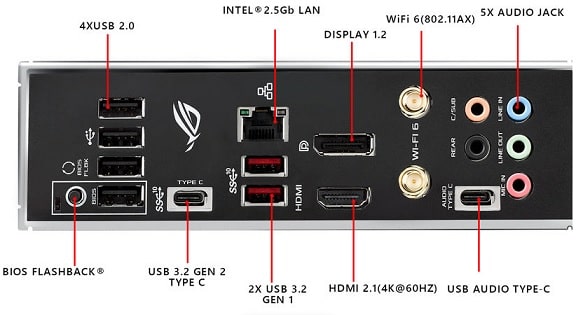 Premium models like the Asus ROG Strix B550-E have fancy features like 2.5G LAN, WiFi 6, & Type-C USB Audio
Is B550 Worth It? Does PCIe Gen4 Matter?
The new functionality that B550 now brings to the mainstream (that X570 first brought to enthusiasts last year), most notably PCIe 4.0 support that allows for PCIe 4.0 SSDs and GPUs to run at their intended maximum speed, isn't likely to be important to you as a gamer or creator. To be more blunt, PCIe 4.0 is essentially completely irrelevant for the majority of people. My opinion on this applies even if you're assembling a relatively powerful, high-performance gaming and/or work PC, and even if you desire your system to be "future proof" for years to come.
Don't get me wrong; barring human-destroying AI, tech advancements should be celebrated as always (let's hope Elon and Co. navigate those waters with seriously next-gen shrewdness and tact). But not all advancements are created equal, no matter what the marketing or a popular YouTuber might say. The crux of the B450 vs B550 matter, at least right now, is as follows in my humble opinion:
The current prices of B550 motherboards makes them tough to recommend over B450 if you're seeking maximum return on investment for a budget or mid-range gaming PC.
You might say a $30-$60 difference over B450 (give or take a bit depending on the models you're comparing) is hardly much of a difference, and you'd be right if you have a semi-loose budget and can afford "nice to have" features. But for the majority who aren't looking to be haphazard with spending, that cash could be put to much more practical use to get a more tangible return on investment.
For example, the money you'd save by settling for a proven B450 over a flashy new B550 motherboard could mean getting a Ryzen 5 3600 (6 Core) processor instead of, say, a more budget gaming CPU like the Ryzen 3 3100 (4 Core). 
Sure, there's not a huge difference in gaming performance it must be said, but the 3600 is generally going to last longer and will perform better in other applications like mult-tasking, video editing, and VR where those extra cores come in real handy (though some games do benefit from 6 cores right now).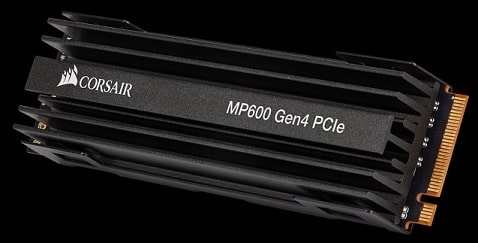 Image Credit: Corsair
Alternatively, the price saved from buying a B450 could mean getting 16GB of RAM instead of 8GB, which is IMHO a much better spec in a modern system than having a B550 and/or PCIe 4.0. Furthermore, you could get a slightly better graphics card, such as moving up from a RX 570 4GB to a RX 580 8GB, from a GTX 1660 to a GTX 1660 Super, or perhaps from a 1660 Super to a RTX 2060, all of which would lead to improved gaming performance that can improve your experience (and could mean the difference between building a VR-ready PC or not).

Consider these things compared to spending the extra coin on the new B550 chipset, that boasts features you will may not even use, and may not even use over your system's entire lifespan. For example, you might not ever buy a high-end PCIe 4.0 SSD to utilize the PCIe 4.0 M.2 slot on a B550. If you're not a serious video editor or other professional creator/artist, where you often transfer large data and want the absolute fastest transfer speeds humanly possible, spending on an expensive Gen4 SSD isn't really practical for most people building a gaming PC, as once again that money could go to something more important like the CPU or graphics card.
Plus, the PCIe 4.0 GPU support on B550, for cards like the RX 5700 XT (one of just a handful of current-gen cards that supports PCIe 4.0), is much closer to borderline useless for most people. The difference between PCIe 3.0 and PCIe 4.0 when it comes to graphics cards is completely irrelevant, and that is unlikely to change with next-gen GPUs (assuming they will support PCIe 4.0; current NVidia RTX cards do not). 
That said, the right B550 at the right price can make a lot of sense if you actually have a use for some of the new features, or if you're willing to forego maximum "bang for buck" and would rather just have the latest platform (despite it not really changing your experience).
There's also other reasons to buy B550 over B450, such as for a guaranteed smooth transition if upgrading to future Ryzen 4000 CPUs that will release at the end of the year (or in 2021), or if building a high-end Ryzen 9 system that could benefit from the beefier VRMs and cooling that a B550 provides over a B450.
Alternatively, B550 could be the way if you actually have a need for certain other "next-gen" features found on certain B550 boards such as 2.5G LAN or WiFi 6 (to take full advantage of a high-end next-gen gaming router). For more on why PCIe 4.0 isn't important for most people, see our full article on what PCIe 4.0 is and does, which I created alongside this guide on B550.

At What Price Does B550 Make Sense?
Unless (or until) B550 boards drop in price, B450 is still the budget king for assembling the most cost-effective gaming PC right now. If I had to stick my neck out and make a specific recommendation for most people, if you're building a PC under $1000 (USD), the best "bang for buck" is going to be B450, assuming you don't have a need for the extra features of a B550 (as we covered in detail earlier).
For under $120 you can get a B450 Tomahawk Max or B450-A Pro Max (or B450M Pro-VDH Max if you want a Micro ATX board for mini towers) - you're getting a decent board with all the main features you'd need for most types of gaming builds, and you can put that $50 or so (that would have gone into a B550) to better practical use such as getting a better CPU, GPU, RAM, or whatever is important to you.
Yes, all of these are MSI boards, as they truly dominated the B450 scene for various reasons (best quality boards for the money). Just keep in mind assembling a B450 Tomahawk Max build isn't needed for most people, and for a typical Ryzen 3 3300X/3100 or Ryzen 5 3600/X/XT gaming system (or even a Ryzen 7 3700X/XT system), the cheaper B450s like the Pro-VDH Max or B450-A Pro will do just fine (assuming you're not overclocking much, in which case the better quality Tomahawk is justifiable, especially if overclocking a fairly fast CPU like a Ryzen 5 or 7).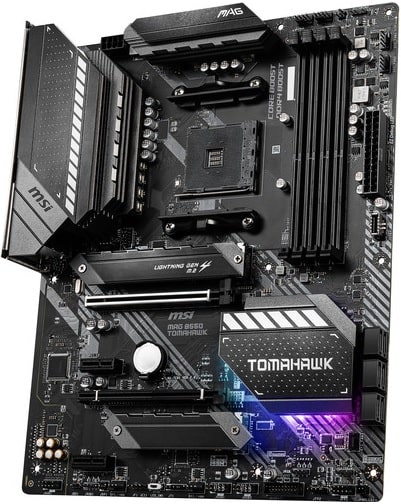 The B550 Tomahawk: Rich feature set, but not that cost-effective unless running a Ryzen 9, PCIe Gen4 SSD, or overclocking
As for new gaming PC builds over $1000 using a Ryzen 5 3600, Ryzen 3700X, or better - that's where I'd consider throwing in a B550 instead because it's not going to affect your other components choices as much. Specifically, I'd look at a good value B550 like the MSI B550-A Pro or Gigabyte B550 Aorus Elite, both of which aren't too much more than the B450s (but have better features and VRMs, including PCIe 4.0 of course). The MSI B550 Tomahawk is also worth considering if you want something a little better and are willing to invest upwards of $180 or so in a board, especially if running a high-end Ryzen 9 or doing a lot of overclocking.

But also keep in mind the excellent value Asus X570-Plus TUF Gaming, as these days its priced very nicely around the same as excellent B550s like the B550 Tomahawk, so don't forget to factor that in your decision. But if spending beyond $200 for a motherboard, that's when you're well in X570 territory, but that's another discussion for another day.

See Also: Recommended B450 Motherboards

B550 vs B450 Upgrade Path (Ryzen 4000)
When it comes to flexibility for future upgrades, the B550 vs B450 debate is no whitewash win for the new chipset either. It's essentially a tie, as both will support the next generation of Ryzen (4000 series, AKA "Zen 3") except for one small caveat (that won't matter to most). AMD themselves (and some enthusiasts) recommend the new B550 boards for the best experience with Ryzen 5000 series CPUs, as using a B450 with the upcoming Ryzen 4000 CPUs will require you to use a stripped-down "beta" BIOS.
Don't be too alarmed though, as all that really means is you won't be able to revert back to older BIOS versions, and that your B450 also won't have support for older Ryzen CPUs (not that you'd need it at this point). The only issue I can see with that is that if something goes wrong with the BIOS update, your board is essentially screwed as the BIOS update can't be undone. Oh, and certain BIOS features may be unavailable.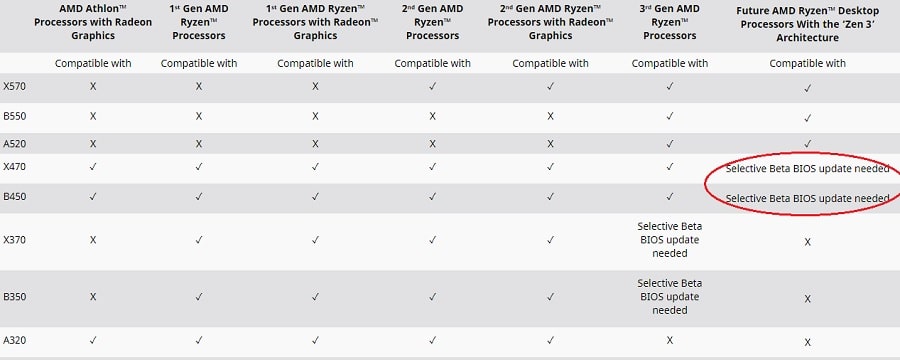 Most B450 models will get support for Ryzen 4000 in the form of a "beta" BIOS. (Image Credit: AMD)
But another reason some will say that B550 is best for Ryzen 4000 is that B550 boards do have upgraded VRMs and cooling compared to B450s, meaning they'll be better able to handle the next-gen chips. Though that really only matters if you'll be getting a high-end Ryzen 7 or 9 and/or you plan on overclocking a fair bit.
Mainstream CPUs like a Ryzen 5 4600 (or whatever it'll end up being called) aren't likely to be a problem whatsoever on a decently-cooled B450 model like the B450 Tomahawk Max or B450 Gaming Pro Carbon Max (both of which have solid VRMs proven to handle a Ryzen 9 3950X no problems).
So whether B450 or B550 is best for Ryzen 4000 (if that's your plan as an upgrade) will depend on your specific situation, but the point is that either is a suitable option, especially if you're not gunning for the next-gen Ryzen 9 or doing some extreme tinkering.

Beyond Ryzen 4000, neither the B450 or B550 platform is looking likely to still be in the game in terms of CPU support though. While it hasn't been officially confirmed, most signs point to the Ryzen 5000 series (or whatever it'll be called) requiring an entirely new CPU socket (AM5, or whatever AMD decides to name it, which may also use DDR5 memory for the first time). In other words, the last CPU series you'll likely be able to use with a B450 or B550 board is Ryzen 4000. After that, you'd need a new motherboard.
See Also: Will All B450 Motherboards Support Ryzen 4000?

The Lowdown (B550 Pros and Cons)
To summarize everything said, unless you're the small percentage who have a use for things like PCIe 4.0, 2.5G LAN, WiFi 6, etc, B550 (and X570 for that matter) is essentially a luxury "nice to have" (at least at their current prices). B450 can be the better bang for buck. Here's a simplification of the arguments for buying a B550 and for buying a B450:
FAQ
For a few more specific details and nuances on choosing between B450 and B550.
Does B550 Use the AM4 CPU Socket?
Yes, like B450, B550 still uses the same AMD AM4 processor socket that's been used for all series of Ryzen.  B550 (and X570) could be the last AMD chipset to use AM4 though, and the next chipsets (X670? B650?) could be moving to a new processor socket (AM5?).
Is B550 Backwards Compatible?
No, B550 motherboards are not backwards compatible with earlier Ryzen processors older than the current 3rd-gen 3000 series. In other words, B550 does not support 2nd gen Ryzen (Ryzen 2000 series, AKA "Zen+") and it does not support 1st gen Ryzen either (Ryzen 1000 series, AKA "Zen"). B550 only supports Ryzen 3000 and Ryzen 4000 (anything beyond that is unknown at this stage, but unlikely to be supported by B550).
Do B550 Motherboards Have a Chipset Fan?
The small chipset fan present on most X570 boards (used to help cool the board) is not found on any B550 motherboards (B550 chipset produces less heat). This is actually one small benefit of B550 vs X570, as chipset fans can slightly add to the noise of a system, and they might fail or need replacing in future (though there's not too many X570 owners who have complained about their noise being a noticeable problem). B450 motherboards don't have chipset fans either.
Does B550 Support the 3200G or 3400G?
Because B550 only supports Ryzen 3000 (and 4000) and not Ryzen 2000 or 1000, B550 motherboards are not compatible with the 3200G or 3400G processors as these two are actually based on the Ryzen 2000 series architecture (Zen+, and not Zen 2 which the main Ryzen 3000 CPUs are based on). If you want to build a PC with the 3200G or 3400G, you will need a B450 instead of a B550.
How Many PCIe 4.0 SSDs Can B550 Run?
B550 motherboards only have 1 PCIe 4.0 compatible M.2 SSD slot, with the single exception of the Gigabyte Aorus Master which is the only B550 to have 2 PCIe 4.0 M.2 slots.
Is it Worth Upgrading From B450 to B550?
Negative. If you already have a B450 in your system, upgrading to B550 makes little to no sense and you're better off postponing a motherboard upgrade until the entire new AMD socket releases in 2021/2022 (AM5 or whatever AMD will call it), which should also usher in the new DDR5 memory era. Buying a B550 motherboard only makes sense if you're building a new system from scratch.
Can B450 Run PCIe 4.0 SSDs?
Yes. Since PCIe 4.0 is backwards compatible, you can run a PCIe 4.0 drive on a B450 - it'll just run at PCIe 3.0 speeds. PCIe 4.0 is also forwards compatible, meaning that you can also run a PCIe 3.0 device in a PCIe 4.0 slot (and once again it'll just run at PCIe 3.0 speeds).
Is B550 Better for Overclocking Than B450?
In terms of VRM quality and thermals (cooling), B550 does improve upon B450, with most B550 boards having superior VRMs and larger/better heatsinks compared to their B450 predecessors. But that doesn't mean you should buy a B550 if overclocking (for Ryzen 3000 or 4000), as a proven B450 like the Tomahawk Max may still have the quality and cooling that you require (and for cheaper). If overclocking a next-gen, 4000 series Ryzen 7 or 9, I would definitely get B550 though, as the better VRMs of B550 will be super helpful in maintaining a cool, stable system.
Your 2 Cents

Agree with my reasoning or have a different view? Found this article useful? Let me know in the comments below, and if you have any questions feel free to ask away and I'll do my best to help out. Otherwise, good luck with your system and hope this article helped in your research.

Read Next: PCIe 3.0 vs 4.0 for Gaming
---
Trusted VPNs
VPN software is quite important in this day and age and will improve the security and privacy of your PC when online. There are also benefits to using VPNs for gaming.

There's lots of VPNs out there but the ones I recommend most to gamers is ExpressVPN (special link that gets you 3 months off. they also offer a free trial here) and NordVPN which are both highly rated gaming VPNs because they're the fastest and most secure.
Search the Site
About the Author
Indie game dev currently working on my first public release after years of hobby projects, a story-driven VR FPS built with Unreal Engine (to be announced soon here for anyone into VR FPS's). Also likes writing about tech, which also helps fund development of the game.
My favs of all time are OOT, Perfect Dark, MGS1, MGS2, GE007, DKC2, THPS3, HL1, and HL2, with the most recent addition to my list of immortals being the VR masterpiece Alyx. If you want help with a new build feel free to ask on the main PC builds guide. If you found the site extra helpful and wish to support the work I do here, sharing an article with a friend helps a lot and is much appreciated. - Julz