Home > Motherboards > Best B450s
Top 5 Best B450 Motherboards for Ryzen
Recommended B450 Motherboards Compatible With Ryzen 3000 and Ryzen 5000
Chasing the best B450 motherboard for your new budget AMD gaming PC build? After a near-death experience, B450 motherboards are alive and kicking thanks to AMD reversing their initial decision to drop support for Ryzen 5000 (Zen 3) processors on their B450 chipset.

But to be fair, even if AMD didn't reverse the decision, B450 motherboards would still be well worth considering for new system builds on a budget, as the majority of people building with Ryzen 3000 CPUs (like the ultra popular Ryzen 5 3600 or Ryzen 7 3700X) likely won't care about upgrading to Ryzen 5000.
If you're set on B450 for an awesome budget AMD build to use with Ryzen 3000 CPUs like the 3100, 3300X, 3600/X, 3700X, or the 3200G/3400G APUs), or for Ryzen 5000 CPUs like the 5600, 5600X, and 5700X, and pondering which B450 motherboard is best to buy, here we roundup the best B450 motherboards in terms of bang for buck to help you get the best quality, features, and reliability for your particular budget.
See Also: How to Choose a Motherboard (Specs Explained)
As with most motherboard chipsets, there are a whole bunch of different B450 motherboards to pick from, many of which with similar pricing and features. But if you know what to look for and carefully analyze and compare features, professional reviews, and customer experiences across multiple sources, there are certain models that make better buys than others. Let's get straight into our top 5 best B450 motherboards, including a specs cheatsheet to make for easy comparing between our top recommended models.

The Best B450 Motherboards (Socket AM4)


Hover mouse over icons below if unsure what a certain spec is




Category:
Best Budget Micro ATX B450
Best Budget ATX B450
Best B450 for Overclocking
Best Mini ITX B450
Best B450 With WiFi
Our Pick:

MSI B450M Pro-VDH Max

MSI B450-A Pro Max

MSI B450 Tomahawk Max

Asus ROG Strix B450-I Gaming

MSI B450 Gaming Pro Carbon Max WiFi
Form Factor:

Micro ATX
ATX
ATX
Mini ITX
ATX
Compatible CPU Series:
Ryzen 1000, 2000, 3000, 5000*

Athlon APUs
Ryzen 1000, 2000, 3000, 5000*

Athlon APUs
Ryzen 1000, 2000, 3000, 5000*

Athlon APUs
Ryzen 1000, 2000, 3000, 5000*

Athlon APUs
Ryzen 1000, 2000, 3000, 5000*

Athlon APUs
Overclocking Suitability:

Okay
Good
Very Good
Good
Good
RAM Slots (and Max Capacity):

4 x DDR4 (128GB)
4 x DDR4 (128GB)
4 x DDR4 (128GB)
2 x DDR4 (64GB)
4 x DDR4 (128GB)
Max RAM Speed:

3866MHz OC (Gen3 Only)
4133MHz OC (Gen3 Only)
4133MHz OC (Gen3 Only)
3600MHz OC
4133MHz OC (Gen3 Only)
M.2 Slots:

1 (SATA/PCIe)
1 (SATA/PCIe)
1 (SATA/PCIe)
2 (1 SATA/PCIe, 1 PCIe)
2 (1 SATA/PCIe, 1 PCIe)
Fan Headers:

2 Chassis

1 CPU
4 Chassis

1 CPU

1 AiO Pump
4 Chassis

1 CPU

1 AiO Pump
1 Chassis

1 CPU

1 AiO Pump
4 Chassis

1 CPU

1 AiO Pump
RGB Headers:

1 RGB (4pin 12V)
1 RGB (4pin 12V)
2 RGB (4pin 12V)
1 RGB (4pin 12v)

1 ARGB (3pin 5v)
2 RGB (4pin 12v)

1 ARGB (3pin 5v)
WiFi:
No (adapter required)
No (adapter required)
No (adapter required)
Yes (WiFi 5 / 802.11ac)
Yes (WiFi 5 / 802.11ac)
SLI / CrossFire:

No / No
No / Yes
No / Yes
No / No
No / Yes
Full Official Specs
MSI
MSI
MSI
Asus
MSI
* May need BIOS update to work with Ryzen 5000 CPUs (eg the 5600, 5600X, 5700X, etc)
1. MSI B450M Pro-VDH Max (Best Budget Micro ATX B450)
Pros
Cons
Honorable Mention: Gigabyte B450M DS3H (mATX)
You're going to see a lot of MSI in our recommendations here, but for good reason as they undoubtedly have some of the best B450 motherboards on the market overall for various reasons.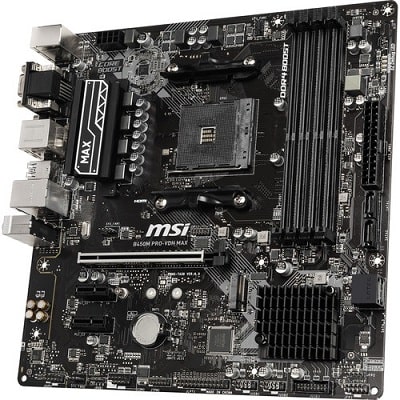 Most of MSI's B450 boards are great choices, partly based on their price vs performance/features, but also partly because of their latest "Max" range of boards which were released after their initial B450 range, which come with larger BIOS chips to avoid compatibility issues with Ryzen 3000 BIOS versions (as we explained a while back in this article).
By now, every B450 you buy new will come with an already-updated BIOS that'll work with Ryzen 3000 CPUs (so you don't need to update the BIOS yourself). But MSI "Max" boards are 100% guaranteed that this is the case. Furthermore, due to its reinforced BIOS chip, buying a "Max" branded model is the most surefire way to avoid problems if using Ryzen 5000 CPUs like the 5600, 5600X, or 5700X (though you still might need to update the BIOS of your motherboard for compatibility with these Ryzen 5000 processors). The B450 Tomahawk Max has a 32MB BIOS ROM chip compared to 16MB on the older non-Max Tomahawk.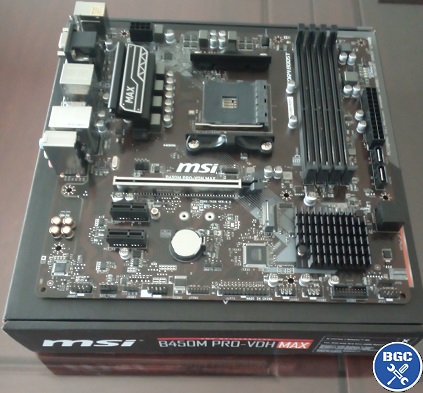 The MSI B450M Pro-VDH Max I used recently for our budget AMD gaming PC install guide. Nothing fancy but a good cheap board.
If on a budget and you're looking for the cheapest B450 that's still good quality and reliable, with a nice set of features, the B450 Pro-VDH Max is our top pick (if you're also after a mATX (Micro ATX) model for smaller cases). It's not the most amazing looking board, but that isn't an issue for most budget builders where maximizing aesthetics is not a concern. Besides, it doesn't look that bad, and the motherboard isn't something you see much of once your system is built anyway as your other parts mostly cover the board.
And that's assuming you have a see-through side panel on your case; if you don't, it wouldn't matter if your motherboard was a funky pale green abomination resembling Yoda's soup in ESB. If you have a larger case (even a roomier mid tower) and want to "fill out" your build a bit more with a full-sized ATX board, I'd get the B450-A Pro Max instead though (see next).
Related: Choosing a Case for Gaming PC Builds
2. MSI B450-A Pro Max (Best Budget ATX B450)
Pros
4 case fan headers to accommodate tons of fans (without needing to buy a splitter or fan hub)
Cons
Since they look very similar, you could say the MSI B450-A Pro Max is essentially the Pro-VDH mentioned above but in full-sized ATX with a few extra features and better cooling/VRM for basic overclocking. At around 100 bucks you can't go wrong if you're not chasing aesthetics, as this basic-looking board comes with everything you likely need for a typical mid-range gaming PC.
It's even got 4 fan headers should you want to fill out your case with a nice amount of fans. Plus, the fact that it's the updated "Max" model of this board means that it has better support for BIOS updates, so you shouldn't have any issues upgrading the BIOS for Ryzen 5000 CPUs if you need to.
3. MSI B450 Tomahawk Max (Best B450 for Overclocking)
Pros
Cons
Not to say other B450 models aren't suitable (or good) for overclocking your Ryzen CPU, but the Tomahawk Max (and original Tomahawk non-max) is well known among enthusiasts for having the best VRM and cooling of any B450 board out there (see a B450 VRM tier list compiled by enthusiasts here, and just one of many VRM temperature tests here, both showing the Tomahawk on top of the B450 heap).
In other words, it's your best bet if you want a stable, reliable base to push your CPU past stock speeds but you don't want to spend the extra money on the X570 platform (which can be even better for overclocking). But the B450 Tomahawk Max isn't just a great option for overclocking, and it makes a solid choice overall if you're simply after one of the best B450 motherboards on the market for running your CPU at normal stock speeds (which is what most people do anyway). It contains a decent set of features, including 4 chassis fan headers, 2 RGB headers, a dash of built-in RGB lighting, and looks very decent too - noticeably better than the uninspiring B450-A Pro Max.
Related: B450 Tomahawk Max vs B450 Tomahawk
As for which is the best B450 motherboard overall in terms of bang for buck for a mid-range gaming PC build (MSI B450 Tomahawk Max vs MSI B450-A Pro Max), it comes down to personal preference as you could make the argument that the B450-A Pro is better value overall if you want to be as cost-effective as possible and you don't care for aesthetics or top-notch overclocking performance.
Related: How to Overclock a CPU
4. Asus ROG Strix B450-I Gaming WiFi (Best mITX B450)
Pros
Decent VRM for overclocking
Cons
Asus to the rescue here, saving us from having to recommend MSI for every single one of our top 5 best B450 motherboards which could potentially make this guide seem a little biased to some readers (which couldn't be further from the truth as MSI objectively owned the B450 market from day one)
If you're assembling a miniature SFF (Small Form Factor) system using the mITX (Mini ITX) standard, your choices narrow a fair bit as there aren't a heap of mITX B450 motherboards out there. But if we had to pick one, the Asus ROG Strix B450-I Gaming WiFi would be it.
Due to size constraints it lacks certain features of bigger boards like the standard 4 RAM slots (it only has 2), but it's a neat little package with all the crucial pieces of the puzzle to serve most types of tiny systems - even for high-end gaming powerhouses. For a closer look at this little guy, enter hardware's hilarious stand-up guy Bitwit as he reviewed it here.

5. MSI B450 Gaming Pro Carbon Max WiFi (Best B450 With WiFi)
Pros
Cons
One of, if not the most expensive B450 (same price as budget X570 boards)
Most motherboards do not come with built-in WiFi/wireless capability, meaning you have to buy a separate wireless adapter to install in your desktop if you were planning to get online wirelessly with your new PC. 
But if you want a board that already comes with WiFi, and you're not in the market for a Mini ITX like the Asus above (which has WiFi too), the B450 Gaming Pro Carbon Max is worth a look if you're willing to spend a little more on a premium B450 (though keep in mind it'll work out roughly the same cost overall if you were to get a wireless PCIe adapter for a cheaper board).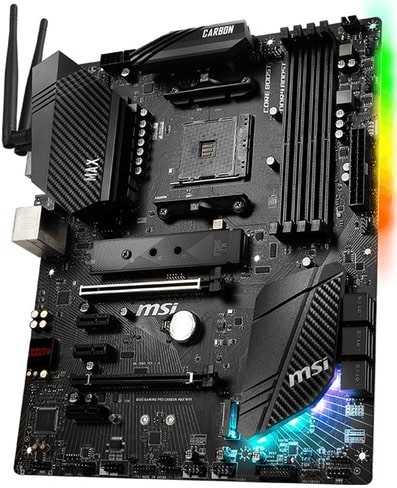 The B450 Gaming Pro Carbon Max is second to none in terms of quality and features within the B450 range, with slick, sharp aesthetics for a neat-looking finished system. It's also got a respectable VRM should you want to overclock your Ryzen 5, 7 or 9 CPU (no point getting this board for a Ryzen 3).
Related: How to Choose the Best Gaming Router
FAQ
Do All B450 Motherboards Support Ryzen 3000 Out the Box?

By "out the box" we mean without having to update the BIOS (the motherboard's software) before the CPU can work. The answer is no, not all B450 motherboards that you buy are 100% guaranteed to come shipped with a Ryzen 3000 ready BIOS, but the good news is, by now most new B450 motherboards will come shipped with an updated BIOS that supports Ryzen 3000 processors.
It's unlikely that you would receive old motherboard stock that has the older BIOS, which would require you to do the BIOS update yourself (which sometimes requires you to have an older Ryzen CPU on hand to perform the update if your motherboard doesn't have a BIOS flashback feature). But it is possible, especially if buying from lesser-known retailers (or buying a used motherboard). 

If you want to 100% ensure the B450 motherboard you buy has the new Ryzen 3000 BIOS, for "plug and play" compatibility with Ryzen 3000 CPUs (like the 3300X, 3600, 3700X, 3900X, and so on), you can either stick to MSI's "Max" range of B450 boards (which released after Ryzen 3000 CPUs and are guaranteed to have the new BIOS), or you can ask the seller/retailer directly if the board you will receive comes with the new BIOS. If you're buying at a local store, look on the box for a "Ryzen 3000 Ready" sticker.

Boards that come with a Ryzen 3000 compatible BIOS have this box sticker (all of MSI's "Max" boards are guaranteed to have this, but most B450s will also have it by now)
Can You Use a B450 for Ryzen 9 3900X/3950X?

B450 motherboards are compatible with high-end Ryzen 9 processors like the 3900X or 3950X, but the real question is does this pairing make sense? Most people using an extreme Ryzen 9 CPU won't be eyeing off the budget B450 chipset, but it's an entirely possible proposition if you're looking to build the most cost-effective high-end workstation PC that you can, and if you're NOT going to be overclocking such a behemoth of a chip (in which case you'd absolutely need the better VRMs of a good X570 motherboard).
To pair a Ryzen 9 3900X or 3950X with a B450 safely, you must choose a good B450 that is proven for overclocking. Yes, that means the B450 Tomahawk Max or the B450 Pro Carbon, the former of which proven to perform absolutely fine with a stock 3950X in this particular test by the one and only benchmark boss (thanks Steve). In that benchmark the ASRock B450 Gaming K4 and Gigabyte B450 Aorus Pro WiFi also did fine, but the Tomahawk is in a league of its own. 
Related Articles
---
Trusted VPNs
VPN software is quite important in this day and age and will improve the security and privacy of your PC when online. There are also benefits to using VPNs for gaming.

There's lots of VPNs out there but the ones I recommend most to gamers is ExpressVPN (special link that gets you 3 months off. they also offer a free trial here) and NordVPN which are both highly rated gaming VPNs because they're the fastest and most secure.
Search the Site
About the Author
Indie game dev currently working on my first public release after years of hobby projects, a story-driven VR FPS built with Unreal Engine (to be announced soon here for anyone into VR FPS's). Also likes writing about tech, which also helps fund development of the game.
My favs of all time are OOT, Perfect Dark, MGS1, MGS2, GE007, DKC2, THPS3, HL1, and HL2, with the most recent addition to my list of immortals being the VR masterpiece Alyx. If you want help with a new build feel free to ask on the main PC builds guide. If you found the site extra helpful and wish to support the work I do here, sharing an article with a friend helps a lot and is much appreciated. - Julz